This summer has been a little different for most of us. No large markets, festivals, long-distance travel and limited availability at campsites across the province. Though, the upside has been the opportunity to explore a little closer to home.
My search to escape the city led me 45 minutes northeast of Kamloops to Sun Peaks, a little mountain village known for mountain biking and golfing in the summer, and skiing in the winter. Lucky for me, my mid-August adventure coincided with Alpine Blossom Season, when the hillsides are filled with wildflowers and the sweetest smell.
Even though the wildflowers are slowly fading, summer in Sun Peaks isn't over yet. Regular operations will continue throughout September, with lift-accessed hiking and biking continuing daily until September 13, and Friday to Sunday until the end of the month (September 18-20 & 25-27). So pack your woollies and check out these things to do this September in Sun Peaks.
HIKING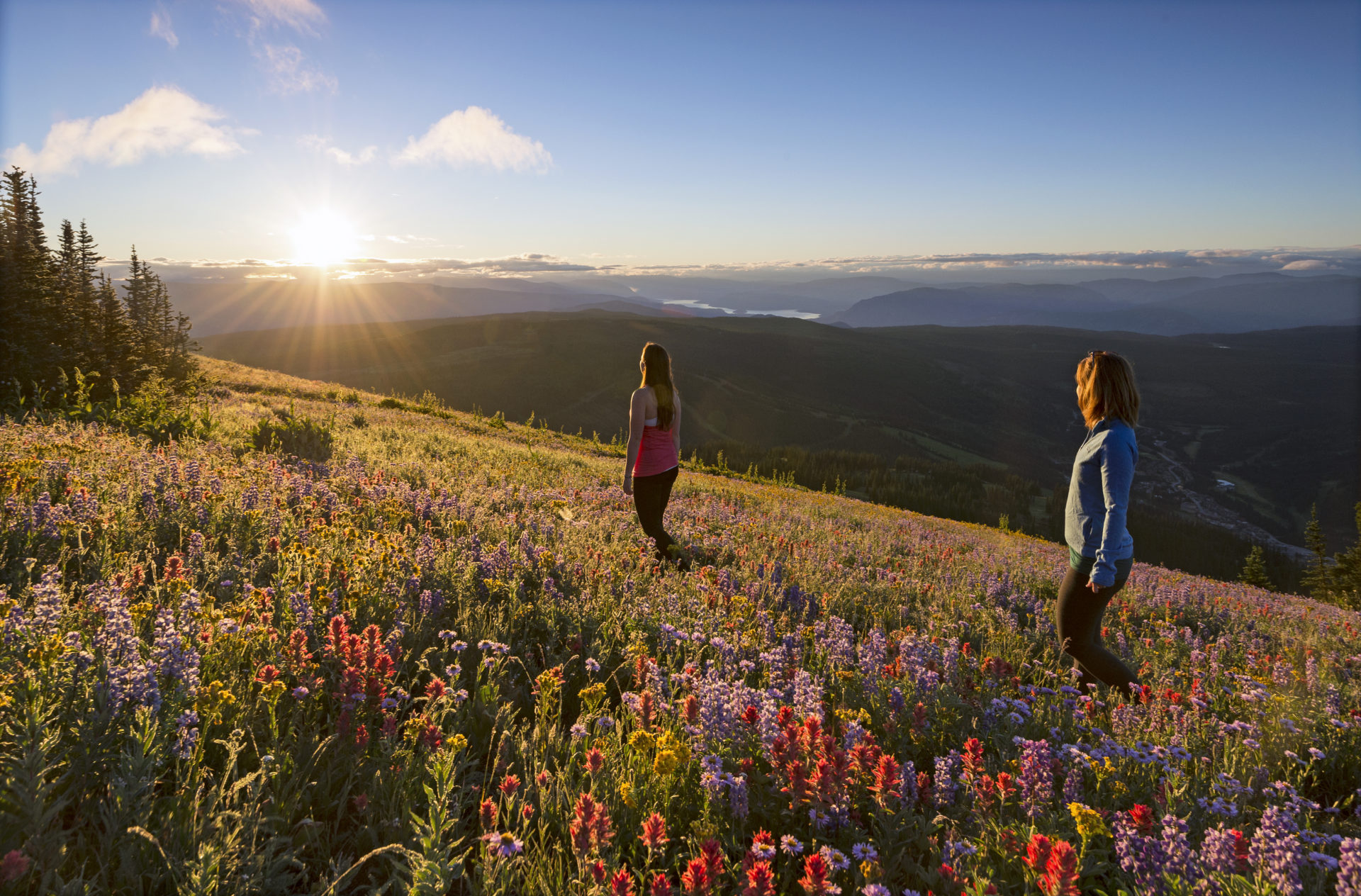 Sun Peaks is the hub for 18 spectacular hiking trails, ranging from meandering strolls along the mountainsides to weekend-warrior summit attempts up Tod Mountain. Although trails sprawl out right from the village, many opt to ride the Sunburst chairlift to start mid-mountain—6,000 feet above sea level—where the views are spectacular before you've even started.
We downloaded the Sun Peaks' trail map and Flora and Fauna Guide to carry with us, though in the end we decided to book a two-hour guided hike so we could focus on the views while soaking up a local's knowledge and expertise. Leaving the lift our guide Sue recommended we take the long way around rather than grind straight up the front of the mountain—a common mistake made by impatient wildflower- and view-seekers (guilty). Following her lead, we meandered west through alpine wildflower meadows. Treated to expansive views and the periodic shade of mini forests, we looped around until we reached the top, where we descended the front of the mountain back to the chairlift.
Note: During the COVID-19 pandemic, lift tickets are limited and only sold online in advance. The chairlift is open daily until September 13 (10:00 am to 5:00 pm) with bonus weekends September 18-20 and September 25-27. Lift tickets are included in guided hikes.
PADDLE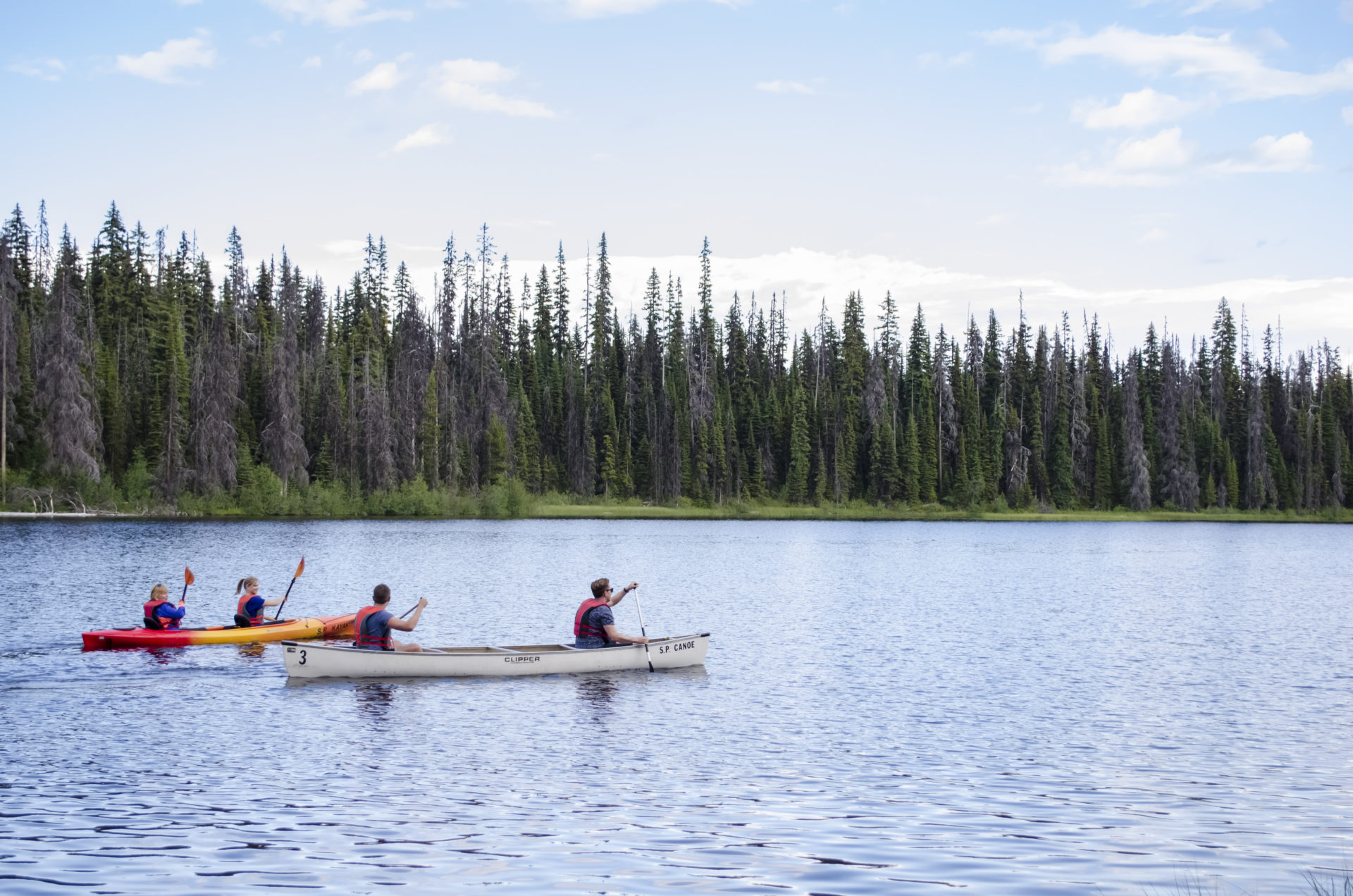 Getting out on the water is easy at Sun Peaks. They provide all the equipment needed so there's no need to transport a boat or even plan ahead. After renting a canoe from Guest Services, we drove the six kilometres to McGillivray Lake and were greeted by friendly cross-country bikers enjoying a rest on the dock. Within minutes we'd unlocked our canoe and were exploring the mountain lake, cruising the shoreline through clusters of lily pads. At the far end we stopped to admire two loons with their little one, and to our surprise they were as curious as we were, hanging around nearby for a photo shoot before moving on.
Canoe and kayak rentals are available at Sun Peaks Guest Services (from July 1 until September 29) along with paddles, PFD's and other safety equipment. You can also stand-up paddle at nearby Heffley Lake, and try their board big enough for the whole family. More SUP information can be found here.
ALPINE YOGA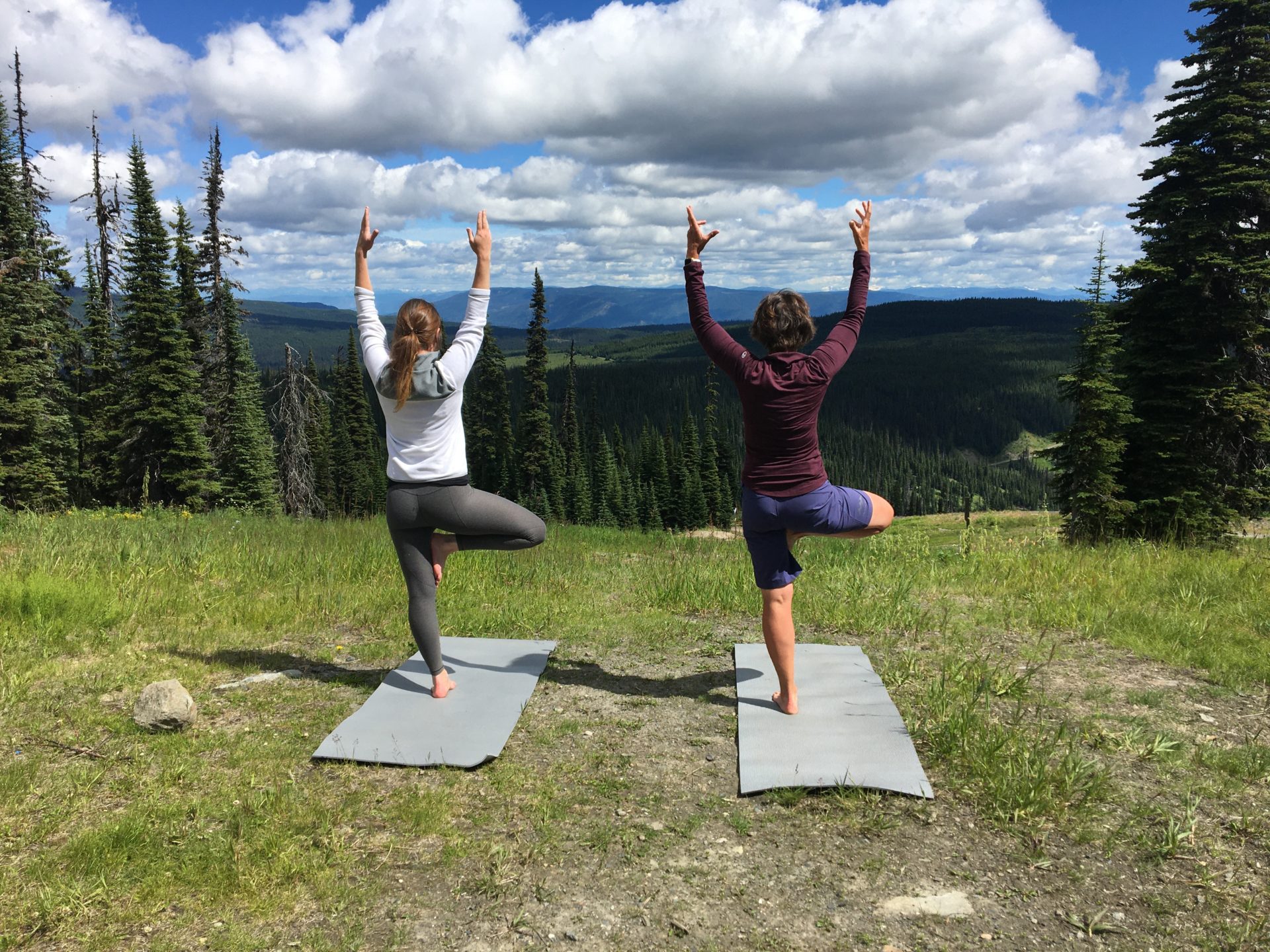 Where else can you find inner piece and a killer view? Sun Peaks offers private outdoor yoga classes every Saturday and Sunday until September 27, 2020.
After you book, you will meet your instructor, Sue (a woman of many trades), outside Guest Services before taking the Sunburst chairlift halfway up the mountain. Together you will stroll through alpine wildflowers before settling into a 45-minute vinyasa/yin yoga practice. The entire experience will be tailored to you, so don't worry if you're a beginner, or find you'd rather spend a little more time on the trails before your practice—Sue will make sure you get the experience you want!
Click here for more information or to book.
MOUNTAIN BIKING
I was pleasantly surprised at the lack of crowds or lineups in this mountain biking mecca. Sun Peaks Bike Park offers options for every rider, with 2,000 feet of lift-accessed terrain (and currently extending), spanning 40 distinct trails. Routes range from flowy, machine-made strolls to high-stakes downhill slogs. Various cross-country trails have also been added for those more interested in taking in the scenery on flatter ground.
Not an especially skilled mountain biker myself, the new progression park—buzzing with kids learning skills and improving their technique—looked more my speed with a selection of mini berm lines, technical lines, a jump line and drop section all accessed via the Bike Park Carpet that brings riders back up the hill.
A limited number of lift tickets are being sold during the COVID-19 pandemic, and should be purchased in advance here. If you're a first-timer, consider booking a lesson with a trained Sun Peaks instructor here.
GOLF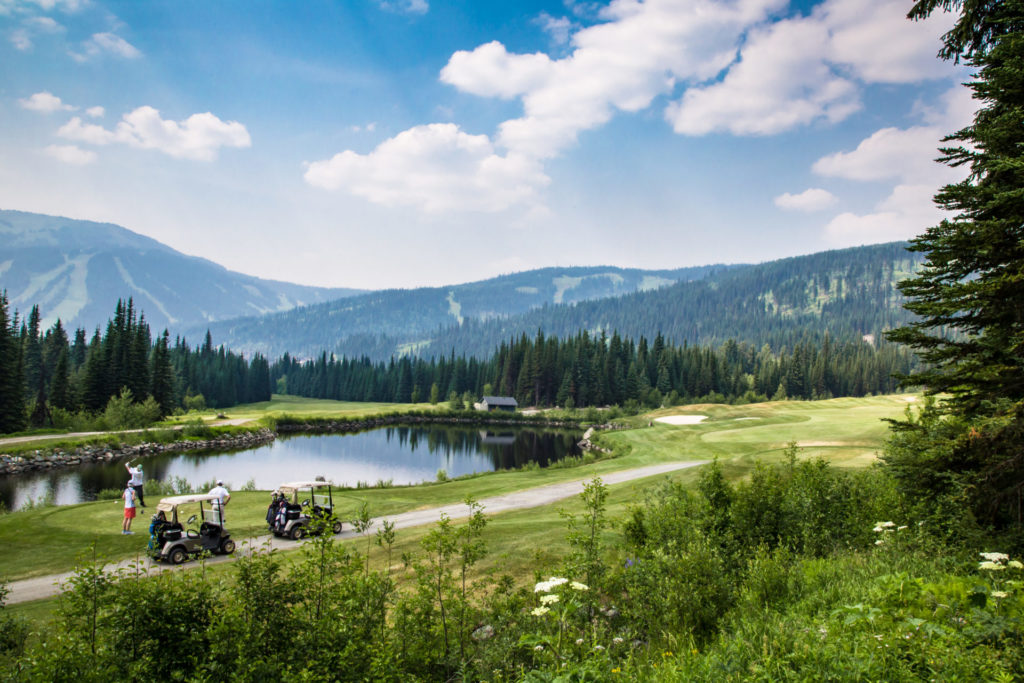 Sun Peaks' scenic 18-hole course is entered directly from the village via a charming flower-lined boardwalk. Running along the foothills of Tod, Sundance and Morrisey mountains, golfers enjoy panoramic views and fairways enclosed in untamed mountain surroundings. Don't believe me? Check out the Six Most Scenic Holes on Sun Peak's Mountain Course.
Dress warmly, because this is BC's highest golf course with some greens sitting at 1,200 metres above sea level. According to the Mountain Course, not only does the higher altitude give golfers a relief from the heat, but they may notice their ball flies a little farther. Bonus!
Don't worry if you couldn't pack the clubs, rentals are available at the entrance to the course. Visit Sun Peaks Resort online for more information.
FISHING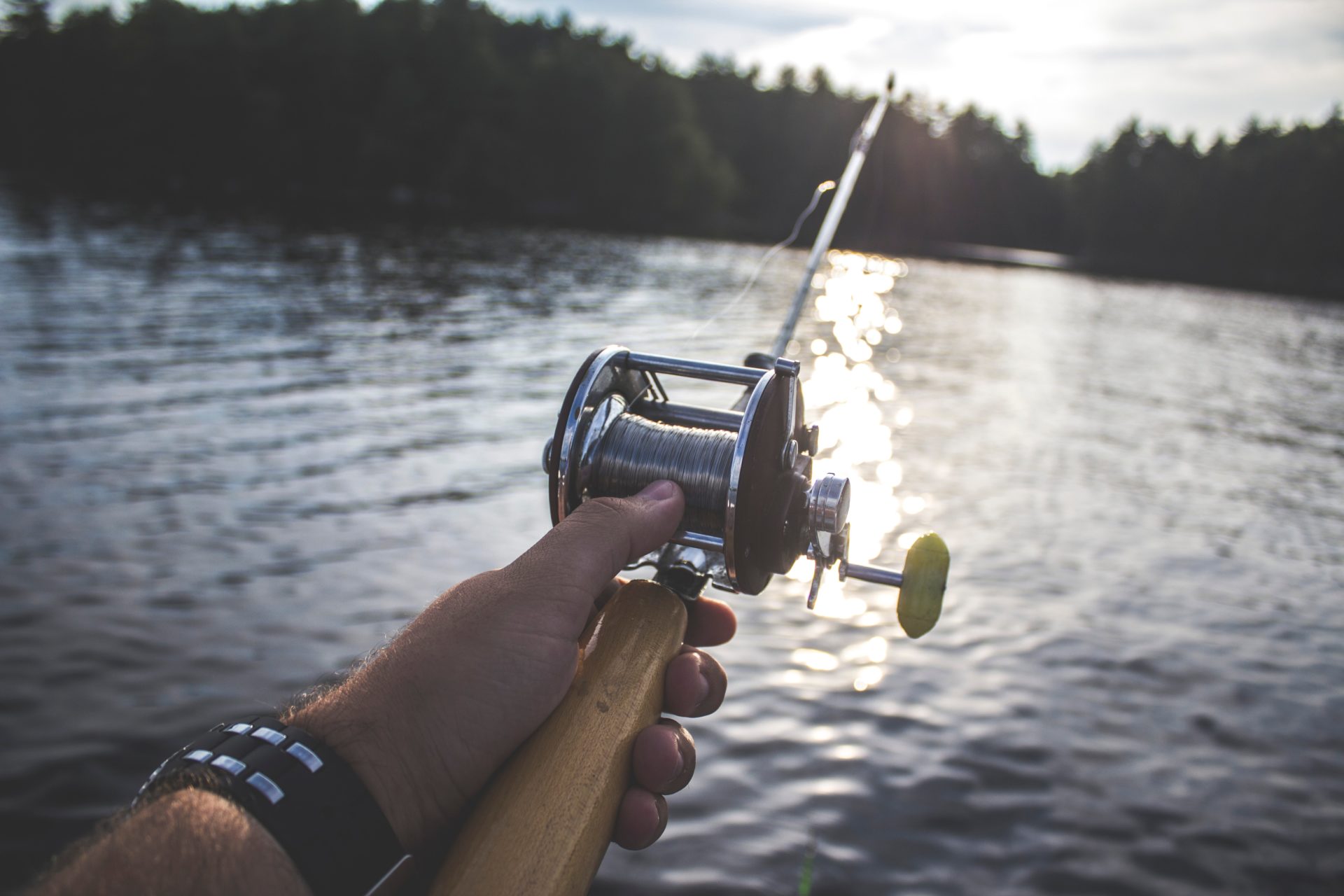 Try your hand at some of the best fly fishing in the world in the Sun Peaks and Kamloops area. For both newcomers and skilled anglers, Fast Action Fishing Adventures offers professionally guided fly-fishing adventures, providing transportation, fly-fishing lessons and all the equipment you need to reel in a hard-fighting "Kamloops" rainbow trout. Choose from half or full-day tours aboard a Jon Boat on a Sun Peaks lake, a pontoon on Heffley Lake or take an ATV to a remote lake. A fishing licence is required and can be obtained here.
EATS & TREATS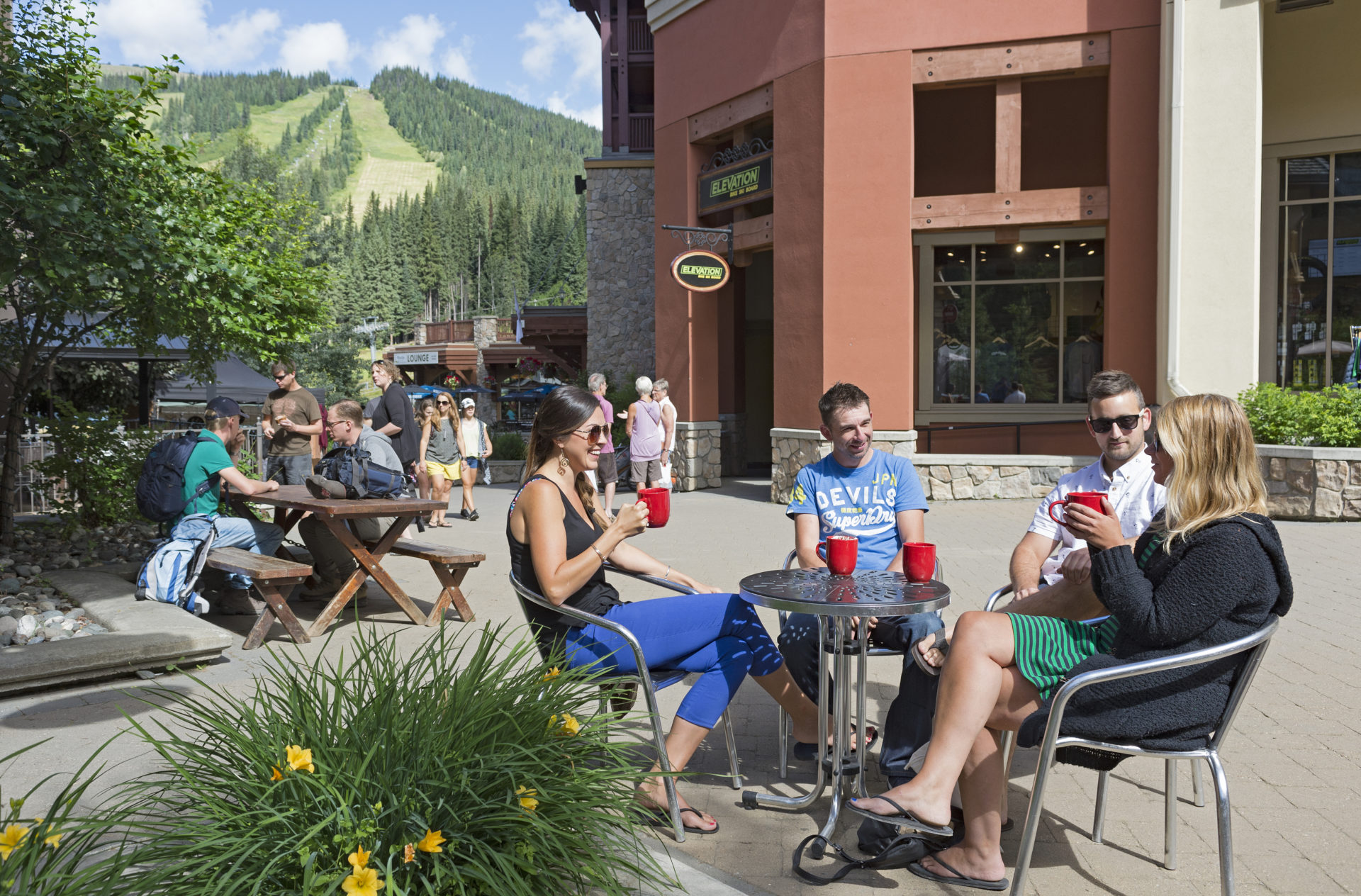 Just one stroll through Sun Peaks village and I was hooked. Between bike shops, sporting goods stores and gift shops showcasing local art, sit cafés, delis and pubs perfect for an après-mountain meal. We enjoyed brisk mornings with steaming hot coffee on the deck at Mantles Restaurant, fish & chips and an evening flight at Cahilty Creek Kitchen & Taproom and an icy soft-serve from Baby Doh's Mountain Fair in between.
After a cool morning on the lake, Helen at Guest Services recommended Vertical Café for "the best hot chocolate in the village." Trusting her local expertise, we stopped in on the way back to our room at the Sun Peaks Grand for a Nutella hot chocolate—the perfect way to warm up and wait out the afternoon shower. It did not disappoint.
The trouble with a good staycation is that it leaves you craving another; good thing there's plenty more to see and do at Sun Peaks Resort.