There's a locomotive amidst the alder trees. A throwback to a finer time of rail travel, this ornate steam engine puff-puffs along its track, striped-clad conductor at the helm and cars of smiling passengers trailing behind. However, this train runs on 7.5-inch gauge track, a fraction of the size of the Canadian Pacific Railway running west along the Burrard Inlet just a kilometre or so north.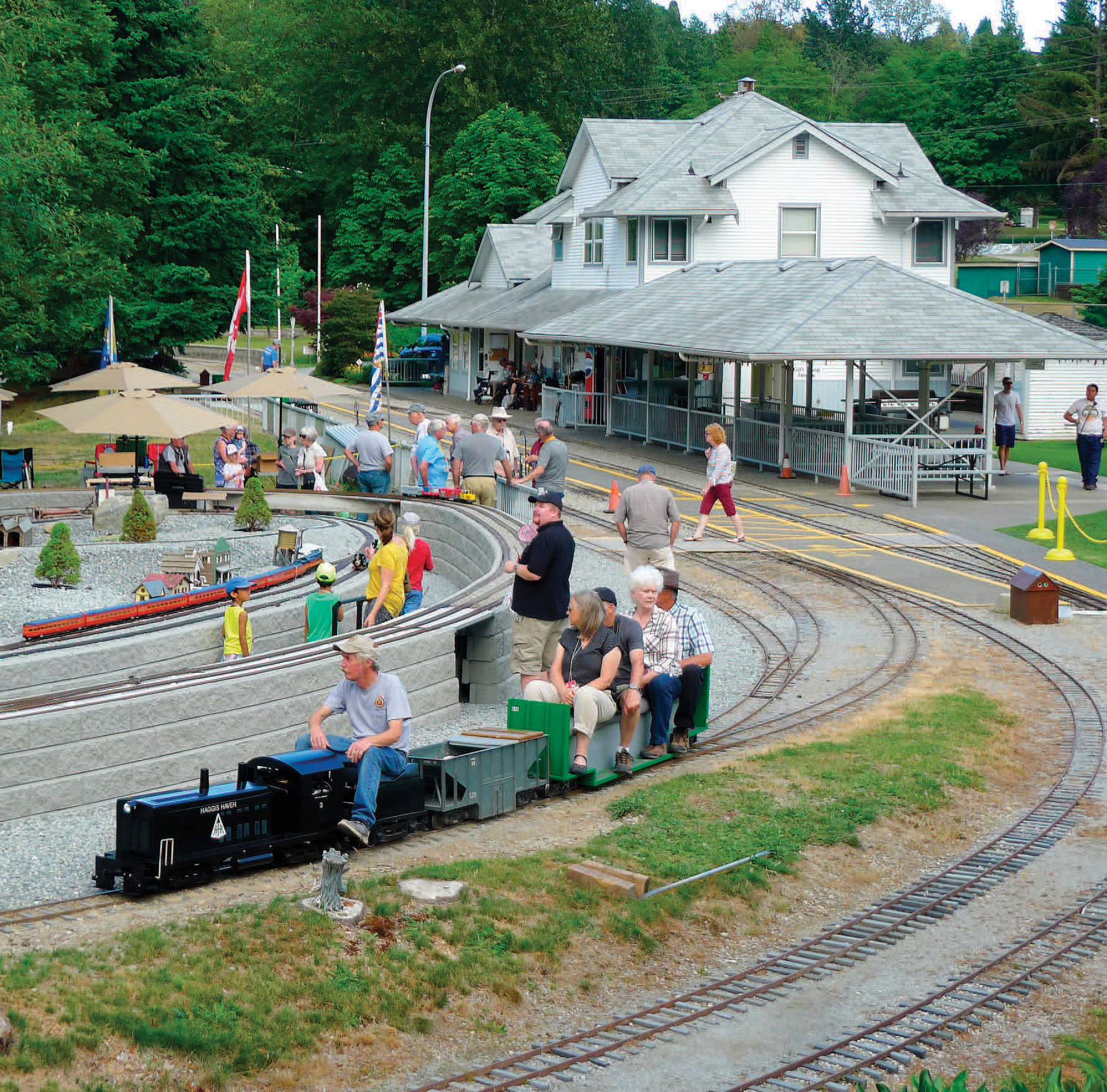 This is the Burnaby Central Railway, operating in Confederation Park since 1993 under the conductorship of the BC Society of Model Engineers. It's a scale-model railroad and train museum, with trains ranging from toy-sized to the ride-on miniatures that make passes through the forested park on about three kilometres of looping rail. Families line up by the dozens to take a turn.
Around the railway, Confederation Park expands to offer a pair of dog parks, an off-leash hiking trail, expansive grassy grounds, a skateboard park, playgrounds, a splash park and a community centre with a pool and more. Locals love this greenspace; visitors to the region might pass on nearby Hastings Street and never know it exists at all.
That's normal. Welcome to Burnaby.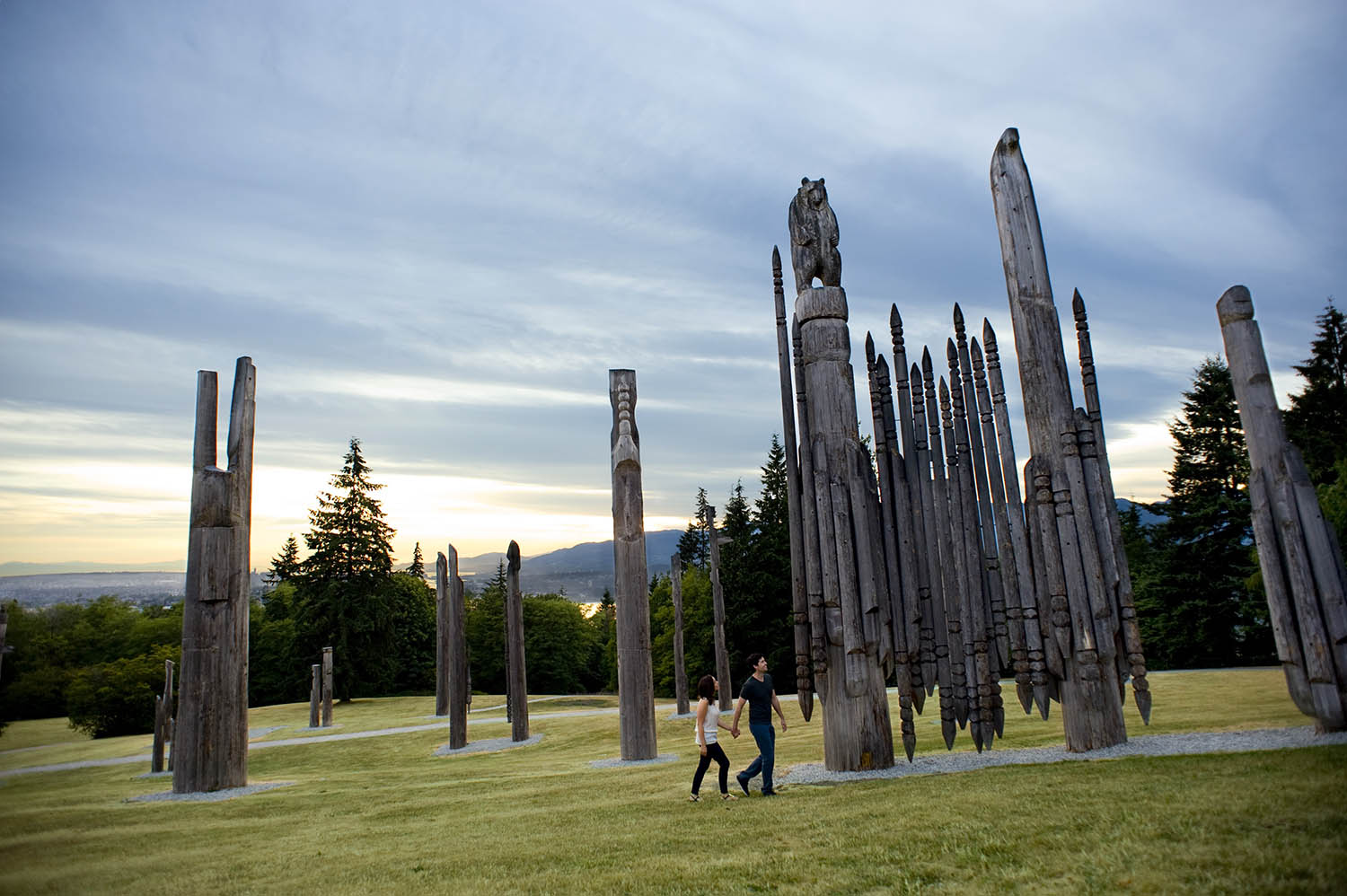 Burnaby is a close lil' sibling to big brother Vancouver. The two are so intertwined, many visitors to Vancouver might not even know when they've crossed into Burnaby, the third-largest city in British Columbia, nudged up east of Vancouver. The two are roughly delineated, fittingly and simply, by Boundary Avenue; and Burnaby is even home to many things often attributed to "Vancouver" from afar. Simon Fraser University and the British Columbia Institute of Technology? Burnaby. BC's largest mall? Burnaby. Michael Bublé, Christine Sinclair and Michael J. Fox? Burnaby!
A couple of years ago, CBC broadcaster Stephen Quinn lightly polled Twitter for a new Burnaby city slogan. One responder's take of "Burnaby: It's Where People From Vancouver Live" stands out. Chris Peters, the executive director for Tourism Burnaby, even admits: "Visitors might have a tough time determining where Vancouver ends and where Burnaby starts." As such, Burnaby more officially acts a tourism hub over a destination in itself, as well as the setting of venues that tourism pros like Peters use to attract conferences and sporting events.
Occupying the central chunk of the Burrard Peninsula—part of the unceded homelands of the hǝn̓q̓ǝmin̓ǝm and Sḵwx̱wú7mesh speaking people—and home to a quarter-million people, as Peters and others will attest, however, there is more to Burnaby than a model train, one big mall and some higher learning. A lot more.
"Restaurants, shopping and light adventure," Peters explains the three main draws to Burnaby. But how does it define itself from other cities in the region? For starters, Burnaby is one of the most diverse cities in the region, he continues: "Two-thirds of the population was born outside of Canada."
Due to this multiculturalism, restaurants offering tastes of the world have popped up all around Burnaby—many of which fall under the "mom and pop" moniker, which, as Peters explains, helps Burnaby again define itself against culinary giants like Vancouver (home to high-end urban chic) and Richmond (primarily known for Chinese-influenced cuisine). In Burnaby, you can just as easily find Middle Eastern cuisine as you can Italian, Greek, Filipino, Taiwanese, Portuguese… it goes on and on.
When it comes to independent business and a community vibe, the northwest neighbourhood of Burnaby Heights particularly stands out. The Heights is like the spiritual sister to East Vancouver. For one, the two effectively connect, as Vancouver's East Hastings Street crosses Boundary Avenue and drops the directional moniker as it continues into The Heights. But mostly, it's also a place where small business thrives, walkability rules and urban hipness oozes through storefronts, from the brand-new to the decades-old.
You could be forgiven for not knowing in which category The Heights' destination Glenburn Soda Fountain and Confectionery sits. With banana splits, egg creams and hand-scooped milk- shakes on the menu, a 1950s-diner vibe and Golden Age rock on the jukebox, it doesn't look like a place that opened in 2013. Even the young soda jerks look the part—flat-tops and pigtails.
The Heights in general is defined by a 1950s throwback vibe—take, for example, the famous "Swinging Girl" neon sign, located at 4142 Hastings Street. Originally built in 1958 for Helen's Children's Wear, this vibrant sign isn't just a local photo-op—it is one of the best remaining kinetic neon signs on the continent. Helen's shop is long gone; the sign nowadays sits between an Italian deli and a pizza joint, but the name stuck: Swinging Girl is actually named "Helen."
"The Heights is like travelling back in time to the '50s or '60s. Like a small town in BC," says Peters. "Valley Bakery has been there since the 1960s. A neighbourhood favourite is Anton's Pasta Bar, which has been there a long time. It's very restaurant driven. Plus, the pandemic didn't ravage the restaurants there, as they do so much takeout."
Maggi Mei is a long-time Burnaby local and food and lifestyle blogger who often uses her considerable Instagram following to document restaurants in her home city. She agreed with Peters' assessment of The Heights—adding The Grey Olive Cafeteria, for an elevated diner experience, and Chad Thai, a "Best of Burnaby 2021" winning Thai eatery, to the mix. But for dining around Burnaby beyond the trendy Heights, Mei also recommends the area near The Amazing Brentwood shopping centre—it's entering the food scene fast, with many popular restaurants as well as the first Burnaby locations of some regional faves.
Burnaby is green—fully 25 percent of the city is dedicated to parks. Viewed via Google Earth, you'll spot the massive swath of Burnaby Mountain Conservation Area, which peaks at 370 metres and expands over 576 hectares, containing the main campus of Simon Fraser University in its entirety. Barnet Marine Park, to the northeast, is home to the city's only official saltwater beach—a regional scarcity due to Burnaby being boxed in by industry along its northern reaches and the Fraser River to the south. Burnaby Lake, south of the mountain, is a slice of nature in the city—a lively greenspace surrounding a 12,000-year-old glacial lake. Deer Lake, a little smaller, features a boardwalk-encircled waterbody where carp swim year-round and coho and chum salmon spawn in the fall. And of course, there's aforementioned multi-activity Confederation Park—to touch on just a few of the 150-odd municipal parks in the city.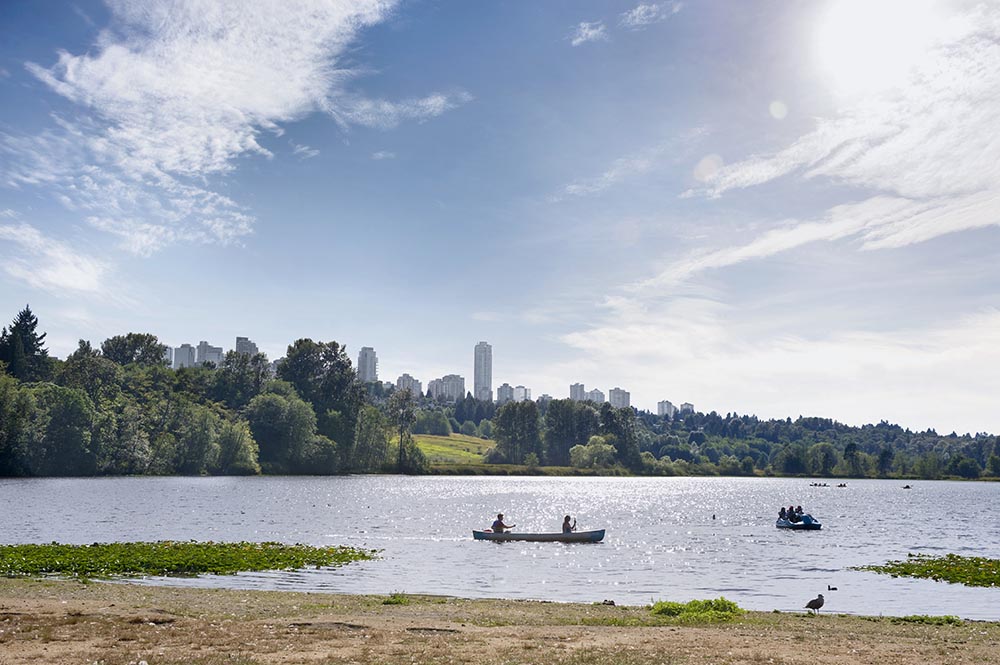 "Burnaby has one of the highest parkland-to-resident ratios in all of North America," continues Peters. "It lends itself well to light adventure— if you're a family with kids, or if you want to do birdwatching, or learn to mountain bike."
It's true—while Greater Vancouver is an outdoor-rec paradise, mountain bike trails on Vancouver's North Shore are too gnarly for newbies and some of the provincial and municipal park hikes in nearby cities like North and West Vancouver, Coquitlam and Maple Ridge lead into the deep wilds and up 1,500-metre-plus peaks. But lakes like Burnaby or Deer, or trails in Confederation, Barnet Marine and Foreshore parks are ideal for kids and gentlehearted forest bathers.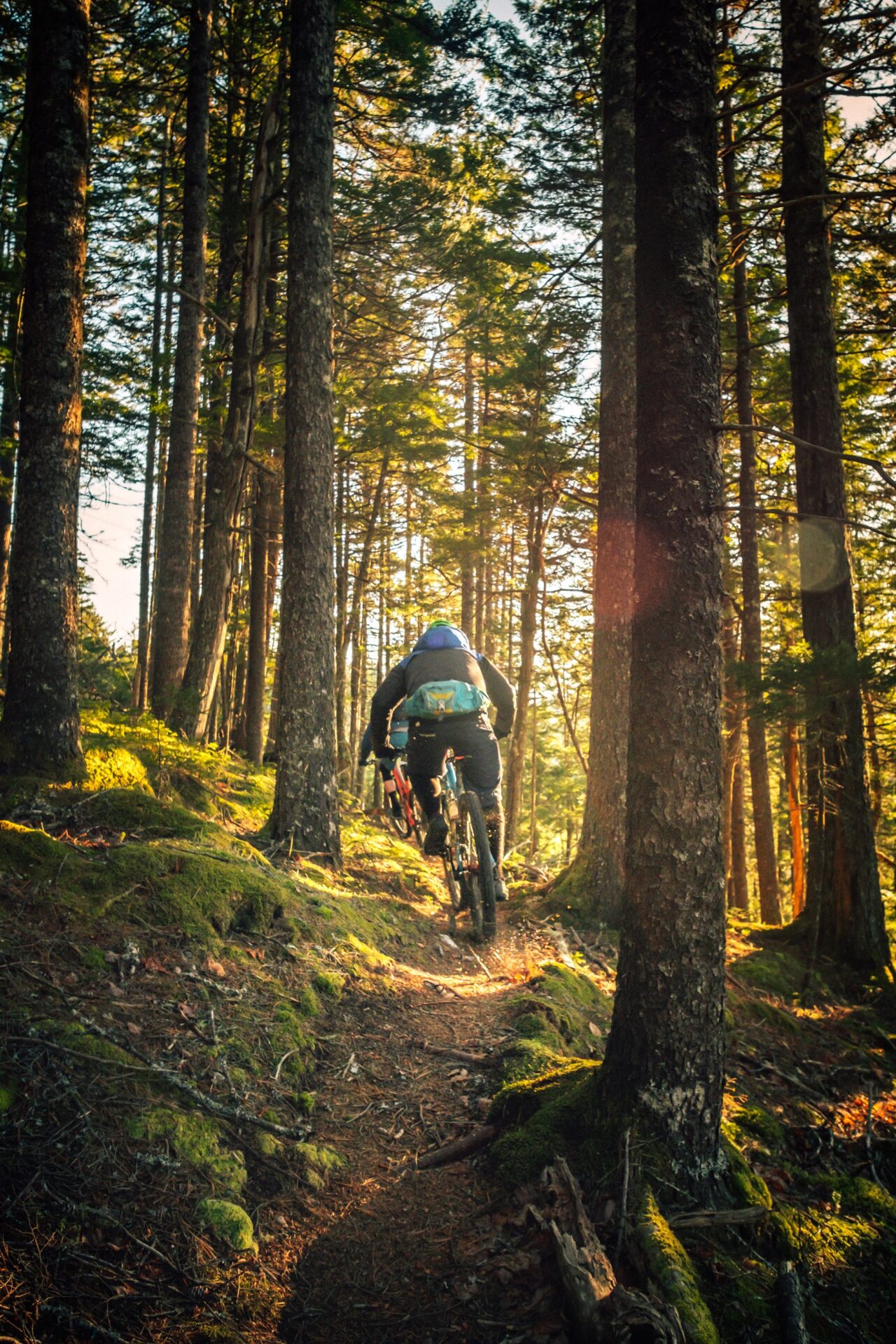 What about the antithesis of green? Where is "downtown Burnaby?" As a city of roughly 250,000 people, incorporated 129 years ago and expanding over nearly 100 square-kilometres, it must have a bustling downtown core, right?
Nope—using the phrase "downtown Burnaby" would have Burnabarians asking: huh? The city is divided into quadrants, with four town centres: Brentwood (northwest) has a newly developed shopping/ living centre poised to attract (the loftily named "The Amazing Brentwood"); Lougheed (northeast) is another shopping district, with Lougheed Centre (Burnaby does love its malls); Edmonds in the southeast is primarily residential; and Metrotown, marked by the province's biggest mall, is the closest thing to a true downtown. So downtown Burnaby doesn't really exist. Yet. In 2019, the city unveiled a lofty, 100-year proposal to turn Metrotown into a walkable, liveable, undeniable urban core. Rezoning roughly
18 hectares in the area will, ideally, create space for events centres, gathering places, art centres and increase active transportation all essential to manifest a city's downtown. Plus, the whole area is accessed by the SkyTrain, with the second-busiest station on the entire mass-transit line, meaning inbound travel is easy and car-free.
Peters explains that the long-term planning of Burnaby in general is to design a city where the residents can do most everything on foot or by bike. This fall, Burnaby is getting its first bike share; and car shares are poised to expand further into Burnaby soon. Plus, it may be home to the most exciting mass-transit project to come along since the 2010 Olympics brought the Canada Line.
"A gondola up Burnaby Mountain is in phase two proposal—engagement with the community," says Peters. This public-transit-operated, SkyTrain-connected gondola would make access to Simon Fraser University, at the top of Burnaby Mountain, easier; plus, it would mean Burnaby Mountain can finally become a true recreation destination. Imagine: from Vancouver's North Shore, you could float across the Burrard Inlet on the SeaBus, get a bird's eye view of East Van and Burnaby on the SkyTrain then ride to the top of a mountain on a gondola to hike or birdwatch—all for the price of a transit ticket.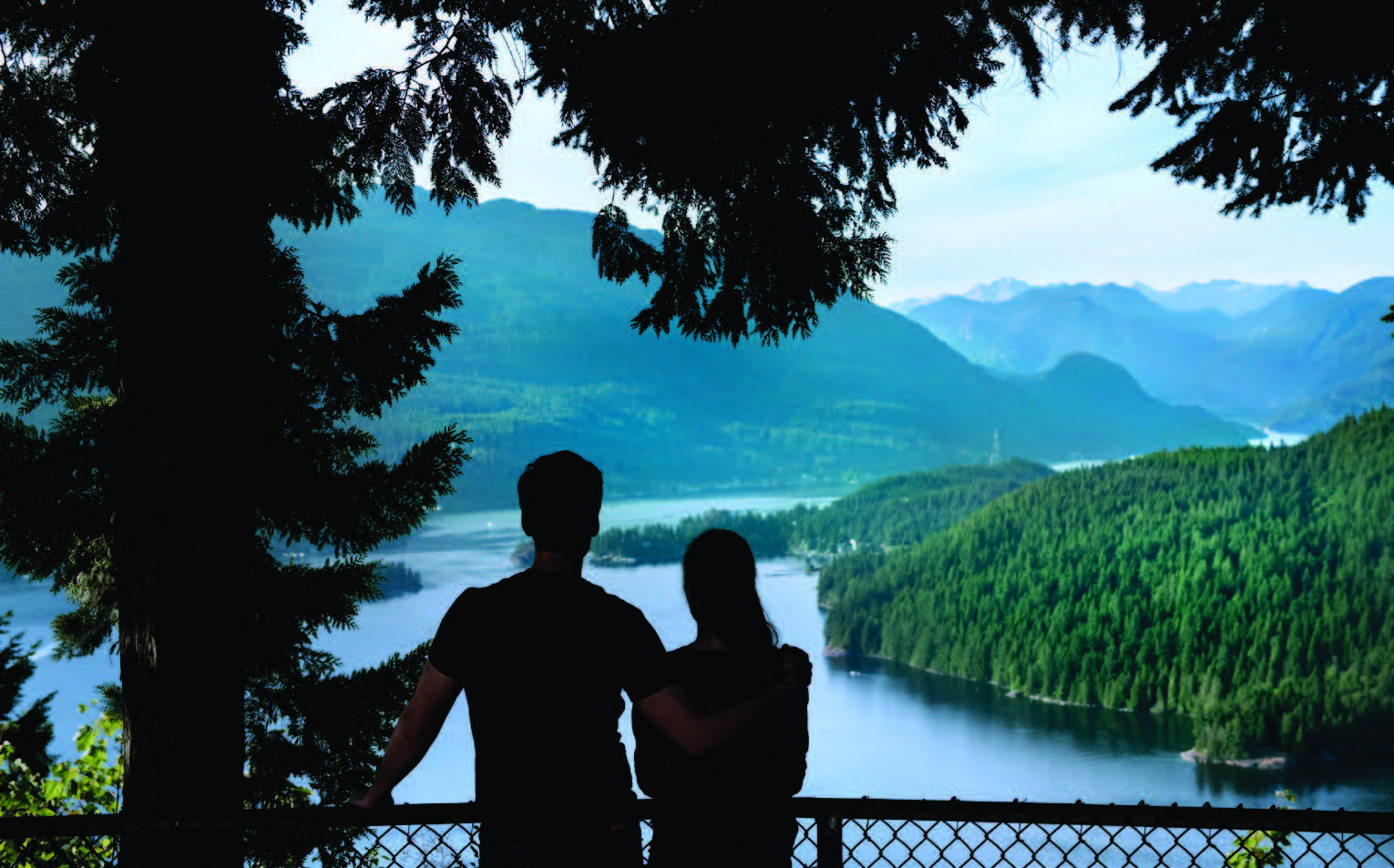 Burnaby has always been a shopping destination. Metropolis at Metrotown, the fifth-largest mall in Canada, has attracted millions of guests over the years; Lougheed Centre has more than 90 shops; and The Amazing Brentwood is an ongoing project that will merge community, homes, shopping, recreation and culture when it's finally completed. But if you're looking for something unique in the shopping sphere, there is another reason to hop on the train to Metrotown Station.
The Crystal Mall is a five-minute walk from Metropolis—but a literal world away. As Burnaby's largest Asian mall, expect a lively food court with mouth-watering cuisine from all of Asia—but particularly from Cantonese culture. (Lovers of Chinese BBQ will be in heaven.) For Maggi Mei, the winding halls and hidden gems of Crystal Mall represent a must-visit.
"Crystal mall offers a bevy of Chinese and Asian cuisine within Burnaby. An ideal playground for those who don't want to travel all the way to Richmond for the authentic stuff," she explains.
"Visit the food court for Shanghai Dimsum House, and what many consider the best xiao long bao in the Lower Mainland. Or stop by J&G, where they boast internationally regarded Taiwanese style crispy and peppery fried chicken. For something comforting, Han Ju Tofu Hot Pot has individual hot pot and tender meat-and-vegetables-over-rice combos. Or get everything you need for your next do-it-yourself hot pot at home from Yishou Hotpot Fresh."
From Vancouver, if you headed just a little east of Playland on Hastings Street; or if Swangard Stadium pops up as you cruise Kingsway; or if you notice that the Broadway thoroughfare has suddenly become Lougheed, you're in Burnaby.
Keep going—and keep a sharp eye out. Like a scale-model train huffing through a forest, a unique Asian mall in the shadow of BC's biggest shopping centre and a plethora of natural greenspaces to explore just off main drags, Burnaby is full of secrets—locals have long known them, and now you do too.
If You Go
Eat
50's Burgers claims to have Canada's Best Burger—so judge for yourself.
7741 Edmonds Street.
50sburgers.com
What is it with Burnaby and the '50s? Glenburn Soda Fountain and Confectionery serves sweet treats from the age of Poodle Skirts.
4090 Hastings Street.
glenburnsoda.com
Ramen Goah, in Burnaby Heights, is to prove that you can get world-class ramen in GVRD cities other than Vancouver and Richmond.
4518 Hastings Street.
ramengaoh.com
Butcher's Block BBQ keeps it simple: barbecue ribs, pulled pork, sausage, chicken and brisket. Order for takeout/delivery.
4091 Hastings Street.
butchersblockbbq.com
STEM Japanese Eatery impresses with traditional kappo cuisine served beautifully in a stylish restaurant.
5205 Rumble Street.
stemjapanese.ca
Hart House Restaurant is grandly located in Deer Lake Park, near the waterside.
6664 Deer Lake Avenue.
harthouserestaurant.com
Hungry? Try Anton's Pasta Bar, where the portion sizes have become a thing of legend.
4260 Hastings Street.
antonspastabar.com
The uber-chic La Foret offers quality coffee and baked goods in a setting trendy enough to challenge the best of Vancouver.
6848 Jubilee Avenue.
cafelaforet.com
Dageraad is one of British Columbia's most renowned craft brewers.
114-3191 Thunderbird Crescent.
dageraadbrewing.com
The Crystal Mall has flavours from all over Asia—pop into their food court and follow your nose. 4500 Kingsway. thecrystalmall.ca
Valley Bakery has been pleasing Burnaby Heights with delicious treats for six decades. 4058 Hast- ings Street. valleybakery.com
The Grey Olive Cafeteria is a stylish, comfortable restaurant offering elevated takes on breakfast and lunch fare.
4190 Hastings Street.
facebook.com/thegrayolive
https://www.restaurantji.com/bc/burnaby/the-gray-olive-cafeteria-/
Chad Thai is a local's favourite joint for healthy and delicious Thai food.
4010 Hastings Street.
chadthai.ca
Play
Burnaby has some 70 kilometres of bike routes and urban pathways to explore on two wheels.
burnaby.ca/explore-outdoors/walking-hiking-and-biking
Travelling with Fido? Burnaby has nine parks with multiple designated off-leash areas.
burnaby.ca/explore-outdoors/dog-off-leash-areas
The renowned Shadbolt Centre for the Arts offers exhibitions, live performances, artist programs and more.
burnaby.ca/ recreation-and-arts/arts-and-culture-facilities/shadbolt-centre-for-the-arts
Learn more about the Burnaby Central Railway, or donate to help their operations, at bcsme.org.
Visit Nikkei National Museum and Cultural Centre for fascinating exhibits delving into Japanese culture, as well as a Sunday farmer's market, which runs June to October.
nikkeiplace.org
Plod around Deer Lake on a canoe, kayak or pedal-boat with Deer Lake Boat Rentals—open weekends in fall, check the website for current info.
deerlakeboatrentals.com
Burnaby Heights has an active events calendar running throughout the year.
burnabyheights.com/events
Stay
Despite the name, Hilton Vancouver Metrotown is located in Burnaby's urban centre.
hilton.com
Delta Hotels Burnaby Conference Centre is rich with amenities, including the newly-re-opened (following Covid closure) Grand Villa Casino.
marriott.com
For More Information
Track down the perfect Burnaby park to spend the day in at burnaby.ca/explore-outdoors/parks.
Find travel ideas, events and more at tourismburnaby.com.
COVID-19 Protocols
Most businesses are open at time of press, but are operating under COVID-19 regulations, including reduced services and reduced capacities. Check before you visit.