We love Kamloops for so many reasons. We love it for its distinct seasons, friendly people and its varied and stunning geography. It's one of British Columbia's largest cities outside of the Lower Mainland and residents love it for the limitless outdoor recreation opportunities. With the Kamloops stretching out along steep hillsides, residents across the city are afforded stunning sunsets and sunrises. Whether you're traversing the grasslands, meandering along Tranquille Creek, sitting perched over Kamloops Lake or even driving through, you're sure to catch a spectacular light show. Here are 10 such examples.
Many thanks to the assistance of  Tourism Kamloops for helping us put this slideshow together.
Sunrise Over Lac du Bois Grasslands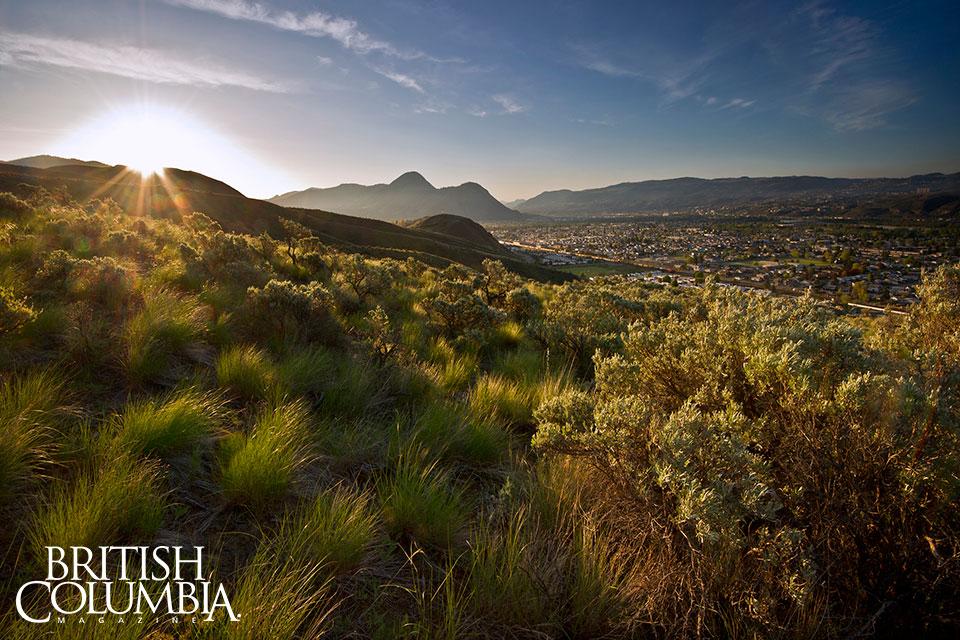 The sun rises over the Lac du Bois Grasslands Protected Area. As you can see, standing on its slope affords sweeping views of Kamloops – perfect for enjoying those gentle moments of daybreak. These grasslands are the stomping grounds of Californian bighorn sheep, white tail and mule deer, moose, birds and rattlesnakes. If you manage to photograph one of these subjects against a colorful sunset, make sure you share with us on Instagram (@BritishColumbiaMagazine)
Photographer: Kelly Funk via Tourism Kamloops
Admire more of Kelly's work on Facebook
Kamloops Lake Viewpoint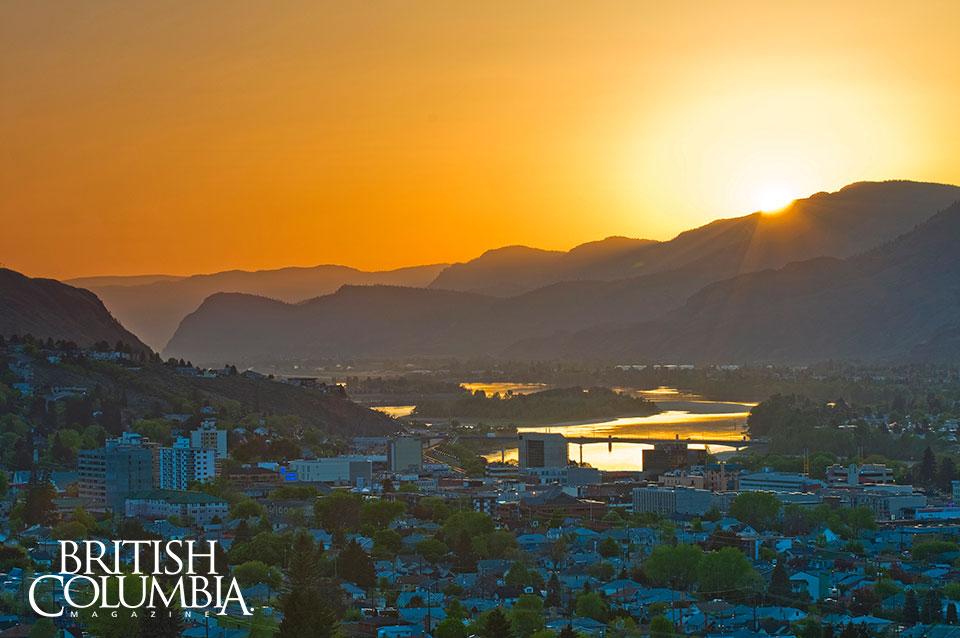 Kamloops glows bright yellow at dusk for an unsuspecting reason – the smoke of forest fires blowing from the east. With such dry conditions, it's not uncommon to see fire crews passing through the area in summer. In the hotter months you may even spy helicopters collecting lake water to dump on fires.
Photographer: Kelly Funk via Tourism Kamloops
See more of Kelly's work on Facebook
Kamloops Lake Sunrise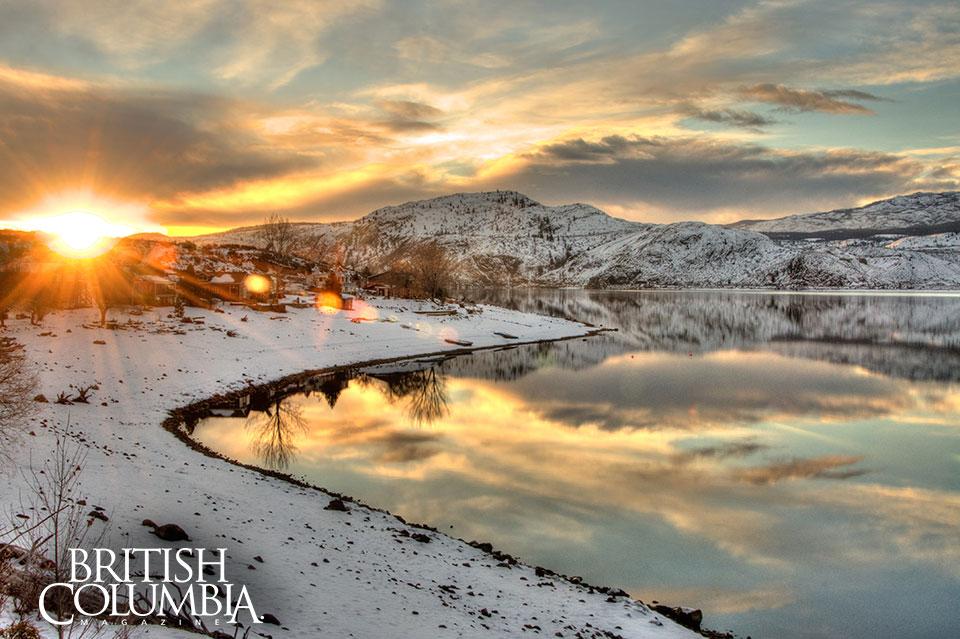 Wendy tells us, "This image was taken from my home on Kamloops Lake, at approximately 7:00 am on Monday Jan 19, 2015…'Blue Monday', or 'The most depressing day of the Year.' I say, if this is what the 'most depressing day' looks like, bring it on!"
Photographer: Wendy Elliott
Follow Wendy on Flickr or see more of her work on her website
Tranquille Creek Sunset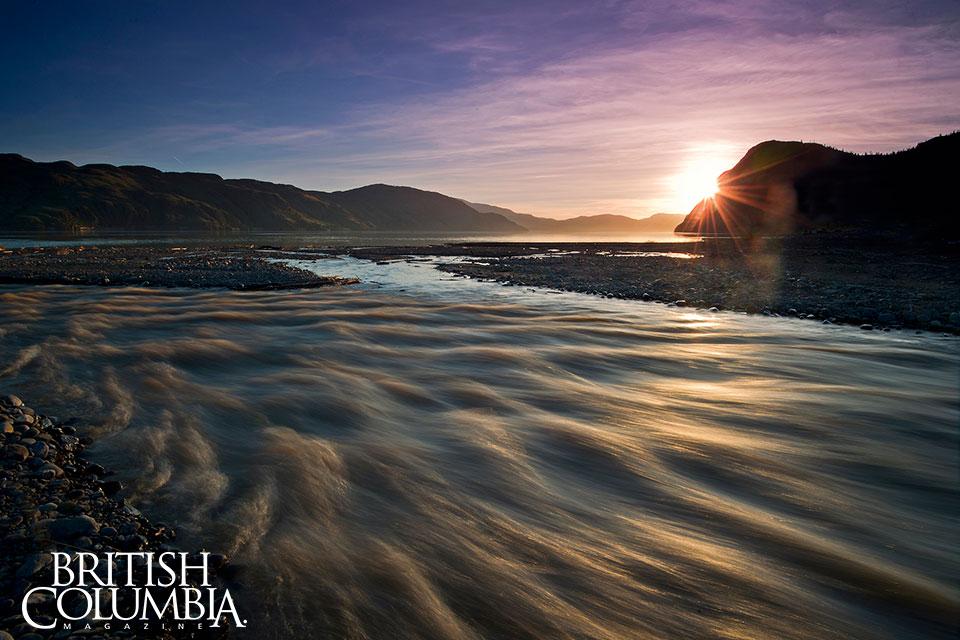 This gorgeous purple sunset was captured at Tranquille Creek, just west of Kamloops. The creek feeds into Cooney Bay (Kamloops Lake). Tranquille Creek has some historic significance having been mined for gold in the mid-1800s. So if you're looking to replicate this image yourself, don't forget to keep your eye out for any missed nuggets.
Photographer: Kelly Funk via Tourism Kamloops
See more of Kelly's photography on his personal website
Lighting at Dusk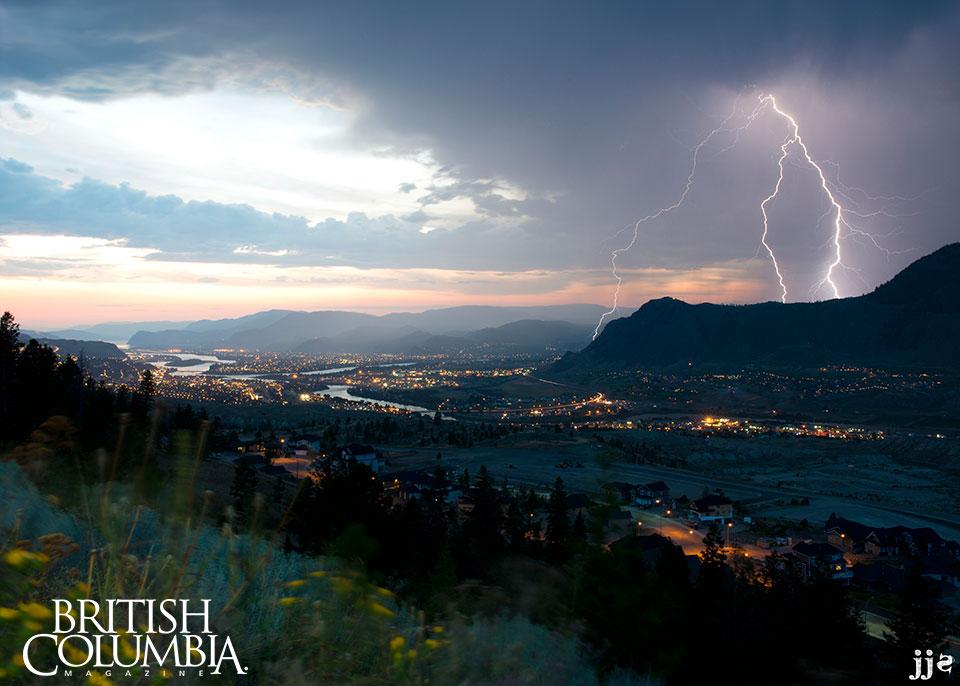 "This picture was taken during an August sunset from Juniper Ridge. We were watching an awesome orange sunset at the end of a mountain bike road trip when the isolated storm rolled through town. The thunder and lightning crossed the sunset and then they were both gone leaving a calm evening."
Photographer: Jeremy Saunders
See more of Jeremy's photography on Flickr
Riverside Park Sunset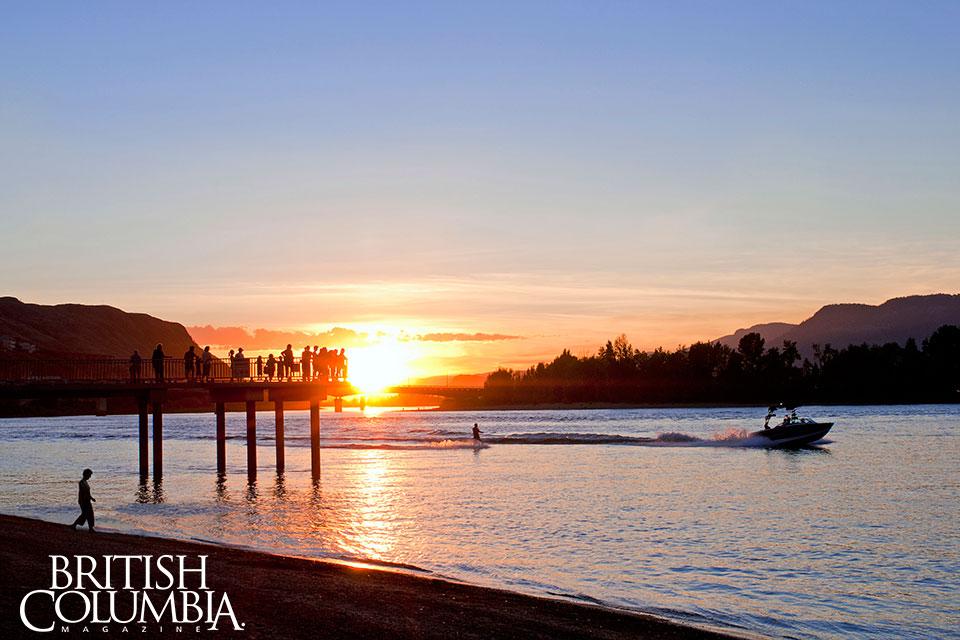 This postcard perfect sunset captures the view from the Riverside Park pier. The park truly is the heart of the city. Not only a recreational hub for lawn bowling, swimming, a game of frisbee or simply a scenic picnic, the park is home to the Rotary Bandshell.  Music in the Park runs evening performances July through August. Live music and a sunset – this is what summer in Kamloops is all about!
Photographer: Kelly Funk via Tourism Kamloops
Follow Kelly on Facebook
Edith Lake Sunset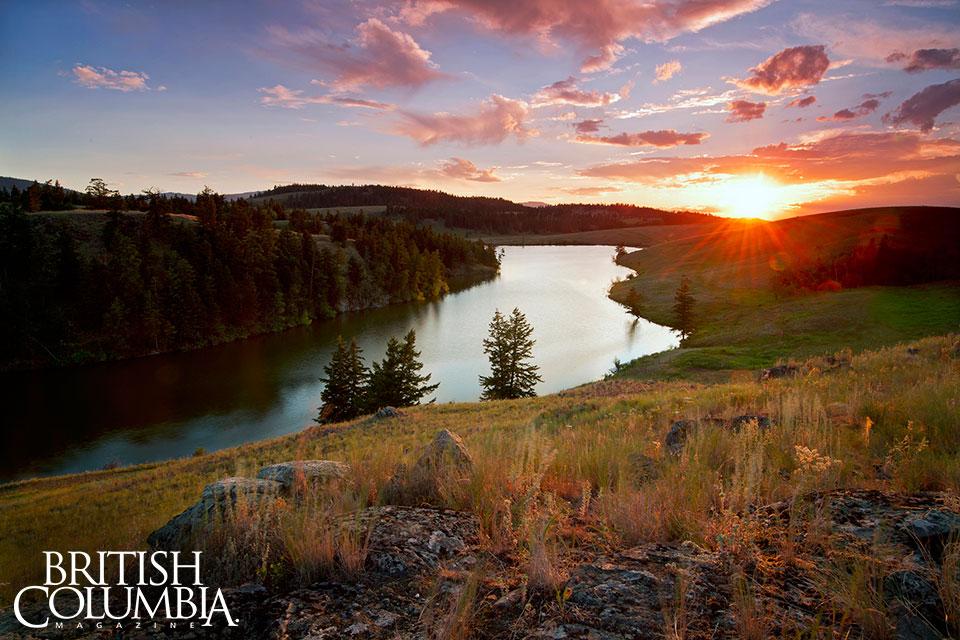 The springtime sun sinks below the horizon at Edith Lake. Edith Lake lies south of Kamloops and locals know it to be a dynamite location for fly fishing. In fact, the many lakes surrounding Kamloops are reputed to be some of the best trout fishing in British Columbia.
Photographer: Kelly Funk via Tourism Kamloops
Visit Kelly's website to view more of his photography
Crisp Kamloops Sunrise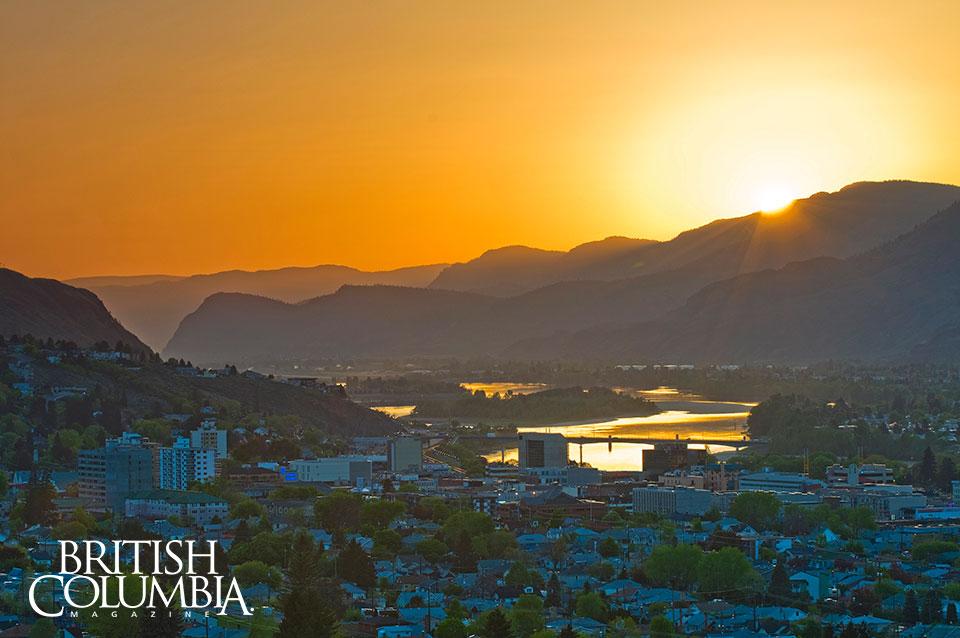 "Shot on a cool, crisp October morning around 8:00 am. The sun finally decided to peak from from its hiding place behind the hills of Kamloops and began to warm the city, getting it ready for another beautiful interior day."
Photographer: Evan F. Fitzer
See more of Evan's photography on Flickr
Kamloops fades into twilight, wrapping up another day. This panoramic shot of the city looks east. A gateway for the Shuswap, Kamloops sees quite a bit of through traffic on summer weekends. But if you're only stopping to gas up, you're sorely missing the best of what the city has to offer.
Photographer: Kelly Funk via Tourism Kamloops
Are you a fan of Kelly's work? Keep up with him on Facebook
Moody Sunset over Kamloops Lake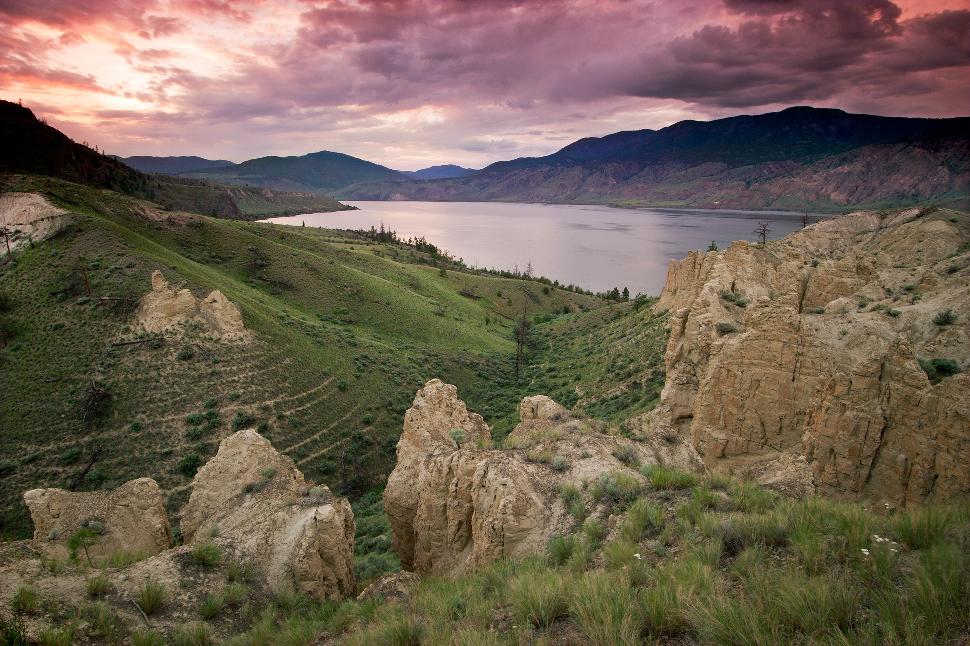 Mother Nature paints the Kamloops sky in vivid hues of purple and pink. There's something ominous about the shadows falling over Kamloops Lake (west facing). The foreground of this image captures some unique geological features: hoodoos. These funny shaped rock spires form through weathering and take thousands of years to develop. Yet another reason to stop and explore Kamloops.
Photographer: Kelly Funk via Tourism Kamloops
View more of Kelly's photography here