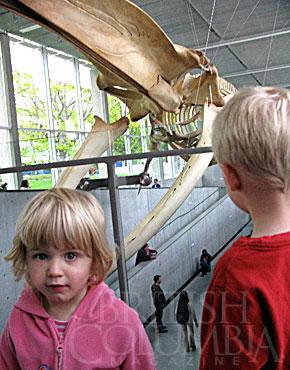 It takes a village to raise a whale. I realized this standing by the 25-metre long blue whale skeleton in Vancouver's new Beaty Biodiversity Museum at the University of British Columbia. I was among the more than 3,500 people who attended the public preview in May, eager to see the new museum and gawk at the great creature.
I couldn't help but notice Brenda deRoos. She wore a button that read: "Ask me about the smell!" In sum: it was bad. Brenda is the mother of Michael deRoos, the Blue Whale Project's master skeleton articulator (what a job title!). She was the unofficial quality control for the project, and one of many volunteers who felt drawn to help the big blue reach this, its resting place. Each whalebone cleaned had to pass Brenda's sniff test. She recalls the work as "a magical time."
The whale, which washed ashore on Prince Edward Island in 1987, first had to be exhumed from its burial place. Just hauling a flipper up from the mire of blood and muck required use of an excavator. Michael gave a talk on the project, telling a rapt audience about "schmag," the team's term for rotting whale guts. "You really have to smell this stuff to believe it," he said. (I didn't, actually. The deRoos family had me pretty convinced.)
During Michael's slide show I was struck by how inconsequential the humans in the photos appeared. Compared to a blue whale skeleton, a person is a Christmas cracker prize. The jawbones alone weighed 550 kilograms each—the equivalent of two grand pianos. Michael dubbed the project "the world's biggest jigsaw puzzle."
As I toured the new museum, which officially opens this fall, I considered the complicated history of humans and whales. Only decades ago, people in these parts persecuted them—hunting blue whales to the brink of extinction and aiming guns at the orcas we reviled as man-eating leviathans. We have mythologized them in our literature and our popular culture, from Moby Dick, to Whale Music, to the beloved children's song "Baby Beluga."
Today, we have learned enough about whales to celebrate, rather than fear them. Our feature story "Orca encounters" in this issue explores our relationship with lone whales, such as West Coast celebrities Luna and Springer, and how our attachment can raise complicated questions.
Why do whales transfix us? They are mammals, like us. But perhaps even more compelling, they form strong relationships with kin. They are social, self-aware, follow trends, form clans, use dialects, keep in touch with relatives, and stick with their mothers. Sperm whales, for the record, have far bigger brains than ours.
"It always blows my mind how big this thing is," Michael told the museum crowd, speaking with all the excitement of the little boy who loved to collect specimens. ("I was always afraid to open the freezer," recalled his mother.) Maybe a whale's sheer size, and how it dwarfs our importance, contributes to our fascination. Or perhaps it is how much about them remains a mystery. Their intelligence is almost unnerving, and looking one in the eye is memorable: "You can tell there's a lot going on behind the eyes," said Michael.
Regardless of why we love cetaceans, dozens of people on Canada's east and west coasts came together to help raise the blue whale, including sculptors, artists, educators, biologists, and veterinary students. CN Rail donated the means to move the whale from P.E.I. to Victoria. Ellice Recycle Ltd. provided space in Victoria for degreasing and articulation. VAN KAM Freightways and BC Ferries donated transport from Victoria to Vancouver—and on and on. Brenda deRoos said her biggest thrill was seeing the whale loaded on the truck and coming down the highway on its final journey. "It brought me to tears that day. Something just hit me."
The team hopes the whale will inspire future generations to visit the centre and learn about biodiversity. At the opening, there were children racing around the museum courtyard with bug jars or peering into microscopes. It appears the whale is already doing its job.
While staring into the skeleton's ribs, I overheard a father pointing out the animal's vestigial pelvis to his teenage son, teaching him that it was left behind from a time long ago when the whale walked on land, like us.