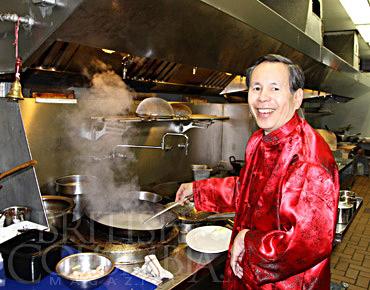 Inspired by the article about Chinese New Year in our Winter 2011 issue [Behind the lion's mask], I decided to explore Victoria's Chinatown with tour guide and chef Les Chan. I wanted to go behind the scenes myself—into the heart of a local Chinese restaurant.
One blustery November afternoon, Wing Chow, owner of Chinatown's Dynasty Restaurant, opened his kitchen to us so Les could teach me how to cook a Chinese New Year specialty. After we warmed up with cups of green tea, Wing led Les and me into his kitchen, where two huge gas stoves roared like mighty furnaces.
In place of traditional burners, the ranges featured open circular rings, which were covered by huge woks and steamers with straw dim sum baskets. As Les tipped one of the woks to add a small amount of oil and some minced garlic and ginger, I caught a glimpse of a blue column of fire.
"Ah," I thought to myself. "This is how Chinese food comes to the table so quickly."
Les added a ladle of stock to the wok, then a small amount of oil.
"Makes the vegetables bright and shiny," explained Wing as he handed Les a plate of sugar snap peas, sliced carrots, and onions.
The water quickly reached a rolling boil, then Les tossed a handful of the sugar snap peas into the wok. "Their bright green colour is auspicious for Chinese New Year," he said. "It represents money, or prosperity." Then he added the carrots, onions, and finally, about a cup of fresh, raw Pacific prawns. As the liquids reduced, Les sprinkled in a tiny amount of sugar, sweetening the sauce for the colourful main course.
Served with long golden strands of chow mein noodles, to symbolize long life, and rice, which is, of course, the quintessential element in any Chinese meal, the dish was fresh, flavourful and, best of all, "lucky."
Afterwards, Les accompanied me to a nearby housewares store, where he helped me choose a wok. My kitchen may not look like Wing's, and I may not have a ring of fire to cook on, but I'm determined to try cooking some special dishes myself for Chinese New Year. After all, one can never have too much luck.
Stir Fry Prawns and Snow Peas recipe
2 tbsp vegetable oil
1 tsp minced garlic
1/2 tsp minced fresh ginger
1/2 medium white onion, chopped
1 carrot, sliced diagonally
1/2 cup vegetable stock
small handful sugar snap peas
12 fresh prawns
pinch of sugar
Heat oil in wok. Stir fry onion, ginger, and garlic. Pour in vegetable stock and bring to boil. Add sugar snap peas and cook for a few minutes, then add prawns and pinch of sugar. Cook until prawns turn pink, then serve.
Serves two.