For those who missed it, The Pipe Mountain Coaster opened over May long weekend at Revelstoke Mountain Resort. The opening attracted no less than a thousand people and saw Mayor McKee cut the ribbon and take the ceremonial first ride.
Wait, what's the Pipe Mountain Coaster?
This single track coaster may look small in stature, but don't be deceived. The ride whisks thrill seekers 1.4 kilometres from Revelation Lodge to the Village Plaza. The track drops riders a total of 279 vertical metres and hits speeds of up to 42 kilometres per hour. No doubt it feels even faster due to the design of its pint-sized, low-to-the-ground cars.
How Pipe Mountain Coaster came to be
Peter Nielsen, VP of Operations at Revelstoke Mountain Resort tells the story best:
"Revelstoke Mountain Resort is beautiful in the summer and we were looking for a new and exciting addition to our summer menu to draw people off the highway to check it out. When we came across Austria-based Brandauer's mountain coaster we knew it would be  a good fit. The ride is thrilling, takes advantage of our spectacular terrain and vistas and gives a whole new set of people the ability to enjoy our mountain."
Now it's time for you to be the judge:
Hot Tip: How to hit top speed
Don't be scared to go full-throttle!
Once you hit the maximum speed the brakes will automatically kick in so you can go full out the whole time without any worry. Right off the top, try to not brake when you come into the tunnel; the drop on the other side is exhilarating if you are going at top speed.
Otherwise, just try to enjoy the spectacular views as you are whipping down the mountain!
How can I get in on the fun?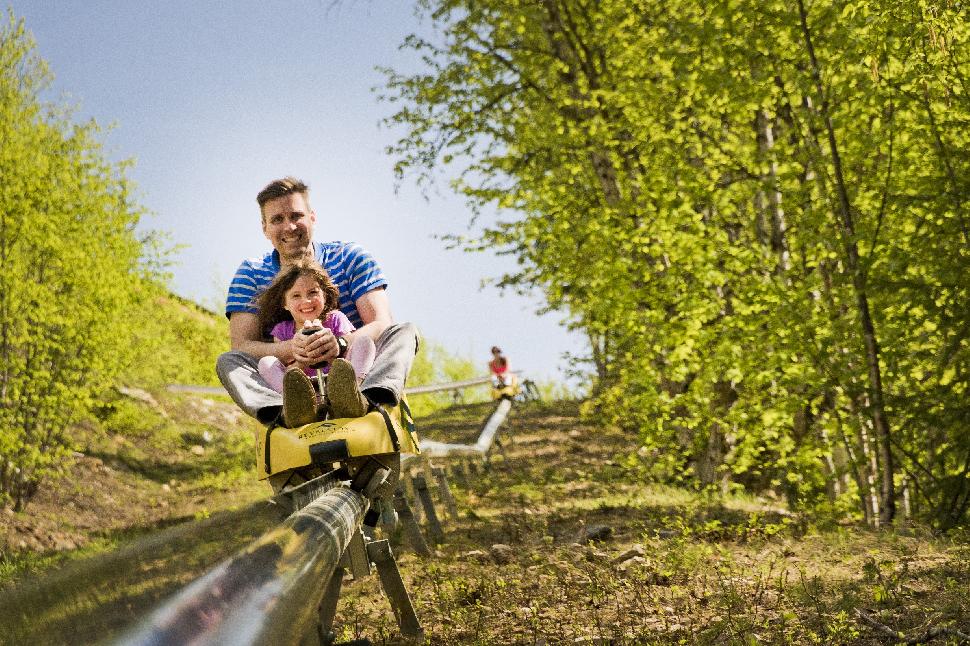 Location:
Revelstoke Mountain Resort
2950 Camozzi Road
Revelstoke V0E 2S1
Hours:
May 21- June 25:
Saturdays through Mondays 10 a.m. – 8:30 p.m.
Fridays: 4 p.m. – 8:30 p.m.
June 25 – September 5:
10 a.m. – 8:30 p.m. daily
Who Can Ride?
Restrictions
Passengers should be a minimum of 96-cm (3'2″) tall. Those under eight years will have to buddy up with someone 16 and older.
Passengers must be no taller than the driver's shoulders.
Maximum weight is 118 kg (260 lbs)
Additional Details:
Tickets: $19/29/35 for one, two or three rides; children and seniors receive 15% off fare price.
Website: revelstokemountainresort.com/mountain-coaster
Telephone (toll-free): 1-866-373-4754