Steps from the village, we duck into towering white spires of hemlock and spruce. Growing in that pointed, perfect, mountain way, their radical tapering is an adaptation to shed snow directly to the roots; life is tough in the alpine and organisms command every advantage they can. Biology aside, moving among these "snow trees" is sublime, clad as they are in the sound-absorbing splendour of yet another snowfall.
Snow trees are a hallmark of SilverStar Mountain Resort in British Columbia's Thompson Okanagan region, and here you can experience them in a variety of ways—fat-biking, cross-country skiing and, of course, alpine skiing. But for this short evening jaunt, minutes after checking into the Snowbird Lodge, I've chosen snowshoes.
In the forest, snowshoeing delivers a slow-motion appreciation and intimacy that speeding skis tend to blur. You note animal tracks crisscrossing the snow, tiny birds dashing between snowy skirts, moss-sicles swinging on pine-scented zephyrs. The snow here is light and fluffy, meted out in tolerable doses, something a coast-dweller like myself—used to massive, heavy dumps fresh off the Pacific—can appreciate. In the Interior snowbelt, winter starts early and is refreshed frequently with moderate amounts; the trees get flocked, then flocked again. Eventually they become gelid cones, anchored to the snowpack. As I wend my way through, a breaking storm releases a molten sunset to the west, flushing the treetops amber and salmon as gunmetal gathers between them.
Considering it's only my first hour of a multi-day ski, food and beverage tour in the Okanagan, nature has done an exceptional job at arranging something worth toasting.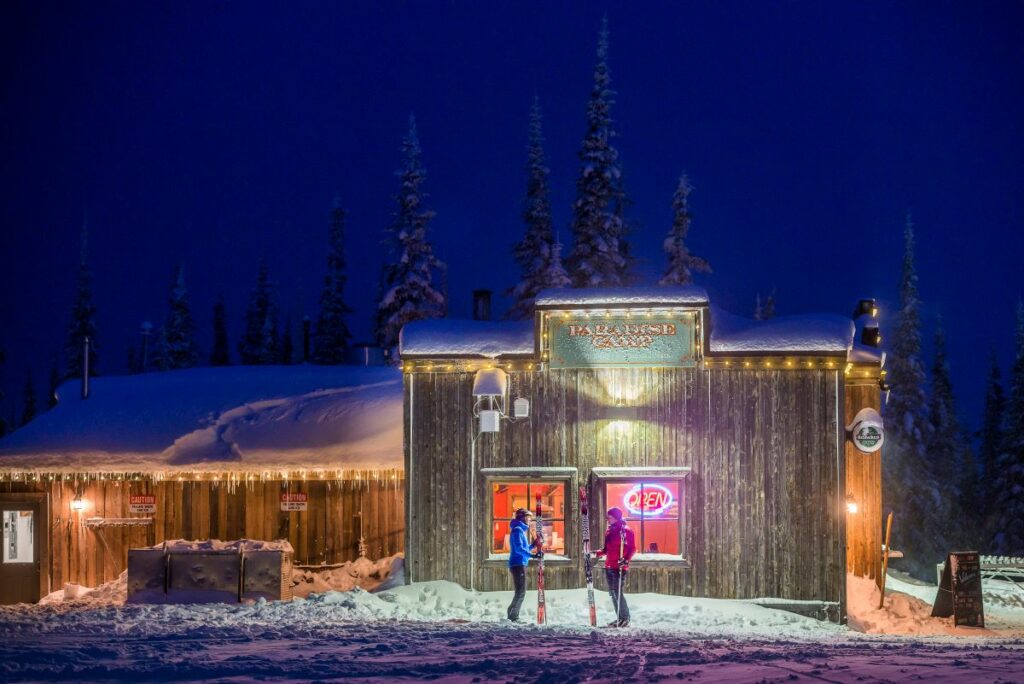 Like its sister Okanagan resort of Big White, SilverStar is one of BC's largest ski areas, a family-oriented mountain similarly located less than an hour from Kelowna International Airport but in the opposite direction—north. With 1,328 hectares of terrain, a 760-metre vertical drop, and annual snowfall over 700 centimetres, SilverStar is lauded as intimate and colourful, its unique mid-mountain base and slopeside accommodations a vibrant concatenation of amenities, from ice rink, tube park and a kids' snowmobile track, to the aforementioned snowshoe, fat-bike and cross-country trails. The impression is of more to do than you could ever have time for.
Notwithstanding all that opportunity, I'm here to ski, so I'm thrilled when morning dawns with 16 centimetres of fresh Champagne powder. After a quick croissant and coffee at Bugaboos Bakery Café, I click into my skis and glide to the Comet Express chair just as it opens. Untracked bliss is everywhere on the frontside's Vance Creek area, yet humans are not. In fact, I see more out for a morning cross-country skate than jumping onto lifts. Keeping ahead of the crowd that I'm paranoid will materialize, I head to Putnam Creek, a backside black-diamond playground so steep and genuinely deep that snow streams up the front of my jacket to occasionally plug my unconscious grin.
Seeking respite after several thigh-burning runs, I duck into Paradise Camp, SilverStar's only on-mountain restaurant, located at the intersection of its alpine offerings and the 105-kilometre groomed-daily trail network shared with its famous neighbour, Sovereign Lake Nordic Centre. Despite being located far back in the resort, Paradise is open for breakfast, lunch and dinner (by snowcat), and makes a great meeting point—especially if part of your family wants to ski cross-country while others go alpine.
Experiencing a new mountain in the best possible conditions is what skiers live for, and I range over Putnam's ridges, plumbing snow-tree glade after snow-tree glade. One is a gully called Three Wise Men. No one has been in it, and I indeed feel sage after a sensational ride in its halfpipe-like tube. Afterward I meet up with local telemark legend and VP of Destination Marketing Guy Paulson for a few runs. Given SilverStar's bed-capacity of 3,000, I think of asking him why the mountain skis like a ghost town on a powder day such as this. But as we track back and forth across Putnam, Guy showing me how the various sectors link up, I know the answer—there's just that much terrain back here.
Back on the front side, I enjoy a signature elk burger at Red Antler Bar & Grill, whose elevated pub offerings include (two thumbs up) the mountain's largest beer selection. Dinner that evening is at Silver Grill, an intimate, panelled enclave that floats above a jigsaw of restaurants in the same building, including the Den Bar and Bistro, a ski-in/ski-out hangout that regularly features live music. The food at Silver Grill is top grade, a Merlot from BC's Burrowing Owl Winery its match.
The windows fronting the single, cosy room look out onto a raging snowfall the entire evening. Tomorrow, SilverStar skiers will dine again on ethereal powder, while I depart to sample the North Okanagan's earthier oenological charms.
The link between these two solitudes is the town of Vernon, a mere 20-minute drive from SilverStar. Circled by rolling hillsides, snowy parks and sizable lakes, Vernon has outgrown its role as a utilitarian hub for agriculture, forestry and mining to become a staging ground for fun and adventure, food and wine, skiing and spas.
"We're not pretty, but we're full of surprises," a citizen puts it to me. I'm not sure about the former sentiment as I embark on a walking tour with historian and storyteller Gabriel Newman, who traces the area's history and iconic characters, aided by dozens of wall murals that deliver the town of both humble charm and an unmatched urban aesthetic.
As it happens, the 58th Vernon Winter Carnival is underway, with the usual panoply of local arts, culture and sport events. When I chat up a young guy in a hot-air balloon basket busy inflating his rig, he relates how growing up here he was fixated by the town's longstanding carnival ballooning event. When I inquire as to whether this was what instilled in him a desire to fly, he says not really, he's just into balloons.
Though Vernon's main drag features any number of innovative restaurants, I aim for the Naked Pig Barbeque & Smokehouse, which specializes in low-and-slow, artisan-style smoked cooking. Leveraging its sister relationship with neighbouring Marten Brewing Co., the airy bistro also features German-style craft beers that pair perfectly with brisket, pulled pork and ribs.
After lunch, I stop in for a tasting at Okanagan Spirits Craft Distillery, whose diverse portfolio spans vodka, gin brandies, fruit liqueurs and Canada's first genuine absinthe. A single malt whisky produced once a year in small batches using BC malted barley is good, but the winners for me are a Scandinavian-style aquavit (caraway is the dominant flavour) and the absinthe. Diluting the latter with ice-water to cut its 60 percent alcohol content has the welcome effect of making it milky and aromatic. Because I'm not driving, I sample more than I normally might, knowing I have a healthful place to recover before tomorrow's wine tour.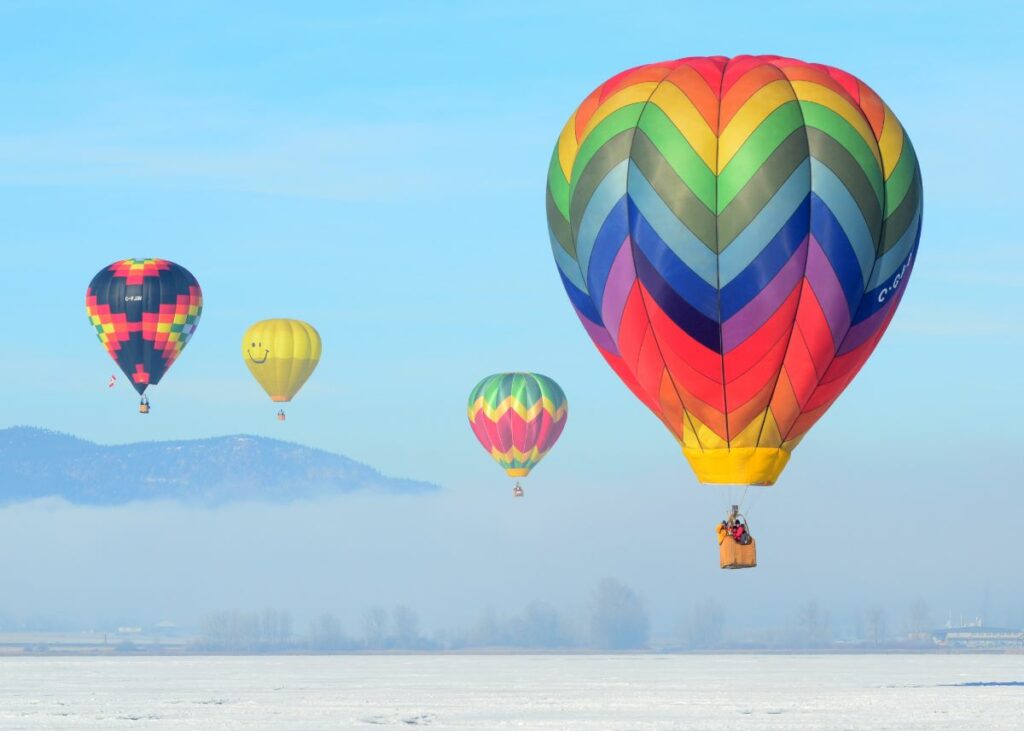 If you need a base for an Okanagan wine junket, it's hard to do better than Sparkling Hill Resort, the province's premier destination for wellness travel. Set high on a bench above Okanagan Lake, the 40,000 square-foot KurSpa built by Austria's Swarovski Crystal company is the embodiment of Euro-inspired health, wellness and bizarre architecture. The soaring, crystal-draped atrium leads into a spa of seven unique steam and saunas, four experiential showers, a Kneipp walkway (alternating hot-cold immersion for the lower limbs), outdoor infinity pool, hot pool, saltwater pool, serenity room, tea room, fitness studio and a Wellness Clinic offering the usual range of new-age treatments. Cycling through the futuristic facility feels like walking through a hologram on the starship USS Enterprise; I almost expect the white-robed folks I pass to speak Klingon.
That night, I ease into the outdoor infinity pool for an evening dip. The day's obdurate grey skies have cleared and I imagine SilverStar skiers finally looking forward to a sunny day. Gazing into a starry night from my aerie, moonlight appears to pool like quicksilver on distant mountaintops, but only in patches. This odd effect doesn't make sense until I recognize why: it's the snow trees again, the light swimming in their cloaks.
After breakfast, I dedicate the day to Okanagan Lake's "Scenic Sip Wine Trail," in which the farther you go the more you see—but the less you remember. First up, The Chase Wines, opened in June of 2016 by winemaker Adrian Baker, a Kiwi with a knack for aromatic whites. In its Garden Bistro, I join a group for an amazing display of ad hoc cookery; given today's demanding mix of dietary restrictions, a young chef is experimenting with a seven-course vegan feast—incredibly difficult give that wine pairings typically turn on fats and strong flavours—but he pulls it off with panache, linking delicious dishes and brilliant presentations with riesling, gewertzemeiner, rosé and chardonnay. Across the street, I find Intrigue Wines light on the palette but accessible in price—sort of an anti-wine-snobbery club—while Ex Nihilo ("from nothing") is the eponymous theme of a winery that offers big, bold reds and daring whites, the latter an area tradition pioneered by the last place I visit.
George and Trudy Heiss's Gray Monk Estate Winery has blazed the trail for winemaking in the Okanagan since 1972. With two generations working the vineyards, the legacy continues, an entire wall of their tasting facility scaffolded with the annual awards for their signature pinot gris. My tour ends in a "wine library" where reference bottles of everything ever produced here are archived. Scanning these historic and intriguing labels offers a nerdy denouement to a long day.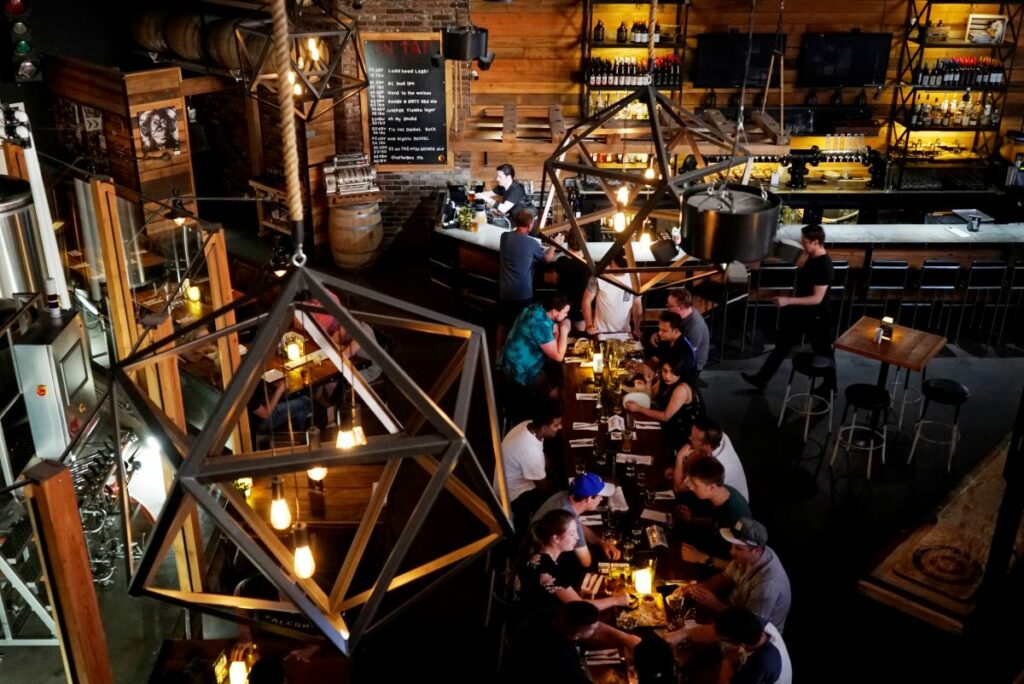 Wintertime is perfect for fat-biking, and I move south to the town of Penticton with just that plan. Outfitted with a slick E-bike from the appropriately named "Freedom" bike shop on Main Street, I head east and up a hill onto the old Kettle Valley Railroad (KVR) route paralleling Lake Okanagan. There's only a whiff of snow here and perfect traction on the frozen gravel surface. I pass only a few dog walkers as I wheel along clay bluffs past the site of an old train wreck and onto a graveyard lookout aimed toward the Naramata Bench, a jigsaw of award-winning wineries.
But it turns out I don't have to venture so far for today's wine fix. Instead, I dine at the truly unique TIME Winery & Kitchen, built into a revitalized historic movie theatre in the heart of downtown Penticton and featuring a full-scale winery, tasting bar and lounge. The original theatre was eventually turned into four smaller ones before long-time resident Harry McWatters acquired the property and undertook the current stunning conversion. McWatters regales me with his favourite story of going to the theatre when he was 12; it cost 25 cents for he and a date—popcorn included.
For this southern leg of the trip I'm bunking at Penticton Lakeside Resort. The waterfront setting includes the acclaimed Hooded Merganser Bar & Grill, featuring contemporary cuisine inspired by ingredients from local Valley View Farm. It's a great place to breakfast overlooking the stormy lake when waves drive in from the north. In winter, perhaps to make up for guests not being able to use the private licensed beach, the hotel operates an ice-rink, where I make a few loops.
I lunch downtown at Craft Corner Kitchen, which claims to serve "gastro pub food with a twist." I concur: paired with a local IPA, the star of the show is the first item I sample—beer-battered cheese curds.
A 45-minute drive away, located along the same KVR route I fat-biked, I stop in at historic Chute Lake Lodge, recently acquired by local company, Hoodoo Adventures. Nestled in the mountains above Okanagan Provincial Park, the now-renovated property offers all-new recreation and adventure possibilities. The original cabins and mainstay were built over a century ago for workers when the railway used it as a water stop. After the railway was decommissioned and torn up, the KVR became a world-renowned cycling route featuring trestles and tunnels, with Chute Lake Lodge a cherished stop famous for its pies. Kitsch-filled, rustic, tilted at every conceivable angle, new ownership has revitalized this historic property. I make a snowshoe tour out onto the lake, followed by trying my hand at ice fishing and a bonfire lunch back at the lodge.
Later, back in Penticton, I join Great Estates Winery educators for an all-time bout of indulgence: learning how to pair the delicate, dark chocolates of local French artisan chocolatier, Maison Mulnati, with red, white and dessert wines. Among many revelations are Mulnati's handmade vegan chocolates filled with organic Okanagan fruits and infused with select wine vintages.
I don't deserve it, but I make time for dinner at Vanilla Pod, one of the Naramata Bench's standout restaurants, located at Poplar Grove Winery. Here I enjoy an amazing wine-paired sequence of beet salad, sable fish, braised beef and cheese plate with a group who have been in the Okanagan wine scene since its early days. Jaded? Hardly. The talk is of wine, wine, wine.
Naturally, my foodie frenzy in Penticton is leading up to something seriously physical: a day at Apex Mountain Resort. Situated on the west side of Okanagan Lake, Apex is a venerable hill prized equally by freestyle mogulists back in the day, and today's adventure skiers who appreciate its mix of challenging terrain, sunny skies and dry powder. With 610 metres of vertical and 79 runs, Apex receives an annual 600 centimetres of snow each winter and also features an all-ages Tube Park and a kilometre-long adventure ice-skating loop through scenic forest.
Here, I spend a cold, crisp day cruising some of the most fun terrain in BC. After an early lunch at the Gunbarrel Saloon, I posse up with a few local skiers who walk me out to a backcountry area that hasn't opened yet this winter, where we ski boot-high meringue over a hard crust. If that sounds bad it's exactly the opposite—great skiing in untracked snow with the hazards beneath mostly frozen into the base. It's so good we go around again. And then one last time before shadows lengthen across the snow, the lifts grind to a halt, and wind from a descending storm picks up.
A solid day on the slopes would be a good place to end things. But this is the Okanagan, and the food and beverage revolution kicked off by its farms and wineries is a year-long affair. I'm barely out of my ski boots before I'm dragged back to the Gunbarrel, now set up with a dozen concessions for Apex's sixth annual "Brewski"—a craft beer, cider and spirits tasting party. As I belly up for my first micro-brew, I glance out the window, where a snow tree nods slow acquiescence in the warm light of a lamppost.