Crunch, crunch. Squeak, squeak. And, if I listen carefully, a gentle tinkling. These are the sounds of hiking in the snow.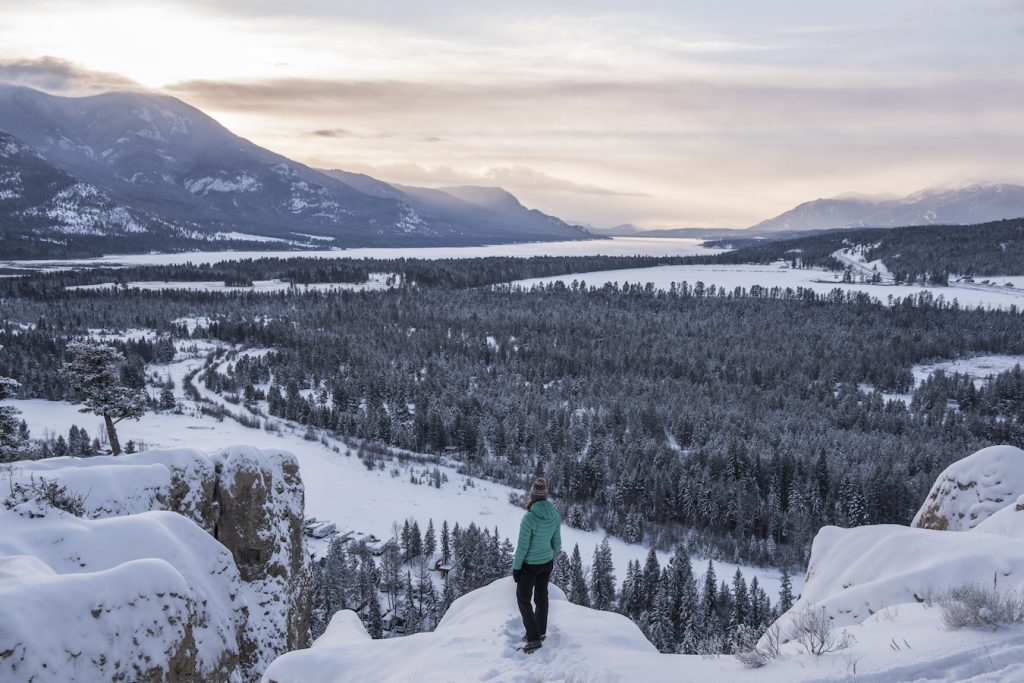 Walking in the summer is a concert that tickles every sense. But there's so much going on, it's hard to separate the instruments from the music. Not so when the world is frozen. There is no smell or taste and the other inputs are much fewer. That lack makes everything else more noticeable. If I listen carefully, I can hear a snowflake land.
To me, these details are what make hiking in winter so special. When the snow flies a lot of hikers pull out their snowboard, cross-country skis or snow-shoes. So do I. But I never put away my boots. With the right gear, preparation and attitude, hiking is just as much fun in winter as it is in summer.
I'm thinking all this as I follow the Sidewinder trail away from the suburbs of Kamloops. As a coastal resident I couldn't
resist breaking up my road trip between ski hills to stop for a hike in the Lac Du Bois Grasslands, on the outskirts of the city. Walking through sage brush under a wide, blue sky, I immediately feel alive.
Five centimetres of new snow covers the trail, just enough to add some challenge, but not so much to make it hard to follow. I set off from the car at a gentle pace, too distracted by the feeling of the sun on my face to hurry anywhere.
Eventually, I notice the rays dipping behind a hillside and start walking faster. The biggest obstacle to winter hiking is daylight. More specifically, the lack of it. I've got a headlamp in my small pack, just in case, but would prefer to finish my hike under solar power.  I'm also carrying an extra layer, water and food. It's more than I'd carry on a similar hike the rest of the year, because I know winter conditions are less forgiving. My main worry is getting cold, and food and water play an important role in maintaining body heat.
Thirst doesn't always come when its chilly out, so I force myself to drink when I turn off Sidewinder trail and start up Kow A Been Here. Soon I'm following a coyote up the path as we wander up a valley between two hills. I never actually see the canine—just its tracks, along with signs of mice and deer.
While spotting wildlife on a hike is not usually common, wildlife biologists using camera traps record an abundance of animals sharing the trails with humans. They just do it when we're not looking. Fresh snow reveals this other hidden traffic and opens up all kinds of wonder. Where's that coyote going? Is he on the hunt or running away from me? Where's his pack? Or is it a she?
I never find out. The coyote tracks soon leave the trail and disappear in the sage. I'd love to follow but the sun keeps dropping. I pick up the pace, turn the corner toward home and quickly come to a north facing slope. As I start to climb, I begin to slip. Ice hides under the new snow and the rubber on my boots doesn't bite. I stop and rummage in my pack for my secret weapon.
To deal with ice, I bring spikes that attach to my shoes to provide traction—they are essential to winter hiking. With them on I quickly reach the top of the hill and jog down the other side.
I can see my car in the distance. Behind me the sun is starting to flirt with the horizon. I race the last rays to the parking lot, double timing to the crunch and squeak rhythm of snow meeting shoe, my breath clouding in my face and the cold air searching for gaps in my armour.
And then I step into the sanctuary of my car and everything goes still and quiet.
If You Go
Hiking in winter requires a mind leap. First, there's just making it out the door into the rain or cold. Then there's finding somewhere to go that's not buried in snow. There's no doubt many trails are impassable in winter. But one of the advantages of the boom in the number of people getting out recreating is all the traffic. More boots, means better packed trails, which translates to less need for snowshoes or skis.
A good example: nearly four metres of snow lay over Paradise Meadows near Mount Washington Alpine Resort last winter. Yet, the snowshoe trails were easy to walk with just hiking boots, except for a few days after particularly big storms. In many parts of the province winter warmups or just generally mild temperatures mean trails are often clear of snow. And even when there is snow, like on my hike in Lac du Bois, it's easy to walk in.
Here are a few other places to make hiking a year-round sport.
Old Coach Road
Invermere
Just off the highway between Invermere and Radium, this road-turned-trail follows a grassy escarpment above the Columbia River. Exposed to the sun and wind, it's rarely snowed in and leads to epic views of the Purcell Mountains.
Wild Horse Canyon Trail
Okanagan Mountain Provincial Park
Elk, deer and bighorn sheep often winter in this arid park along the shore of Okanagan Lake between Penticton and Kelowna. The trail doglegs through the rugged terrain with regular views and plenty of sun exposure.
Mount Norman
Pender Island
The weather is so mild on Pender Island, one of the Gulf Islands near Victoria, palm trees are more common than winter snow. Even at the top of Mount Norman, though its summit perch provides views of snowy mountains in every direction.
Red Rock Trail
Lillooet
Lillooet's answer to the Grouse Grind, this stairmaster of a path heads 500 metres up the hillside above the town to a distinctive red outcrop. The destination is really above the birds eye view of the Fraser River and east side of the Coast Range.