Last April Chris Segers taught us how to plan a multi-day cycle trip in British Columbia. Just a few weeks ago he wrapped up a Richmond-Sunshine Coast-Vancouver Island -Tsawwassen trip that saw six ferries in five days over two islands, and covered 375 kilometres of road. Chris' trip wasn't without its hiccups, but isn't adventure the real spice of life?
The Plan
In June of this year, my brother Isaac and I set out on a local multi-day cycle tour. We had been on a longer trip last summer down in the United States, but wanted to see some of the sights closer to home. We afforded ourselves five days and intended on using them to the fullest, all on a shoestring budget.
We would start in Richmond and head north to Horseshoe Bay. We'd then take a series of ferries and cycle our way up the Sunshine Coast to Powell River. From there we would cross the Georgia Straight, landing in Comox. We would then travel south along the east coast of Vancouver Island. After a planned a stopover on Salt Spring Island (which I had never been to) our journey would end in Tsawwassen.
In the months leading up to our trip we planned and re-planned; over and over again packing as much into the itinerary as possible. Our priorities? Craft breweries, local cuisine, and visiting with friends. The biggest challenge of the trip was coordinating our cycling distances to line up with the necessary ferry departures.
Day 1: Heading Out
Thursday, June 18, 9:30 a.m.
We left Richmond hitting all the main commuter routes through Vancouver to the North Shore. Crowded as they were, we found them to be fairly efficient. However, it was the unfamiliar roads we were really looking forward to. Stopping briefly for a couple photos at the midpoint of the Lions Gate Bridge, we then hurried out to West Vancouver's Marine Drive. This winding road would take us along the rocky coastline into Horseshoe Bay. Upon our arrival at the terminal we spoke with a BC Ferries employee who suggested we purchase an "Experience Card", which saves you some cash if you are taking multiple ferry trips. We obliged.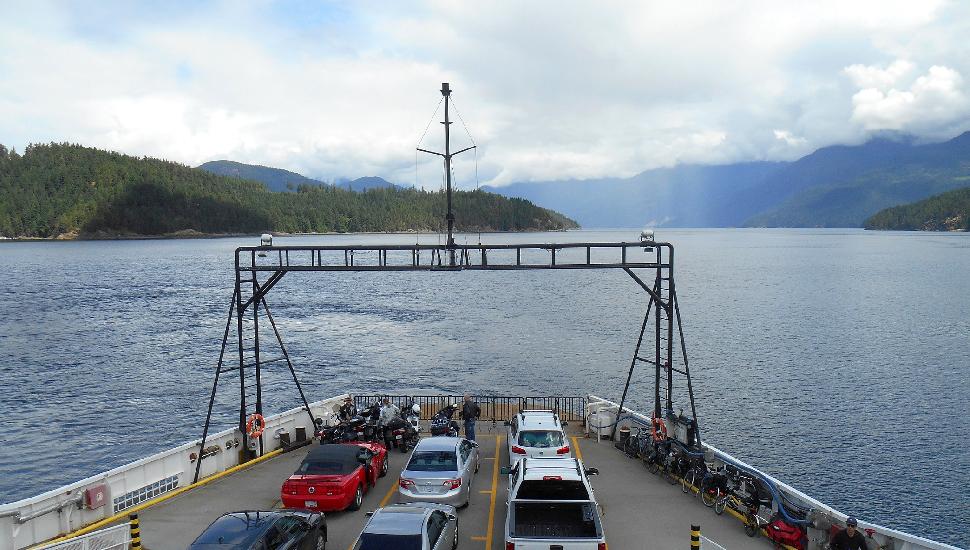 As we were approaching Langdale the weather had slowly changed from sunny to a greyish hue that suggested wetter times were ahead. Fun. Leaving the terminal we were greeted by a 3 kilometre hill with a decent incline. "Welcome to the Sunshine Coast" I thought. Now, as much as it sounds like a rough way to start the stretch of distance we were trying to cover, there was a shining beacon of respite sitting atop the hill. Persephone Brewery awaited, greeting us with a frosty glass of Goddess Golden Ale. We took a few well-deserved minutes to sample a glass in the tasting room that overlooks their farm.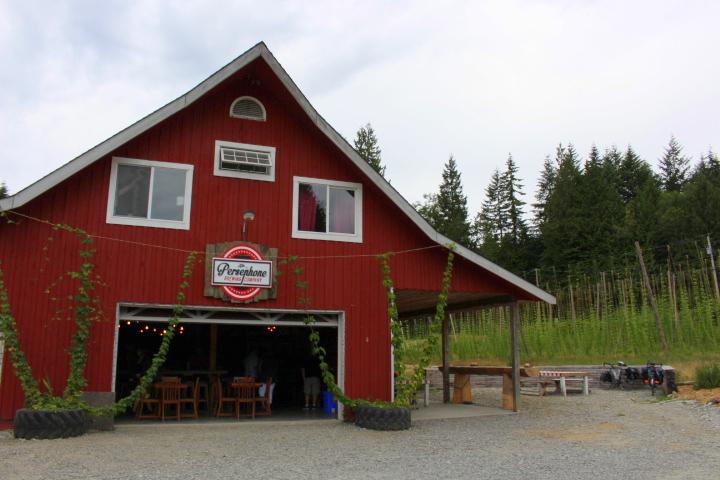 Continuing on through Gibsons, we stopped in at a sandwich shop for lunch, and then peddled onward past Roberts Creek, and into Sechelt. The further we rode, the darker the clouds became, and eventually we were met with rain. We pulled into Clayton's Market to pick up our dinner supplies, and as our luck would have it we were offered a ride to our campsite. In the wet weather we were thankful and gladly accepted. Turning off at the entrance to the campsite a sign read, "2 km ahead" with an arrow pointing up a rough logging road. It did not look promising. Arriving at the campground, the sites closer resembled a mosquito-infested swamp than an inviting place to rest our heads. Our campground was a bust. Luckily we had some friends who had a place not too much further up the highway. Arriving unannounced and thoroughly soaked, they were more than happy to take us in for the night. We sat under a covered deck eating a delicious dinner of pork loin, steamed potatoes and veggies as the rain poured down; we had made the right choice.
Day 2: Blue Skies & Ferry Rides
Friday, June 19
We woke early at 5:00 a.m., and by this time it was already light out. We began packing up our gear, and took the opportunity to unload a few items we wouldn't be needing with our friends. All packed up we had a quick cup of oatmeal, said our goodbyes and hit the road just before 8:00 a.m. The rain had long since subsided and we were back to blue skies and sunshine. Winding our way north the road was hilly, but not too bad. At times the shoulder dropped away to nothing, and on some blind corners it was a bit nerve racking as you could hear cars racing up behind you. As we approached Madeira Park (just south of Pender Harbour) we spotted a café just off the highway and pulled in. Madeira Bistro. A great looking little joint, full of paintings from local artists and a selection of baked goods. Best of all, they served a full breakfast! We decided that the oatmeal we had earlier wasn't going to cut it…at least not anymore. Thoroughly satisfied from breakfast and a couple cups of coffee later we set out again, but not before picking up a few baked goods to go.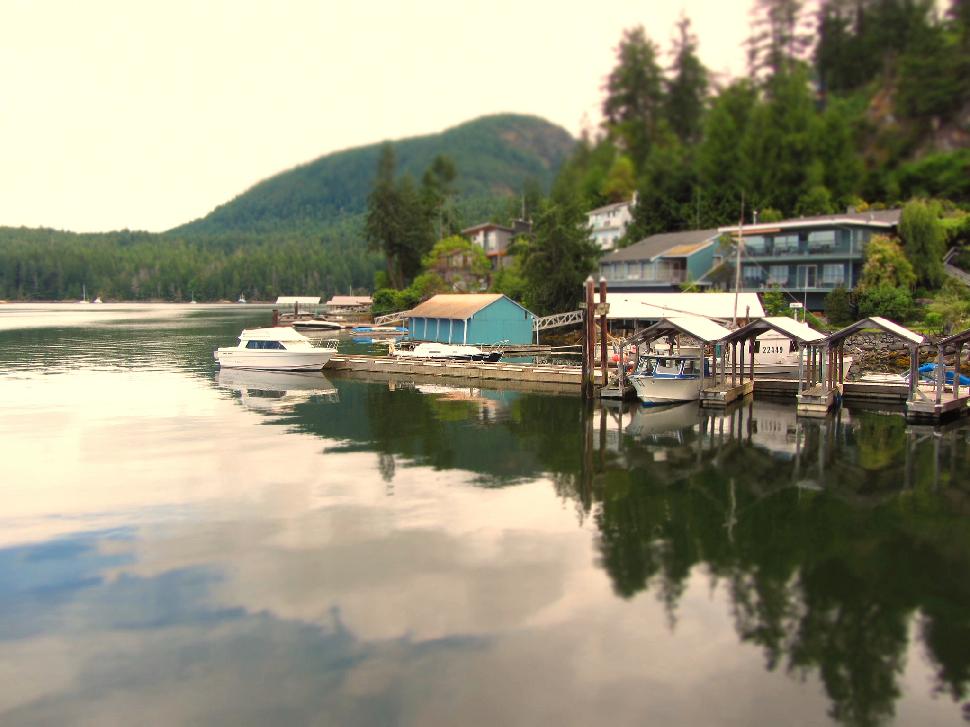 Hitting another big hill between Madeira Park and Earl's Cove my knee was beginning to bother me. We stopped at a pull out so I could stretch a little. It helped. Finally, just past the turn off for Egmont we hit Earl's Cove; the first of two ferry crossings for the day. From the ferry, the view up Jervis Inlet and the surrounding mountains was amazing. We arrived in Saltery Bay and continued on towards Powell River to catch our next ferry. As we neared Powell River the views really opened up and you could see some of the rocky beaches. We pulled into the ferry terminal to buy our tickets and inquired about somewhere to get a cold drink and some food. We were directed to Strikers Bar and Grill across the street. We grabbed some pub fare and a few beers before cycling down to the ferry. We were Comox-bound, where we had arranged to be picked up by a friend who was putting us up for the night. Upon arrival we drove to the bucolic outskirts of Courtenay and pulled in to a charming old house that sat atop six acres. We got cleaned up and took a tour of the house and surrounding property, which included a big vegetable garden and two chickens. (Thor and Loki!) That evening we had a bonfire and played some music while catching up with our friends. Thoughts about the next day's long ride were never far from my mind.
Day 3: The Long Haul
Saturday, June 20
A big breakfast was in order for this stretch of our journey. We had a lot of kilometres to cover and it was going to be hot. We chowed down on some eggs, lentils, and rice. Our friends sketched a quick map to get us back to Highway 19A, and it wasn't long before we were back on the saddle and heading south. This was a long haul day – 111 kilometres to the final destination in Nanaimo. We cycled through Royston and then Bowser. We stopped in Qualicum Beach and got off our bikes to stretch our legs. We then pushed on to Parksville. Having been on long rides before, a familiar feeling began washing over me: exhaustion.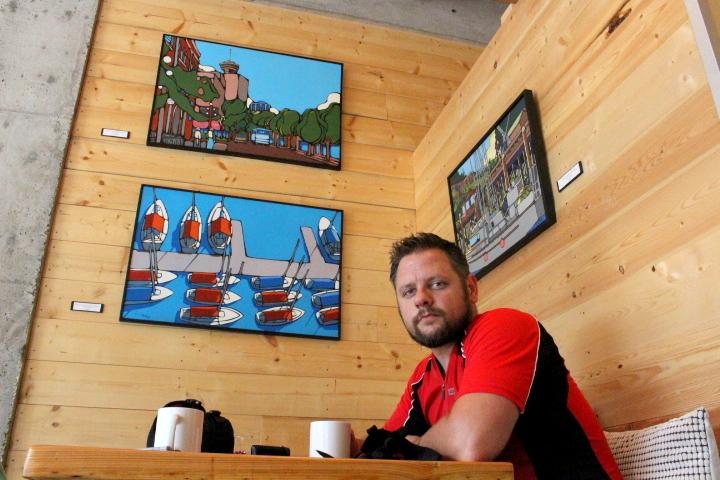 We needed to escape the sun for a bit and get some calories back in us. We found a roadside diner and popped in. We simply ordered the daily special; it didn't matter. We rested there for thirty or forty minutes and started to feel better. Climbing back on our bikes, we pushed onwards. Just as you leave Parksville the 19A connects to Highway 19. This meant two hours of highway riding with the drowning roar of cars ripping alongside us.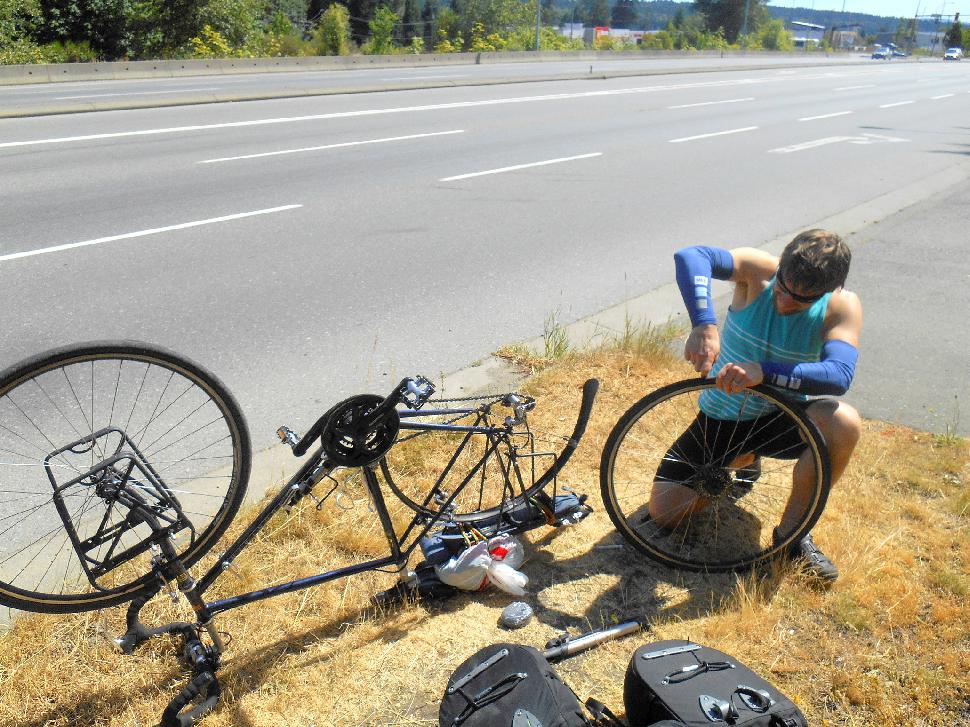 As we were approaching downtown Nanaimo I got the first flat tire of the trip courtesy of an industrial staple. (Another pleasure of highway riding.) After a quick fix we were off. Cycling past Longwood Brew Pub our mouths watered at the thought of a cold beer. However, at this point our destination wasn't too far away and the prospect of a shower and change of clothes trumped a beer. We arrived at our hostel, The Painted Turtle, which was quite accommodating with storing our bikes for the night. All cleaned up and freshly outfitted we headed out for dinner with some friends at a great restaurant -The Modern Café. Juicy burgers, salty fries, and cold beer hit the spot. Still feeling fairly tired from the ride we managed to socialize a little longer before calling it a night.
Day 4: Island-to-Island
Sunday, June 21
Another early morning. We popped out for a hardy breakfast at Two Chefs Affair on Commercial Street before retrieving our bicycles from storage and loading them up. We set out once again. The ride out of Nanaimo had us back on the main highway. Just outside of Ladysmith I blew another tire, this time due to a metal spring puncture. No sweat, another quick fix. We pulled off the highway in Ladysmith onto Chemainus Road which would take us all the way to Crofton. From there we would catch the ferry to Vesuvius Bay on Saltspring Island.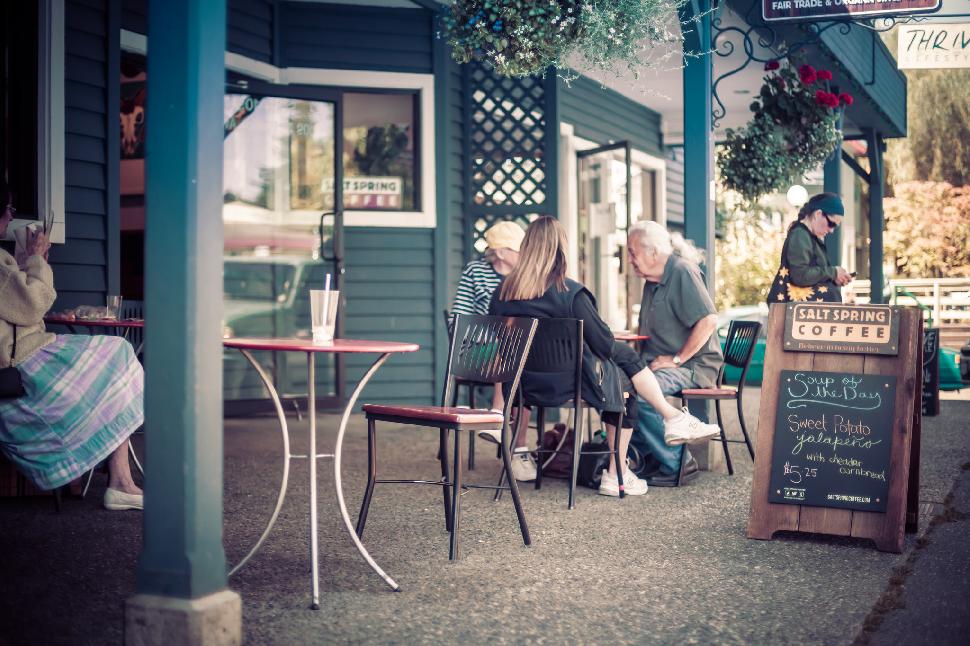 It was a quick ferry ride over to Saltspring. I was excited as I had never been there and was eager to check it out. Heading to the town of Ganges we quickly became aware that Saltspring offers cyclists equal parts uphill and downhill. Further, roads on the island offer little-to-no shoulder to ride on. Arriving in Ganges we found a leafy park in the middle of town and paused to relax in the shade. Ganges has the type of charm that invites you to spend an afternoon perusing all sorts of boutique shops. However, we still had several more kilometres to cover before reaching our destination. We grabbed some food to stow away for dinner and refuelled before heading out. Leaving Ganges there was one last unrelenting hill. Biting down, we grinded on. We made a slight detour on our way to our campsite to swing past Saltspring Brewing. We ducked into the tasting room and enjoyed a well-deserved sampling. (The Heather Ale in particular was fantastic!) I would have been happy to spend all afternoon there, but we had one more section of road to get through in order to reach Ruckle Park. A former homestead-heritage farm, and now a provincial park, Ruckle offers a beautiful campsite on an open grassy field. The site overlooks the water and Pender Island frames the view. We set up our tent, cooked up some chickpeas and rice, and shared some boxed wine and warm beers. As dusk blackened to night we tossed stones in the water, watching the phosphorescence dance about. Under a waxing crescent moon the west coast faded into the summer solstice. The longest day of the year.
Day 5: Homeward Bound
Monday, June 22
Come morning, we packed up for the final time, set our sights on Fulford Bay and rode out of camp. We caught the ferry to Swartz Bay and then on to Tsawwassen. We had reached our final destination! As we were sitting, exhausted, heading back to the mainland my brother and I had a good laugh as we thought about how most people would spend five days off of work. But for us, this was the best!