Meet Chris
This June, Chris Segers and his brother will embark on a five day cycling trip that will take them from Richmond, north through the scenic Sunshine Coast and up to Powell River. From there they will cross the Georgia Straight to Comox and travel south along Vancouver Island's eastern coastline. Last summer Segers cycled from Vancouver to Portland. We will catch up with Chris after his trip but if you've ever considered a long distance bike trip, here are his tips for route planning, packing, staying safe and enjoying the ride.
Why cycle?
Summer is a busy time of year with social engagements, vacations, 'staycations,' festivals and more. Further, it seems that not even the basics (food and gas) are immune to price creep, let alone high-season hotel rates. Cycling is an affordable adventure and it's an amazing way to travel. Fully immersive, it's a sight-smell-taste and feel travel experience. British Columbia is a haven for cyclists, offering incredible scenery and varied itineraries to suit novices and experts alike. Some highlights include routes on Haida Gwaii, Saltspring Island, the Sunshine Coast, and the Kettle Valley.
Planning your route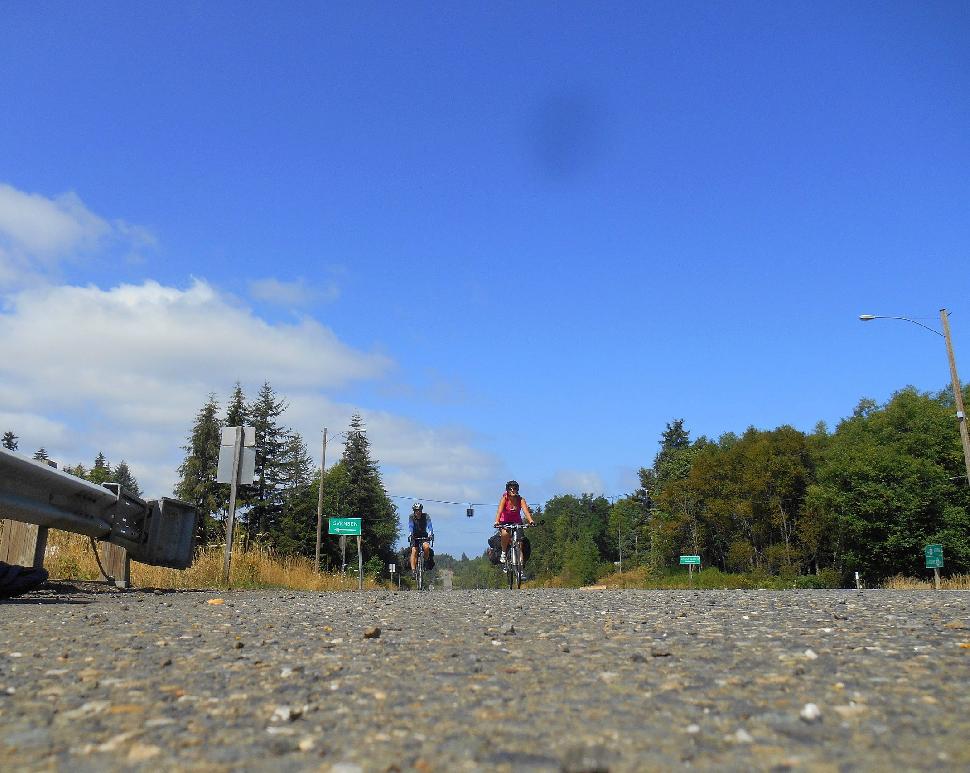 A linear trip or loop itinerary? Loops tend to be more interesting and engaging than reaching the furthest point and simply backtracking over the same terrain. Will you depart from home or elsewhere? If you're starting from home you probably already know the major cycling routes in your city and what areas to avoid. If starting from a place you are unfamiliar with, the internet will be your best resource. Check local websites, cycling forums, province-wide cycling associations, read blogs or get in touch with a local bike shop and ask for tips. Backroad Mapbooks are a great reference for roadways in British Columbia.
Be realistic with time and distance. Most of us are mere mortals. You should consider not only how long you want to travel each day, but how many days overall. Keep in mind that your bike is going to be loaded down with more gear than you would have on a typical Sunday ride. Once you assess how far you're comfortable with riding each day, it will give you the framework to determine your daily end point. Also keep in mind that the world is not flat (as once previously thought). Continuous hilly terrain can drastically reduce the distance covered in a given day. Use Google maps (for example) to help plan for changes in elevation and rugged topography.
Cycle with a 'theme.' A theme is simply a common element that will tie the trip together. Are you a coffee hound in search of how many different specialty coffees you can find? Perhaps you want to search out as many farmers markets or British Columbia ghost towns on your way. Or my favourite, to stop by all the local craft breweries en route. Luckily, here on the West Coast, there tends to be a lot of opportunities to stop for these.
Themes are a great way to organize your trip but also a good way to help break up the day. After all, your trip isn't only about cycling. For each community you'll be passing through, reference their municipal or tourism website to discover the best of what they have to offer. Adding some passionate purpose to the ride will provide some relief from intently focusing on the distance yet to be covered.
Sharing the road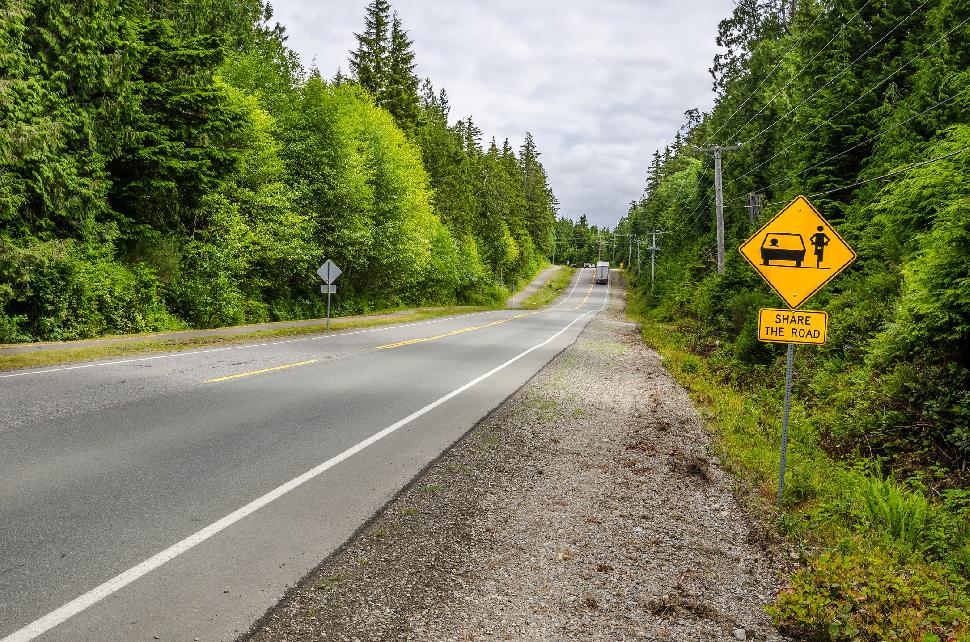 Road safety is paramount. Before considering a long distance bike trip it is imperative that you're comfortable sharing roadways with motorists. Where possible, plan to use highway alternates that tend to have less traffic than highways. Not only are vehicles travelling at slower speeds, secondary highways and back roads are often more scenic and have more special interest points. Most drivers on the highway are diligent about giving you plenty of space on the shoulder, but don't abuse it.
Tips for road safety
Respect the rule of the road. Cycle on the correct side of the road and maneuver predictably.
Ride single file and if you and your group need to pull over to make adjustments or direction decisions, wait until there is an appropriate pullout or wide shoulder to do so.
Don't cross the highway unnecessarily to snap a better photo of the mountains in the distance, the one you took is good enough.
Maintaining visibility to motorists is vital to road safety. You want to stand out as much as possible to approaching vehicles.
Wear light colored clothing and reflective clothing .
Attach a flag to your panniers.
Equip your bicycle with a number of lights that work, on both the front and rear.
Be sensible about what time of day you choose to ride. While you may expect to be riding in fair weather, there is always a chance that a bad storm, fog or poor conditions affects your visibility to motorists.
If you are about to approach a sketchy stretch of highway and a foreboding storm is rolling in, perhaps it's prudent to wait it out at a coffee shop. Or just call it a day.
Keep abreast of road and highway conditions in British Columbia
Know your bike
Just like cars on a road trip, bikes can break down too. If it doesn't work right on a remote stretch of road, you may just find yourself in a pinch. Get to know your bike, and know it well. Is it fitted to you properly? Riding your bicycle for an hour or two is different than riding all day with gear. When cycling for consecutive days, you don't want to aggravate an injury with improper posture or range of motion.
Learn basic bike mechanics. Know how to make simple repairs to the tires, chain and gear adjustments. There are some fantastic, low cost (or free) resources at your disposal:
YouTube is a great source for learning how to do specific repairs for the visual learner.
Mountain Equipment Co-Op (MEC) puts on bike clinics frequently.
Local bike shops often host clinics at little to no cost and the knowledge is invaluable.
It's also important to understand your gear system and use it. It amazes me how many people only use two or three of their eighteen gears. With varied terrain across British Columbia you'll want to familiarize yourself with those low gears.
Packing list
This is a topic in which everyone will have their own opinions. Here are just a few considerations:
Do you go minimalist?
Do you bring enough fresh clothes for every day of the trip?
Is there enough room in my panniers for this two litre growler? I can't tell you all the things you should or need to bring because each trip is trip specific. What I can tell you is that all the gear that you bring, you have to carry. (So maybe reconsider that growler).
Camping
If you are camping throughout your trip, you will be carrying all of your camp gear, on top of your clothing, cookware and more. In this circumstance, traveling as light as possible is ideal.
If you are riding during rainy months you will need rain gear and pannier covers. Also helpful are dry sacks that can be affixed with bungee cords to your rack. As a rule of thumb, I've learnt to try and pack items that serve two purposes which cuts down on unnecessary items. For example, skip packing a bowl and plate and instead, eat out of your cup or cooking pot. Opt for the almighty spork (spoon-fork). Get creative. Bring an empty pillowcase, fill it with clothing at night and voila – a pillow.
Here is a rough breakdown of the gear that I brought on a week long ride from Vancouver, B.C. to Portland:
Sleeping pad
First aid kit
Rain jacket
Camp stove
Bike repair kit
Sandals
Fuel
Tent
Spork
Tarp
Cook pot
Duct tape
Sleeping bag
Cup
Clothing
Everything you need to know about provincial campsites in British Columbia
Test run
Whether it's an overnight trip or a day trip, packing up and testing out your fully laden bike is a great idea. It will give you the opportunity to better distribute gear or ditch some non-essentials weighing you down.
Team or solo?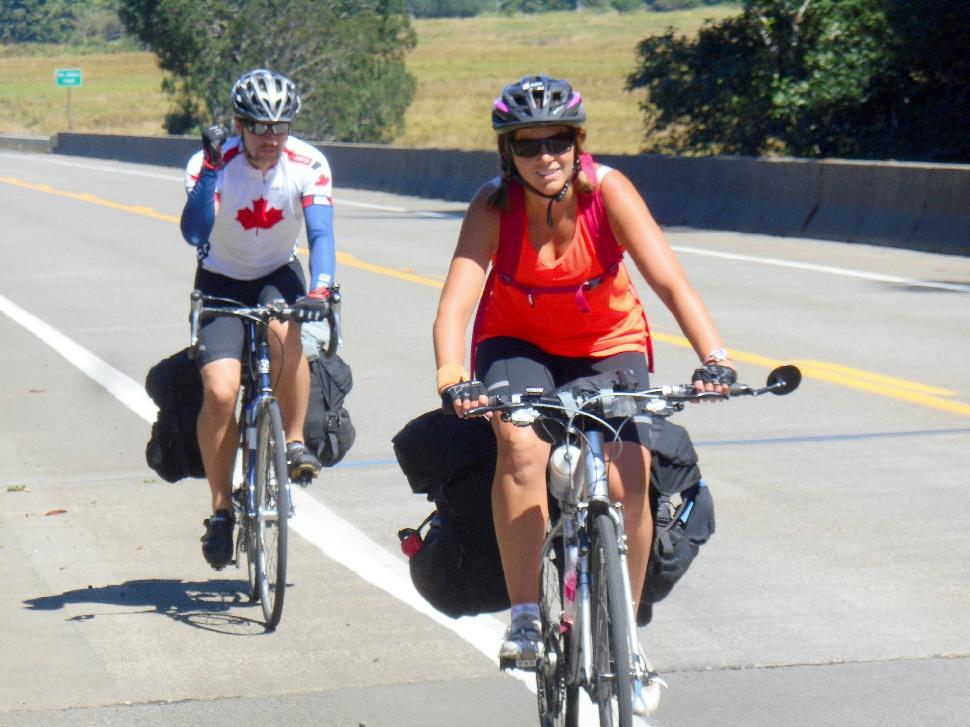 When organizing a multi-day trip like this, you should consider whether you will be tackling this endeavour solo or with a group. If you decide to travel as a group, I would suggest that you select people with similar athletic and endurance abilities. On a lighter note, it's also important that they are people you can tolerate through long days. You will be relying on these folks to help you make decisions on the fly such as route changes and bike repairs, as well as tasks like meal preparation. Within the group, ensure everyone is equally involved and has the same expectations. Does everyone agree on the daily distance targets? Trade off being the pace setter throughout the trip.
Reward yourself (and do so often!)
This is quite important in my mind. Remember, no one is making you get up early and ride your gear-laden bicycle all day. You've choosen to do it, and presumably you made that decision with the expectation of enjoying it. It's likely there will not be anyone cheering you on at the end of each day except yourself or the other great people you may have been able to convince to do this trip with you. So go ahead and treat yourself! Get the extra scoop of double fudge ice cream. Have the two piece halibut and chips. (Better yet, have the three piece and don't skimp on the tartar sauce). Riding all day is hard work, and bonus, you'll need the calories anyway. Also, it's important to remember that you're not in a race. Try not to fixate on the number of kilometres between you and your final destination. This trip is all about the journey. Take time for detours, after all, that's why you're out there in the first place.
Enjoy the ride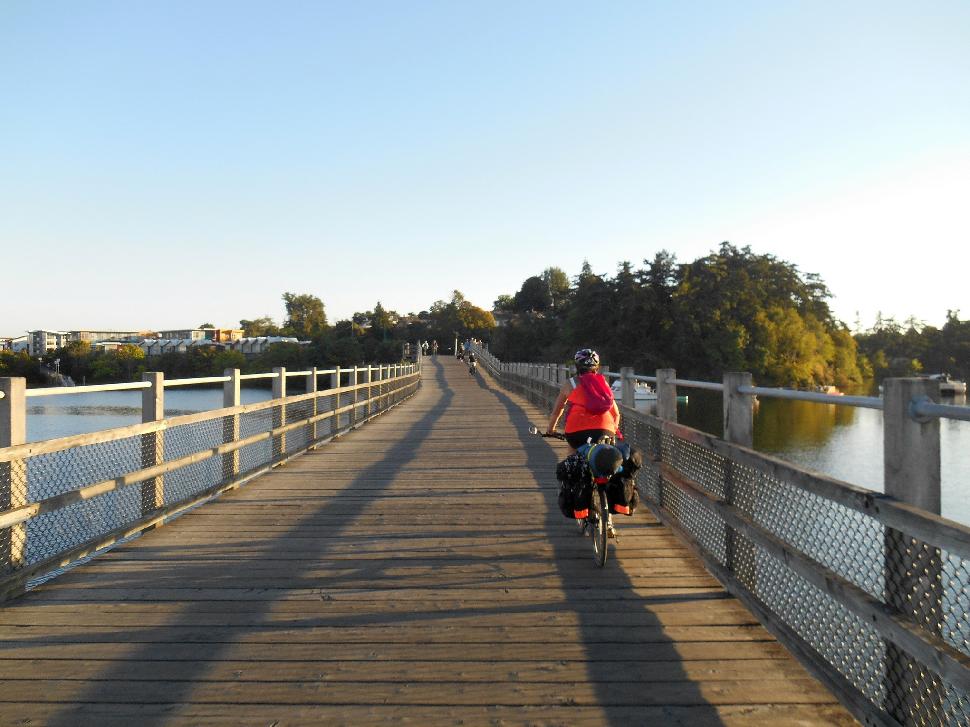 The most important advice I can give is, "enjoy your trip." This is a unique and fantastic way to travel. You will see things that would otherwise get bypassed in our hurry-up-and-get-there world. You will meet awesome and interesting people along the way, and feel refreshed with a keen sense of accomplishment and a new outlook. So get out of the car, do your due diligence, plan well, hop on a bike and go.
Hitting the road this summer?
Share your trip with us on Instagram or Twitter by tagging us and using #ILoveBC