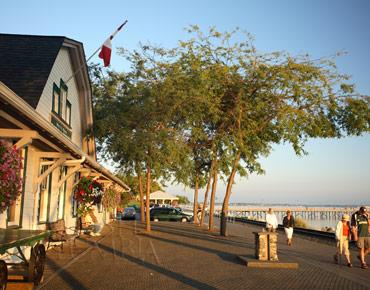 Time for a last-minute inspection of your beach bag for that long-awaited weekend in White Rock. Sun hat, check. Potboiler novel, check. Umbrella and duck boots, check.
Chances are it won't rain on your visit to White Rock. This small seaside city on the graceful curve of Semiahmoo Bay boasts the lowest rainfall on the Lower Mainland. But, holy Noah, you wouldn't know it right now: it's raining cats and rats and elephants.
If you arrive when sun is shining, you won't need me to tell you what to do. You'll be swept along on the tide of visitors strolling over two kilometres of red-bricked oceanfront promenade. You'll feel the magnetic pull of the old wooden pier, and the barefoot invitation of the sandy tidal beaches. In no time, you'll be caught up in Marine Drive's carnival atmosphere, blinking back the pleasure/pain of brain freeze at the ice cream and gelato shops.
In the sun, downtown White Rock invites comparisons to California resort towns Sausalito and Santa Monica. (Though this seaside community comes with a stellar view of 3,285-metre Mount Baker across the border in Washington State.) Local homes, tiered into White Rock's steeply rising shoreline, maximize sea-facing windows, sun-catching porches, and rooftop decks.
But it wouldn't be the West Coast without a few spring showers. And should that coincide with your getaway, here are 10 things to do in White Rock when it rains.
Walk the historic pier, even if it pours—locals have been doing it since 1914. I catch a break in the rain Friday after nightfall and walk the wooden planks out to sea. Semiahmoo Bay, its name derived from a Coast Salish word for "half moon," glimmers by lamplight along the pier's half-kilometre length. The sky is starless, the moon hidden by dense cloud. My brain buzzes with rejuvenating ions in the fresh sea air.
Count cars on passing freight and passenger trains as you sip espresso at Dolce Gelato cafe, which overlooks the waterfront promenade and parallel rail tracks. Daily trains running between Seattle and Vancouver no longer stop in White Rock—ironic, given that Great Northern Railway's link to the once-isolated peninsula in 1909 pretty much launched the town. By 1912, cottages lined the sloped shore and some 1,500 visitors poured in on summer weekends—prompting construction of a new rail station and customs/immigration house in 1913.
Visit the White Rock Museum, exhibition gallery, and gift shop. After Burlington Northern ceased passenger rail service to White Rock in 1975, the classic railway station—focal point on the promenade—became the city's museum.
Though homesteading in White Rock dates back to 1886, the local architecture reflects little of the town's history. Besides the rail station, visitors can glimpse historic White Rock in early mill houses on downtown Elm Street; local sawmills provided employment here until 1927. Other historic landmarks, such as the four-storey White Rock Hotel opened in 1912, long ago succumbed to fires or the ravages of time.
"Sometimes we look over to Victoria with all the B&Bs in heritage houses; that's something we don't have here," says Bob Yearsley of Sausalito Beach Side B&B. "Like those big oaks in the old neighbourhoods; that just doesn't happen overnight."
Jury the local fish 'n' chips. Though trendier cuisine has invaded these shores, deep-fried fare still predominates on East Beach, with each shop proclaiming its fish 'n' chips the best in town. The "hump," a 60-metre rise on Marine Drive, divides the town's newer West Beach developments from the original commercial strip overlooking the crescent-shaped tidal pools of East Beach. At Moby Dick Restaurant, I discover a belly bargain: a free piece of battered cod with every order, making a one-piece meal two, two-piece three, and so on.
Invent a moniker for White Rock residents. I inquire widely and offer suggestions—White Rockers? White Rockettes?—but receive only quizzical looks. "You mean the locals?" It's an intriguing oversight in a town with fierce pride of place. White Rock seceded from Surrey in 1957 and local maps clearly delineate the new city's perimeter. ("Living in White Rock means never having to say you're Surrey," says one cheery hotel desk clerk.) You'll know when you've crossed the line: streets are named in eight-square-kilometre White Rock (pop. 18,250), numbered in 110-square-kilometre South Surrey (pop. 50,000).
Go crabbing. You can catch red rock and Dungeness crab right off the pier or at quieter Crescent Beach west of town. The Marine Market sells traps, bait, and required one- to five-day licences. Despite the inviting stretch of tidal shore, clamming is banned in White Rock due to red tide and contamination.
Guess the weight of the white rock of White Rock. This whopper on the beachfront is an ancient glacial deposit from the Coast Mountains. In early days it was lacquered white with gull guano, and mariners used it as a landmark. Today it's painted white, mainly to combat graffiti. Need a hint on the weight? It's close to that of BC Ferries' 30-car Kahloke ferry, or about 48 orca whales.
Plug the meter. Plug the meter. Plug the meter. Feeding these bandits posted along Marine Drive – $1.50 per hour, 10 a.m. to midnight—is an evil akin to flossing: you'll do it if you know what's good for you. At least, in the rain, you can find a parking space: on sunny weekends, cars circle these lots like barracudas in a too-small aquarium.
Shop the offbeat boutiques. Climbing uphill from waterfront Marine Drive, Johnston Road is lined with eclectic, independent retailers: from galleries and delis to bookstores and consignment shops. And—what ho!—free parking! At Mozart & Twain, an emporium of eclectic music and secondhand books, I snap up an early Squirrel Nut Zippers CD and Jacob Needleman's The Heart of Philosophy. At York Interiors, I mentally redecorate my living room, and my sweetheart buys me a bouquet at Bloomers. A shop called Picasso's Cousin sells "unique gifts & art by celebrities," including works by John Lennon, Anthony Quinn, and Sylvester Stallone. I'm more partial to the local art at Mind and Matter Art Gallery on 16th Avenue, especially the fine wood carvings of late White Rock artist Arnold Mikelson.
Find the most decadent dessert . Among many contenders, I embrace the Pudgy Fudgy at Notti Biscotti Bakery. These soft, rich, cookie-like biscotti are a far cry from the classic hard Italian biscuits. Other temptations in White Rock's parade of desserts: the Chocolate Suicide at Charlie Don't Surf—an apparently life-threatening concoction of chocolate fudge and cake—and the Fudge Truffle Cheesecake at Bravo Morelli B&B, anointed with five chocolate-dipped raspberries. And don't overlook the appeal of ice cream in the rain, as you blithely bypass those "Line Up Here For Ice Cream" signs that rule the summer crowds.
Never judge a day by its weather, a wise soul once said. Rain or shine, you can have a good time in White Rock. And for those of you still pondering the heft of that big boulder, it's 486.63 tonnes. Something weighty to ponder on a rainy White Rock afternoon.
Getting There
In the Lower Mainland's extreme southwest corner, White Rock is about an hour's drive southeast of downtown Vancouver on Hwy 99, or a five-minute drive north of the Peach Arch border crossing.
What To Do
Get crabby: crab traps and licences ($5 to $20) at The Marine Market, 14949 Marine.
Shop the boutiques: York Interiors, 1195 Johnston; Bloomers Flowers, 1231 Johnston; Mozart & Twain Books and Sound, 1235 Johnston; Take II Consignment Fashions, 1479 Johnston; Picasso's Cousin, Johnston and 16th; Mind and Matter Art Gallery (www.mindandmatterart.com), 13743 16th Ave.
Catch a live show: Iguana's (604-538-2891), 14985 Marine, gets jumpin' with mid-week open-mike nights and live weekend music; Beecher Street Café (604-538-1964), 12302 Beecher St. in nearby Crescent Beach, has live music Wednesday nights. Community players perform stage plays at White Rock Playhouse (604-536-7535), 1532 Johnston.
Where To Eat
Dozens of options line Marine Drive's "Restaurant Row" – Greek, Italian, Japanese, Indian, Thai, West Coast continental, and seafood prepared every which way.
Bistro Aubergine (604-541-2899), 15182 Buena Vista Ave. Organic ingredients, wild salmon, sublime soups.
Cielo (604-538-8152), 15069 Marine. Affordable Italian tapas in a casual environment; Bogey would have loved the long, dark bar.
Dolce Gelato (604-535-1070), 15045 Marine. Some like it hot, some like it cold: fine espresso and gelato.
Giraffe (604-538-6878), 15053 Marine. Imaginative West Coast menu rivals Vancouver's trendiest cuisine.
Moby Dick (604-536-2424), 15479 Marine. A fish 'n' chips institution on East Beach.
Notti Biscotti Bakery (604-538-1196), 15505 Marine. Mmmm, soft biscotti.
Where To Stay
Vast array of B&Bs and a new oceanfront hotel. Check the British Columbia Approved Accommodation Guide (800-435-5622), or online listings via www.whiterockchamber.com. Note: while some downtown lodgings offer precious free parking, the trade-off is traffic noise from Marine Drive.
Nautica B&B (604-538-1055; www.nautica-bb.com), 15457 Royal Ave. Warm service in purpose-built B&B home atop a sea-view bluff; long stairway descends to shops and promenade.
Bravo Morelli B&B Inn (604-535-1111; www.bravomorelli.com), 13818 17th Ave. In a whisper-quiet residential enclave a short drive from downtown White Rock; utter pampering with fresh bouquets and fine bedding, gourmet breakfast, pre-dinner appy, and luscious daily dessert.
Ocean Promenade All Suites Hotel (604-542-0333; www.oceanpromenadehotel.com). Opened March 2003, deluxe, condo-like suites with fireplaces, sea views.
More Information
White Rock/South Surrey Chamber of Commerce (604-536-6844; www.whiterockchamber.com). Infocentre on Marine Drive by the pier.
White Rock Museum and Archives (604-541-2222), 14970 Marine Drive.
White Rock Online (www.whiterockonline.com).
Vancouver Coast and Mountains Tourism Region (604-739-9011; www.coastandmountains.bc.ca).