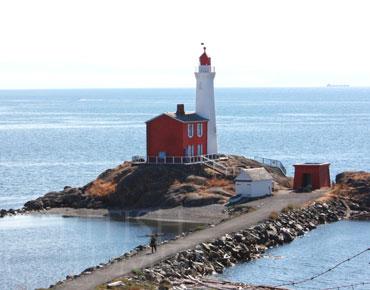 Glancing into the window of the Casemate Barracks at Fort Rodd Hill, I am startled to see an army private in full uniform grinning back at me. The soldier turns out to be a life-sized cardboard cutout, but the effect is still jolting.
Such moments, when one is transported into the past, are the rewards of visiting Fort Rodd Hill and the Fisgard Lighthouse national historic sites. While the structures are not historically related, both are administered by Parks Canada. Together they make for a fascinating day trip to Colwood, less than 20 minutes by car from downtown Victoria.
The 20-hectare Fort Rodd property faces Juan de Fuca Strait and harbours Garry Oak meadows, arbutus trees, Columbian blacktailed deer, and abundant bird life. The variety of experiences there—a lighthouse, a fort, and a nature park—might explain why my young son was outraged that I was going to Fort Rodd Hill without him. I travelled there on a blustery Friday with my father, who was visiting from Toronto.
Built in the late 1890s, Fort Rodd was one of several coastal artillery forts constructed to guard Victoria and the naval base in Esquimalt Harbour. I grabbed a map for the self-guided walking tour, which includes 25 points of interest. It begins at the Upper Battery, where my dad channelled his inner boy, picking up the mock rifle (left for that purpose) and pretending to fire through one of the loopholes of the fortification's "defensible walls." The loopholes reflect the fact that the fort was defended both by land and sea—one of its many interesting features.
Visitors are free to roam the structures, such as the Upper Battery, built from 1895-97 and one of three gun batteries on site, or venture down into the dark underground magazines, where ammunition cartridges were stored. Other highlights of the tour include the canteen—where off-duty soldiers drank beer and ate pickled eggs—and the towering Belmont Battery, consisting of two quickfiring guns to stave off torpedo boats. The buildings are original, with minimal restoration. "That was a very deliberate choice by Parks Canada," says curator Dave King. "You can stand on a spot and know that the soldiers saw the same thing you're seeing."
The Fisgard lighthouse, dating back to 1860, has filled many a camera's memory card with images of its majestic 17-metre Gothic-influenced tower and snug redbrick keeper's dwelling. Inside, there are navigational video games to play and other educational diversions. Outside, a plaque by the rowboat Rosina reminds us of the hard life of a lightkeeper. Before a short causeway was built in 1951, the keeper faced a risky journey by rowboat to acquire provisions. On July 3, 1898, an empty rowboat was sighted with only one oar within. Searchers found the dead body of lightkeeper Joseph Dare. "A lost oar meant a lost life," reads the plaque. The light was automated in 1929 and guides mariners today.
Fort Rodd Hill is an evocative place to stroll and reflect on the vagaries of war and the power of the sea while enjoying the beauty of the Juan de Fuca Strait. Next time I'll bring my son along, as promised.
Getting there
From downtown Victoria, follow Douglas Street north to Highway 1 for about 8 km. Take exit 10 (Colwood) which becomes Highway 1A. After about 3 km, turn left onto Ocean Boulevard and follow the signs.
Info
Parks Canada (pc.gc.ca/fortrodd hill). A small admission fee (less than $4) applies most days.