What does a pinot noir from Vancouver Island taste like? You might be surprised. This little-known wine region has been creating crowd-pleasing wines for a few decades now, but has yet to achieve the acclaim of nearby regions in the Okanagan and US.
In some ways, its desire to emulate the success and bold-flavoured, hot-weather wines of their neighbours has stunted its growth. Now, a shift in tastes and a move toward hyper-local food and drink have opened the door for a new generation of winemakers who focus on old-world, low-intervention techniques to showcase the region's terroir and unique flavours.
Their quest is to craft honest wine that expresses the region and the grapes that are suited to grow here. By using wild fermentation with natural yeast, no irrigation (called dry farming) and low-additive processes, this approach is the purest form of what the land and grape will produce. These traditional methods allow the climate and geography of the vineyard to nurture the grapes and lets the fruit reveal to the maker what the wine will be, rather than the winemaker manipulating the fruit to match a specific flavour profile, which is common practice in most commercial wineries.
As these vintners shine new light on an old style of winemaking, they are also transforming the island's wine region into something to be discovered and admired.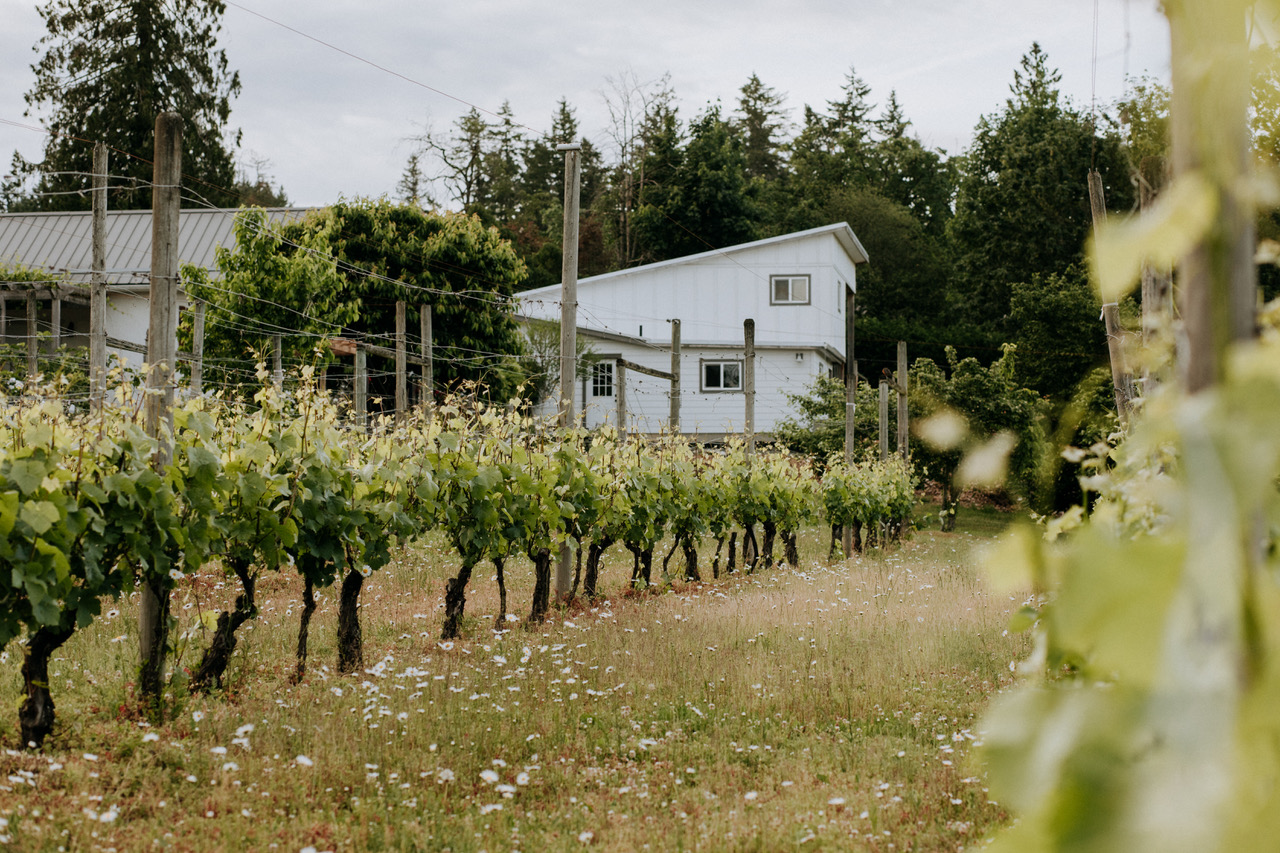 Emandare Vineyard
Emandare Vineyard's Mike Nierychlo bought the 20-year-old Cowichan Valley vineyard in 2013. The previous owners were grape growers who supplied other winemakers without ever making their own wine, and the property needed some work. Nierychlo wanted to create a home and legacy for his growing family, building a space where he could bring his love for farming, business and wine together. He and his wife restored the land, nursed the vines back to health and built the winery in 2014, making their first vintage in 2015. His goal is to create a wine that tastes like the place it was grown.
"Terroir is the natural environment where the wine is produced, that includes soil, topography and climate," says Nierychlo. "Isn't wine supposed to express terroir, a sense of place? Isn't that its point?"
Terroir is the natural environment
where the wine is produced,
that includes soil, topography and climate
… Isn't wine supposed to
express terroir, a sense of place?
Isn't that its point?

Nierychlo and his brother-in-law, Mike Rathjen (of Rathjen Cellars, more on that later), got into the wine scene in the mid-2000s out of a true passion for wine. They started by making wines in their garage and grew a following by sharing videos on their Wine Garage TV website, well before YouTube became a thing. Their motto was wine without the pretentiousness, taking the snobbery and intimidation out of it and explaining it all in layman's terms.
After tasting wines from around the globe, interviewing world-renowned winemakers and educating their
viewers, Nierychlo got to the point where he felt bored. The wines started to taste all the same, homogenized, and many would give him a headache. But every once in a while a wine would come across his desk that would switch on a lightbulb.
"It had personality. It tasted different. It wasn't as varietal-correct as it was supposed to be, which made it interesting and I wanted to spend some time with it," says Nierychlo. "It felt like I was tasting a place. I would then follow up those wines and ask 'how do you do this?'"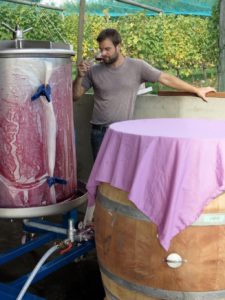 Nine times out of 10 the answer was either a winemaker had been doing it for more than 30 years or a family of winemakers who had been doing it the same way for 300 years. In those methods, they farm organically and make the wine naturally, using the yeast found naturally in the vineyard, and with very little commercial additives. Yet, none of these techniques were marketed using trendy terms like "organic" or "natural," even though they would fall in all those categories.
Low-intervention wine is trendy now, but it's an old-world tradition that's been perfected over centuries. And while Emandare's processes are natural, he isn't aiming to market it as natural wine. His goal is to simply make delicious wine.
"I want a winery that expresses terroir and stays out of the way of the process, without adding a bunch of additives to the wine," says Nierychlo, whose winery focuses on pinot noir and marechal-cabernet foch for reds, sauvignon blanc and gewürztraminer for whites, and both a still and sparkling rosé. "I want to make delicious wine that I can share with good food and good people."
Grapes won't just grow anywhere. The secret to a great pinot noir is balance, and if you are out of balance in any stage of the process you won't make a great wine. The vine needs to have the right conditions, and that means location, location, location.
Emandare, for example, sits on a unique south sloping hillside in the rain shadow of Mount Prevost overlooking Somenos Lake, just to the northwest of Duncan. There is an abundance of air flow that helps keep things dry and protects the grapes from rot and mildew, which in turn helps reduce the use of chemical sprays. Air flow also allows phenolic ripeness to take place, which refers to the changes in the tannins that occur in grape skins, seeds and stems. The ripening of these hidden compounds in the grapes creates the unique flavour of the wine.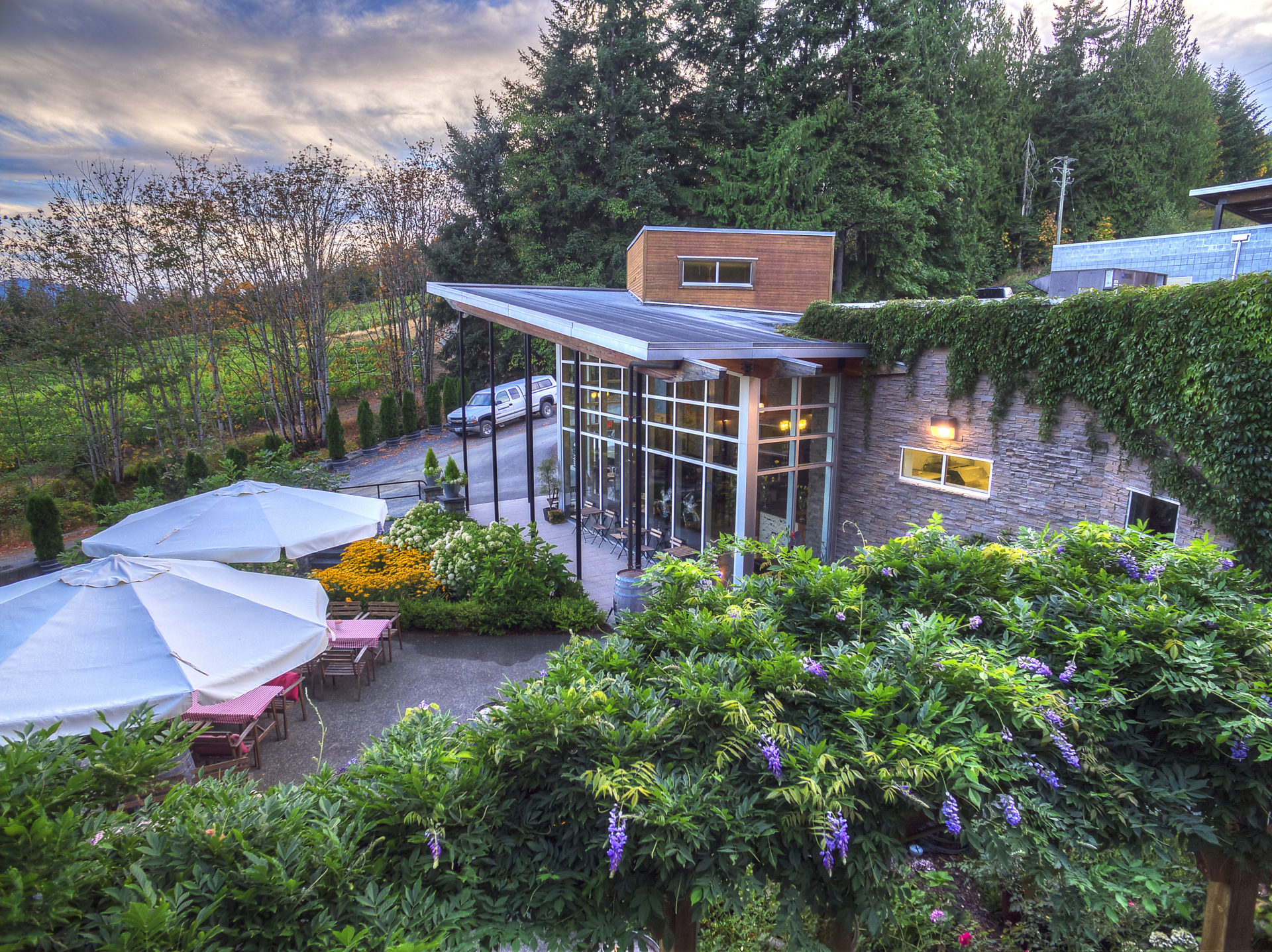 Averill Creek Vineyard
Andy Johnston, owner and general manager of Averill Creek Vineyard, was a physician by trade before he decided to pair his passion for wine, particularly pinot noir, with farming. He started working in wines and vineyards around the world, and in 2001 went looking for property. Lured by its dry summer and subtropical-Mediterranean climate, he settled in the Cowichan Valley, which at the time was known more for logging than winemaking.
The valley now has its own sub-appellation for wine, which extends from the coast between Maple Bay and Mill Bay in the east to Cowichan Lake in the west and from the Cowichan estuary watershed boundary in the north to Cobble Hill in the south. While soil quality varies from area to area, the valley's soil is largely comprised of surficial deposits of glacial till, glaciofluvial sands and gravels, silty marine clays and deposits from recent floodplains.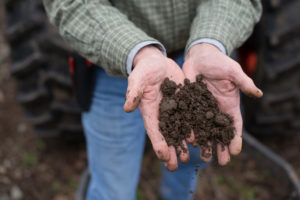 "This is a glacial valley that has 30 feet of sand and gravel sitting on shale, and that has pluses and negatives, depending on your grape variety," says Johnston. "For Averill Creek, we are aiming to create a top-end pinot so that deep well-drained soil is key. Tie that into a south-facing aspect, high elevation and how close we are to a major body of water, and it all comes together to create an ideal location."
Winemaker Brent Rowland came on board in 2018 to help elevate Averill Creek's wine into its second phase. Working most recently as winemaker at famed Pearl Morissette in Ontario, Rowland travelled around Europe, Australia and New Zealand, both as a sommelier and winemaker, before returning to the West Coast. The ethos of the project is to do as little as possible to the natural process by not adding commercial yeast enzymes or sulphur, and creating a clear segue from vineyard to the glass.
"I would say this is phase two," says Rowland. "Andy had to prove that you could grow quality grapes here in the Cowichan Valley, and that was phase one. Now it's a game of inches to fine tune and define the area even more—really trying to express the site."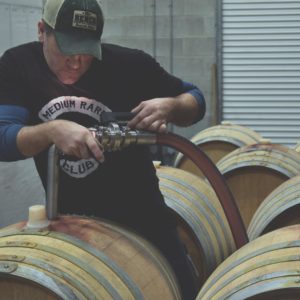 The philosophy around this style of winemaking is accepting whatever the grapes give you. It's not a formula. For example, a cooler, wet year might produce lighter, fresher wines. A hotter year might produce a wine that is softer and full-bodied. That is where the experience of working in international vineyards helps. As Rowland points out, a diverse winemaking background gives you a tool belt, and knowing when not to use a tool and when to pull it out and rescue a situation is where the craft really pays off.
"I always say we don't do anything, but it takes a lot to know when to not do something," says Rowland. "It's much harder to make wine this way, I am in the lab three to four hours a day during harvest. But instead of doing what a conventional winery does and use that information to match a flavour profile and be invasive, I use that information to know I can still do nothing. It's a lot more stressful to make wines this way—and with conventional winemaking it's safer as you know what you are going to get—but I find our way more rewarding."
In addition to their classic Averill Creek branded pinot noir and pinot grigio offerings, Rowland has created Joue, a playful and fun line that allows him to push the boundaries in flavour. Where the classics remain the classics,
Joue wines are field blends that evolve and change.
"We don't know what they will be," says Rowland. "We are making wine on the edge of where you can make it, which gives me the freedom to adapt to the season."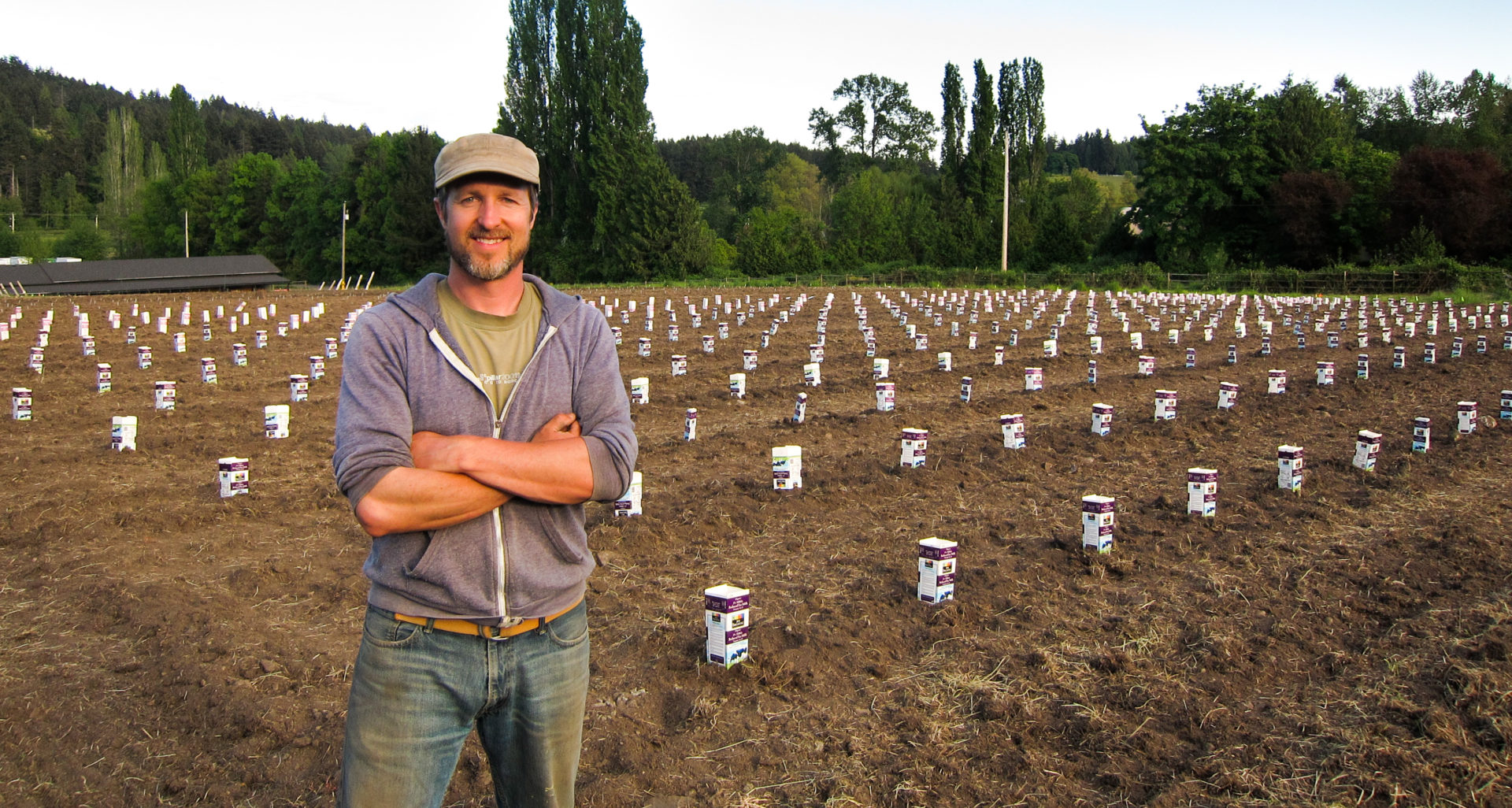 Rathjen Cellars
Mike Rathjen of Rathjen Cellars in the Saanich Peninsula had his first full harvest from leased vineyards in 2016, using borrowed facilities. He moved into the new winery in late 2018 and did their first crush there during harvest in 2019. With a background in chemistry, a passion for wine and a love of farming, winemaking brought all the pieces together.
"I am finding myself in the low intervention camp on how wine is made," says Rathjen. "But I'm coming to it more as a way to reduce the number of variables as we explore winemaking in a new wine region."
He quickly learned that this means not always making the wine people are looking for. When the cellar first opened, customers would ask what his biggest red was. He was at first apologetic that he didn't have "big reds," but now uses it as an opportunity to educate them on his winemaking process, and encourages them to try what he does make. He says one of his biggest battles in creating wine on Vancouver Island is to challenge the idea that it isn't possible for an island winery to grow all its own grapes and varietals—as for decades, many island wineries relied on outsourced grapes to satisfy the perceived market demand for big, juicy reds like those found in the Okanagan and US.
"To me, the huge sign of the region maturing is to ´back off` on the winemaking and see what the fruit is doing," says Rathjen. "If we can't make big reds, we don't need to make big reds."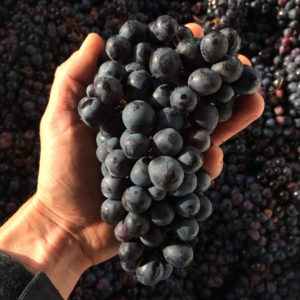 What he does make are some intriguing whites like his auxerrois and Bunker White, which is a nod to his "wine bunker roots" on Wine Garage TV and an aromatic blend of ortega and pinot gris grown on the Saanich Peninsula. His pinots are grown in the Cowichan Valley, and he makes a fun blend called the Bunker Red, which is a vibrant mix of gamay noir, foch and labelle grapes grown in both the Cowichan Valley and the Saanich Peninsula.
This hyper-local philosophy in winemaking came at the right time. Consumers were looking for something fresh and new, and there was a market gap in organically or sustainably farmed wine, which takes some time to develop. The best restaurants on Vancouver Island featured local craft beer, spirits and food but the wines were all from the Okanagan.
"It took sales reps who really understood this philosophy and that we were making quality wine that was actually grown here to help get the word out to local stores and restaurants," says Rathjen.
In the evolution of appreciating the varied tastes of a region versus seeking out a familiar, predictable flavour, the secret to enjoyment lies in how the wine is consumed. As Andy Johnston says, this wine is meant to be paired with food.
"It's really difficult to pair food with something as big and strong and powerful as a Napa Valley cab or an Okanagan syrah," he says, "because when you have all that fruit and all that tannin it overpowers the food."
For Averill Creek and many other wineries from Vancouver Island, their popularity started booming in the Vancouver and Victoria restaurant markets as soon as the chefs recognized that Vancouver Island wine really works well with food.
"It feels like the global palate is shifting from drinking heavy, oaky high-alcohol wines," says Rathjen. "They don't go with food for one, and I wanted to make wine that went with food. Wine is a part of the meal. It's an ingredient."
The collective vision of Emandare Vineyard, Averill Creek Vineyard and Rathjen Cellars is not about emulating other regions, but instead about boosting their own and showcasing Vancouver Island style.
So, back to the question, what does a pinot from Vancouver Island taste like? Bright acidity. Naturally crisp. Lighter in profile. Not heavy. Quintessential food wine. And despite being lighter, it is not thin.
But of course, you'll have to try for yourself.
MAKE IT AN ISLAND WINE TOUR
Take a road trip through Vancouver Island's wine country. Each winery offers its own distinct flavour and personality, while enjoying the scenic countryside drives throughout the various regions.
For a complete list of Vancouver Island wineries click here.