Comox Valley Farmers Market
With hundreds of farms surrounding the small town of Comox, the Comox Valley Farmers Market has it good. Situated on the east coast of Vancouver Island, an area known as an agricultural hot spot, this market features an abundance of gorgeous crops cultivated from farms and producers in the Comox and Strathcona districts.
Since its inception in 1992, the market remains unique with no crafts sold—only food and agricultural products that are grown or made by the person selling it. "The Comox Valley Farmers Market was started by farmers and is driven by farmers," says executive director Vickey Brown. "All in an effort to stay true to our original intent which is to deliver local food to local hands."
And that they do. During peak season their Saturday market, which is located on the Exhibition Grounds in Courtenay, reaches capacity at 70 vendors and has a waiting list of eager businesses who would love to get in. Local musicians come down and play for the crowds, adding entertainment to the feel-good atmosphere. They also run a mid-week summer market in downtown Courtenay giving residents more opportunity to buy local.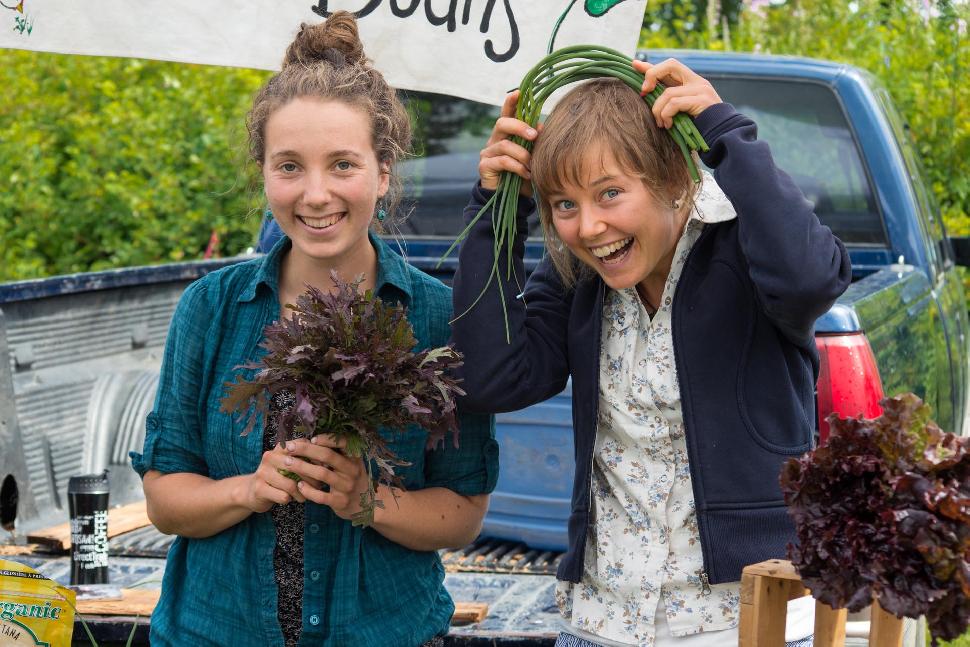 On average, the market will host around 1,500 visitors from all over the valley. As the largest of its kind in the area, the Comox Valley Farmers Market has become a sought after grocery destination. "On a sunny Saturday during peak, it's not uncommon to have a crowd of 3,000," says Brown. "It's a reflection of the local food movement—people are becoming more aware and want to support Vancouver Island farmers."
With a huge selection to browse, taste and indulge, the event makes for a pleasurable shopping experience. "We have a wide range of produce, products and every kind of meat you can imagine," says Brown, naming rabbit and water buffalo as two of the more obscure varieties. "We also feature unique processed foods like homemade corn tortillas, hemp frozen desserts and spirits made from honey."
But that doesn't even scratch the surface. More than 40 different farmers offer fresh fare, bakers serve up homemade cookies, granolas and breads, artisan cheese and wine makers sell their goods and butchers sell quality meats, fish and sausages. This is what keeps loyal customers returning for their weekly grocery shop. As well, the market boasts producers that focus on special diet goods such as paleo, gluten-free and dairy-free products.
Thanks to passionate board members, dedicated vendors and supportive communities who make the market a continuous success, this year, the B.C. Association of Farmers Markets awarded the Comox Valley Farmers Market the Large Market of the Year award. While this title is a true honour, the ongoing goal is to spread outward and reach more people. "Because we can't make this one market bigger, we'll have to open more markets in more communities to spread the love of fresh whole food through the valley," says Brown.
If You Go
Where: Comox Valley Exhibition Grounds at 4839 Headquarters Road, Courtenay, April to October; Native Son's Hall in Downtown Courtenay, October to April. Wednesdays on Fifth Street in downtown Courtenay, from June 15 to September 14.
When: Saturday market, year round 9:00 a.m. to 12:00 p.m.; Wednesday market, 9:00 a.m. to 12:30 p.m.
For More Info: cvfm.ca
Need to Know: The market runs rain or shine, free parking at all locations, market money is available for purchase via debit or credit on site in case you don't have cash.