Cottonwood Community Market & Nelson Downtown Local Market
When the Doukhobors first tilled soil in British Columbia's Slocan Valley some 120 years ago, they probably never imagined the fertile land that provided them with hardy root vegetables would also bring drum circles and artisan breadmakers. But that's exactly what's happened in this close-knit town on the shores of Kootenay Lake.
Jesse Woodward, markets and events director for the West Kootenay Eco-Society, explains how Nelson's two summertime farmers markets have boosted community spirit within the town.
"The Cottonwood Market has been running for 20 years in Cottonwood Falls Park. It's an institution in Nelson… people spend all day," says Woodward. "The one in downtown is very much a buyer's and seller's market… The big draw is the fresh, local produce. It's amazing to come down to Baker Street and buy food that's been grown in the Slocan Valley, just around the corner."
Popular though it is, the newer Downtown Local Market—now in its seventh year—has seen challenges. The initial obstacle, Woodward says, was communicating to local merchants how the event would benefit the community as a whole.
"[Business owners'] main fear was that having a market right downtown would to draw away revenue," Woodward says. "It's true, it does, when it happens, but it also brings hundreds of people onto Baker Street."
With about 50 vendors on one block of downtown Nelson ("tightly packed but nicely done"), the Downtown Market sees Nelson's main thoroughfare closed to vehicle traffic every Wednesday during the season. This is an important aspect in itself, says Woodward.
"You get this European feel of people pouring out of the businesses and local area and strolling along Baker Street where normally there would be cars," he says. "People buy food and sit around—it's quite lively. It's a very community-minded event."
Seven years in, the market is a happy place.
"It really has been accepted, the city is behind us and the business community realizes the downtown market is great to have and really adds a whole wonderful flavour all through the summer. It's good for Nelson, and that's good for them," explains Woodward.
The downtown market is focused on local production—every seller is from the local area, with a "make it, bake it, grow it" ethos. The longer-running Cottonwood Community Market, held Saturdays, has a different vibe.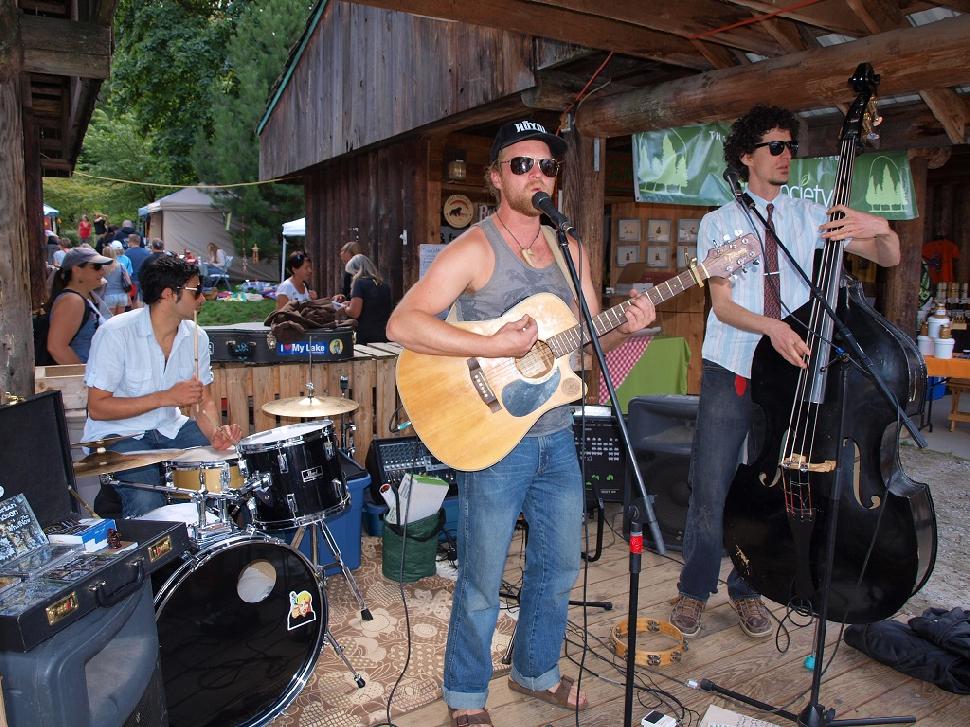 "For true Nelson flavour, you have to come see the Saturday market," says Woodward. "It's an incredible setting in a park with a waterfall and people in a drum circle."
Set in Cottonwood Falls Park—home of the cascade that first generated electricity for Nelson in the 1800s—the Cottonwood Community Market has permanent structures housing 40 vendors and is more heavily weighted on the arts and crafts and ready-to-eat foods. Both local and transient merchants sell their wares throughout the summer.
"There is beautiful live music. Everyone in Nelson comes down there on Saturdays," says Woodward. People particularly line up for Kathy Bivar's homemade root beer—of which she sells hundreds of bottles—and Jessica Piccinin's Root & Vine Farms; a "super-focused young farmer" who sells sumptuous produce at both markets. Plus, there's the French Bakery—the list goes on.
"Nelson is a special town," says Woodward. "Add a summer day and a couple farmers markets and it just doesn't get any better."
If You Go
Where: Cottonwood Falls Park (Cottonwood Community Market); 400 Block of Baker Street (Downtown Local Market), Nelson.
When: Saturdays, May 14 to October 29, 9:30 a.m. to 3:00 p.m. (Cottonwood Community Market); Wednesdays, June 15 to September 28, 9:30 a.m. to 3:00 p.m. (Downtown Local Market).
For More Info: ecosociety.ca/markets-festivals
Need to Know: Baker Street erupts into the effervescent MarketFest for three nights this summer (June 24, July 22 and August 26). Downtown will see more than 100 vendors, plus live music and dance performances, from 6:00 p.m. to 10:30 p.m. Admission is by $5 donation.