Bulkley Valley Farmers Market
Tucked between the Babine and Hudson Bay mountain ranges, in British Columbia's lush Bulkley Valley, Smithers' locally adored farmers market always draws a crowd.
"We're a hoppin' place," says Lyn Nugent, administrative assistant for the Bulkley Valley Farmers Market Association. Running from Mothers Day to the end of September, this lively outdoor concourse has been a staple in the community for nearly two decades.
"We have live music… Many people come and spend several hours there," adds Nugent. "It's a very social event—it gets busy between 10 o'clock and noon."
A vital part of Smithers' summertime scene, the market is an anticipated weekly outing for resident families and visitors alike. "We have a lot of regulars that come every week, but we have fairly high tourist traffic," adds Nugent. They may not travel to Smithers specifically for the veggies—it is a relatively remote burg, located on Highway 16 about halfway between Prince George and Prince Rupert—but "a good chunk" of happenstance travellers tend to stop by. Local or tourist, the biggest rush is on the fresh veggies. As a northern community, area farmers are noted for growing carrots, potatoes and other cold-weather-tolerant vegetables, though, according to Nugent, producers have become a lot more creative lately.
"We've branched out. We have kohlrabi and we have wonderful garlic producers that sell beautiful bunches, properly preserved so they last right through the winter," she adds. And on market days, the abundance of kids wandering the market munching oversized cookies hints at wares beyond produce—two local bakers see guests queuing up like clockwork. Meg Roberts owns Rustica Wood Fired Bakery and creates artisan breads in an outdoor wood fired oven; edible works of art almost too pretty to slice. And Ursula Yeker, of Foxhole Bakery—one of the market's founding members—sells out quickly of her gingerbread and organic granola.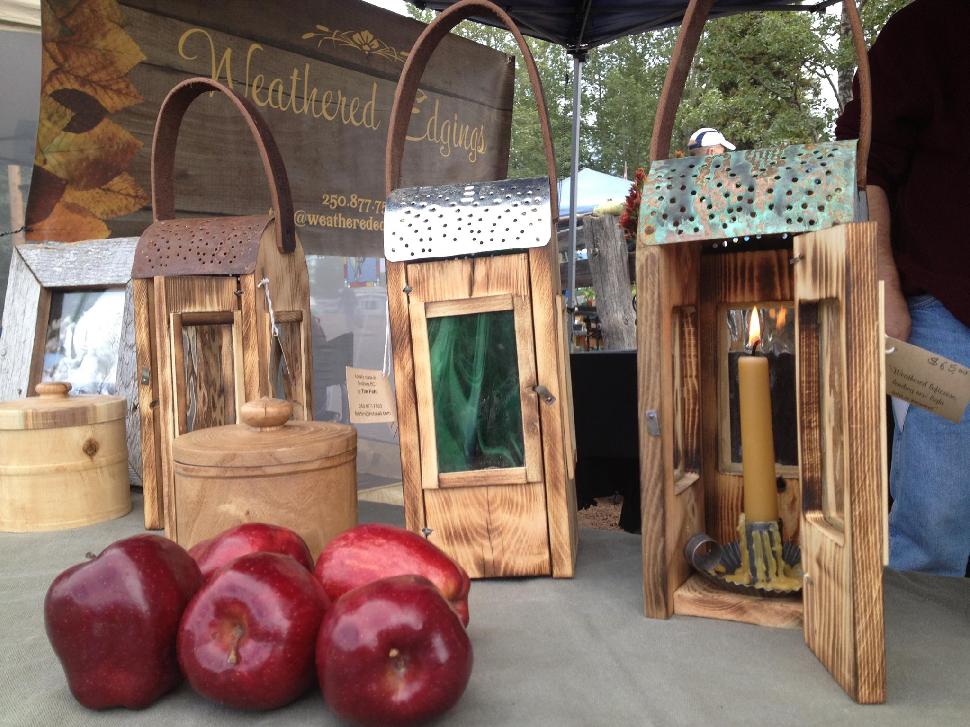 Nugent, whose herb-growing mother was also a founding member of the market, has noted a steep rise in attendance over the past five years. "We've had as many as 70 vendors; we average 45 to 50 vendors," she says. "We see 500 to 1,000 [attendees] per day, easily."
The market, celebrating its 20th anniversary next year, has been embraced by local businesses, who see the non-permanent vendors as a thriving element of the community, bringing increased foot-traffic to downtown. The music starts around 10:00 a.m., drawn from a diverse local talent pool, and plays until the market's end. The mayor may even be on-hand to kick things off.
"Sometimes, I really need to nip in and get my food for the week and zip out again," says Nugent. "For a lot of other people, it's for doing their shopping—but also for having a leisurely cup of coffee and a Danish and listening to the music. I like that we can achieve both of those things at this market."
If You Go
Where: Central Park (Highway 16 and Main Street), Smithers.
When: Saturdays from Mother's Day Weekend to September 26; 9:00 a.m. to 1:00 p.m.
For More Info: bvfm.ca
Need to Know: The Bulkley Valley Farmers Market operates during the off-season in the Smithers Curling Rink. Attendance is increasing—it was open every weekend this past October, November and December and every second weekend January, February, March and April.