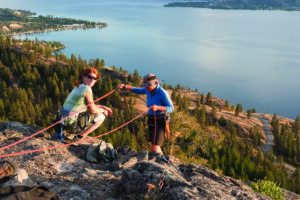 "They're not really going to let us climb, are they?"
I hear a nervous mumble from within a group of 10 of us hiking a gentle gravel trail into Skaha Bluffs Provincial Park. I'm in Penticton, British Columbia, with a collective of travel media members, few of whom have ever considered rock climbing as an accessible pastime—let alone put rubber to stone. At least half, I discover, believe we're onsite to observe local rock climbers, not climb ourselves.
There are a great number of outdoor sports that seem open to anyone, regardless of experience or skillset: bicycling, kayaking and hiking jump to mind. Rock climbing, however, isn't often considered among these pursuits. But it should be—under the right circumstances. And set amongst the south Okanagan's grassland benches and ponderosa pine, Skaha Bluffs is one of B.C.'s finest locations to make like a monkey.
Since 2007, tour-operator Hoodoo Adventures has been guiding locals and visitors alike into outdoor adventure. And while their kayaking and cycling tours are easy sells, rock climbing has a stigma that often relegates it into the realm of hardcore adrenaline junkies. For one, climbing is intimidating. There's at least the impression one can easily fall to one's peril. In addition, participants require specific technical gear and personal safety very much depends on some level of know-how. Anyone can ride a bike—but you can't really wake up one morning and decide to go rock climbing for the first time without the help of operators like Hoodoo, or at least a qualified friend. So it's complicated, too, right? Well, the fact that half of our group is about to have this experience sprung on them like a practical joke demonstrates how accessible climbing is—with the right guidance.
After 10 minutes of walking through the arid parkland, we arrive at a crag dubbed "Day Care"—30 vertical metres of edgy gneiss popular with first-timers. Here, smiling staff await (providing the guidance) and a variety of technical gear is laid out and affixed to the stone. The intimidation, though eased by supportive guides, is up to the individual to manage.
Sport-climbing is what we call it when permanent anchors and/or a top-rope are mounted to the rock. This is opposed to trad-climbing, where climbers place anchors as they move upwards, or free-soloing, where you're on your own. (Both of which are what people tend to envision when they think of "rock climbing.") Skaha Bluffs is a renowned sport-climbing epicentre and today Day Care resembles an au naturel climbing gym.
Safety and basic skills are run through clearly and expediently; today's tour is just four hours long and we're here to climb. As it turns out, supervised sport-climbing is remarkably safe—even in spite of the 30-metre-tall rock wall we're set to scale. Climbers are tied in with double- or triple-redundancy, don protective helmets and slip into uber-grippy, though horrifyingly uncomfortable, shoes. A partner on-belay uses both
advantageous leverage and an always-on rope handling technique to maintain constant contact with the climber. A third participant holds the rope behind the belayer, in case of any lapse in concentration—and guides offer another set of hands on the rope, if just for piece of mind.
In my own lapse of concentration, I mention that I'd completed a rock-climbing course some 12 years previous. Despite never climbing since, I'm pushed near the front of the lineup as the de facto expert. Insisting my partner climb first—chivalry, of course—I settle into belay, sending the enthusiastic Torontonian up-cliff with her life in my hands (well, mine, as well as the backup and the backup-backup). This is where the accessibility of sport-climbing can shock. All around, I see dumbfounded expressions on the faces of people who had never in their lives considered this an option.
"You mean, we just… climb?"
The guides nod: "Go for it!"
Like lizards on stone, up they go. Rock climbing is at once a physical test and a mind-bending puzzle. Along with pulling, pushing, scrambling, lifting and gripping, you must scour for the next hand- and foothold, always scoping an elusive line that will lead you vertical. Plus, every once in a while you'll look down and realize that 20 or 30 metres doesn't sound all that high until it's free air beneath you.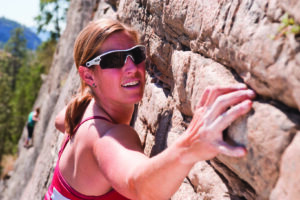 The immediate success of our first group brings immediate surprise. They all reach the summit—if with the occasional hangdog (using the rope as an assist). For me, this simply adds pressure. After all, I've climbed before. And my initial attempt starts in embarrassing fashion. With uncharacteristic machismo, I eschew the simplest line off the ground and choose a more advanced route. It has me almost immediately stymied. I slip down before my feet are a metre up.
OK, let's try this again.
It turns out climbing is, actually, a bit like riding a bike. Moving into a more established route, I soon remember the way the rock had felt in my hands those dozen years ago, while at another B.C. sport-climbing mecca, Squamish. I can see the puzzle snap together three, four moves ahead. At the crux, I even grab an opportunistic hold of a crack and shimmy along, increasing my handgrip by pushing outward with my legs until by body is protruding from the precipice like a pro. (Or so I picture it.) Just before the summit, I'm sprawled out, arms and legs forming an X across the crag.
"He looks like Spiderman!" I hear from below. I feel it too.
At the top of Day Care, I revel in a vista overtop the grassy bench-lands and towards azure Skaha Lake before settling into my triumphant rappel. (No hangdogs for me!) Within this 489-hectare park, there are more than 1,000 climbing routes, from the accessible to the extreme. Add to that the long, dry season, relative lack of crowds and easy access to post-climb vino at the Naramata Bench wineries and it's clear why Skaha Bluffs enjoys such fine status among climbers.
It also becomes clear that rock climbing shouldn't suffer from such a muddled reputation. A light sense of adventure and moderate fitness are all that's required—and, of course, someone willing to show you the ropes.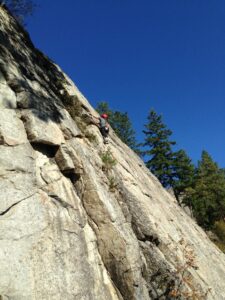 <BOX>
If You Go
Hoodoo Adventures offers a variety of climbing and rappelling tours and courses. Staring at $75. hoodooadventures.ca
Discover more information about Skaha Bluffs Provincial Park: bcparks.ca
Grab a pre- or post-climb lunch at one of Penticton's tastiest eateries, The Bench Market. Local ingredients and scratch-made fare are always on the menu. thebenchmarket.com
For more information about Penticton: visitpenticton.com
<BOX>