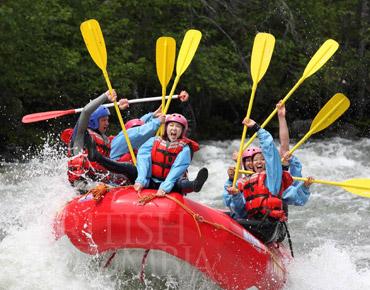 Here are five more of Larry Pynn's picks for great B.C. rafting rivers—besides the mighty Babine.
1. Chilko
Heavenly blue waters and world-class, continuous class-four rapids await paddlers downstream of Chilko Lake in the Chilcotin. The diverse landscape ranges from forests and lava canyons to semi-arid plateaus and hoodoos. The Chilko is often combined with the Chilcotin River downstream and the least-developed stretches of the Fraser River canyon.
Info: Nahanni (nahanni.com); ROAM (iroamtheworld.com); Hyak (hyak.com); Chilko (chilkoriver.com).
2. Kicking Horse
The water is glacial cold, the rafting ranges from a relaxed float to technical class four-rapids, and the setting in the Rocky Mountains is spectacular on this popular one-day trip near Golden. The more difficult rapids in the lower canyon are closed during high water.
Info: Wild Water (wildwater.com); Wet n' Wild (wetnwild.bc.ca); Alpine (alpinerafting.com); Glacier (glacierraft.com).
3. Klinaklini
An eight-day adventure down this remote and rarely rafted river begins with a Chilcotin float-plane flight to Klinaklini Lake. Rapids named Little Drop of Horrors and Nobody Move await paddlers downstream, along with heli-hiking to glaciers and views of Mount Waddington (largest peak in the Coast Mountains) before finishing in grizzly habitat in Knight Inlet.
Info: ROAM (iroamtheworld.com).
4. Nahatlatch
A thrilling one-day trip begins at the lower end of Nahatlatch Lake, northwest of Boston Bar. Rafting features continuous whitewater based on an average gradient of 16.25 metres per kilometre (85 feet per mile). The wildest water is in the early season, but as levels subside a lower section of canyon becomes runnable.
Info: REO (reorafting.com); Fraser River (fraserraft.com).
5. Tatshenshini-Alsek
These rivers can be rafted separately or together as a multi-day adventure in northwest B.C., Yukon, and Alaska. You'll pass through a landscape characterized by glaciers, grizzlies, and some of North America's tallest peaks, including B.C.'s 4,633-metre Fairweather Mountain. Alsek trips conclude in Alaska's Dry Bay.
Info: Nahanni (nahanni.com); ROAM (iroamtheworld.com); Tatshenshini Expediting (tatshenshiniyukon.com); Sea to Sky (seatoskyexpeditions.com); Skeena Valley (skeenavalleyexpeditions.com).