Red Bull Around the Strait is back for 2015! This weekend (June 13–14) from 10:00 am to 4:00 pm, sailors will hit the beach at Jericho Sailing Centre aiming to win the title of Red Bull's Around the Strait Champion. With the weather predicted to be perfect in Vancouver, this event is a must-see for sailors and non-sailors alike.
What to Watch for
For those unfamiliar with this event (now in its second year) it is a catamaran sailing race incorporating three different race formats in one contest that challenges sailors to use strategy and skill to outperform their competition and claim the trophy. One of the most interesting aspects of the event is the Le Mans-style start of the Blitz Course. Sailors will first have to run down the beach to their Hobie Cats before getting out on the water for a race to the finish line. This type of start is just as chaotic in sailboat racing as it is in car racing—maybe more so.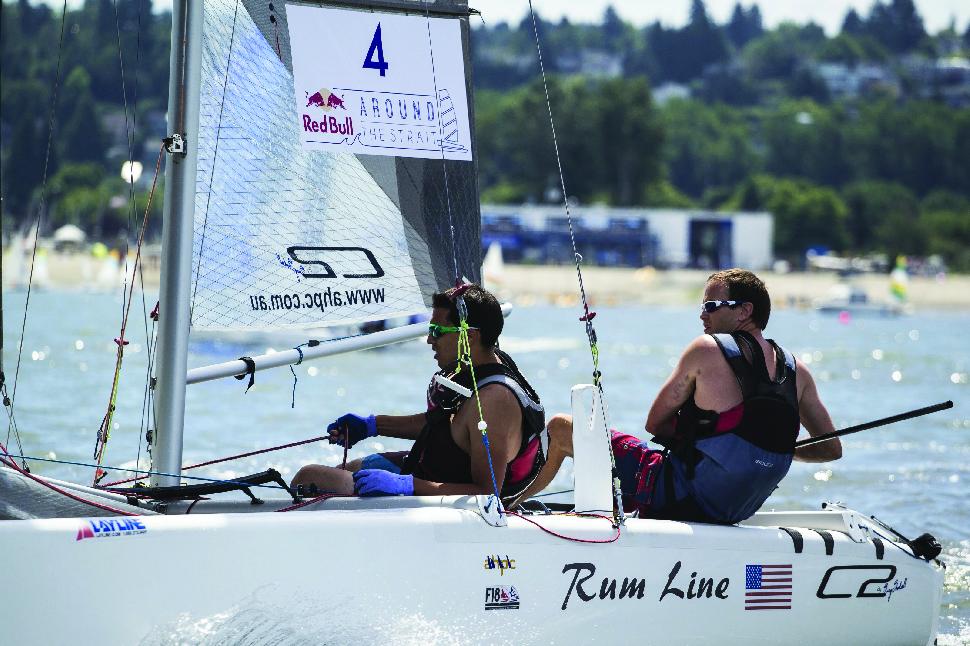 The race stages are as follows:
1. Blitz Course
A Le Mans-style start from the beachfront down to the waiting boats will kick-off the race. Sailors will aim to hit maximum speed as quickly as possible and spectators will see hulls flying as boats and sailors are pushed to the breaking point. Expect massive speed and boats flipping in this tight "out and back" race.
2. Cup Course
Boats will start downwind with each class trying to take the hole-shot around the first turn. From there, high speed downwind sailing and strategy takes over with a gate giving the sailors a choice of directions to head back up the course to finish on their second lap (think America's Cup-style racing here.) The Cup Course brings the spectators into the racing action all within sight of the beach.
3. Hull Flyer
This race will be the decider for the points, and ultimately the winner! How far can the sailors push their boat, in style, as spectators look on from the beachfront. It's time to show off or crash trying, points will be given by on water judges. Points will be based on height, time flying and style.
For more information – check out Red Bull's event page.