Each step forward feels like the last rep of a tough set at the gym, except that I'm not lying on a padded bench in air-conditioned comfort, listening to my workout playlist. Instead, I am hiking through a veritable jungle with four days' worth of supplies strapped to my back and a serious doubt in my mind as to whether it's all worth it.
I amble onward, incited deeper into the old-growth forest of the west coast of Vancouver Island by the steady rhythm of the surf in the near distance: an auditory promise of rewards to come.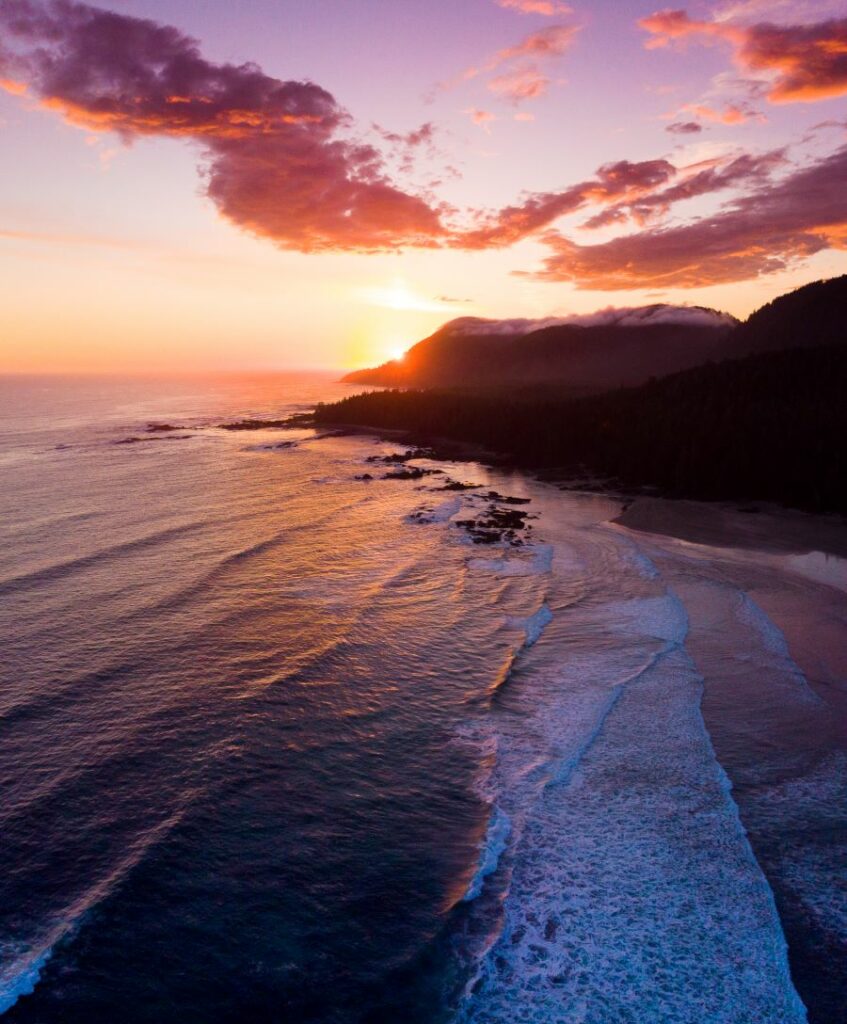 We'd left Victoria eight hours earlier, loaded to the hilt with supplies and a human cargo of six Canadians, four Aussies, two Kiwis and one Brit. We had assembled from various corners of the mainland and Vancouver Island to celebrate the birthday of one of our good friends through our mutual love of wilderness and surf. Our most precious cargo was the plethora of surfboards strapped to the roof of each car.
Highway 19 took us up the coast from Victoria to Port Hardy on the northern end of Vancouver Island. From there we cut west across the island, toward the outer coast. After two more hours traversing a network of gravelled forest service roads, we parked the cars at the Raft Cove Provincial Park parking lot and loaded our packs on our backs for the hike in. Immediately we were enveloped by a dense forest of redcedar, douglas fir, spruce and hemlock, complemented at eye level with layers of ripe salal and huckleberries.
The walk in had been more challenging than we'd anticipated; treacherous root bowls and fallen trees had become ambushes thanks to the added weight of our packs.
Finally, as I stumble disjointedly onto the sandy beach that I've been visualizing for the last few hours, I look out over Raft Cove for the first time and my eyes are drawn to the source of the rhythmic sound: lines of large dark blue waves peeling into the bay. A chorus of ecstatic whoops boil up from the crowd of surfers surrounding me.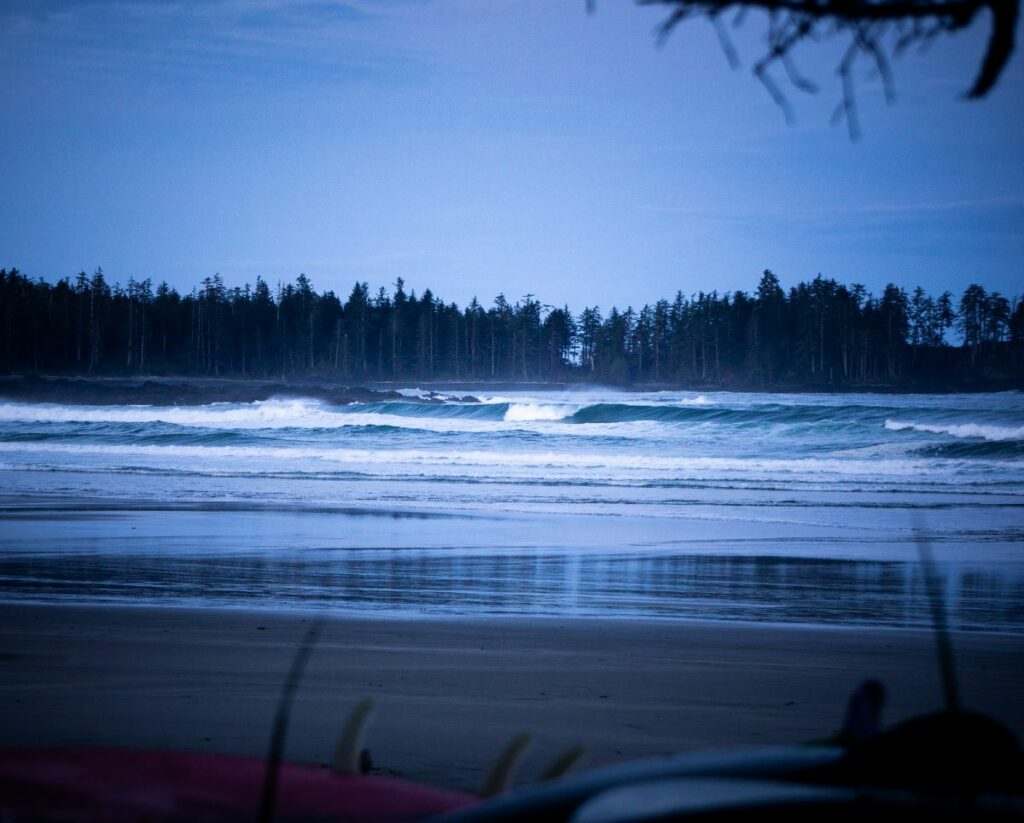 We set off down the beach in search of a campsite, with our shoes off and our bare feet sinking deep into the blank canvas of the sand. It doesn't take much time scouting along the forest's edge before we locate an ideal setup: a pre-loved campsite decorated with old reclaimed fishing floats that dangle in-memoranda from spruce limbs, and an impressive driftwood table nestled underneath an opening in the forest canopy above.
We get to work constructing our camp; unloading gear, expanding compressed tents and stashing food. The sun is low on the horizon by the time we finally wrestle into our wetsuits and grab our boards. The session officially starts with a feverish sprint down the beach and a splash in the water as we skim our boards across the surface.
Once I'm beyond the impact zone, I take a moment to relax and breathe it all in. I revel in the fact that I'm currently hours from anywhere, surrounded by good mates, great surf and outstanding natural beauty. As I look toward the beach, I imagine all the wolves, bears, cougars and black-tailed deer that call this forest home. I am grateful, and I realize that this is what it's all about: feeling gratitude. The reason we would commit to spending our hard-earned money on fuel, driving for eight hours and trekking through a wild, unkempt forest for another two—to find yourself in this place and really, truly appreciate it.
I paddle into a mid-sized left-hand wave and pounce to my feet, angling the board along the face and instantly recognize that feeling of walking on water. As I look down the line, I am smacked in the face by one of the most stunning sunsets I have ever witnessed: directly in line with the end of my wave, like a pot of gold at the end of the rainbow, and a perfect necklace of cloud skirting the northernmost visible peak. The sunset is so dazzlingly it is like surfing inside a huckleberry.
When I finally succumb to the darkness and paddle in, I am drawn up the beach by the glow of a raging driftwood fire surrounded by friends.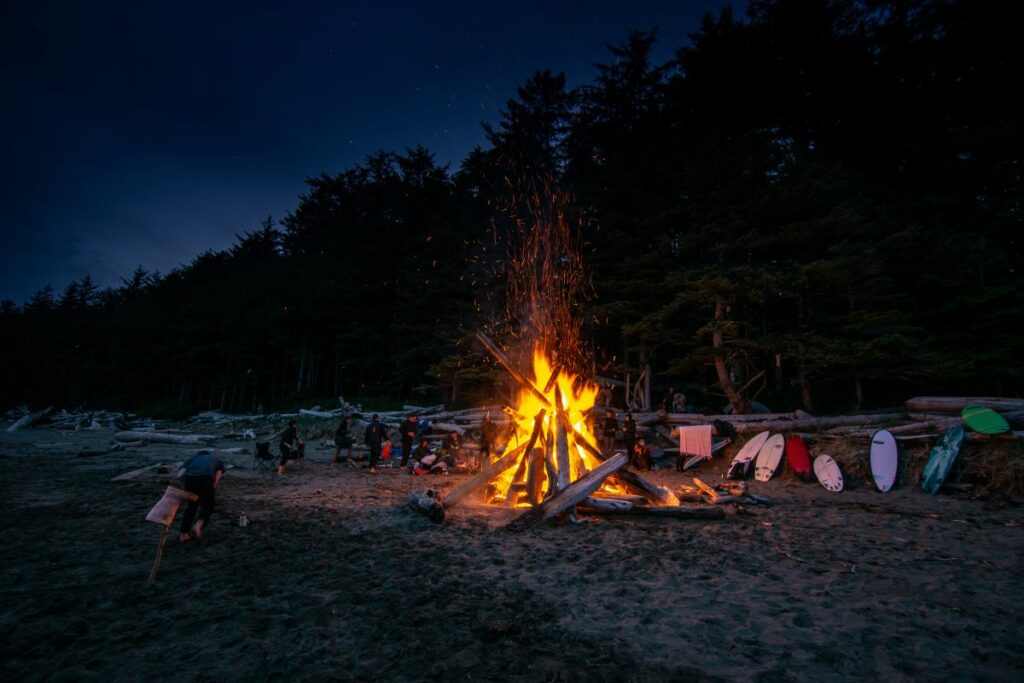 Over the next couple of days, we live by the rhythm of the weather, the tides, the light from the sun and the warmth of our fire. Life is simple and our days seem to elasticize with no clock to guide us. We surf, play beach games, explore hidden sea-caves and rock pools, search for firewood, fresh water and new surf breaks, skinny-dip and stargaze.
In typical West Coast fashion, we are treated to some intense rain on the last day. However, the intrusion is softened by the realization that these big, juicy raindrops are a part of the creation story of this glorious rainforest by the sea, and they continue to build goliath trees that whisper stories of a time that once was—and still is—if you're willing to go look for it.
If You Go
Located in the traditional lands of the Quatsino First Nation, Raft Cove Provincial Park is a 787-hectare wilderness park on the northwest coast of Vancouver Island, 75 kilometres west of Port Hardy. Access to the park is via a gravel logging road out of Holberg. Visitors should be aware that this is an active logging road and logging trucks have right-of-way; vehicles must yield to logging trucks and use pullouts where possible.
Access to the beach from the parking lot is via a rugged two-kilometre route that has some challenging sections and is extremely muddy in areas. Surface water is extremely limited in this park, be sure to bring sufficient drinking water with you.
This park is accessible year-round; however, fees are only collected from May 1 to September 30. Bear bins and pit toilets are provided, and campsites are available in the adjacent forest and on the beach itself. Payment must be made via the BC Parks Backcountry Registration System and fees are set at $5, per person, per night. Cash payment is not currently available. bcparks.ca
Surfing: Surfing at Raft Cove can be challenging, with potential for strong currents and rocky reefs, intermediate competency is suggested. Gear rentals are available at Cove Surf Shop in Port Hardy, calling ahead to assess availability is a good idea. You'll want to make sure you have access to the full West Coast tuxedo: 5/4mm wetsuit with hood, booties and gloves.
Hiking: There are many hidden coves, sea caves, rock pools and beaches to explore on foot. Good shoes and an awareness of tide times is crucial.
Snorkelling: During periods of low swell and current, Raft Cove and surrounding coves have great potential for cold-water snorkelling. Focus on bull kelp forests and bring a 5/4mm wetsuit, mask, snorkel and flippers for a chance to get into the action.
Wildlife Viewing: Raft Cove is home to a significant population of black bears that forage along the creek beds and beach in the park. Wolves, cougars, black-tailed deer, raccoons, river otters, red squirrels and a variety of bird species can also be found in the area.