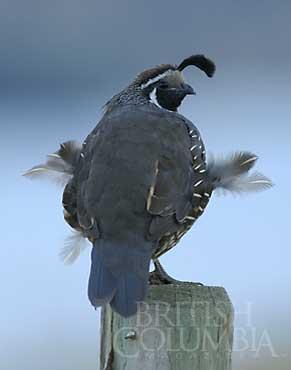 He looked a bit lonely, this white-haired bear of a man, single-handedly manning his mobile bottle depot in the car lot of a Vancouver Island park near my home. I recognized him right away as one of British Columbia's unsung heroes.
"Yes, I'm Bill Turner," he confessed shyly. Then he turned to my teenaged daughter, Lauren, and said, "I appreciate your donation." She had given a whole trunkload of empties and was rewarded with heartfelt thanks from the executive-director of The Land Conservancy of British Columbia. TLC was now $8 closer to the $5-million needed to buy the Sooke Hills wilderness.
"People who bring stuff in really feel a connection that they're doing something," observes Turner, a former commercial realtor who was awarded the Order of Canada in 2005 for his conservation work. "And that money is real money that we can apply to projects."
By TLC's 10th anniversary in 2007, the organization had amassed $26.4 million in assets—more than 200 properties covering 40,000 hectares. TLC is often the lead deal-maker in the purchase of properties on the wish lists of other conservancies, of governments, or local trusts, all of which may contribute financially.
TLC is modelled after The National Trust, a British conservancy that owes its financial stability to a membership of 3.5 million. While many National Trust properties are of national significance, it also acquires cultural, historic, and recreational sites that are special to local communities.
"We saw things falling through the cracks here because the national nature-only conservation agencies would not look at things that were only of local importance." So in 1997, Turner and four friends each kicked in a $100 to create a non-profit charity, and they started saving B.C. piece by piece: an island in the Strait of Georgia, an historic Doukhobor village in the southern Interior, a cottonwood forest in the Okanagan, a ranch in the Cariboo, a Vancouver Island house occupied by nesting bats.
I didn't truly appreciate TLC's purpose until properties dearer to my heart came up for grabs—Ross Bay Villa and Abkhazi Garden in the Victoria neighbourhood where my family had lived for five generations. Later came the Sooke Hills, my teenage stomping grounds, and Sooke Potholes, where my own daughters have discovered the waterfalls I explored as a boy.
I had been a trespasser in those woods, assuming they were public lands. That's common, says Turner, and often it's not until those private lands are threatened by clearcuts or condominium developments that the reality hits home—buy them or lose them. Even then it takes an 11th-hour kind of drama to pry open the average contributor's wallet.
"I would lie awake wondering how on Earth we're going to pull it all together. I still do because we're not that secure yet," Turner concedes. Most donations to TLC are for specific properties, so there is little left to finance other things, such as a much-needed campaign to quadruple the current membership of 7,300.
"We've done fairly well with the common man, people who do the hundred dollars a year. . . . But what we've never found is anybody who will put in two-and-a-half million to give us some working capital. We're on a search for angels."
Keating Farm Estate
Where: South of Duncan
Size: 12.65 hectares
Acquired: 2005
Price: $680,000
Owing: $380,000
Bees are humming in the hives and a brood of quail chicks marches through the orchard at Keating Farm. TLC volunteers are serving afternoon tea as Alfred Schmidt, with his ancient dog, Baxter, watches from the back porch, ready to show visitors around the farm.
"You can see the nuts on the trees already," he muses, "and there are a few grapes over there." These fruit trees could be as old as the dairy barn, built next to the granary in 1949 by Schmidt's stepfather, Hugo Tews. Schmidt stayed on as caretaker after he and his brother sold Keating Farm to TLC. He lives in the drafty 19th-century farmhouse, which is furnished with his mother's antiques and festooned with ribbons won by his stepfather at Cowichan Valley agricultural fairs.
The heritage experts are eager to start the restoration. They have discovered fir floors beneath the worn carpets, and expect to find more treasures behind the old drywall and other layers added over the years. They have been ogling Schmidt's collection of posters and magazines in the attic, and asking about his plans for all the hand tools he inherited. They are most impressed by the Great Hall, a two-storey, 81-square-metre addition built in 1894, with a vaulted ceiling supported by carved beams of old-growth fir and cedar.
Agricultural work will continue at Keating Farm. John and Katy Ehrlich are growing organically and biodynamically certified vegetables on one hectare here, and John envisions a future for Keating as "a working farm with a mix of livestock and crop land." The farm is run by Keating Community Farm Cooperative, set up by TLC to provide fresh local food, agricultural education, and a farming model for others to adopt.
"Farmland is becoming scarcer and scarcer. Three dairy farms on my road alone have gone out of business in the last 10 years," says John. "TLC is making the first steps toward what needs to be done to preserve farmland in the province. And by setting up the co-op, they're giving local people, the neighbours, the opportunity to manage it."
SORCO at Eagle Bluff
Where: Near Oliver
Size: 2.4 hectares
Acquired: 2005
Price: $192,000
Owing on mortgage: $100,000
When Okanagan naturalist Sherri Klein went looking for a live owl to perk up her talks to schoolchildren, she was dismayed to learn that injured or orphaned raptors turned over to the B.C. ministry of environment were being euthanized.
"They said they weren't in the business of rehabilitating owls," Klein recalls. So in 1987, she and her late husband, Gary, founded the South Okanagan Rehabilitation Centre for Owls (SORCO) at their Eagle Bluff property near Oliver. Since then, Klein and her volunteers have treated owls, hawks, falcons, eagles, ospreys, and turkey vultures—more than 1,000 birds of prey in all.
"When it comes to endangered and sensitive species, I think every bird we can put back out in the wild makes a difference." When her husband died in 2003, the future of SORCO was in doubt, until TLC bought the Eagle Bluff property, allowing the centre's work to continue—and Klein to move on this year to other ventures.
Some 50 to 70 birds a year are treated at SORCO, which relies on donations to support its work. Patients include orphaned chicks, as well as raptors that have crashed into windows, been hit by cars or zapped by power lines.
At the centre, the birds dine on roadkill or meat that hunters donate. "A nice juicy rodent or a pack rat, that's always a good treat," Klein jokes. "And we get starlings that have been trapped in the vineyards—an excellent source of vitamins, and they come in grape, cherry, and apple flavour."
Recovering birds have minimal contact with humans. Caretakers place mirrors in the cages so the birds will imprint on themselves rather than on the people who feed them. The public may visit once a year, on a scheduled open-house day in April, or by invitation when birds are being released.
"I can feel the energy in the bird when it's ready to go," says Klein, who admits she will miss the bird releases. "That's when I'm happiest, when the bird is back out in the wild where it belongs."
West Creek Wetlands
Where: North Langley
Size: 66 hectares
Acquired: 2006
Price: $3.6-million
Owing: $0
The West Creek Wetlands could have become a mushroom farm, a greenhouse complex, or even an equestrian centre. Fortunately, with the intervention of TLC, these wetlands today are much as they've always been—a complex system of Fraser Valley bogs, small lakes, and waterways with beaver dams and surrounding forests. What's new is this area's protection as parkland within the Township of Langley.
"Without TLC, the land wouldn't have been saved," says Rhys Krannitz, 13. He helped buy the wetlands by scrounging small change from friends and strangers. "They were usually happy to give it away because it was just dragging their pants down."
He collected $300, which his father matched, then he went on CBC Radio and challenged other youngsters to do likewise. "Kids nowadays, they're too tuned in to their iPods and video games. They don't know what's happening in the outside world."
The former owner of the West Creek Wetlands, a wealthy Taiwanese businesswoman, had the land for sale in 2006 for nearly $4-million. Bill Turner contacted her and, through an interpreter, spoke with her about the 170 animal species in her wetlands, including 18 threatened or endangered species, and the healthy runs of coho and chum salmon in West Creek. In turn, she talked with her family and Buddhist master. She opted to sell to TLC, and generously donated a $1.1-million portion of the final price in return for a tax receipt.
"It was truly a gift of the heart," says Bill Turner. "She didn't need to do it, she could have held out for the full price."
Now Rhys Krannitz can continue walking from his adjoining family farm into the new parkland to watch birds on Wood Duck Lake or check the work of his favourite animal, the beaver.
"It doesn't adapt to the environment like most animals do; it creates its own environment, like humans. . . . I like the beaver. And the wood duck. It's elegant; it's an artsy bird, full of colours, graceful."
In his wanderings along the wetland trails Krannitz is keeping an eye out for a particularly elusive animal. "Other people have seen a bobcat there but I haven't myself. We've seen scratches and markings."
Krannitz has been exploring the West Creek Wetlands "ever since I could walk," he says. "When we were saving it I had to sort of separate myself from the personal attachment because if we hadn't saved it then it would have been terrible for me."
Public access to the wetlands is limited until TLC can implement a management plan for the site, but tours can be arranged through TLC.
Horsefly River
Where: East of Williams Lake, near Horsefly
Size: 380 hectares
Acquired: 1998, 2004, 2006
Price: $985,000
Owing: $0
TLC's investment in the Horsefly River literally supports a natural miracle. Every year, thousands of salmon return to this Cariboo river to spawn, and every fourth year, the runs peak, sometimes with more than one million fish.
"It's jaw-dropping. People are overwhelmed by the power of nature" says Barry Booth, manager of TLC's North Region. In those peak years, the village of Horsefly northeast of Williams Lake celebrates the return of the sockeye with a salmon festival on the Labour Day weekend. The next major run is expected in 2009.
Upstream from the village are the fishiest waters, where TLC owns properties bordering more than 12 kilometres of river corridor, including six kilometres that rank among the finest salmon-spawning habitat on Earth. The Horsefly River Riparian Conservation Area also includes part of the historic Black Creek Ranch.
It once was common for ranchers to clear trees and vegetation along the Horsefly right down to the riverbank. They built dikes on this Fraser River tributary to protect their newly cleared fields, curtailing the floodplain and creating an obstacle for fish fry that hatched in the spring.
"Historically, they'd get in behind the dike. Then the groundwater would drop and all those fish would be stranded. There'd be die-offs," says Booth.
Federal fisheries workers and TLC volunteers breached the dikes, restoring a natural water flow. They have replanted vegetation throughout the conservation area, especially along the river edges where ranchers were losing their fields to erosion. "They were starting to see big chunks of their land disappear every year."
Where there are fish there are fish eaters. TLC singles out the Horsefly River as a site that could benefit from its Adopt a Grizzly Bear program, in which symbolic "adoptions" help fund ongoing restoration work on the river. The wetlands here are also prime wintering grounds for moose, as well as critical nesting and feeding areas for thousands of migratory waterfowl and songbirds.
"Riparian areas are some of the most important from a wildlife-diversity perspective," says Booth. "We try and provide habitat for species. That's what we do."
Skaha Bluffs
Where: South of Penticton
Size: 304 hectares
Acquired: 2008
Price: $5.3-million
Owing: $0
Rock climbers in the South Okanagan will have assured access to Skaha Bluffs, thanks to a land purchase by TLC and a number of partners. The bluffs, on the northeast side of Skaha Lake south of Penticton, attract upwards of 12,000 climbers a year. Although the bluffs are on Crown land, private landowners controlled parking and access to the climbing site.
"Had somebody other than TLC bought that, it would have ended up as a development," notes Tom Chapman, an Okanagan geographer who studied bighorn sheep on the property from 1996 to 2000. "I'm pleased, but I do hope that TLC is cognizant of the importance of keeping the boundaries of the climbing area defined."
The property, which is expected to become a provincial park, is also habitat for desert night snakes, pallid bats, and other threatened or endangered species. With as many as 1,200 people flocking to the area on prime spring and fall weekends, disturbance to wildlife has been serious.
"It used to be a pretty common area for sheep, but they feel the pressure and move out. As a result, the carrying capacity of that area is diminished significantly," says Chapman, adding, "It's still a very important seasonal migration corridor, primarily for rams."
"It's good that we got the access but now we have to make sure that we're not disturbing anything," agrees Anne Armstrong, manager of TLC's Okanagan Region. "Yes, it is a number one concern and yes, we'll deal with it."
Among the contributors to the purchase of "Sub Lot 18" was Mountain Equipment Co-op, an outdoor-gear retailer founded in Vancouver in 1971 by climbers. MEC gave $250,000, then agreed to match up to $100,000 in donations from individual co-op members; 745 members gave an additional $140,000.
"With Skaha, from the point of view of climbers and climbing, that's a great recreation-access project because we are ensuring in perpetuity that that special place is going to be available for climbing," says Tim Southam, MEC's public affairs manager. "But there is also ecological value associated with it, so we certainly saw it as a win-win situation."
An even larger contribution was made by the landowner himself, a developer from New Westminster. He dropped his price by $600,000 in return for a tax receipt under the federal Ecological Gifts Program.
Sooke Potholes
Where: North of Sooke
Size: 63 hectares
Acquired: 2004
Price: $3.3-million
Owing on mortgage: $100,000
"The swimming part is mostly the main thing," says Anna-Lena Ball, 9, of Issaquah, Washington. "I really, really like the water, it's so clear."
Most would agree that drifting in these river pools is a cool way to rinse the trail dust from a well-worked body after a 50-kilometre ride. Anna-Lena and her brother and parents wheeled their bicycles aboard a ferry at Port Angeles, landed in Victoria, and took a leisurely trip on the Galloping Goose rail trail to TLC's new campground at Sooke Potholes Regional Park.
"It's a safe ride, and a good destination ride," notes her father, Conrad. "We can look down from our campsite into the river, and you can hear it at night."
Purchased in partnership with Greater Victoria's Capital Regional District (CRD), the property adjoins the 7.28-hectare Sooke Potholes Provincial Park. Together these parks protect more than 5.5 kilometres of river corridor, most of it steep, narrow canyon with deep pools, waterfalls, and gravel beaches. Few of the thousands who visit this popular swimming hole realize that saving Sooke Potholes was one of TLC's "biggest back-at-the-wall situations."
"We had to take some significant risks," recalls Bill Turner. "We bought the foreclosed mortgage on the property, and borrowed money to buy that." It was a court-ordered sale, yet the owner still dreamed of a resort development, and the municipality of Sooke envisioned copious tax dollars flowing from that dream.
TLC was granted a number of deadline extensions, as they waited and hoped for a generous response to their public plea for money. Eventually, a Victoria developer guaranteed TLC's loan and the CRD, saving the land and waterway, though TLC was left with a $400,000 debt to pay down.
"It's so hard to raise the money after you buy it, once that threat is gone," Turner explains.
It's an important reminder that TLC continues to shoulder the burden of debt for many of its rescued properties long after they are "saved." And in doing so, the charity invisibly subsidizes the quality recreational and family time people get to enjoy in these special places.
"It was fun because I got to spend some time with my dad," says Anna-Lena, who cycled to Sooke Potholes on the back of her father's tandem bicycle. "We were just singing and stuff, and I got to ask him a lot of questions, things like that."
How Can You Help Support The Land Conservancy
Visit TLC Properties
"It's important that the public have access wherever possible, that they can go and see the TLC properties they've been involved in," says Bill Turner, executive-director of The Land Conservancy of British Columbia. The following properties particularly encourage visitors:
Abkhazi Garden (250-598-8096; e-mail: abkhazi@conservancy.bc.ca), 1964 Fairfield Road, Victoria. Dine in the former home of a prince and princess who, in 1946, completed construction of their summerhouse and began creating its elegant gardens.
Craigflower National Historic Site (250-386-1606; e-mail: craigflower@conservancy.bc.ca), Admirals and Craigflower roads, Victoria. On Victoria's Gorge waterway, manor and schoolhouse built in the 1850s.
Eagles Estate Heritage Garden (604-733-2313), 5655 Sperling Avenue, Burnaby. Visit a heritage home and garden in Deer Lake Park.
Keating Farm Estate (250-737-1401), 5250 Miller Road, Duncan. Summer teas on a Cowichan Valley historic farm.
Sooke Potholes (250-383-4627, 888-738-0533; e-mail: tlccamping@conservancy.bc.ca). On Sooke River Road and the Galloping Goose rail trail, 6 km north of Hwy 14. Riverside campground with 66 sites, including six bicycle-only.
Wildwood (250-816-1816; e-mail: jrastogi@conservancy.bc.ca), Crane Road, off Yellow Point Road, Cedar. Tours and workshops at a sustainable forest established in 1938.
Rent One of the TLC's Cottages
(250-383-4627, 888-738-0533; e-mail: enterprises@conservancy.bc.ca).
South Winchelsea Island: Off the southeast coast of Vancouver Island; reached by water taxi.
Sooke: Cottage west of Victoria on Ayum Creek, not far from Sooke Potholes and Sooke Hills.
Cowichan River: Log cabin in a riverside forest.
Baldwin House: An Arthur Erickson design, built in 1965 on Deer Lake in Burnaby.
Nimpo Lake: Rustic lakefront cabin in the Chilcotin wilderness west of Williams Lake.
Book a Conservation Holiday
(250-383-4627, 888-738-0533; e-mail: holidays@conservancy.bc.ca). Help TLC yank weeds, erect nest boxes, or restore spawning streams; one- to five-day work trips.
Take a Nature Cruise
(250-383-4627, 888-738-0533; www.naturecruises.ca). Sail or motor to scenic spots rich with marine life on an educational day trip; about $75.
Volunteer
(250-479-8053, 877-485-2422; e-mail: volunteer@conservancy.bc.ca). From directors to gardeners, volunteers are TLC's lifeblood. There are currently 800, but more are always needed.
Join/Donate/Bequeath
(250-479-8053, 877-485-2422; www.conservancy.bc.ca). On the website, click on "donate." Donations for specific properties are needed, as well as money for the TLC Endowment Fund to ensure there is working capital for the future.
Info
The Land Conservancy of British Columbia (250-479-8053, 877-485-2422; www.conservancy.bc.ca). Visit TLC's website for a full list of completed and ongoing conservation projects.