Interested in trying First Nations' cuisine? Check out Camus: West Coast Cooking Nuu-chah-nulth Style, a 90-page cookbook with 65 different seafood dishes, colour photos, and original artwork.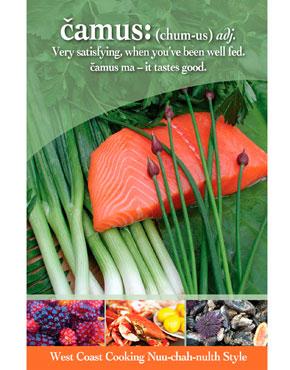 Nuu-chah-nulth families and elders from the west coast of Vancouver Island and northern Washington state contributed to the collection, which includes oral history, cultural observations, and instructions on how to prepare wild foods, such as kelp—as well as recipes using ingredients found in the modern kitchen.
Here are three recipes from the cookbook, which we profiled in our Winter 2010 Due West section.
Jan's Curried Salmon Quiche
Jan Gallic, Tseshaht First Nation
Ingredients
60 small tart shells
6 slices bacon, cooked and broken up into small bits
16 oz jar salmon (1/2 quart jar)
1/4 cup mayonnaise
1 1/2 tsp curry powder
6 eggs
3 cups cream
2 tsp pepper
4 green onions, chopped
1 can mushrooms, cut up into small pieces
1 cup cheddar cheese, grated
Instructions
Pre-bake the tart shells at 400 degrees Fahrenheit for 10 minutes (or follow instructions on the box).
Drain and remove large bones from the canned salmon, then mix with mayonnaise and curry powder. Set aside. Combine the eggs, cream and pepper. Layer the salmon mixture, chopped green onions, mushrooms, bacon bits and cheese into the pre-baked tart shells and pour the egg mixture over top being careful not to overflow. Bake at 350 degrees Fahrenheit for 20 minutes.
Dinner serving size suggestion: Instead of using small tart shells, use two larger shells and cook for 35 to 40 minutes.
Fish Muffins
Kathy Happynook, Huu-ay-aht First Nation
Ingredients
1 large (16 oz) jar of salmon
1 egg
1/2 cup finely crushed crackers (about 15 Premium Plus)
1 1/2 cups cheddar cheese, coarsely grated
salt and pepper to taste
light sprinkle of garlic powder
Instructions
Preheat oven to 350 degrees Fahrenheit. Mix all ingredients together. Fill well-greased muffin tins. Bake for 25-30 minutes. The mixture will hold together as the cheese melts and the egg cooks. You could also do this in a loaf pan, but you would have to cook it longer (40 minutes).
Serving suggestion: serve with salad or freshly steamed vegetables.
Makes 6-8 medium muffins.
Mini Fish Muffins: Use a mini muffin tin to make mini fish muffins. Great for finger foods and snacks. Bake for less time, approximately 20 minutes.
BBQ Upside Down Salmon
Boyd Gallic, Tseshaht First Nation
Juicier vegetables like zucchini will provide more juice and will keep the salmon meat moist.
Ingredients
1 medium zucchini, cut into chunks
1 large tomato, cut into chunks
1 onion, cut into chunks
1-2 celery stalks, cut into chunks
5-8 whole mushrooms, cut into chunks
1 salmon fillet (2-3 lbs), (coho or sockeye preferred)
1 lemon, sliced
dab of margarine
salt and pepper to taste
tin foil
Instructions
On a big sheet of tin foil, layer your vegetable chunks. (You can adjust the amount of vegetables to your liking.) Add a few dabs of margarine, salt and coarse cracked pepper. (You can also use any seasoning spices that go well with fish, e.g. lemon pepper.)
Lay the salmon fillet face down on top of the vegetables. Top the salmon with lemon slices. Wrap the foil around the fish and barbeque until done. Once it's cooked, flip it over right side up!
Makes 3-4 servings.
Mmmmm. Dig in.
Tip: Depending on the size of your fish, its thickness, and the heat of your grill, the total cooking time will range from 10 to 30 minutes. This recipe takes much longer in the oven!