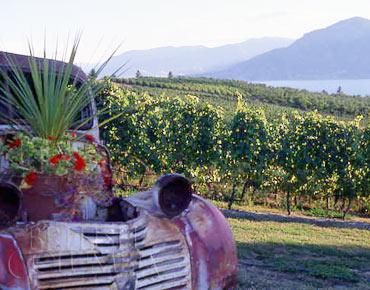 Two hours into dinner at The Country Squire, my partner and I are introduced to a unique Naramata dining custom. "You're welcome to walk to the pier, tour the wine cellar, or just relax in the lounge," says our young server, gesturing to nearby sofas. "Take your time."
It's not the end of the meal — rather, the gourmand's seventh-inning stretch. And after a skewer of succulent giant scallops, an astonishing onion-and-cardamom potage, 10 butter-bathed tiger prawns on pilaf, and a nectarine-ice palate cleanser, I need a breather.
As Michael and I amble (nay, waddle) from the converted 1910 house to the lakeshore, I think: this could only happen in a small town. Gourmet chef Patt Dyck and her husband, Ron, the convivial maitre d', simply trust their clients will return to pay the bill. Return we do, to a plate of ripened cheeses (two produced at nearby Poplar Grove Winery), and, for dessert, local autumn raspberries and cream in an elegant butter-cookie tulipe. Heaven help me.
Fortunately, Naramata (area pop. 2,500) has more active pursuits than the "Squire Stroll." Just north of Penticton on Okanagan Lake's sloping east shore, this sun-warmed, rural fruit vale — where backyard orchards and vineyards are more common than garden gnomes — is cut through by the Kettle Valley Railway trail. Completed in 1915, the historic railway carried its last train here in the early 1970s. Today, the route is part of the 18,000-kilometre Trans Canada Trail system.
The next morning, wiggling into my bicycle shorts, I am penitent: may today's 30-kilometre ride make restitution for last night's cruise ship-style indulgence. Though I must confess — the ride will be all downhill. Kettle Valley Trail Tours of Naramata offers a wonderful service to the lazy, ahem, leisure cyclist, transporting riders to a trailhead high in the hills at Chute Lake (el. 1,184 metres). From there, cyclists pedal the old gravel rail bed's gentle 2.2-percent grade all the way down to Naramata. Buns-busters are welcome to cycle up the trail — just take plenty of water and sunscreen.
This is arguably the KVR's most scenic stretch, with grand vistas over the tiered benchlands and clay cliffs sloping down to 128-kilometre-long Okanagan Lake. Towering ponderosa pines clad with orangey-brown bark dominate the dry upper benches, amid antelope brush, big sagebrush, rabbitbrush, and prickly pear cactus – a marked contrast to the irrigated green valley below.
The thickets rustle with mountain chickadees, Bohemian waxwings, flickers, white-throated swifts, canyon and rock wrens. I particularly delight in the strings of chubby California quail running about Naramata, their little queues as orderly as Snow White's dwarfs whistling their way to work. I'd be happy to catch sight of a coyote or white-tailed deer on the trail. I'm less keen to meet the local rattlesnakes; cyclists should be wary of wandering into the copious trailside rubble.
How the rock was blasted out of these hillsides by KVR chief engineer Andrew McCulloch and crew is truly a marvel. In early 1913 more than 2,000 men laboured here with mere horses and carts. Rock Ovens Regional Park preserves stone baking ovens workers built along this route. Near the end of my ride, I cycle through 49-metre Little Tunnel. There is a terrific overview here of Naramata on its lakefront point, facing Summerland on the west shore.
Land promoter John Moore Robinson founded Naramata in 1907, soon after establishing the orchard communities of Peachland and Summerland. Legend has it he came by the town name at a séance; Mrs. Gillespie, the village postmaster's wife, hosted the spirit of a great Sioux chief who spoke of his beloved wife, Naramata.
"The townsite is beautifully located," extolled The Enderby Press in September 1910. "The hills and valleys tributary to it are the choicest on the Lake." The newspaper also praised Robinson's new Hotel Naramata as "a modern hotel of beautiful architecture and with all the conveniences of an up-to-date tourist resort," and "the most magnificent flower garden surrounding any hotel in the interior." Soon, summer visitors flocked to Naramata for boating regattas, picnics, and dances.
The 12-room inn, rescued from neglect in the 1990s, was restored and reopened in 2001 as the Naramata Heritage Inn & Spa. The interior and exterior woodwork is glorious. In our charming, century-old room, Michael and I bump elbows, and grumble that our lake view is obscured by residential encroachment on the original hotel grounds – but all is forgiven when I step from the classic clawfoot tub onto (ah, bliss) heated ceramic tiles. Later, in the hotel's Cobblestone Wine Bar, we sample local vino — there are, count 'em, 10 wineries just off Naramata Road – and tap our toes to a performance by Penticton's Amazing Rubber Band.
Commercial orchards still outnumber vineyards in Naramata, but the area is in transition. Locals say the hardy grape vines need less irrigation than fruit trees traditionally grown here — apples, pears, peaches, apricots, and cherries. One of the area's newest wineries, Elephant Island, is making the best of both worlds by fermenting ripe fruits into dinner and dessert wines.
Naramata newcomers Marianne and Walter Meyer have found another winning combination: guests and grapes. At Shimmering Lake B&B, three suites in their new log-and-stone home overlook a lakeside vineyard they planted in 2000.
"I was a banker in Switzerland," says Walter, with a rueful smile of lessons hard-learned. "I really didn't know anything about this. It was a big job, putting in 3,000 plants." By chance, our stay coincides with their first harvest. After serving a superb breakfast (including Marianne's sublime pastries, home-pressed peach and apricot juices), our consummate hosts bound into the vineyard to pick grapes.
Most Naramata wineries encourage visitors to sample their wares, and I enjoy an especially informative tasting session at Red Rooster Winery. The day slips by as we tour Naramata's country roads, alternating tasting bars and bistros with drop-ins at painting, pottery, and woodworking studios, the lavender farm, local museum, and bookstore in Naramata Centre, the town's spiritual retreat and conference centre.
With full-service Penticton (pop. 33,000) just down the road, shopping is limited in "downtown" Naramata. No matter: the best things in life are free. Strolling the leafy streets in late afternoon, I enjoy the shade of a grand weeping willow in grassy Naramata Park; bury my toes in the sandy lakefront beach at Manitou Park; and, from a small viewing bridge in the residential core, watch Okanagan Lake's spawning red kokanee salmon shimmy up a narrow stream.
Naramata today lives up to the claims J.M. Robinson made in his Okanagan Trust Company promotional brochures in 1907. "The mildness and tonic properties of the climate are such that people from all over Canada and the Old World are attracted to it. . . . It is not easy to find places where the climate conspires with man and the soil to produce comfort, culture, beauty, health, and profit in one combination."
On the sunny patio of Lakebreeze Vineyards, where I pop in to sample the Chardonnay and splendid lake view, I lift a glass to Mr. Robinson. Salut.
Getting there
In the south Okanagan Valley, Naramata is 15 kilometres north of Penticton on Naramata Road; Penticton is 400 kilometres (about a five-hour drive) east of Vancouver.
What to do
Buy fresh fruit at Naramata's Sunfresh Cooperative Growers packing house (250-496-5233), 3655 2nd Street.
Cheer on spawning kokanee from the bridge near Ritchie Road and 3rd Street.
Coast downhill from Chute Lake to Naramata; Kettle Valley Trail Tours (250-496-5220; www.kettlevalleytrail.com) offers shuttle and bike rentals. Or break a sweat with South Okanagan Cycle Tours (250-496-4003), touring nearby Okanagan Mountain Wilderness Park.
Dip your paddle in Okanagan Lake; Sheila Taylor (250-496-5454) offers canoe and kayak lessons.
Indulge in a facial at Kindred Spirits (250-496-5360), or 6.5-hour spoiler package at Naramata Inn's Heirloom Spa (250-496-5063).
Poke around Naramata Centre bookstore (250-496-5751; www.naramatacentre.net).
Saddle up at Arawana Creek Outfitters (250-496-4007) for guided trail riding.
Swirl and sip at 10 local wineries (www.discovernaramata.com/directory/wineries.htm); Okanagan Fall Wine Festival (250-861-6654; www.owfs.com), runs October 3-12, 2003.
Where to eat
Great eats for a small village, from pizza to gourmet cuisine. Most winery bistros are open seasonally; several were closed in late September.
The Country Squire (250-496-5416; www.country-squire.com), 3950 1st Street. A Naramata institution since 1980; closed June 2003, pending sale.
Cobblestone Wine Bar & Restaurant (250-496-5064), Naramata Heritage Inn, 3265 1st Street. Serves up Roast Vegetable Skillet and Chilled Seafood Salad with live blues and jazz on weekends; more formal meals in the hotel's Rock Oven Dining Room (250-496-6808).
Camp Creek Station Neighbourhood Pub (250-496-5655), Robinson Avenue at Partridge Road. Dim and smoky, but excellent pub fare: tottering mountain of nachos, top-notch mushroom veggie burger; pool table, darts.
Where to stay
Good variety of in-town and on-vineyard accommodation. Check online listings at Discover Naramata (www.discovernaramata.com) and British Columbia Accommodation Guide (800-435-5622).
Naramata Heritage Inn & Spa (250-496-6808; www.naramatainn.com), 3265 1st St. Century-old style and service with Internet connectivity.
Sandy Beach Lodge & Resort (250-496-5765; www.sandybeachresort.com), Mill Road. Popular lakeshore lodge and cottages.
More information
Smile of Manitou: The History of Naramata by Don Salting (Skookum Publictions, 1982). Available at Naramata Museum, Robinson and 2nd Street.
Discover Naramata (www.discovernaramata.com).
Cycling B.C.'s Trans Canada Trail (www.bctrail.bc.ca).
Penticton Info Centre (800-663-5052; www.penticton.org).
Thompson Okanagan Tourism Association (250-860-5999, 800-567-2275; www.thompsonokanagan.com).