A mini profile of Haida manga author Micahel Nicoll Yahgulanaas.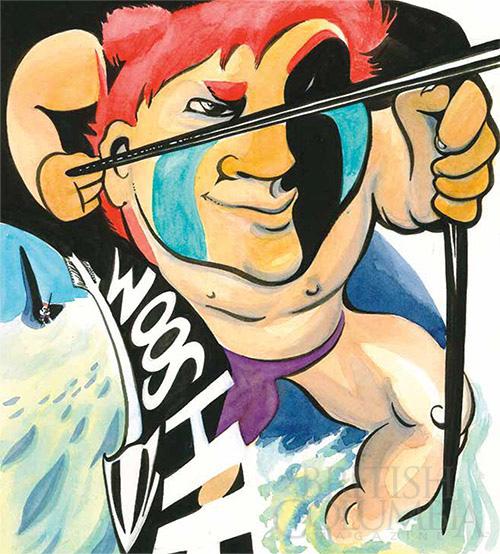 Who: Michael Nicoll Yahgulanaas, an artist with Haida and Scottish ancestry who is widely considered "the father of Haida manga." Internationally acclaimed, he works in painting, sculpture, and illustrated books.
What: "Haida manga," a contemporary, home grown take on a style of comics popularized in Japan.
When: In 2001, Yahgulanaas published the Haida manga Flight of the Hummingbird, which became a bestseller in Japan. His latest, RED, available in paperback this year, is divided using classic bending Haida design instead of the typical square panels of traditional comic books. Readers can cut up their copies to create a massive mural—a practice the artist encourages to spark reader involvement and interpretation.
Where: He was raised in Delkatla on Haida Gwaii, but later moved off reserve. "I've always been quite aware of being a fellow in the middle," says Yahgulanaas, who now lives on an island off Vancouver Island with his family.
Why: The artist wanted to create a new art form that merges Canadian and Asian traditions. He counts eight Haida manga books in existence so far and was involved with all of them.
How: The form combines Haida stories and motifs with the liberty of Asian manga, he says. RED, based on a classic Haida oral narrative, tells the story of a young girl named Jaada who lives in a village on the west coast of Haida Gwaii. One night she is taken by pirates, and her brother, Red, must find her.
More: Watch the video about RED, including animation and captivating original music by cellist Cris Derksen (mny.ca/en/red-video.html). Hear Yahgulanaas talk about RED (ikebarberlearningcentre.ubc.ca/michael-yahgulanaas-red-a-haidamanga).