Cut out the uphill grunt work and get down to the business of riding at any one of these lift-serviced mountain biking parks. You'll find well-maintained trails with man-made and natural obstacles, taking you from panoramic mountain tops to the deep woods. Short lift rides and miles of trails means you can pack a lot of biking into a single day.
Fernie Alpine Resort Bike Park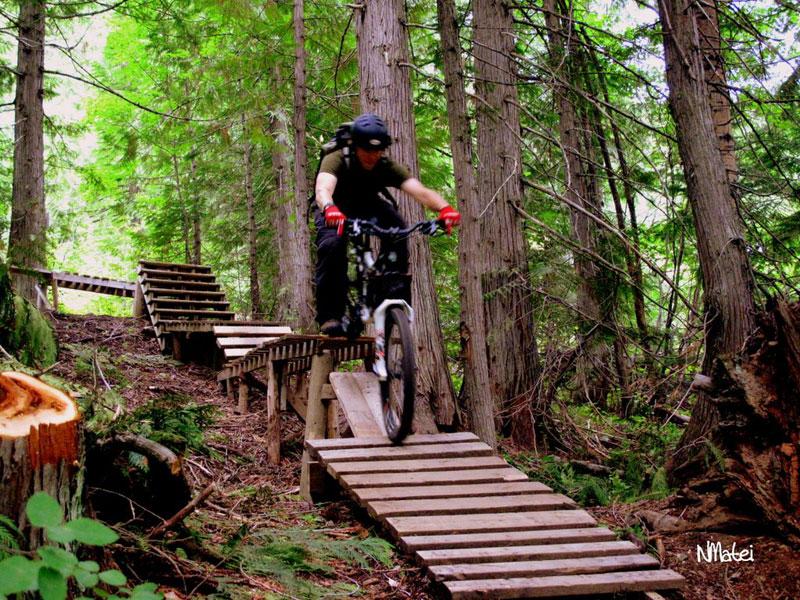 Address: 5339 Fernie Ski Hill Road, Fernie
Website: summer.skifernie.com//mountain-biking
Number of trails: 37
Description: Open Saturday, June 27 to Sunday, Sept. 6, 2015, Fernie Alpine Resort Bike Park offers one of the largest lift-accessible trail networks in western Canada. The park provides mountain bike rentals, Kids' Freeride Camps, lessons and clinics, and a Thursday night race series. Other attractions while you're at the park include ziplining, an aerial park, scenic chairlift rides and hiking.
Price range: The price of a pass varies, depending on duration and age. A standard full day pass for an adult over 18 years is $47.95. There are also passes for single rides, twilight, three-day passes and a summer season pass. Prices also vary between adults (over 18), youth (13-17), children (six to 12), seniors (over 65 years) and family.
Difficulty: With trails varying in difficulty, there's something for everyone here. From wide and gentle for beginner/intermediate riders, to steep, single-track trails for advanced/expert riders.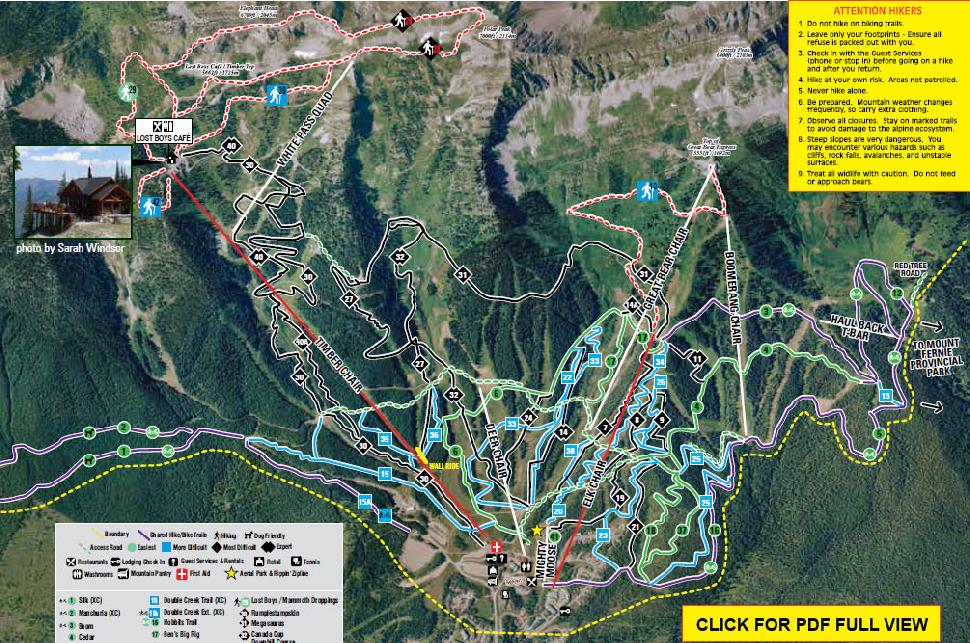 Silver Star Bike Park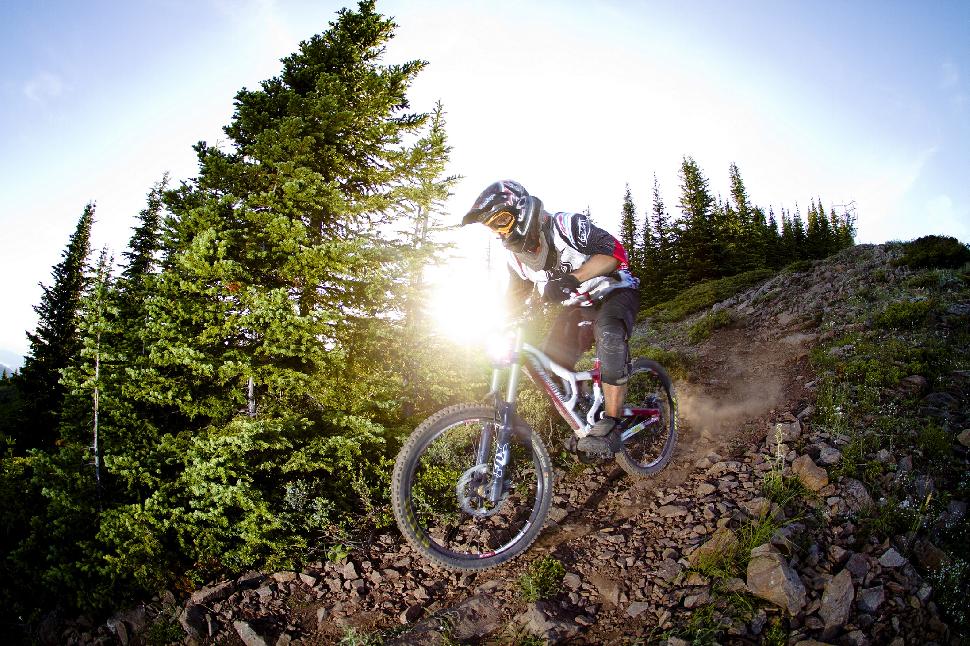 Credit: Silver Star Mountain Resort
Location: 123 Shortt Street, Silver Star Mountain
Website: skisilverstar.com/downhill-biking
Description: Open seven days a week from June 25 to Sept. 7, 2015, the park runs from 10 a.m. to 5 p.m. and offers extended hours every Wednesday and Friday to 7:30 p.m. During the summer, there are several restaurants that cater to hungry bikers and hikers. Silver Star is one of only a few bike parks in the world that has been named an IMBA Ride Centre and it is the highest-ranked Ride Centre in Canada.
Number of trails: For downhill biking, there are 20 different trailheads to kick start your adventure. Silver Star also offers 21 cross-country trails, which range in distance from a quarter of a kilometre to over seven kilometres. They have plans for two additional cross-country trails in the future.
Price range: There are two types of tickets available, one for downhill mountain biking and one for cross-country biking. Depending on what you'd like to do, there are several options, including full day passes, two-ride passes, afternoon only and extended play for evening riding. Tickets are also broken down by age – adults over 19, youth between 13 and 18, children between six and 12 and seniors over 65. A full-day adult pass for downhill mountain biking is $47.
Difficulty: The park offers trails for all skill levels, as well as a Bike School for those that want to learn more.
Downhill map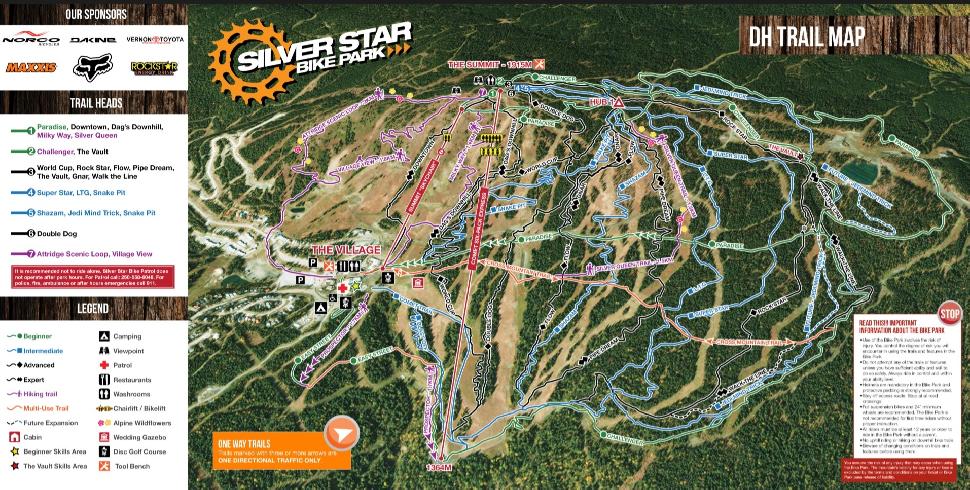 Sun Peaks Resort Bike Park
Location: 1280 Alpine Road, Sun Peaks
Website: sunpeaksresort.com/summer/bike-park
Description: Open June 26 to Sept. 7, 2015, the park runs from 10 a.m. to 5 p.m. daily. Sun Peaks also offers camps, clinics and guided tours, as well as a Ride & Stay package.
Number of trails: 38 (including recently added cross-country trails)
Price range: Bike passes range from full day, half day, one ride and season passes for adults over 19, seniors over 65, youth from 13 to 18 and children from six to 12. A full day pass for an adult is $42. Sun Peaks also offers Peaks Bike Card for three or five days of riding, which equals up to 20 per cent in savings. The days don't have to be consecutive. A three-day Peaks Bike Card for an adult is $107.
Difficulty: The park offers something for everyone – from well-groomed trails for beginners, to hair-raising extreme trails for the experts.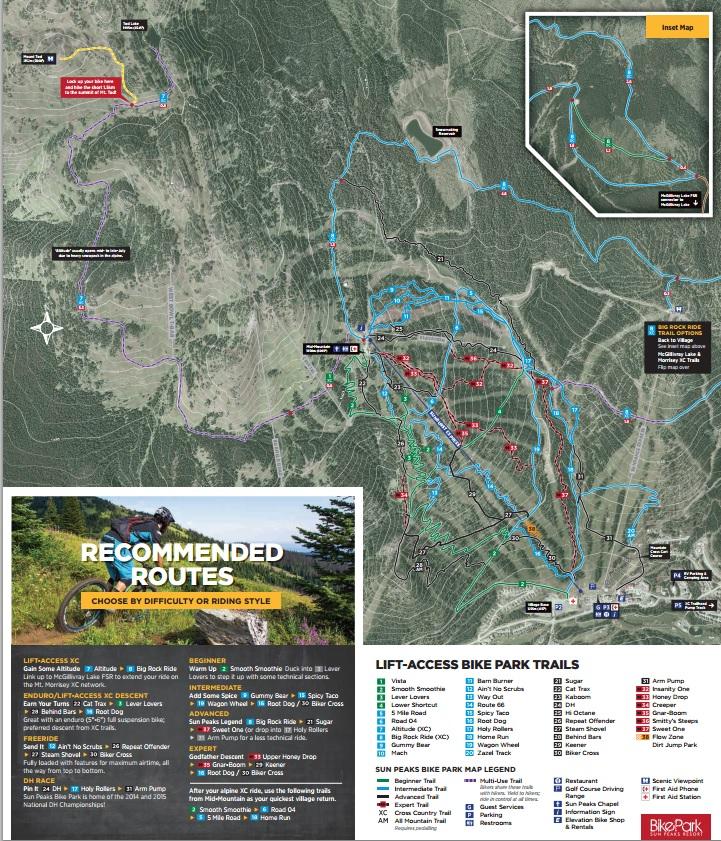 Whistler Mountain Bike Park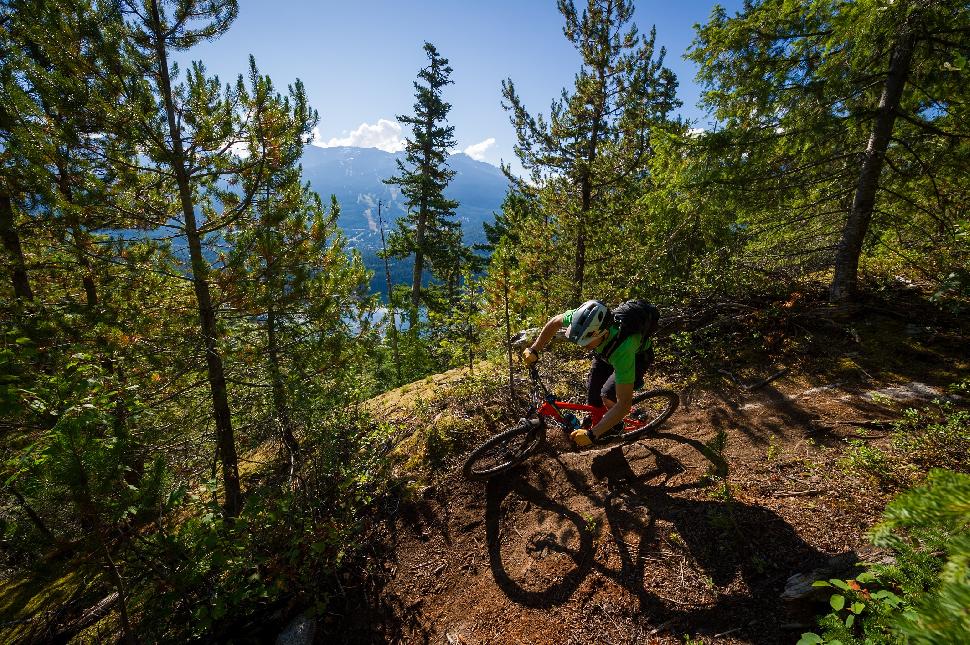 Location: Situated just outside the town of Whistler, departing from various lifts (see map link below).
Website: bike.whistlerblackcomb.com

Park trail map: click here
Description: The park is open from Saturday, May 2 to Oct. 12, 2015, with extended hours from June 13 to Sept. 7.
Number of trails: With two different zones, Whistler offers over 1,500 metres of lift-serviced mountain biking trails.
Price range: There are two seasons with different prices – June 13 to Sept. 7 and a slightly discounted price from Sept. 8 to Oct. 12. Riders can buy a sample ticket (good for three laps), a one-day pass, a two-day pass, a three-day pass or a four-day pass. There's also an extended play pass, from 3:30 p.m. to 8 p.m. when available. Ticket prices vary between adults over 19 years old, seniors over 65, youth between 13 and 18 and children five to 12 years old. For the regular season to Sept. 7, a walk-up one-day pass for an adult is $65. Buying five days in advance will save you a few bucks. New for 2015, the park also offers season passes, 10-day passes, five-day passes and a twilight season pass.
Difficulty: The Whistler Mountain Bike Park offers something for everyone – from gentle riders through the Coastal forest for beginners, tight and twisted single tracks for the intermediate rider and gnarly rides for the expert.
Kicking Horse Mountain Resort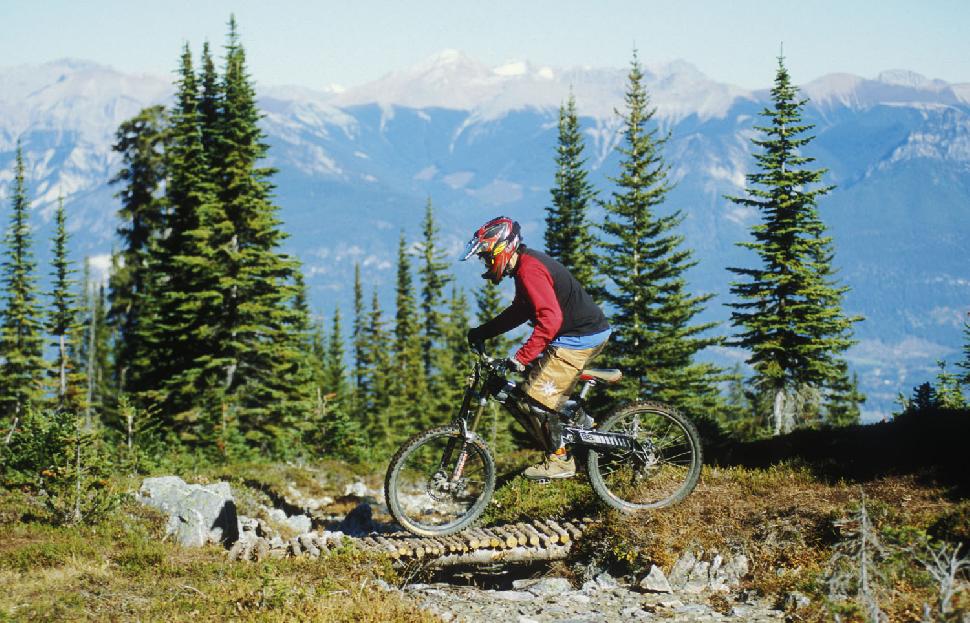 Location: 1500 Kicking Horse Trail, Golden
Website: kickinghorseresort.com/mountain-biking
Description: KHMR Bike Park boasts a whopping 3,700 feet of trail descent. Moreover, the park is the highest in Canada, offering unparalleled views of the surrounding mountains. The park is open daily from May 30 through September 27, with lifts running from 10 a.m to 4:00 (Golden Eagle Express Gondola) and 4:30 (Catamount). Rentals and repair services are available at the centrally located Performance Rental Center. Lessons are also offered for those who simply need to sharpen their techniques, to those who are completely new to the sport.
Number of trails: 31
Price range: Full day passes for adults are priced at $46.95, $37.95 for youth and seniors, and $117.95 will cover the family (two adults, two children or youth). Prices are discounted if you launch after 2 p.m. or opt only to ride Catamount. You'll also save some money when buying a two day pass, and adults can ride the entire summer season for $239. If you're frequenting trails in area, consider an RCR Pass that includes lift access at Fernie Alpine Resort.
Difficulty: The number of beginner-friendly trails can be counted on one hand, while the majority are marked intermediate or difficult. Those with technical skills will love skinny, winding trails with berms, tables, rock slab and elevated wood bridges.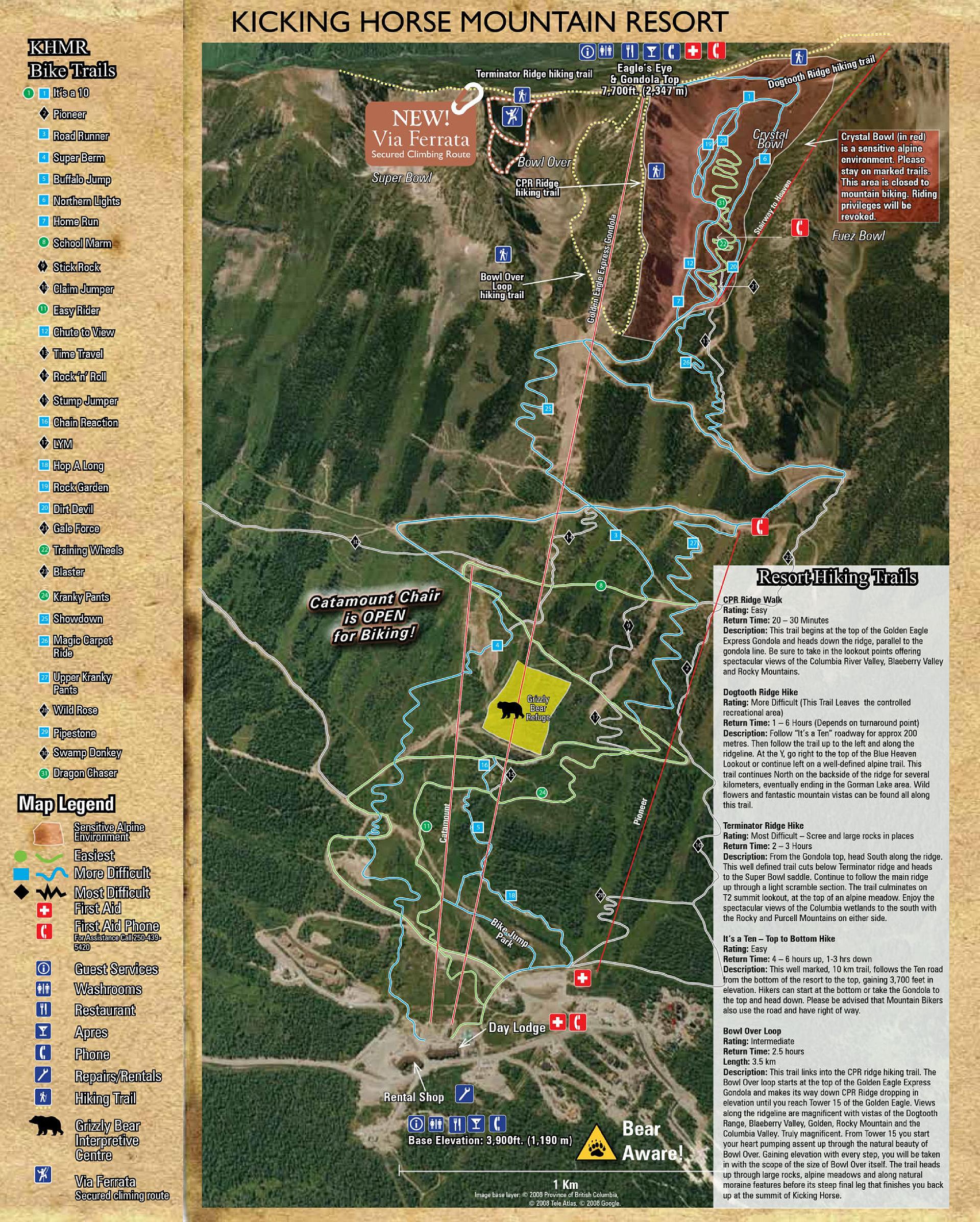 Panorama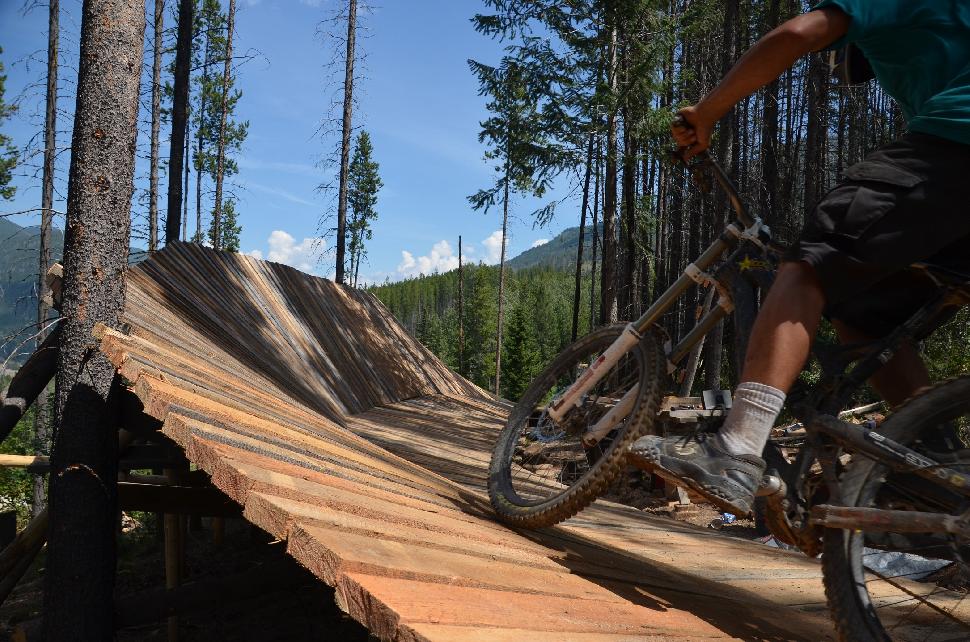 Address: 2000 Panorama Drive, Panorama
Website: panoramaresort.com/mountain-bike-park
Number of trails: 17
Description: With trails named Mercy Me, Hell's Bells and Crazytrain, enthusiasts can expect a lot of excitement at Panorama. Trails have been recently refurbished and new this year is a top to bottom beginner trail.
Price range: Adults $45, youth and seniors $39 and children under 6-12 are priced $25. Discounted prices for half day rides (after 2:00 p.m.) and adult season passes are $249. Winter season ticket holders receive further discounts on summer bike passes ($179 for adults).
Difficulty: 10% Beginner, 40% intermediate, 50% expert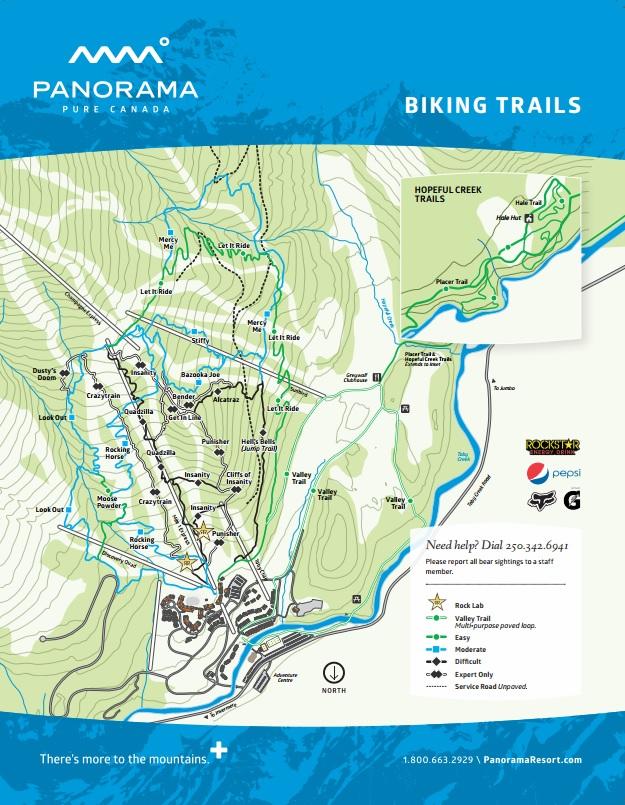 Mount Washington Bike Park
(Re-opening summer 2016)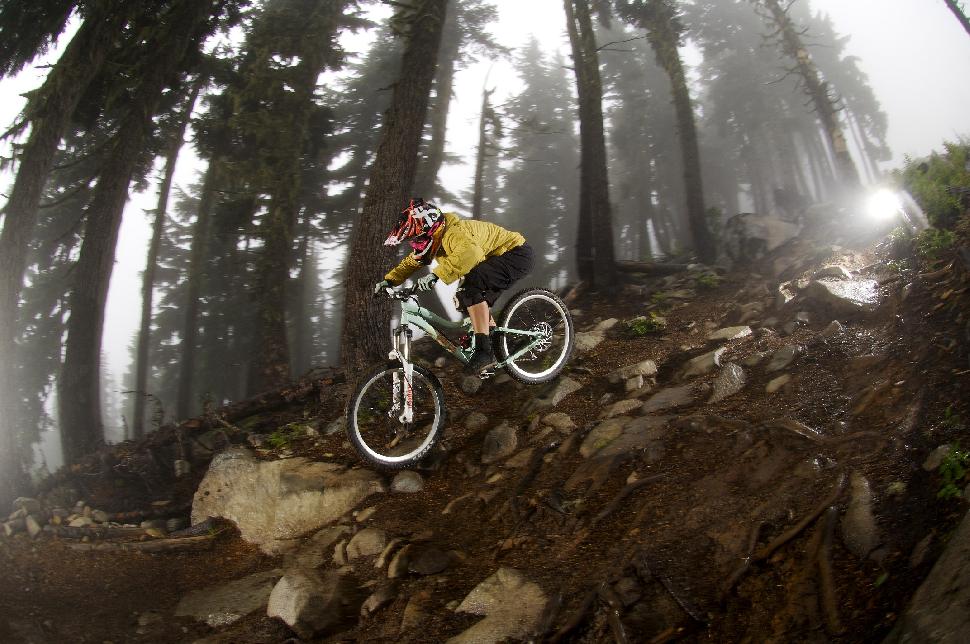 Address: Strathcona Parkway, Courtenay
Website: mountwashington.ca/bike
Number of trails: TBD
Following a three year hiatus Mount Washington Alpine Resort will be re-opening their lift-access bike park. They will be investing a quarter million dollars into rebuilding trails and enhancing rider features. The bike park is expected to open in early to mid-July and will offer trails for all skill levels.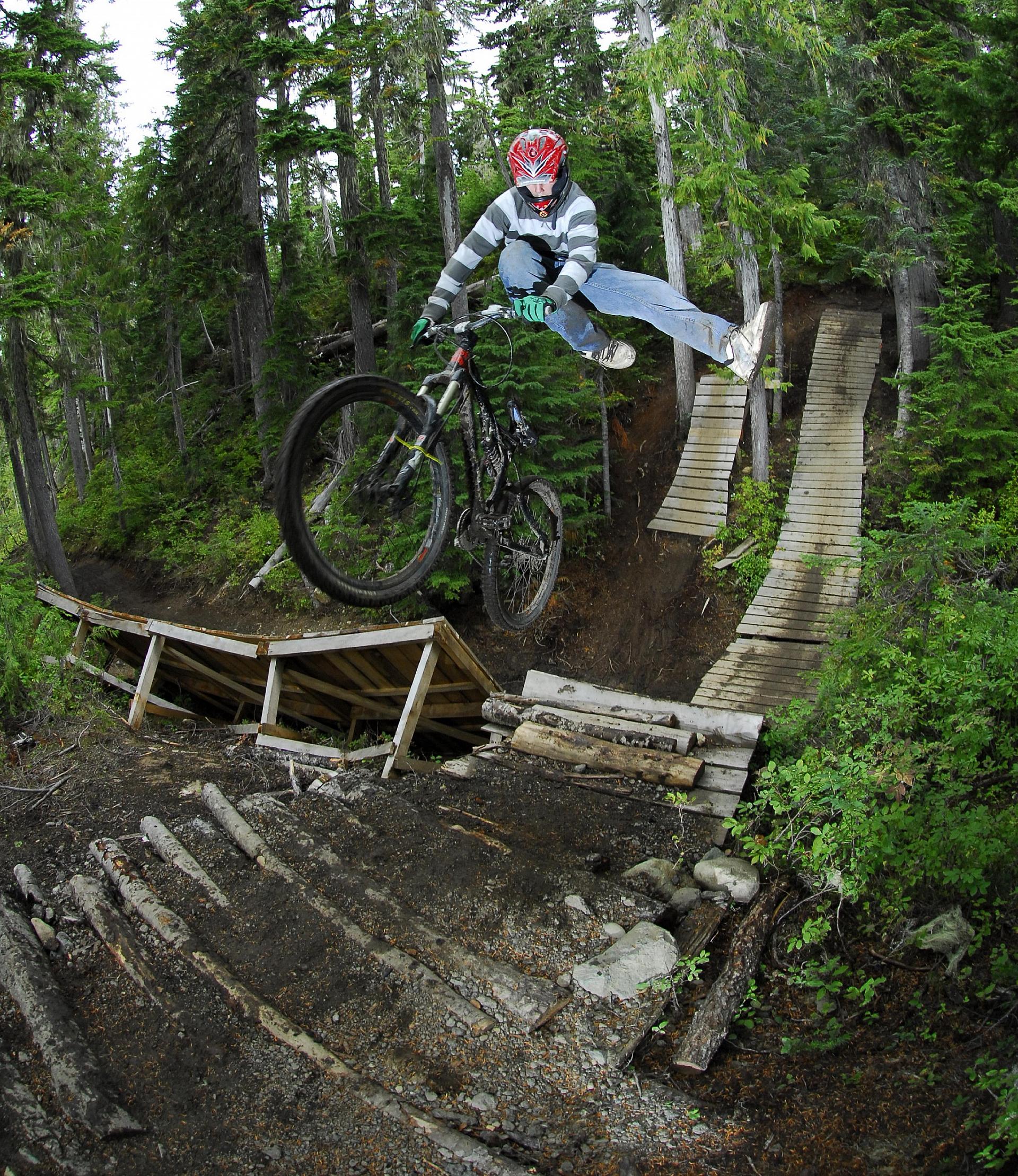 Price range: TBD
Difficulty: Beginner through expert
Which is your preferred mountain biking park?
Let us know – comment below!