A few years ago my kids gifted me with a nature-inspired spa session. Since they were aged four, two and eight-months at the time, my hunch is that their dad gave them a tip—mom needed a break. While I was familiar with conventional treatments often experienced in the city, the Ancient Cedars Spa at the Wickannish Inn was something entirely different. With an open concept to the natural surroundings, this rustic space is tucked into a forest on the rugged edge of Canada's most westerly coast, overlooking the Pacific Ocean. 
The package I was given was inspired by traditional First Nations cleansing ceremonies, and utilizes Vancouver Island seaweed, cold-water therapy and heated local basalt stones to revitalize the body and spirit. And revitalize me it did. Feeling overwhelmingly calm, I was then guided to a quiet nook, nestled in nature, where it was recommended I take some time and just be. 
There is a balance that happens when you mix natural elements with soothing treatments. Here are four unique spas around the province that evoke a similar mind, body, spirit and nature experience.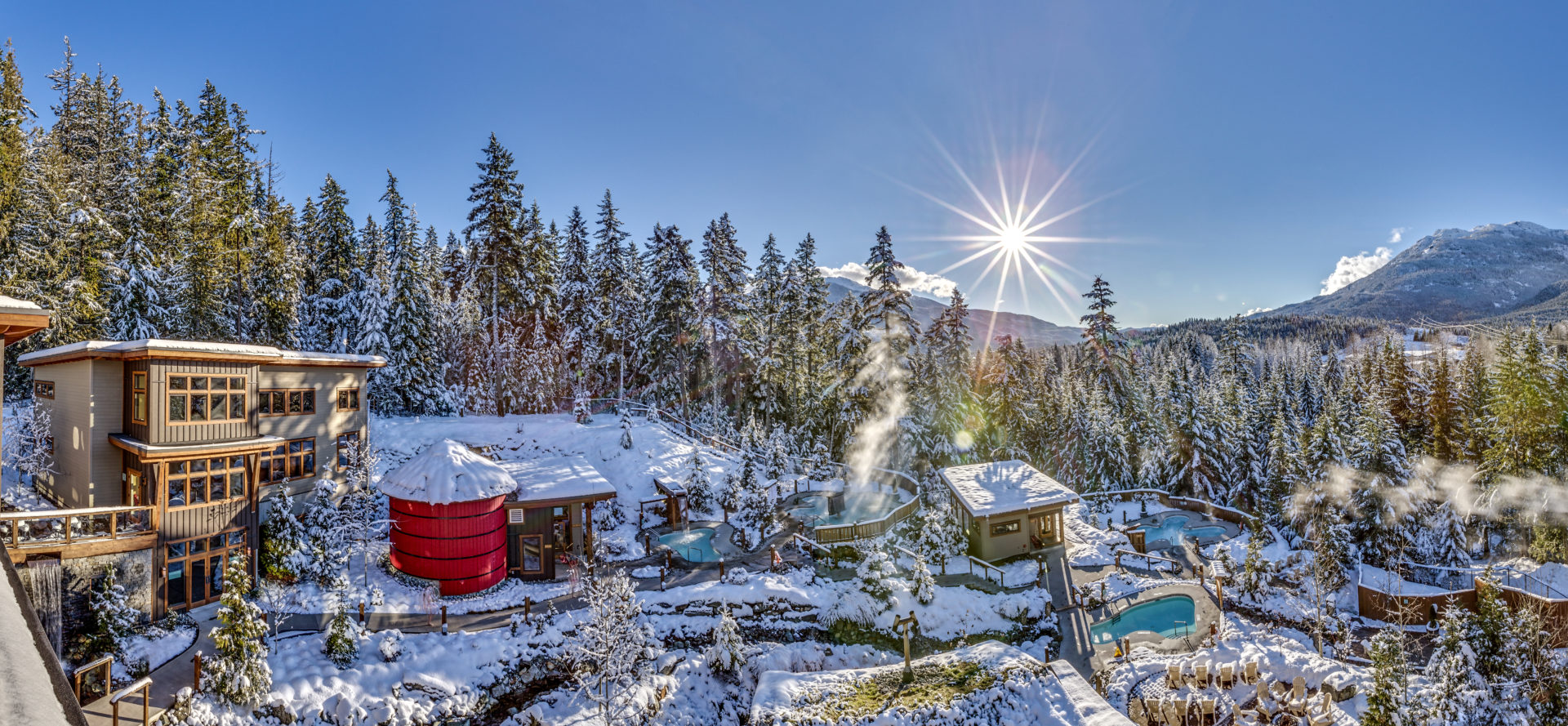 Scandinave Spa
Whistler
Treatment:
Scandinavian Baths
Warm your body, rinse in cold water, relax and repeat—the Scandinave Spa offers a traditional Nordic bath experience in Whistler. This ritual takes you through three stages. First come the warming techniques, such as a wood-burning sauna, eucalyptus steam room or a hot bath. Next, you shock your system with refreshing cold-rinses in a waterfall, cold shower or cold bath. Then, you relax on a terrace, solarium or in front of a fireplace, all with the intention of soothing your muscles, awakening your senses and igniting an overall feeling of wellbeing. Repeat as desired.
Set outside amongst cedars and mountain views, the Scandinave Spa provides an all-season outdoor spa experience. If time allows, you can literally hang out all day—tree hammocks are plentiful and books are welcome. Breathe in the mountain air and commit to the no talking rule—silence is echoed throughout. And, if you're lucky, winter means chances are good for falling snow, which only adds to the overall serenity.
To feel the full benefit of the baths, it's recommended to follow the warm, cold and relax sequence three or four times at least. There are healing tea and hydration stations throughout and a little café to boost stamina for the next round. (Tip: bring a robe if you don't want to rent one.)
Location: 8010 Mons Road, Whistler
Winter Hours: 10:00 a.m. to 9:00 p.m.
Call: 1-888-935-2423
Online: scandinave.com/en/whistler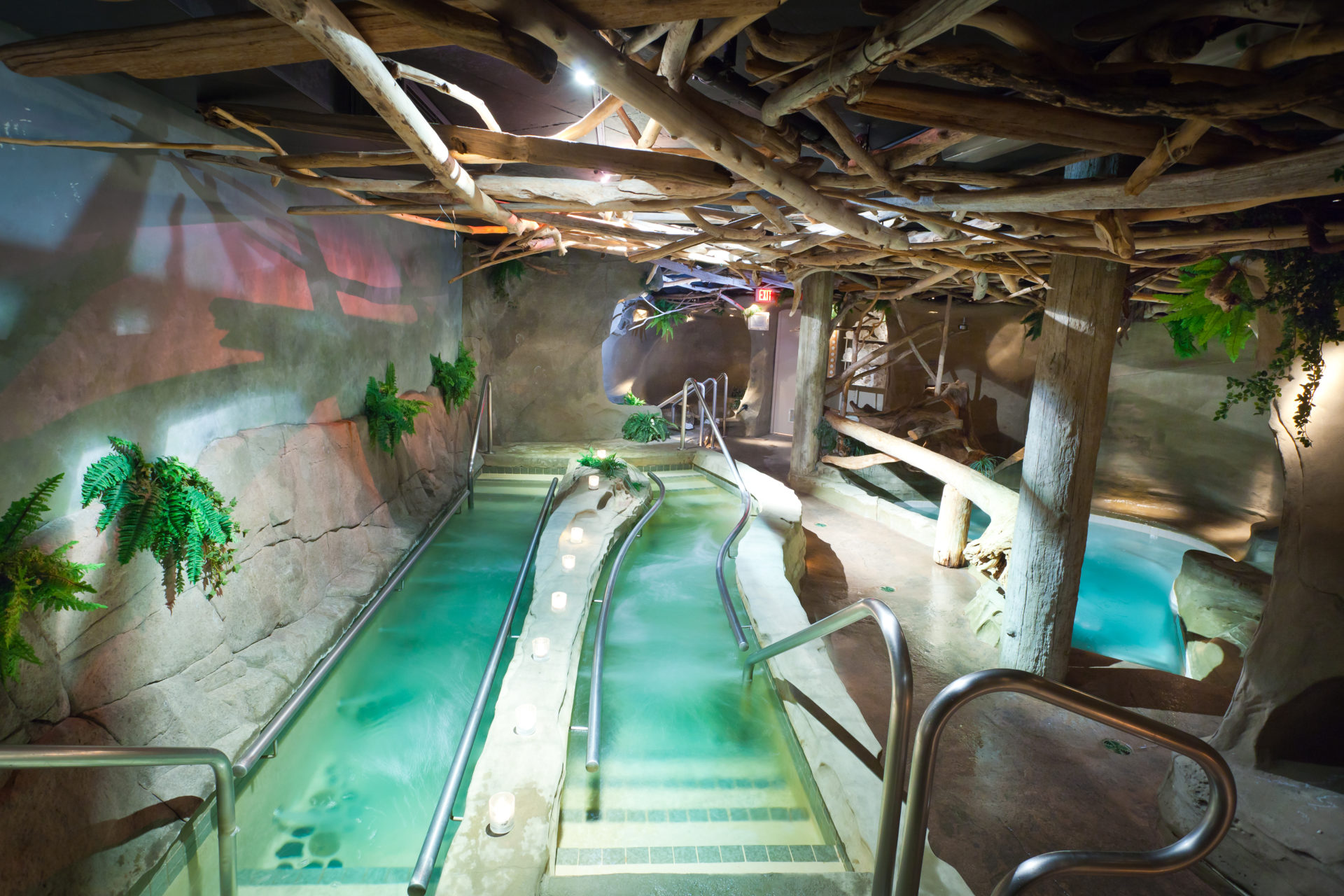 Kingfisher Oceanside Resort & Spa
What:
Pacific Mist Hydro Bath
"Relax in a single-person tidal bath carved out of rock and a fresh blend of our signature sea salt scrub." Yes, please. Surrounded by gigantic trees, with spectacular views of the Strait of Georgia and the Coast Mountains, Kingfisher Resort & Spa is located on the eastern shoreline of Vancouver Island in Courtenay. Here in the Comox Valley, they've combined seaside elements of the West Coast into a soothing hydrotherapy treatment, creating the Pacific Mist Hydrobath—a Kingfisher original. 
Enter deep into a tranquil, sandstone-sculpted cave, and relieve yourself from outside hustle as you embark on a one-hour session that reaps the benefits of re-mineralization, detoxification, hydration and relaxation. Following a shoreline-inspired path through eight themed stations, each featuring a specific water therapy designed to rejuvenate the mind, body and spirit: Swiss shower, mineral massage pool, waterfall massage, steam cave, glacier waterfall, river walk, sea mineral soak, tidal bath and "aaaahhh" (this station speaks for itself). 
Kingfisher was recently rated the number-one spa resort on Vancouver Island and number-three spa getaway by Vancouver's The Georgia Straight "Best Of" contest. They offer a range of classic treatment and rainy day midweek packages that pair a spa booking with a dining credit at their onsite restaurant. Comfort food and hydrotherapy makes the soul feel good.
Location: 4330 Island Highway South, Courtenay
Winter Hours: Sunday to Thursday 8:00 a.m. to 9:00 p.m.; Friday and Saturday 8:00 a.m. to 10:00 p.m.
Call: 1-800-663-7929
Online: kingfisherspa.com/spa-hydropath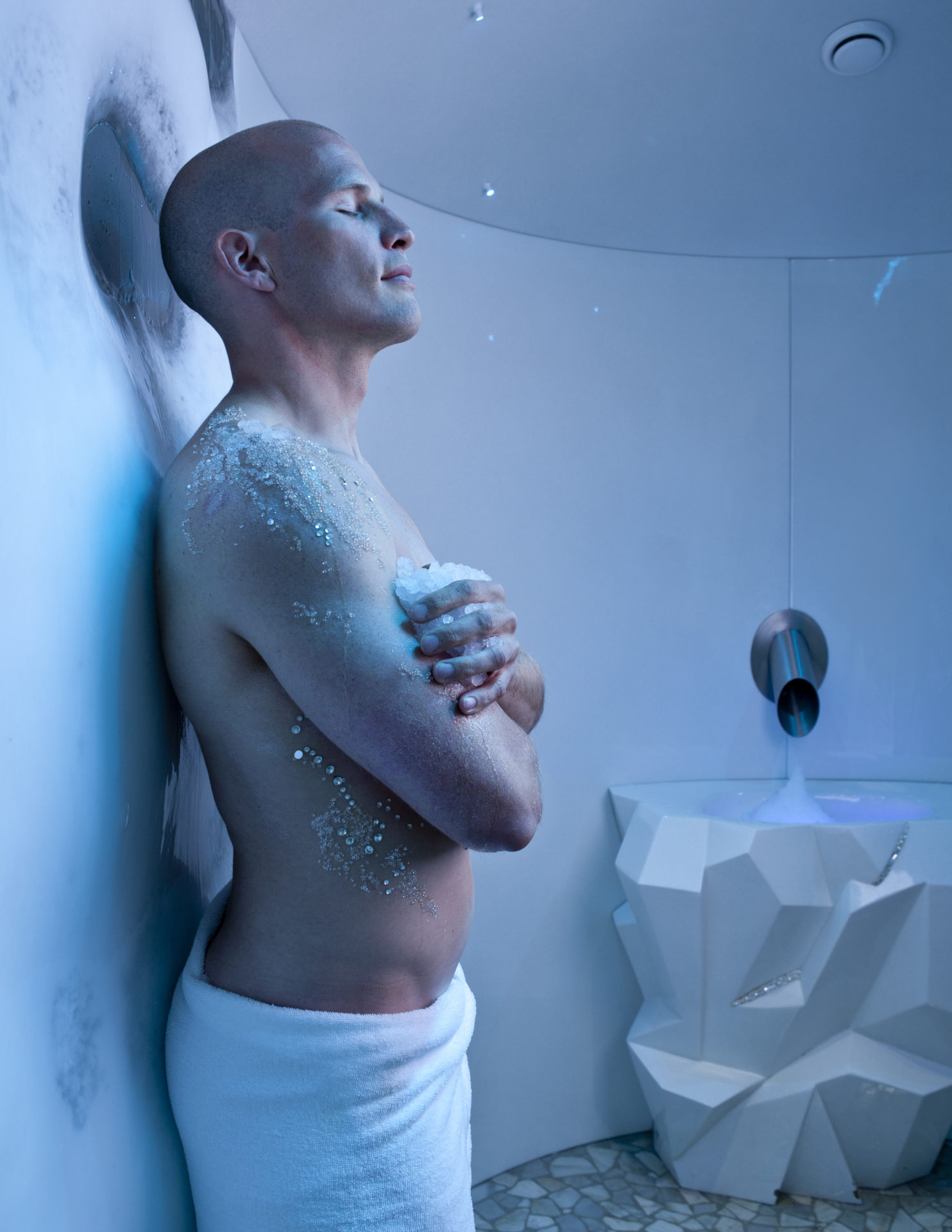 Sparkling Hill
Resort KurSpa
What:
Cryo Sauna
It's winter season. You're cold. And you're about to get colder. KurSpa, at the Swarovski crystal-infused Sparkling Hill Resort in Vernon, was the first to introduce North Americans to a "Cold Sauna." This cryo-treatment utilizes an extreme dry cold to boost the nervous and circulatory systems. A wellness regime developed in Europe, cold saunas are said to help with various ailments such as inflammation, arthritis and joint pain. 
The cold sauna is a surprisingly comfortable chamber set to -110ºC. Fully monitored, and completely safe, your next three minutes are spent, ahem, chilling out, as your blood vessels automatically build a protective zone to maintain your core body temperature. Afterwards, you receive an invigorating and energizing sensation.
If the cold is what you were hoping to escape, warm up with the Fango treatment instead. Italian for mud, this is blend of volcanic ash transforms into a warm buttery substance that detoxifies and rejuvenates when massaged into the skin. 
Location: 888 Sparkling Place, Vernon
Reception Hours: 8:30 a.m. to 7:30 p.m (hours vary based on experiences/services offered)
Call: 1-877-275-1556
Online: sparklinghill.com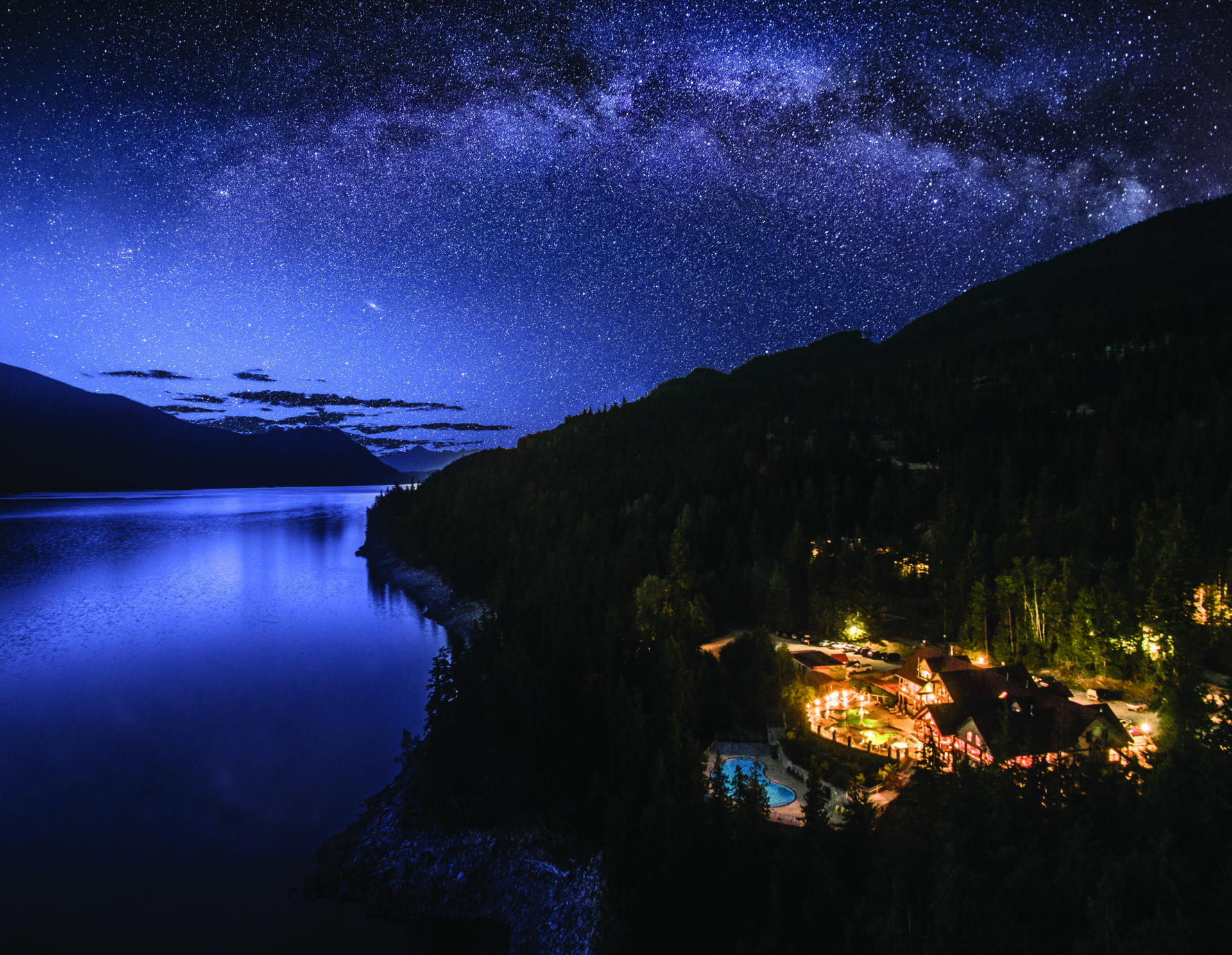 Halcyon Hot Springs
What:
Dry Skin Brushing and
Oxygenated Ozone Facial Lift
Known for their therapeutic hot springs that will "soak your worries away," Halcyon's hot and warm pools are some of the best in the world. And while you should definitely immerse yourself in these beneficial waters, the Spa at Halcyon offers treatments that will complete your overall experience.
Dry skin brushing is an ancient procedure where a therapist gently strokes your skin with a natural bristle brush. The idea is that it stimulates the lymphatic system and eliminates cellular waste. This is an excellent treatment before soaking as the exfoliation removes dried skin, leading to better absorption in the mineral pools. Dry skin brushing is also claimed to help tighten skin, reduce cellulite, reduce stress and support healthy digestion. 
By using acupressure roller and ozonated gel, the Oxygenated Ozone Facial Lift increases oxygen to your face, and nourishes and purifies the skin. As your body gets most of the attention in the pools, this is an
opportunity to give your face some healing time too. All treatments at the Spa at Halcyon are done onsite, in the serene and picturesque setting of the resort located on Upper Arrow Lake in the Monashee Mountains.
Location: Eastern shore of Upper Arrow Lake, Nakusp
Hours: 8:00 a.m. to 10:00 p.m., Sunday through Friday
Call: 1-888-689-4699
Online:
halcyon-hotsprings.com 
SPA ETIQUETTE TIPS
 

Arrive 15 to 20 minutes early to get acquainted with the space. Most spas require paperwork to be filled out before your session. Once you are ready to go in, there is a brief tour of the facility and time needed to change for your treatment.

 

What do you wear? Call the spa ahead of time to find out what their procedure is. High-end day spas usually offer a robe, or robe rental. What you wear under the robe is based on your comfort level—underwear or au natural is common because with spa therapy utilizing essential oils, water, lotion and scrubs, you'll want to have your skin easily exposed and not get anything on your clothes. Bathhouses require a bathing suit unless otherwise specified.

 

Turn off your cell phone. If there are lockers, leave it there. This is the perfect excuse to tune out, even if it's for 60 minutes.

 

Quiet please. Most spas take their sacred space very seriously and ask people to keep their voices down and to a minimum…

 

…Except for when your voice should be heard. If you have any questions about a procedure, if something feels uncomfortable or a detail needs to be tweaked, speak up to make sure you enjoy the treatment to its fullest.

 

 

Give yourself time after to enjoy the space once your session is done. Many spas have amazing facilities to enjoy such as lounging areas, tea stations and luxurious showers.

 

Tipping is expected, and 15 to 20 percent is the going rate. Most places have the tipping option on the credit/debit machine at point of purchase, or you can leave cash with the receptionist to pass on to your attendant.