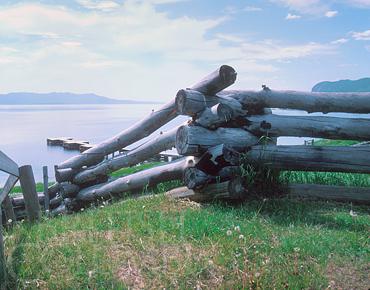 This is supposed to be fun, I repeat in my head, trying to convince myself. Another thorny stem of the aptly named devil's club slaps my legs as mosquitoes whine around my ears. The chatter of a nearby creek complements the chirping of unseen birds. I squint my eyes against the sun that filters through the trees and search in vain for a trail marker. I wasn't supposed to come out here and get lost—but I did.
I'm a sucker for a hike with a story behind it, and the Nyan Wheti trail, just south of Fort St. James, has a whole lot of history. It was first a "grease trail," a trade route used by the Carrier people to connect Stuart Lake with Fraser Lake. Later, it was adopted by fur trading Europeans who travelled its roughly 45 kilometres in two days carrying backbreaking packs. But despite the desire to follow in ancient footsteps, I quickly admit defeat. Devil's club is persuasive.
A few minutes from the trailhead, the 43-hectare Paarens Beach Provincial Park offers me a welcome respite from the mosquitoes. Paarens is, like the historic hike, somewhat of an unknown destination on the British Columbia map. Unlike the trail, however, the park is easily accessible.
Situated on the scenic southwest shore of the 70-kilometre long Stuart Lake, the beach looks across at the limestone cliffs of Mount Pope. Popular with Fort St. James locals, the day-use area is a long stretch of sandy beach with picnic tables and a boat launch.
The campground offers 36 sites, some right next to the beach, and is surprisingly uncrowded. The same, in general, can be said for Fort St. James. The quiet town is a hub for outdoor recreation as well as heritage attractions, including Fort St. James National Historic Site of Canada, a restored Hudson's Bay Company post.
I sit on the warm sand and stare out at the lake; my only company is a handful of children playing on the beach. I close my eyes, listening to the wind in the cottonwood trees and the kids' laughter. Maybe it's because there aren't any mosquitoes and the devil's club is a fading memory, but I smile. My historical hike was cut short, but sitting on a secluded beach by one of the province's longest natural lakes, it's hard to complain.
Getting there
From Vanderhoof, follow Highway 27 north to Fort St. James. Paarens Beach Provincial Park is about 11 kilometres from the city, and the route is well
signed (www.bcparks.ca). To check out the Nyan Wheti trail, follow the signs to Paarens Beach but continue past the park entrance and turn left onto Baker Drive. The marked trail starts at the end of the road. While completing the route in its entirety is a challenge, to say the least, its first few kilometres are easily walked.