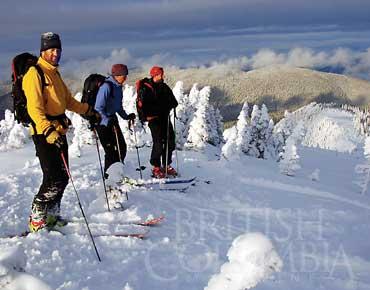 "Exhilarating." That's how Prince George photographer Lenard Sanders describes his backcountry ski trips into nearby Sugarbowl-Grizzly Den Provincial Park & Protected Area.
"When you're hiking down a mountain in the summer with a 40-pound pack, you feel every step," he explains. But by November, winter's polar breath has transformed the park's rocky alpine trails into soft snowy shoals.
"All the nooks and crannies get filled in, and it's like you're flying down the mountain," says Sanders. "You feel weightless. It's like you're hang-gliding."
About an hour's drive east of Prince George, Sugarbowl-Grizzly Den Provincial Park & Protected Area is a winter playground for the residents of this northern city. The park's north and east boundaries follow the Fraser River and Hungary Creek, respectively. It is a mountainous region, with the slopes of the Cariboo Mountains accounting for 65 percent of the park's total 247 square kilometres.
Officially established as a provincial park in 2004, Sugarbowl-Grizzly Den encompasses the dramatic and historic Grand Canyon of the Fraser, a notoriously dangerous stretch of river north of Highway 16. The Overlanders, a group of immigrants who journeyed through this canyon en route to the Cariboo gold fields in the 1860s, were among the first to suffer loss of life in the treacherous waterway. Prince George historian Jack Boudreau, author of Sternwheelers & Canyon Cats, estimates that the canyon "swallowed at least 200 luckless occupants of rafts and small craft" between 1862 and 1921.
Ecologically, the park protects old-growth western redcedar, western hemlock, and spruce forests. It provides important habitat for grizzly bears, as well as herds of caribou that migrate through the area.
Its popularity as a recreation area dates back to the 1970s, when logging roads opened up the backcountry. Between 1971 and 1981, various partners, including the Prince George Naturalists Club, Caledonia Ramblers Hiking Club, Sons of Norway Ski Club, B.C. Forest Service, and Northwood Pulp and Timber Limited (now Canadian Forest Products), worked together to cut the park's trails and build its rustic backcountry cabins.
"It's the closest, readily accessible alpine recreation area to Prince George," says Rick Roos, area supervisor for BC Parks' Omineca Region. And good snowfall is reliable. Typically, there's a metre of snow in the park's alpine areas by the end of November, a 2.5-metre snowpack by mid-winter, and good snow cover until mid-May or later.
Skiers or snowshoers seeking an invigorating day trip have a choice of two routes into the park's northern half. Both are easily accessed off Highway 16, which slices across the top fifth of the park.
"You can just park your car on the side of the highway, put your skis on—and away you go," says Craig Evanoff, an experienced backcountry skier and owner of Dezaiko Lodge northeast of Prince George.
Sugarbowl Mountain Trail leads south to Sugarbowl's 1,836-metre summit, a nine-kilometre trip from trailhead to peak. The route gains 900 metres as it climbs the mountain's north slope through old-growth cedar and hemlock onto a subalpine ridge, and 150 metres more to the peak.
Viking Ridge Trail passes through Caribou Meadows en route to Viking Ridge near the centre of the park. Traversing 6.5 kilometres from trailhead to summit, this route climbs 1,021 metres, ascending 1,886-metre Viking Peak's northwest slope to a meadow area, small lake, and impressive views from the mountaintop.
The open ridges along both Sugarbowl and Viking Ridge trails offer excellent wildlife-viewing opportunities. Visitors may spot herds of 15 or 20 northern woodland caribou, a vulnerable species in B.C.
Sanders recalls skiing on Viking Ridge and hearing a pack of wolves calling to one another from below, their cries suspended in the cold alpine air. He had another more hair-raising wildlife experience in the same area early one spring.
"We skied down the trail," he remembers, "and when we came back up, we could see that a grizzly had been following us in our tracks."
Backcountry skiers looking for a true wilderness sojourn head for trails in the park's southeast corner. The scenic 4.7-kilometre Raven Lake Trail climbs 450 metres from its trailhead to alpine meadows. The nine-kilometre Grizzly Den Trail climbs 1,050 metres along Grizzly Ridge to the height of land. Each trail ends at an overnight cabin, and there is a third, known as 8 Mile Cabin, along the Hungary Creek access route to the two trails.
All three cabins are rustic, maintained by the Prince George Backcountry Recreation Society. "You'll have the luxury of a wood stove and shelter," says society president Wayne Giles, "but that's about it."
However basic, the cabins are a welcome sight when winter temperatures plummet. David King, a long-standing member of Prince George's Caledonia Ramblers Hiking Club and co-author of their backcountry bible, The Central Interior Trail Guide, used to visit the Raven Lake cabin with friends every New Year's.
"One year, it was close to minus 40 by the time we got into the cabin," he recalls. "Everything in our packs froze, even some hard liquor we'd brought along."
For David Beekman, who has been skiing this area since 1980, Grizzly Den is the top attraction.
"It's gentler terrain and more sheltered," he says. "Sugarbowl and Viking Ridge are too exposed to wind, and they're tougher to ski." He and his wife, Charlene, usually head first to Leprechaun Ridge in the Grizzly Den area.
"The trees form a windbreak, so it's sheltered but open, and it's always powdery," he says.
BC Parks cautions that the Raven Lake Trail can be treacherous, wet, and slippery in winter, and that the slope opposite the Raven Lake cabin is subject to occasional avalanches; one in 1995 claimed the lives of two teenagers. But this area remains a favourite of many experienced backcountry skiers.
"You have to have a higher level of expertise to get into Raven and enjoy it," says King.
Even at 81, Bjorn Norheim still prefers to challenge himself on Raven Lake's longer, steeper runs. As a foreman for Northwood in the 1960s, he and three friends made the first overnight trip into Raven Lake in 1970, holing up in a snow cave for shelter. He was instrumental in encouraging the logging company to build the park's backcountry trails and cabins. And it is that overnight option, says Giles, that makes Sugarbowl-Grizzly Den truly special.
"You always end up going out at night when you're at a cabin," he explains. "You can have dinner and a hot chocolate, then put the skis on and wander around in minus-15-degree weather, enjoying the moonlight and the peace and quiet. When you stay overnight, you know you're 'out there.'"
TO KNOW IF YOU GO
Ski touring in Sugar Bowl-Grizzly Den
Getting there
Sugarbowl-Grizzly Den Provincial Park & Protected area is about an hour's drive east of Prince George on Hwy 16 (the Yellowhead). From the Yellowhead Bridge in Prince George, it's about 80 km to the head of Sugarbowl Trail just off the highway. Just beyond, access to Viking Ridge Trail is at 85 km.
To reach Grizzly Den and Raven Lake trails, travellers should watch for the south turnoff to Hungary Creek Forest Service Road, which is about 88 km east of Prince George from the Yellowhead Bridge. Following the main service road south, it is about 13 km to the trailhead for Grizzly Den Trail. The trailhead for Raven Lake Trail is about 2.6 km farther on, at 15.6 km.
While vehicles are not allowed within the park, the Hungary Creek Forest Service Road lies just outside the park's eastern boundary. Visitors should NOT attempt to drive this unploughed logging road in winter. Snowmobile access is an option for those who prefer to avoid the three- or four-hour ski journey to the trailheads.
The Caledonia Ramblers Hiking Club (http://web.unbc.ca/~ramblers). This Prince George group leads occasional snowshoe treks into the park.
The Sons of Norway Ski Club (250-964-6564). A backcountry ski-touring club for the Prince George area.
Field notes
Cabins: There are three public cabins for overnight use, currently available on a first-come, first-served basis. The suggested $5 donation (daily, per person) goes toward maintenance, firewood, and trail work. Grizzly Den Trail passes 8 Mile cabin en route to Grizzly Den cabin. Raven Lake Trail ends at Raven Lake cabin. Skiers are advised to pack in all necessary camping gear in case cabins are full.
Safety: Winter visitors to Sugarbowl-Grizzly Den should be experienced backcountry travellers, well-schooled in outdoor survival and avalanche safety. Each person should carry an avalanche shovel, probe, and transceiver with fresh batteries, and know how to use this equipment.
Before you go:
Take a formal avalanche and/or outdoor-survival training course. Craig Evanoff offers avalanche training through the Prince George Backcountry Recreation Society (http://web.unbc.ca/~pgbrs). The Canadian Avalanche Centre (www.avalanche.ca) offers a free online avalanche course, and updated avalanche bulletins.
Read forums on the Prince George Backcountry Recreation Society website (http://web.unbc.ca/~pgbrs), for weather conditions, cabin availability, and snow conditions at Sugarbowl-Grizzly Den.
Dress in layers and bring extra socks and gloves; hypothermia is areal risk in the backcountry in winter.
Study the park's terrain and trails, learn the location of the cabins, and start out early so you arrive before dark. There are good reference maps in the provincial park brochure and the Central Interior Trail Guide (see below); 1:50,000-scale topographical maps 93H/13E, 93H/14W, 93H/12E cover the entire park area.
Info
BC Parks (www.bcparks.ca) Search for information on Sugarbowl-Grizzly Den Provincial Park and Protected Area and print a park brochure.
Central Interior Trail Guide, edited by Bob Nelson and Dave King (Caledonia Ramblers Hiking Club, 250-564-8887). A hiking guide with detailed info for Sugarbowl-Grizzly Den; $8 plus shipping.
Exploring Prince George: A Guide to North Central B.C. Outdoors by Mike Nash (Rocky Mountain Books, reprinted 2007).
Drive BC (www.drivebc.ca). Click on the Prince George link for web cams, road conditions, and forecasts.
Northern British Columbia Tourism (250-561-0432, 800-663-8843; www.nbctourism.com).