The helicopter blades whirr and whine as we lose altitude. From my seat in the cockpit, I can see the altimeter frantically spinning backwards as we drop into a narrow valley. Within moments, green forest fringes us, streaking past on either side of the helicopter. I press my face hard against the window, looking down, and find myself staring at an emerald river filled with large salmon. I glance over at the pilot sitting next to me and he shoots me a big grin back. We're on.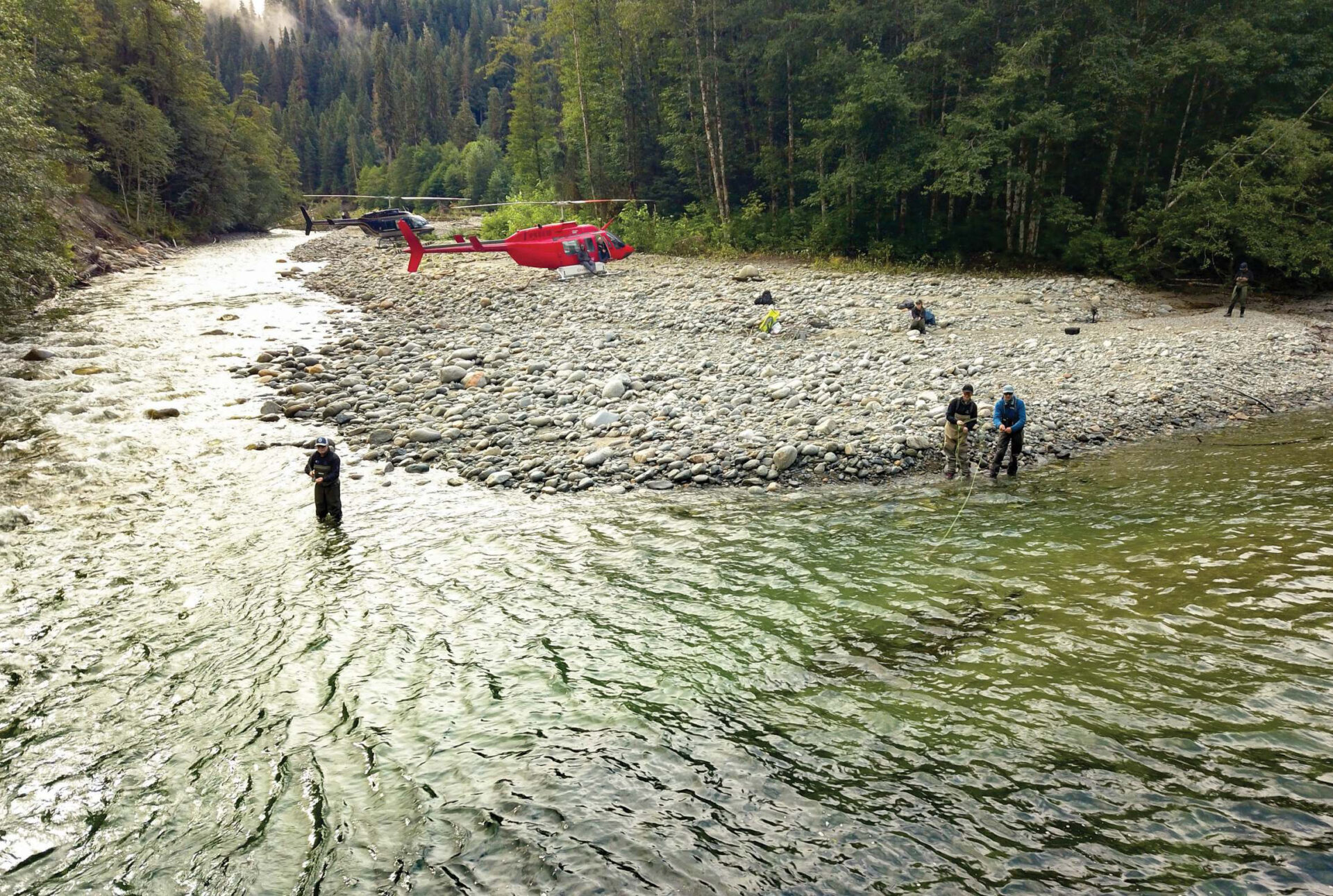 It's day one of our three-day trip in the Skeena region of British Columbia, and for today's adventure we've flown into a remote river valley to go fly fishing for pacific salmon. Our home base for the next few nights is the Northern Escape Mountain Lodge, a bespoke wilderness accommodation that is the perfect all-season launch pad for exploring Northern BC.
As we approach a confluence in the river ahead, the pilot expertly adjusts the controls and gently banks the aircraft, lowering us onto a gravel bank that runs alongside a deep, turquoise-coloured pool.
"Did you see that!?" he yells into his headset. "A big grizzly sow, right below us. She's just run off into the forest."
Sure enough, after taking off our headsets and unbuckling seatbelts, we gingerly step out onto the gravel bar, one-by-one, and instantly start spotting grizzly tracks all around us.
The Dala River is located deep in the heart of unceded Haisla territory, and flows into the Pacific Ocean at Kildala Arm. It's an area known for wild salmon and grizzly bears—denizens of the north. We are only a few kilometres upstream of the ocean, which makes this deep pool an excellent holding spot for freshly migrating pacific salmon; the perfect fishing spot for us—and the grizzlies too.
My fishing guide, Dustin Kovacvich, is a towering, burly man, who is the head guide for Nicholas Dean Outdoors. He strings up a fly rod for me as he explains the species on offer in the Dala: "The Dala river contains four species of salmon (chinook, coho, pink, chum), as well as dolly varden, cutthroat trout and steelhead." He confidently selects a bright pink fly from his fly box to tie on the end of my line."I create most of my own patterns and tie my own flies." he says proudly, and then with a wink, "this one should work."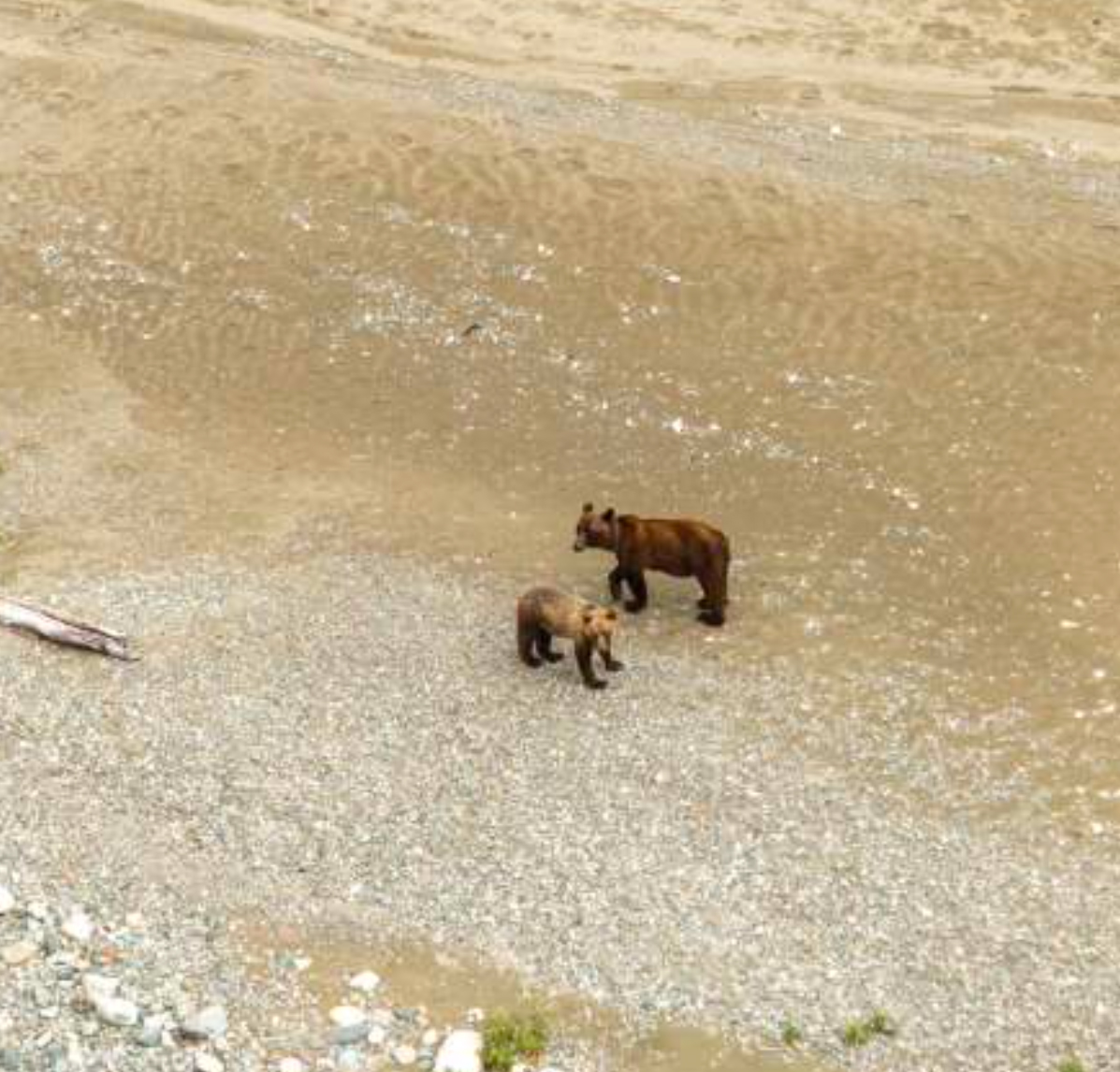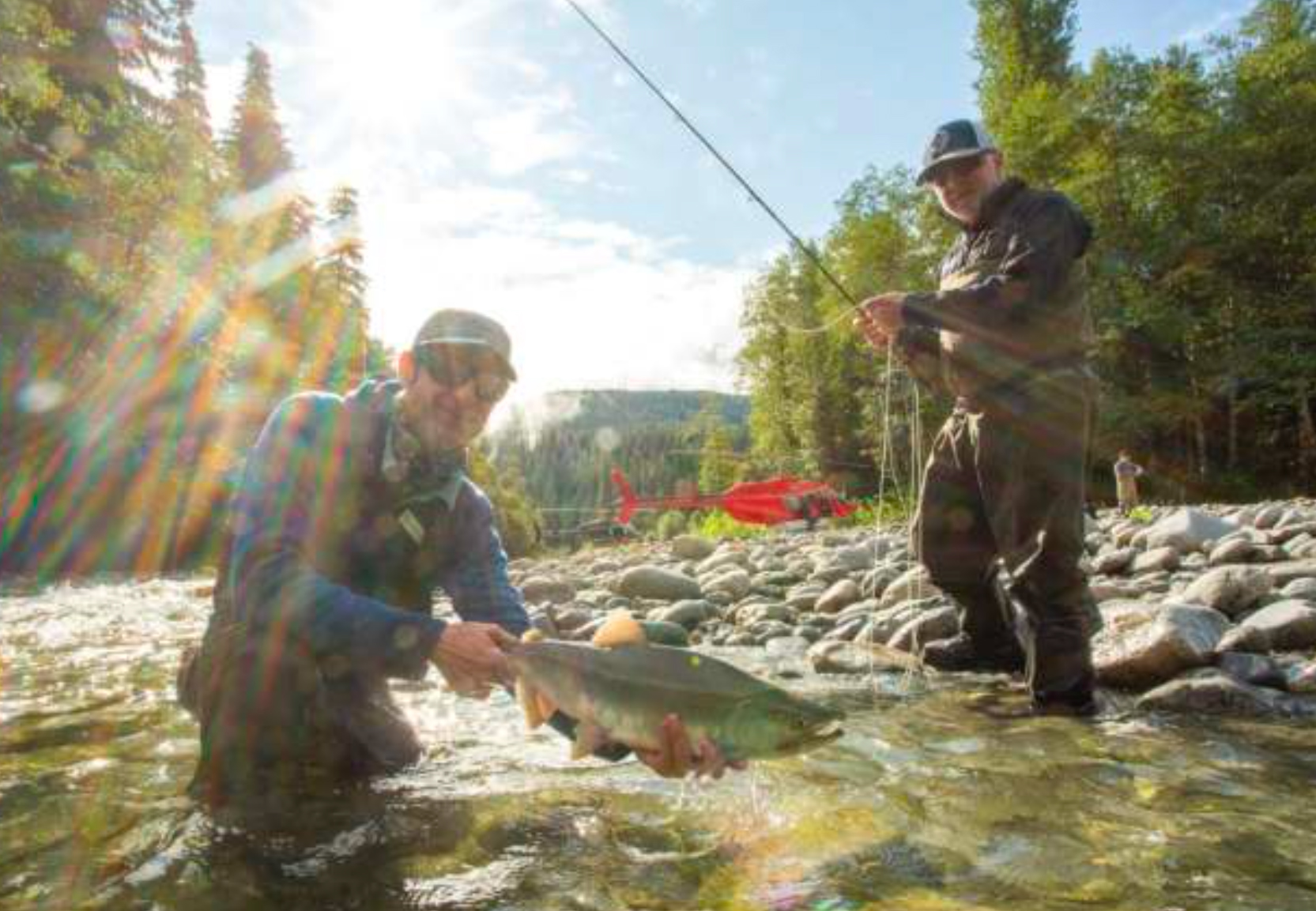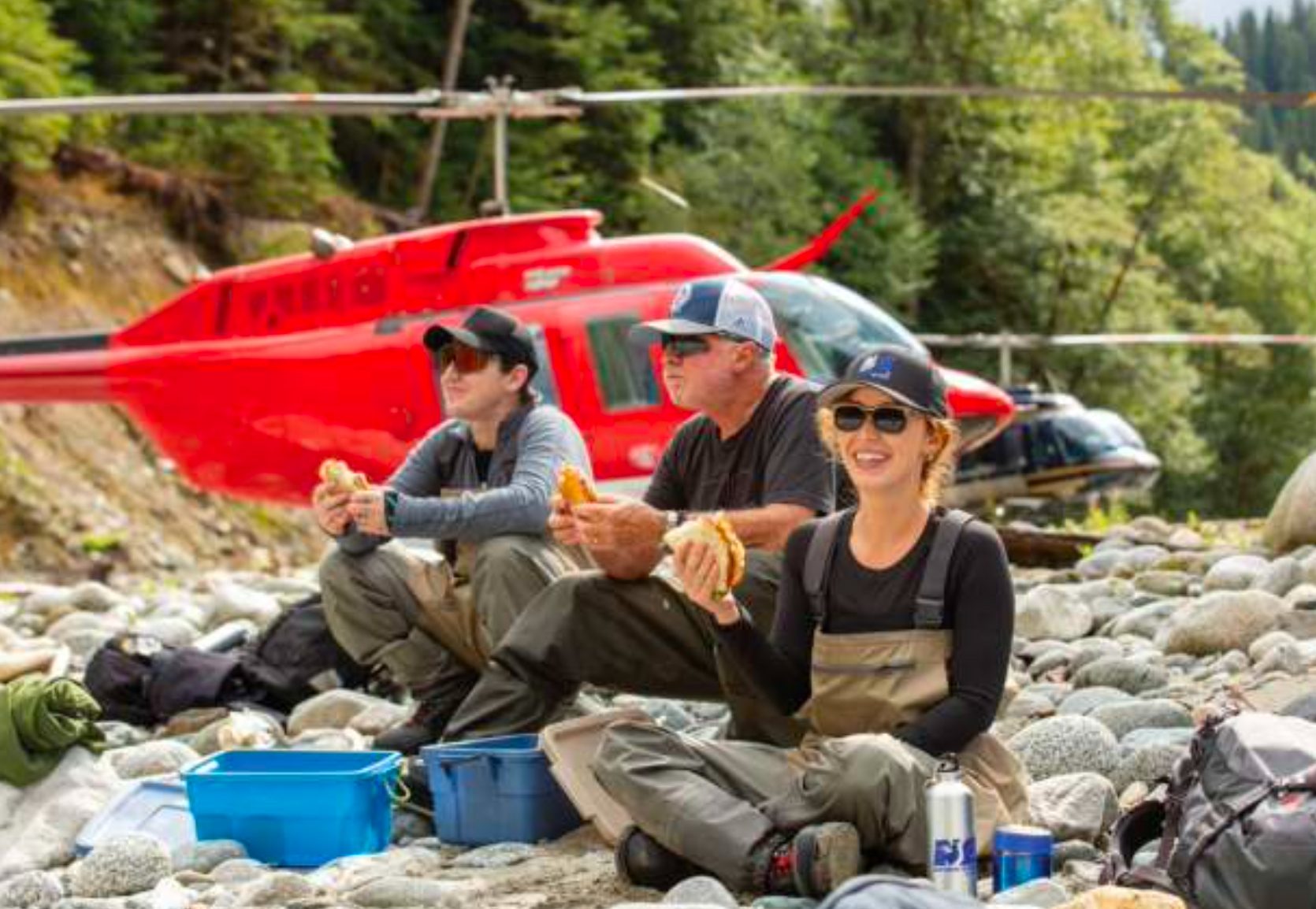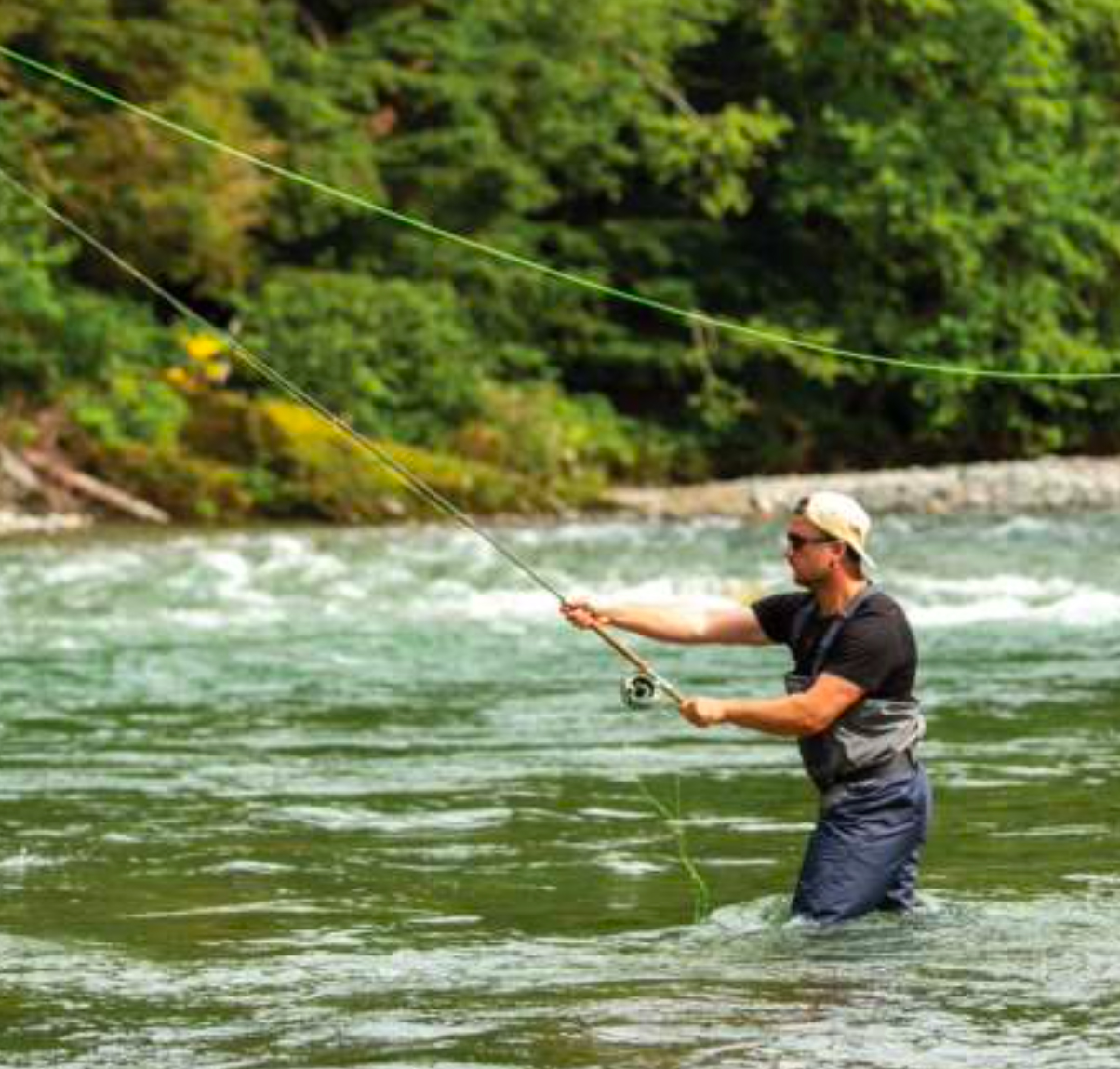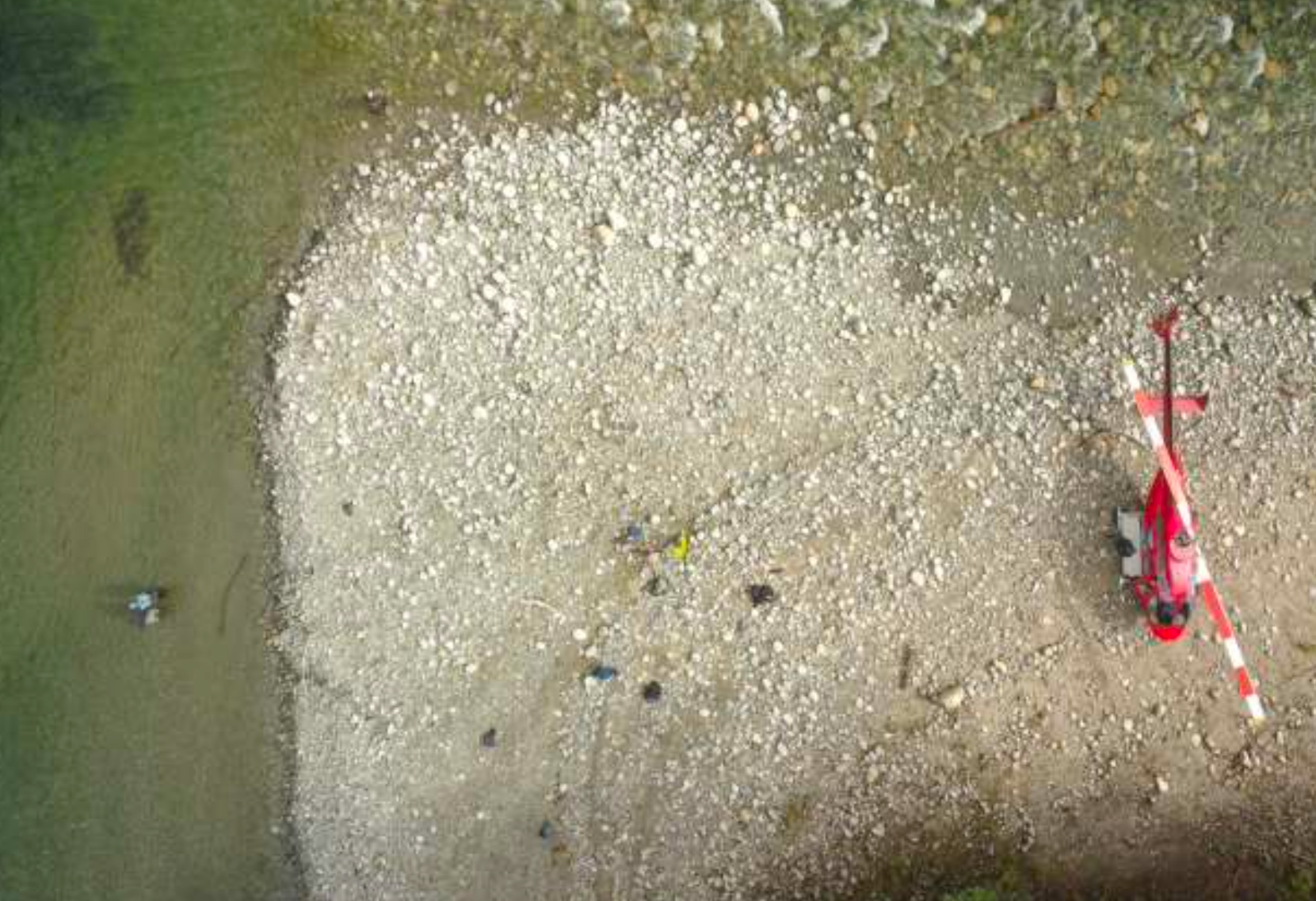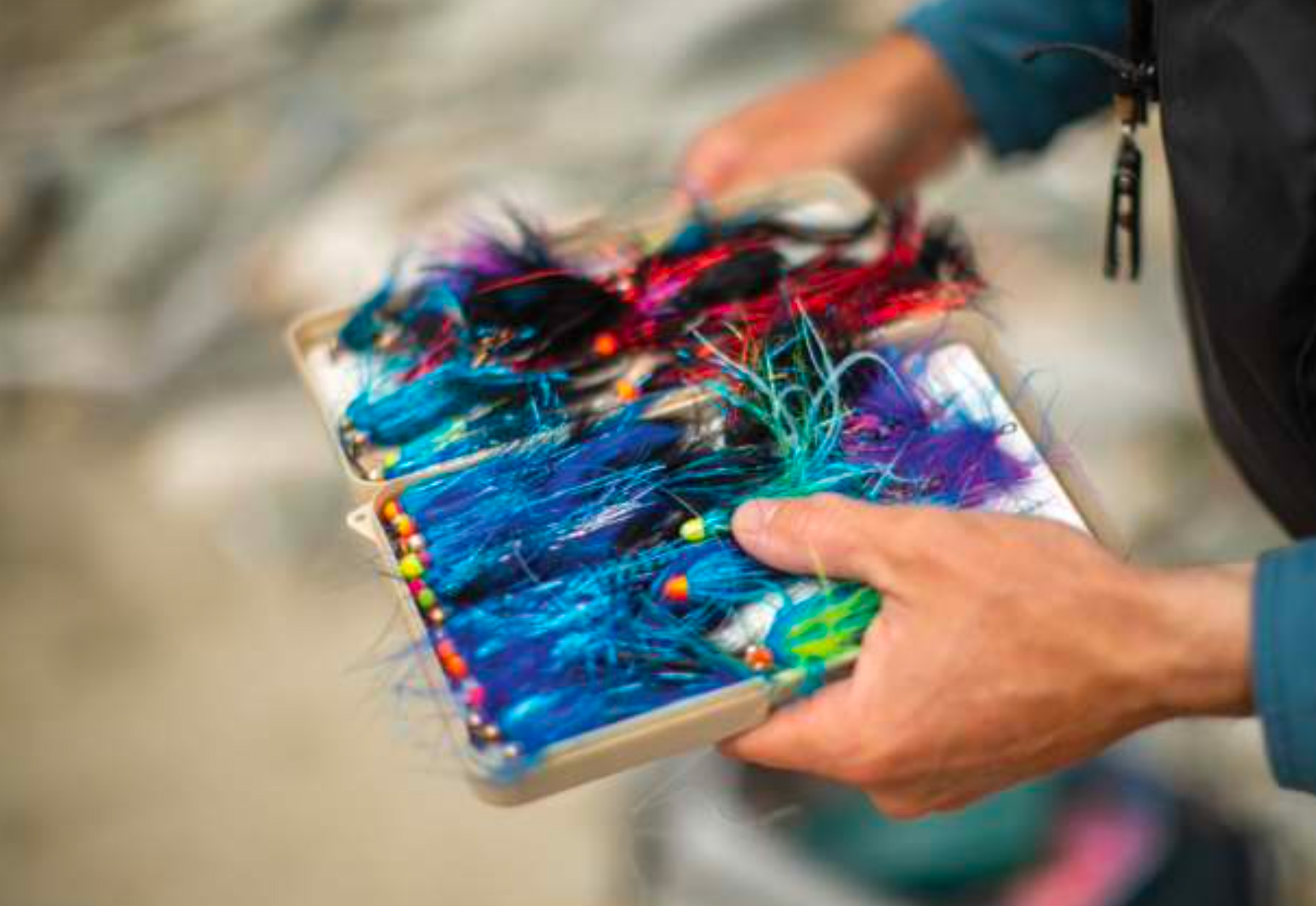 Looking closer at his plethora of fly boxes, it's easy to see how a lifetime might still not be enough to learn the intricacies of the sport, and more importantly, the idiosyncrasies of the fish. But Dustin knows about as much as one person can, and within minutes of swinging his chosen fly through the pool, I have a fish on. It's a beautiful specimen, a male pink salmon, with a steeply humped back and hooked kype jaw. It fights with gusto, jumping clean out of the water multiple times and stripping line off the reel with heavy, blistering runs.
Once landed, Dustin coaches me on how to properly hold the fish in the water, maintaining the water flowing over his gills while I take the hook out. I study his beautiful spawning colours while I hold him and savour the experience of being this close to a live, wild salmon. Then, with a vigorous slap of his tail he's back on his way, swimming upstream to finish the most important job of his life.
After a few hours and a dozen more fish caught, we sit down on the river stones for a hot soup and sandwich, courtesy of the lodge chef. As we sit there and chitter-chatter, we are swiftly reminded where we are, as a big male grizzly bear strides out of the forest on the opposite side of the river, heading toward us. He moves with purpose, obviously going somewhere important. But as he gets closer, he suddenly smells us, sticks his nose in the air and then locks onto our movement and shape with his dark brown eyes. He stands there for a long time, surveying us from a distance, and us him. He's a magnificent creature, large and powerful looking, with a big square head, prominent shoulder hump, and shaggy chocolate coat. Eventually, he makes up his mind about us, turns his big body and saunters indignantly back into the forest. I realize I've been holding my breath and let it out in a long exhale.
Despite the pristine beauty of the Dala, it is not unique in the Skeena region. It is just one of thousands of stunning, wild rivers that line the northern coast of British Columbia. If fishing is your thing, then you're going to need a few more lifetimes after this one if you want to explore it all. Though having access to a helicopter certainly makes exploration to these remote places more achievable. No need to feel guilty either, Northern Escape is one of the only certified carbon-neutral helilodges in the world.
Fast forward a day and we are skimming across the surface of the Skeena River in a 22-foot jetboat. The day is sparkling blue and still, with just the faintest chill reminding us of the lofty mountain peaks that surround us. I ask around and it's not just me, the air tastes fresher up here.
At the helm of our vessel—a 425 horsepower Thunder Jet Yukon—is Rob Bryce, owner/operator of Northern BC Jetboat Tours. Rob is one of the greatest tour guides I have ever seen in action; his knowledge of the Skeena River, its tributaries and the history of the region is simply astounding. Along with scenic jetboat tours, he also offers tours to abandoned mining towns, hot springs and bear-viewing spots in the area.
As we motor along downstream, I notice numerous fisherfolk lining the gravel banks of the river. Some are bundled together in groups, sitting placidly on chairs alongside hissing barbecues and coolers full of beer; while others stand alone, stoically waiting for an auspicious tug on the end of their line. They all offer us a friendly wave as we glide past.
Salmon are present here in large numbers and line the entrance of every tributary we pass, often jumping playfully at the surface like dolphins at the prow of a ship. At one such tributary, the Exchamsiks River, Rob swings hard on the steering wheel and we bank steeply, pivoting upstream into its gaping mouth. The landscape quickly compresses around us, and suddenly we find ourselves fenced in between several large rock faces, which are spitting cascading water from hundreds of feet above us. The water is a pure, elemental blue and shimmers as the sunlight hits it.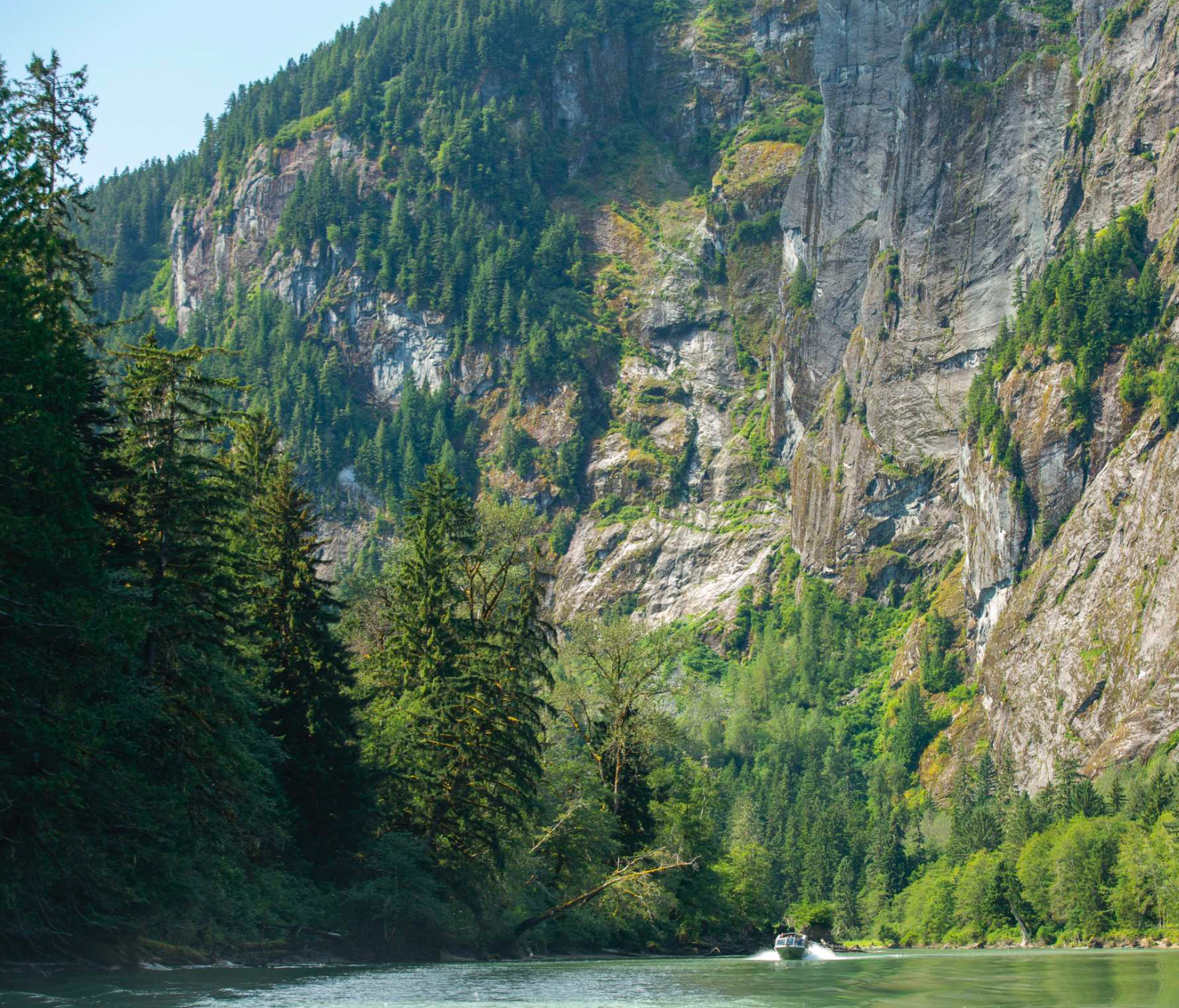 Rob pushes onward, expertly navigating fallen trees, rapids and sharp oxbows in the river as we migrate further upstream. Each bend offers a new perspective on the valley, and the increasing frequency of clicking camera shutters is a good reflection of the compounding beauty that presents before us.
Rob slows the boat as we approach a sandy beach lined with old-growth sitka spruce, salmonberry, and highbush cranberry. He rides the boat high up onto the sand and we all dismount over the front. The soft golden sand between my toes reminds me of the South Pacific. We all take a quick, refreshing dip in the water as Rob works to start up a fire, and then sit around it to dry off and eat lunch, soaking up the sunshine and trying to ingest the beauty of the surrounding landscape.
"You know, this whole valley was supposed to be logged," Rob states. "Thankfully though, there was a small group of people who fought to have it protected. It wasn't an easy battle but the entrance is now recognized as a provincial park, and, as a result, the Exchamsiks remains one of the last remaining unlogged coastal valleys in all of British Columbia."
The story of the Exchamsiks is a story of hope. If a small group of committed people can win the fight to protect a place as vast as this valley, then maybe we can also succeed in guaranteeing protection for the rest of BC's old-growth forests, many of which are destined for the chopping block. From what I've seen in this valley, it's a fight worth having.
It's early when my alarm goes off on the third day, but I jump excitedly out of bed with one thing on my mind: whales.
By 8:00 a.m. we're steaming out to sea aboard a large vessel owned by Tracey Hittel, of Kitimat Lodge. Tracey is your typical salty sea dog and has spent much of his life exploring the various inlets and islands of the North Coast. He's taking us deep into the Great Bear Rainforest, an area of BC renowned for its astounding beauty, wildlife and vibrant First Nation cultures.
Within 20 minutes Tracey spots the first whale, a humpback of colossal size. Apparently, the wind is blowing perfectly toward us, because each time the whale surfaces to blow, we can smell the putrid perfume of dead fish on its breath. As you can imagine, it goes well with my coffee. Then, on some unknown cue, it starts to dive, lifting its tail high out of the water and creating a mini waterfall that flows off its fluke. With the added beauty of the wilderness backdrop, it makes for a picturesque scene, and a hell of an exit.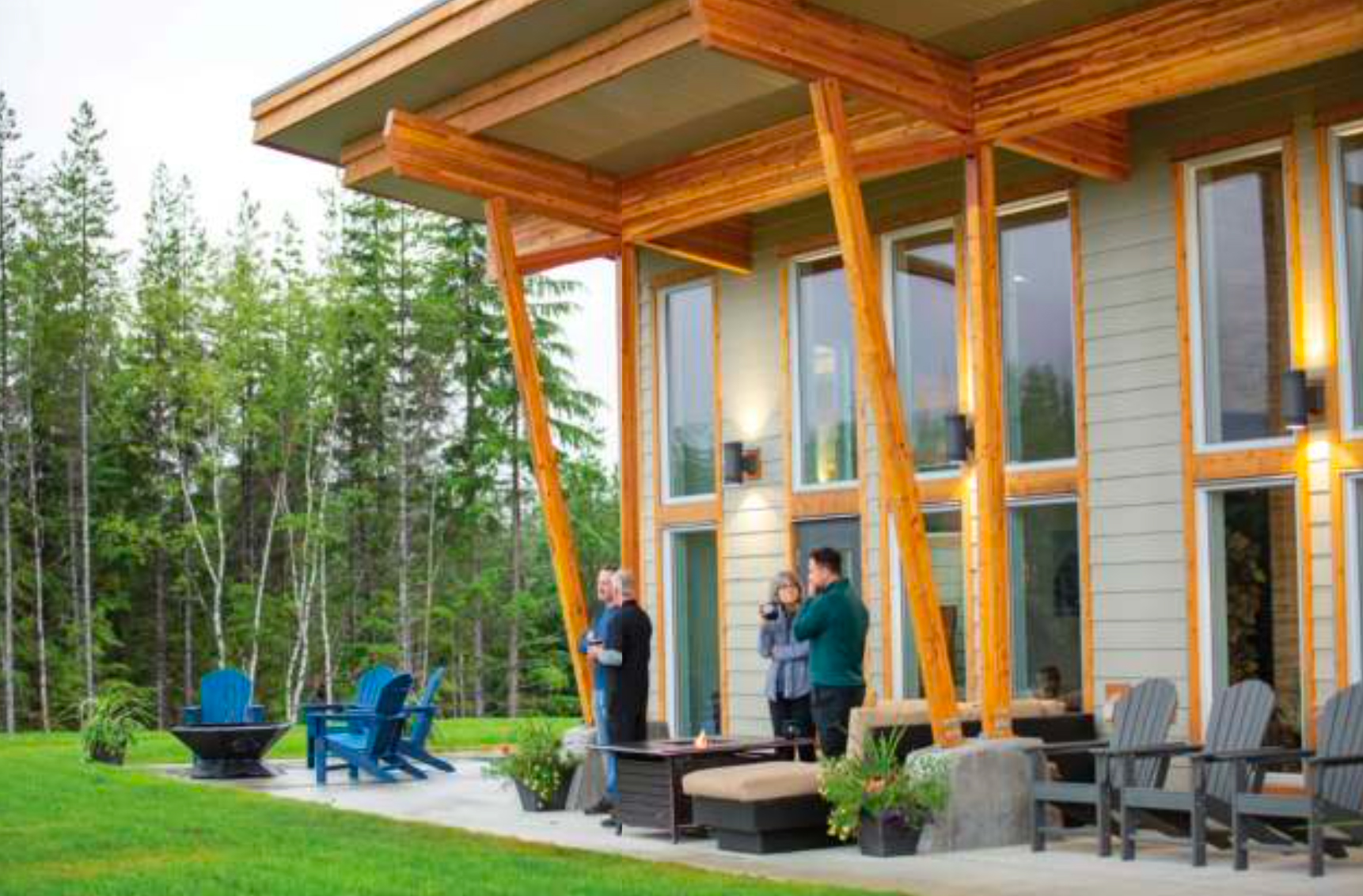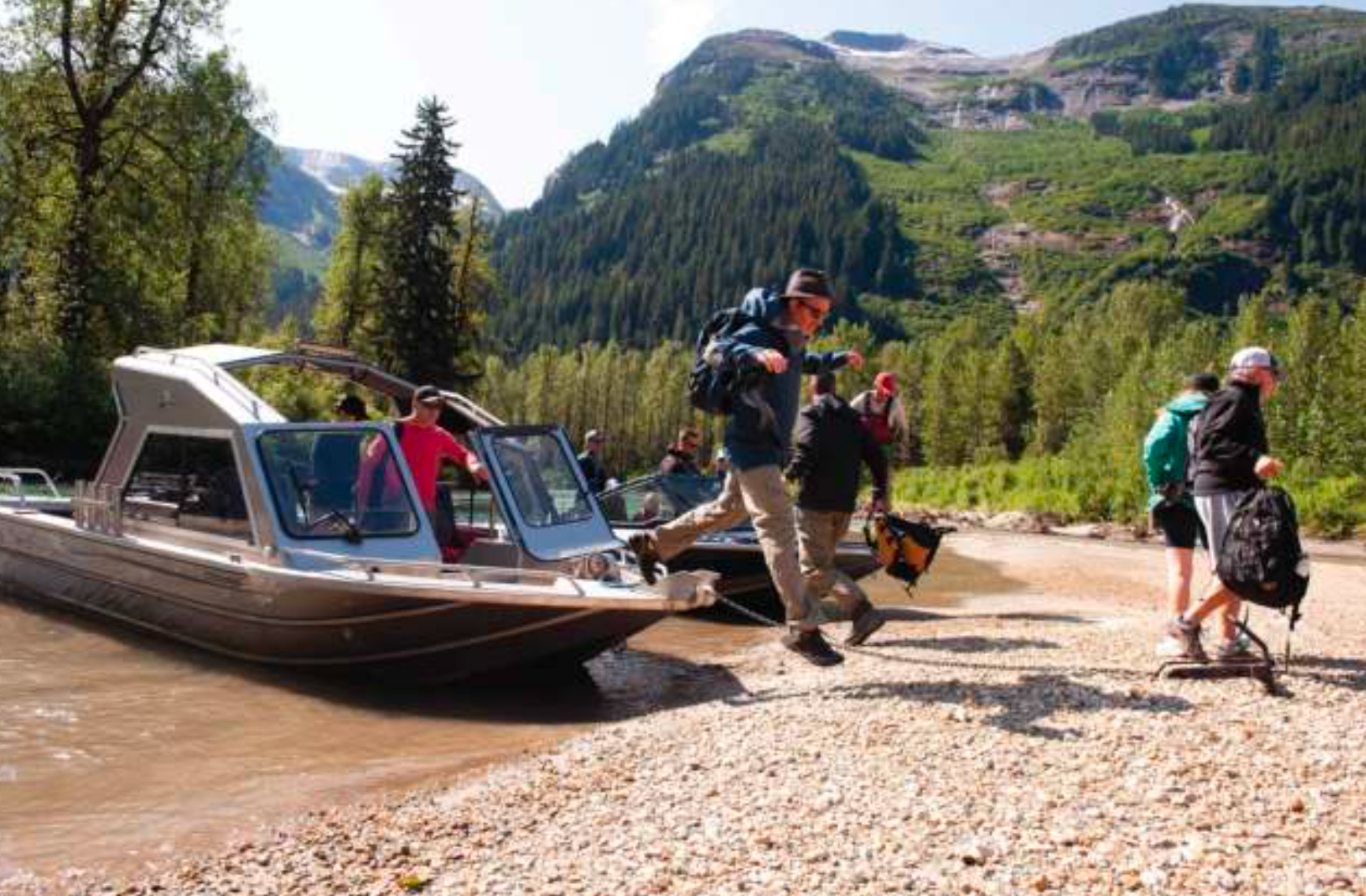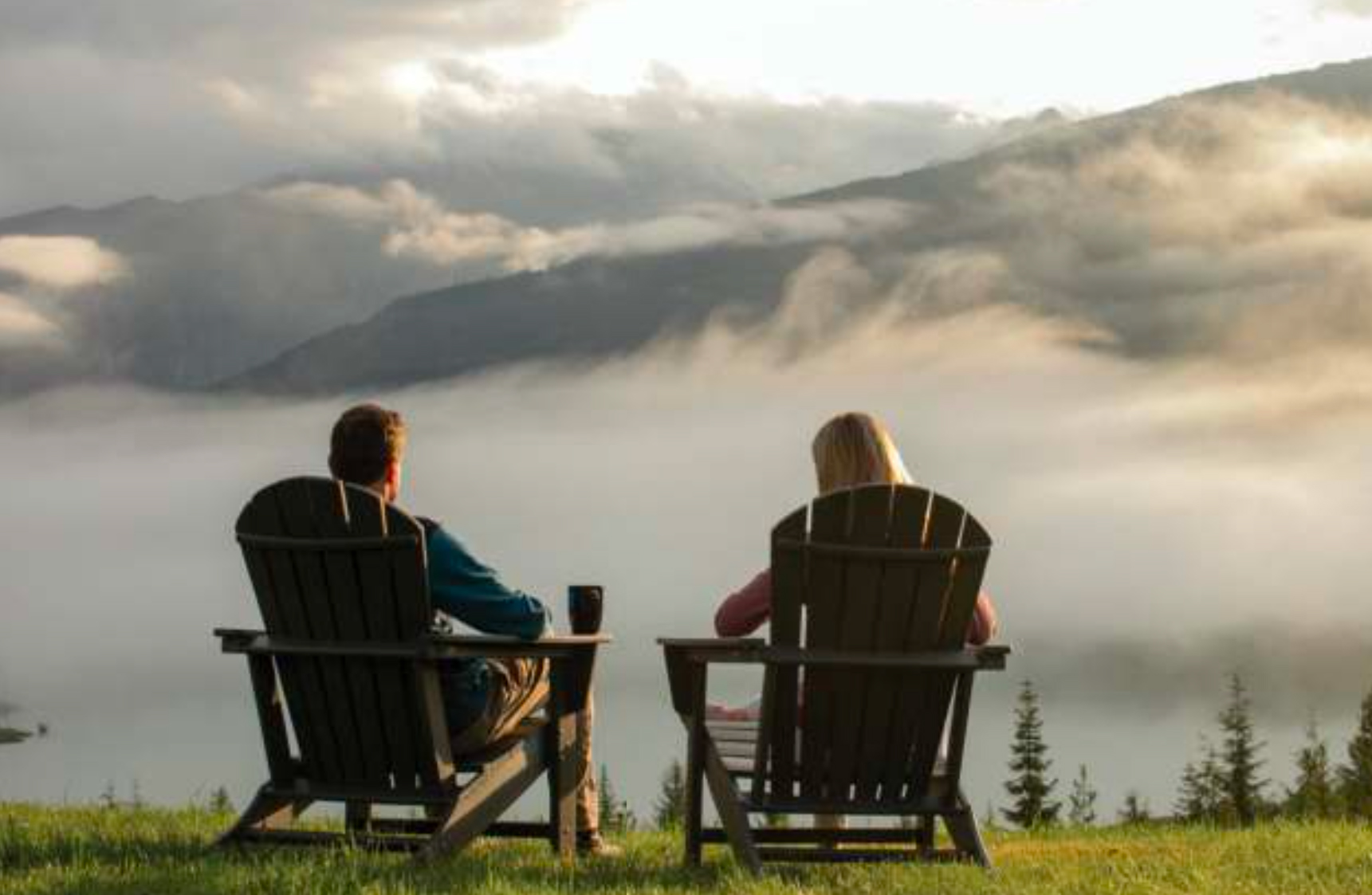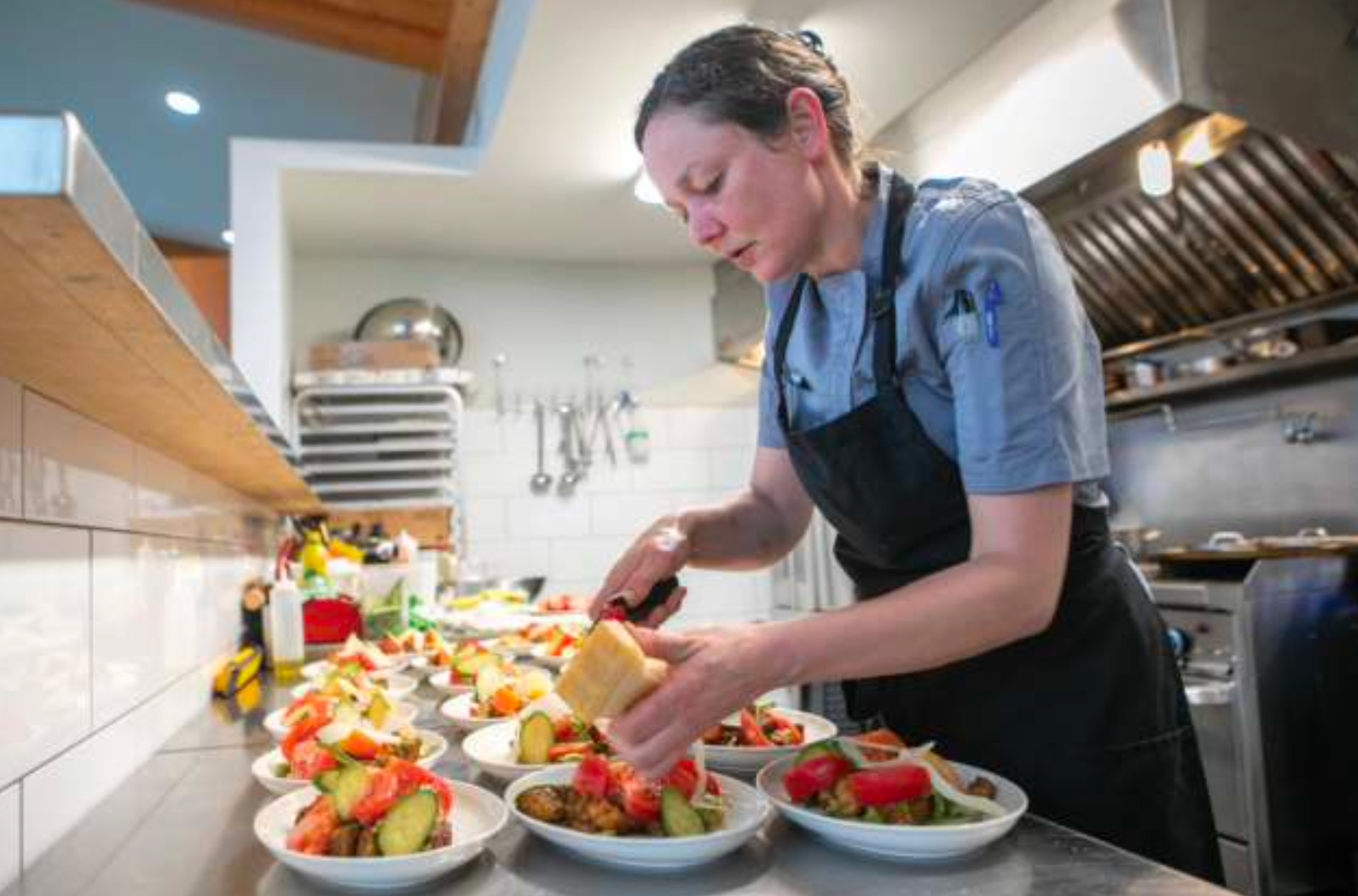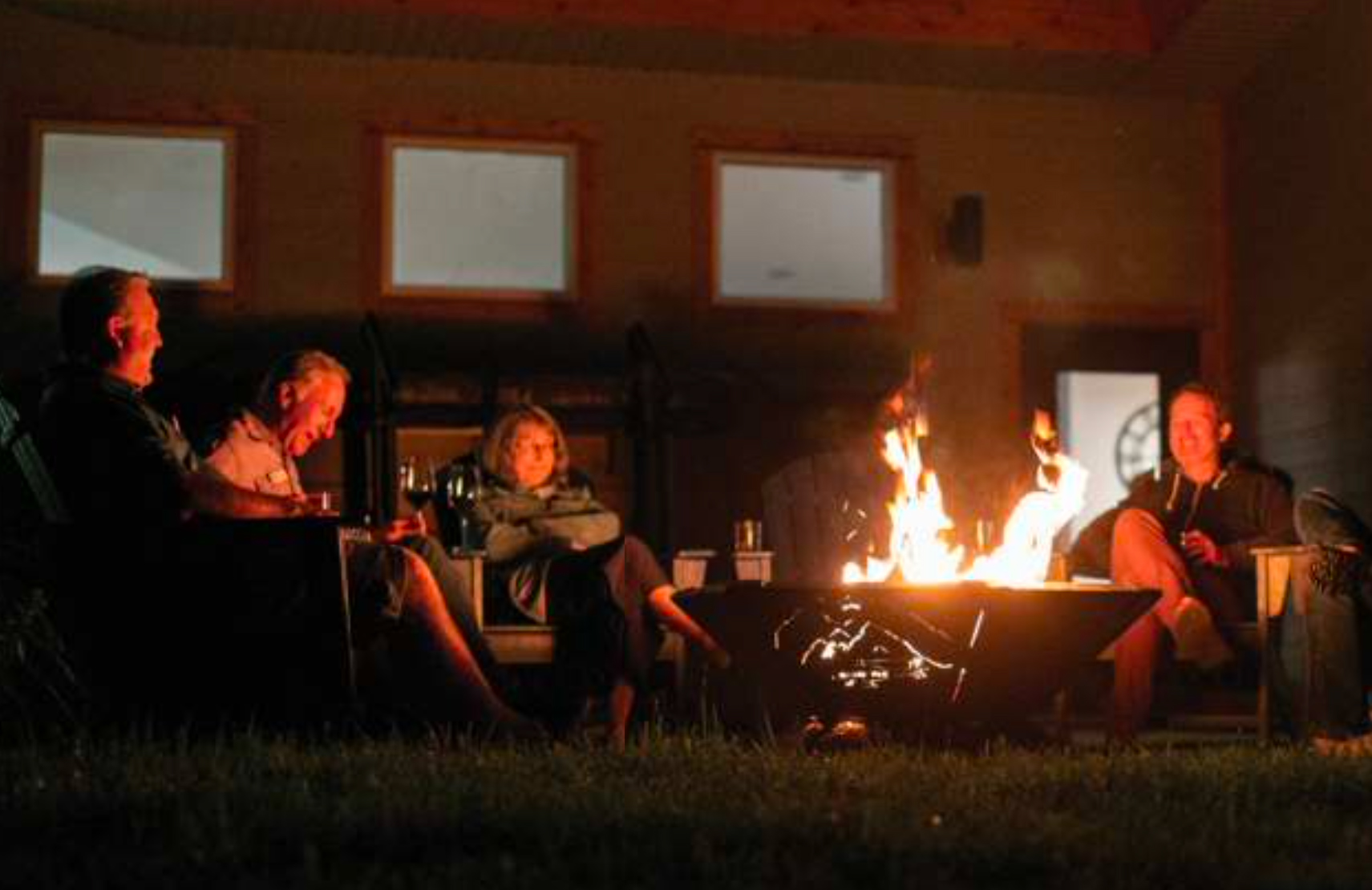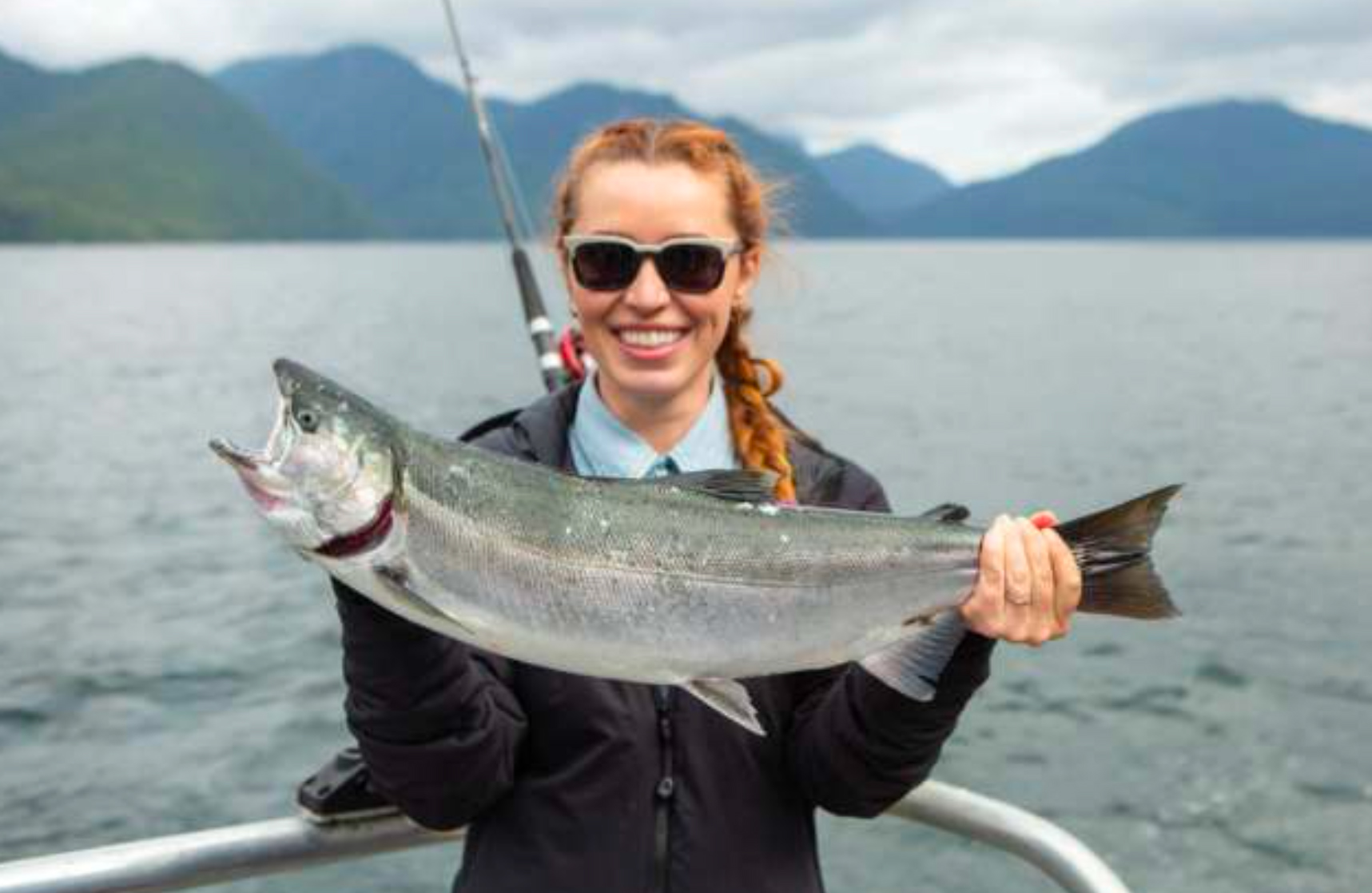 We spot several more whales along the way, but the sea seems to be getting rougher the further we get from home. Tracey opts to edge the boat close alongside Hawkesbury Island, to get shelter from the wind, and we try our luck at fishing for a variety of ocean-dwelling species. Despite our best efforts, it's a slow day on the fishing front, but we do manage to bag a chunky coho salmon and half dozen Dungeness crab. According to Tracey, the fishing in this area is usually excellent, but the weather today isn't helping, so we turn tail and run back to Kitimat Harbour.
Each evening, after we return from the day's activity, we are greeted by a delicious gourmet meal and a cold beverage. We also have the option of continuing our day by exploring the forests and lakes that surround the lodge. One evening, we decide to take a fleet of the lodge's e-bikes for a spin through some cross-country mountain bike trails. The next, we take kayaks out onto Treston Lake, launching from its yellow sand beach and paddling until well after golden hour sets in.
On the last night, after another jam-packed day of adventure, I gently lower my weary body into the hot tub that overlooks the lake. Someone hands me a beer, and inevitably the conversation turns to gratitude as we reminisce on our last few days in this place. I never expected the north to draw me in this much. Simply put, it is the most beautiful, wild place that I have ever experienced. I feel like the water has gotten into my blood, and now I'm afflicted with the same innate pull to return as the salmon that leave here every spring. I'm filled with a pit in my stomach at the thought of returning to life in the city. But, as sure as the salmon, and the grizzlies, and the whales, there is no doubt that I will be back.