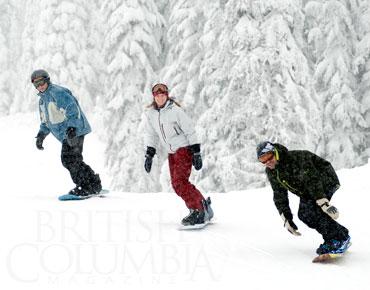 [The following is an excerpt from the feature article "Do-it-yourself Winter Games," which appeared in the Winter 2009 issue of British Columbia Magazine. Please be aware that some travel details and information may have changed since publication.]
No doubt you've heard: British Columbia is hosting the Vancouver 2010 Olympic and Paralympic Winter Games this February and March. The international tournaments will showcase 20 winter sports, from alpine skiing to wheelchair curling. Snow-loving British Columbians actively enjoy many of these sports as winter pastimes and are sure to be inspired by the Olympians' peak performances. Which gave us a fun idea: how about a "do-it-yourself winter games" for everyday folks?
We challenged our writers to try half a dozen sports of the Winter Games—luge, snowboarding, biathlon, hockey, speed skating, and alpine skiing—in wintery sites around southern British Columbia. Our goal was to have these non-athletes—some trying their activities for the first time—demonstrate that B.C.'s snowscapes, mountains, and frozen ponds are not just for elite athletes but for every outdoors loving British Columbian with a spirit of adventure. What follows are six enthusiastic profiles of our writers' adventures—and misadventures, including inglorious face plants and downhill tumbles. Their stories are sure to make you want to get out and play, so dig out your mittens and get ready to embrace winter.
Snowboarding
Assistant Editor Shanna Baker and her agile father cut across the generation gap on Silver Star Mountain.
From the top of the snowy chute known as Bon Diablo, I attempt to quell the uneasy feeling in my stomach as I study the steep terrain below. I adjust my gloves, scrape a few ice chunks from my goggles, fuss with my bindings, take a deep breath and, finally, let the tip of my snowboard angle downhill.
Almost immediately, I begin to plummet out of control. This black-diamond run at Vernon's Silver Star Mountain Resort is riddled with soft hillocks that knock me around like a tugboat in a stormy sea.
To avoid a headlong plunge into the evergreens, I ram my toe edge into the hillside. Forget looking cool; this is survival snowboarding. I assume the beginner's pose—arms splayed straight out like a T-bar, ready to brace myself for a wipe out.
Suddenly, my 61-year-old father darts past. He loops effortlessly around the moguls at Mach 10, his snowboard kicking up a fine spray of snow with every fluid turn. Halfway down the run, he glides to a stop and waits while I slowly zigzag toward him.
This is our usual routine. My dad, Ron Baker, took up snowboarding the year he turned 50, and we always spend a few days together on the slopes when I return home to Vernon for Christmas. On a good day, he can zip down a dozen runs before lunch; with me along, it can take all day to rack up the same number.
My dad is my idol on the hill, as nimble as many snowboarders a quarter of his age. Proud as I am, it would be nice if I could at least keep up. So when Tim Milne, coach of the Canadian snowboard cross team, offers a couple of tips, I listen.
"Keep your nose up and your weight back in the powder," Milne says as we watch pro boarder Drew Neilson careen through a forested patch along Silver Star's Whiskey Jack run. "And look between the trees, not at them. There's your free advice."
Milne and Neilson, both originally from Vernon, have taken time out from holiday visits with their families to join us on the mountain. Neilson, one of the world's top snowboard cross riders, learned to ski at Silver Star when he was 3. He carved his first turns on a snowboard here nine years later, and has competed in snowboard cross (SBX for short) since 1997. The 35 year old, who now lives and trains in North Vancouver, placed 17th when SBX made its Olympic debut at the 2006 Games in Turin, Italy. In 2010, he's aiming for gold.
I've been hoping for one magical tip from these pros that could transform me from hack to hotshot. In the end, it's the same old story: to excel in snowboarding takes natural aptitude and a lot of practice.
"It's like walking to me now," Neilson says. "You need to spend a lot of time on the board."
SBX is one of three snowboarding specialities in the coming Vancouver 2010 Olympic Winter Games; halfpipe and parallel giant slalom will also be featured. To give us a feel for SBX, Neilson lines up beside my dad and me, and we all launch down the hill. In a real competition, four riders take off in a pack to race over rolling terrain and a gauntlet of jumps and ramps (more precisely whoops, waves, banks, spines, and kickers). The first two over the finish line move on to the next round.
"You control your destiny," says Neilson. "The first one down wins."
Though it's obvious he is trying to restrain himself in our pretend heat, Neilson can't help but blast past us both. Wax, he says, is the secret weapon. "It also helps to be a little loose in the head," he jokes. He's been known to reach 90 kilometres per hour on the racecourse.
After Neilson and Milne leave to rejoin their families, my dad and I fit in a few more runs. I try to mimic Neilson's technique—knees bent, tight core, even weight distribution, eyes ahead—but my dad still tops me in both speed and style.
I may never manage to keep up with my snowboarding whiz of a father. But there is one advantage to my lagging behind: he rarely gets to witness my spectacular bellyflops.
Info: (www.csf.ca; www.skisilverstar.com; www.totabc.com).