"A lot of Chinese culture revolves around eating," explains Maggi Mei as we read through the dim sum menu at Richmond's The Jade Seafood Restaurant. "Actually, many of the greetings essentially mean 'have you eaten yet?'"
As a food and lifestyle blogger, Mei's vast experience exploring this city's restaurant scene makes her an effective guide as the two of us eat our way through Richmond's Dumpling Trail—a collective of restaurants celebrating various types of dumplings; the iconic morsel of Asian cookery.
"Food brings everyone together," she continues. Dim sum, which loosely translates to "small plates," is a fine example of the communal nature of mealtime in Chinese culture. No individual dishes to bury our noses in here—we order a selection of dumplings (shrimp, pork, veggie), Chinese doughnuts, sweet pork buns—and it's all for sharing. "You should never leave hungry," Mei laughs.
Our servers fill the table with bamboo steamers—more than 20 dumplings for the two of us on the first stop of the day. No, I'd say, l certainly won't be leaving hungry.
If you've flown into Vancouver International Airport, you actually landed in Richmond—the fourth-largest municipality in Metro Vancouver. Set to the south of Vancouver proper, Richmond is home to just shy of 200,000 residents; 53 percent of whom identify as ethnic Chinese, along with an additional 18.3 percent who identify as either South Asian, Southeast Asian, Japanese, Korean or Filipino.
So the fact that Richmond is home to more than 800 restaurants, most of which serve some form of Asian cuisine, becomes less of a surprise when you consider that well over half the city craves a proper taste of their heritage. Immigrant and first-generation chefs and restaurateurs import traditional cooking techniques and combine them with the food abundance of southwestern BC—Richmond is home to Canada's largest commercial fishing fleet, fields of various agriculture and is on the doorstep of the Fraser Valley for everything from dairy to corn. As such, the premium-quality Asian cuisine is a foregone conclusion. However, Asia is the world's largest and most populous continent—blanket-labelling "Asian food" is like lumping Greek and German cuisine in one. This is where we meet the dumpling.
Dumplings are ubiquitous in virtually all cuisines of the world. Sometimes we call them gyoza and wonton; sometimes we call them perogy, tortellini, samosa or tamale. "It's stuff stuffed inside other stuff," Mei simplifies, as I crack open a salted egg-yolk bun to admire the oozing golden contents. Today, we'll leap from Chinese, to Vietnamese, to Taiwanese, to Korean while we explore the Dumpling Trail around No. 3 Road in Richmond.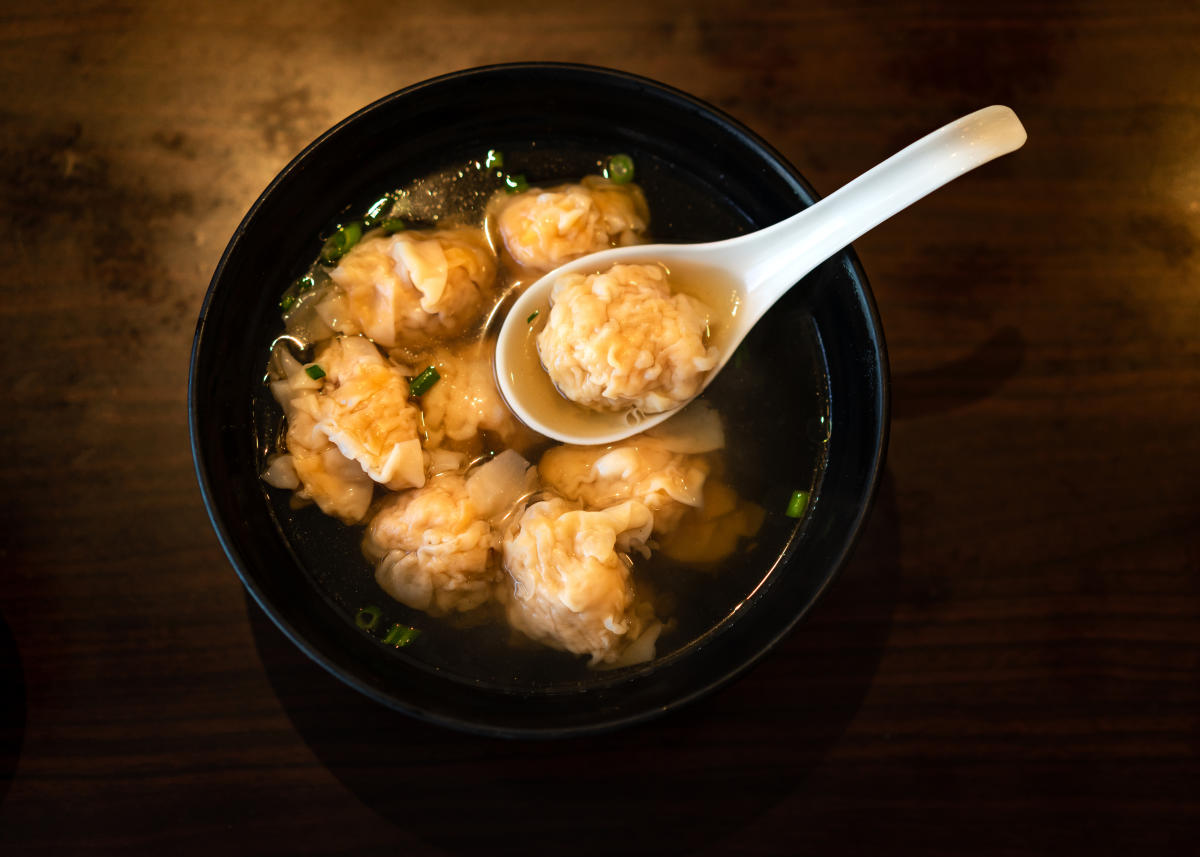 As we pack up our leftovers at The Jade—to leave anything behind is insulting, by the way—Mei explains the Dumpling Trail concept. Produced by Tourism Richmond and updated annually, the trail comprises 20 easily-accessible restaurants, most are walking distance from the Canada Line train, all vetted by food-experts working with the tourism department.
"They need to have English-speaking staff and English on the menu," Mei continues. Plus, they need to meet a cleanliness and quality standard, as well, the dumplings must be freshly handmade onsite, from scratch.
As for the note on language—dining out in Richmond has confounded many first-timers. Often, signage and menus feature as much or more Chinese as they do English. And if your only experience with "Chinese" cuisine is chicken fried rice, the menu at a place like The Jade Seafood Restaurant will prove shockingly unfamiliar. Ask questions, Mei assures. But understand that ultimately, the order is on you—if you order something you don't Like… well, there's nothing wrong with the food. Adventurous diners are rewarded in Richmond; picky eaters may get anxiety. We take it easy at The Jade, entering the trail with some "dumpling 101″—siu mai (pork) and har gow (shrimp). It would be difficult to imagine anyone pushing away such steamy, savoury poppers.
On our way to the next stop, Mei explains how to further explore Richmond's food culture within and beyond The Dumpling Trail. "A lot of great food can be found in mall food courts," she says, indicating how small operators often can't afford a full brick-and-mortar restaurant. Yes—here, you can find from-scratch Asian classics wedged between Orange Julius and A&W (R&H Chinese Food in Lansdowne Centre or James Snacks in Empire Centre are prime examples).
Su Hang Restaurant takes us one step further into the dumpling dimension. Xiao long bao, often known as XLB or simply "soup dumplings," is a staple of the Dumpling Trail and one of the most sought-after by dumpling-heads. These little wonders have both a meat-mix and a gelatinized broth within. Once steamed, the gelatin becomes a hot, savoury soup. Dining technique is to gently lift the dumpling to your mouth, prick the wrapper and drink the broth before munching the meat. The real trick, though, is to actually craft them—we park ourselves next to a viewing window and observe a staffer make a dozen XLB so masterfully it's more like a martial art than cookery.
At Su Hang, we keep it simple: XLB and wonton soup. Think of it like a cocktail crawl, says Mei. It's common for friends to do such impromptu restaurant tours; order as much or as little as you like at each stop—even a single dish. With just two plates, we're out of Su Hang and en route to Bánh Mì Très Bon—for the Vietnamese interpretation—in less than 20 minutes.
Richmond's restaurants are having their moment. Last year, celebrity chef David Chang—founder of the Momofuku Restaurant Group, as well as host of the Netflix series Ugly Delicious and Breakfast, Lunch, and Dinner—teamed up with actor Seth Rogen to explore Vancouver's food scene on the latter series. Richmond's own HK BBQ Master was notable in the episode, not only for the mastery of Chinese barbecue, but as the place where Chang truly began to appreciate how rich the Asian influence is on BC's Lower Mainland. Chang has plans to open a Momofuku Noodle Bar in Vancouver this year, formally joining the metro-region's Asian food scene for himself.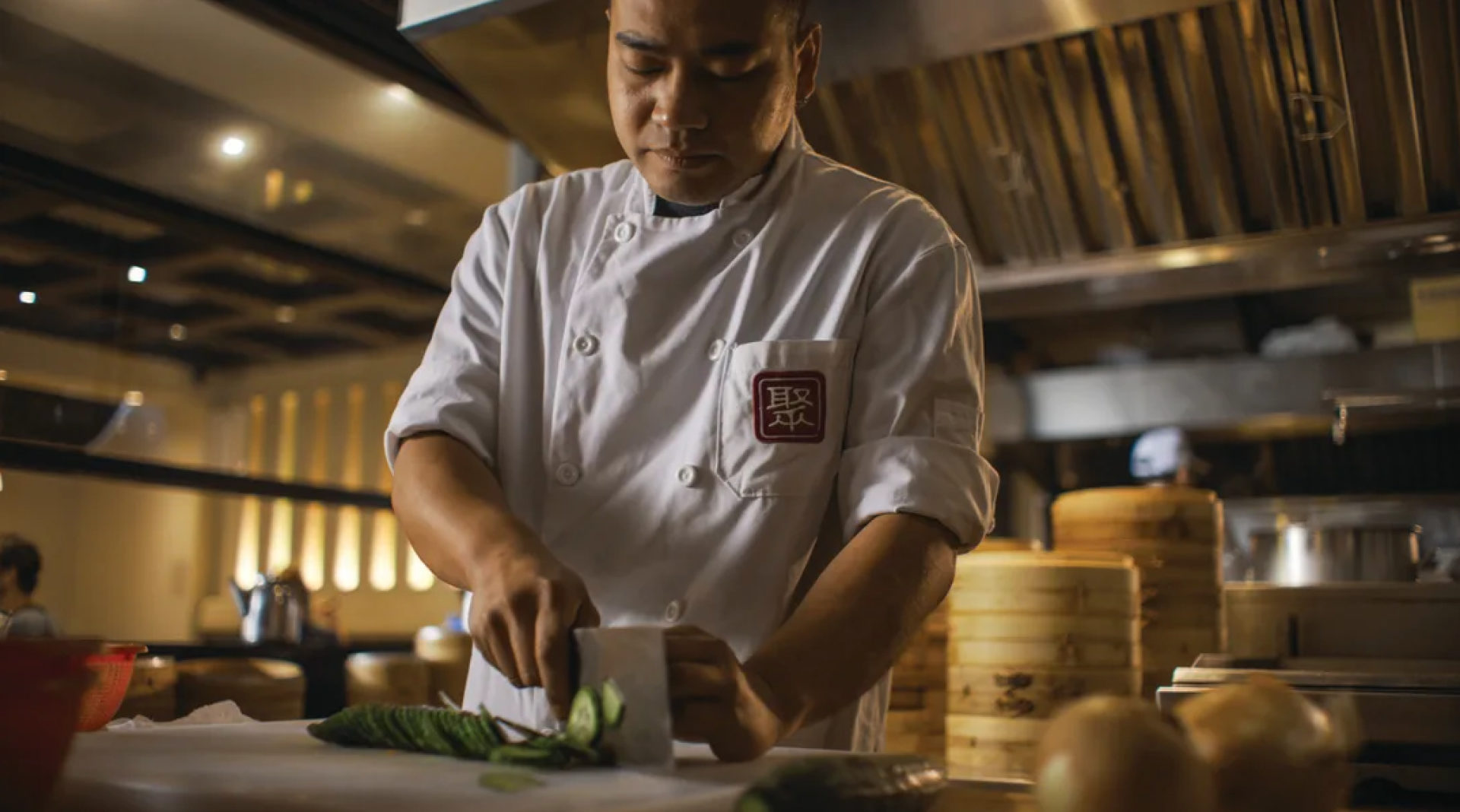 But while HK BBQ Master is now lined up more than ever—and, frankly, it always was—it's heartening to know that overtourism hasn't robbed the heart from Richmond. Most eateries are still walk-in, no reservation needed. And if your number-one choice is full—with 800-plus restaurants, most of which cluster around city-centre—likely the spot next-door or down the road is just as tasty. (Such as Parker Place Meat & BBQ—for quality Chinese barbecue, sans celebrity endorsement—located in the namesake mall at 4380 No. 3 Road.)
Bánh Mì Très Bon is a departure in more than culture—as part of a recently-built outdoor shopping complex, Central at Garden City, it slides in deftly between chain restaurants and juice bars. The French influence on Vietnamese culture is easy to spot: a rainbow of macarons, pastel paints and marble tabletops with ornate bistro-style furniture. We order bánh bôt loc, delicate tapioca-skinned dumplings with shrimp and pork stuffing, and douse them in fish sauce. These translucent morsels mix soft, chewy and crunchy textures in one bite—reminding me how Mei had explained the importance of mouth-feel in most Asian cooking. Vietnamese coffee—a pour-over dark-roast, mixed with condensed milk and served on ice—is an ideal digestive before our final two stops of the day.
If there has been one theme thus far, it's meat and seafood. Which is why 4 Stones Vegetarian Cuisine, on Westminster Highway, stands out. Expect mushrooms and tofu to dominate the menu here—which are standards in meatless Chinese and Taiwanese food. The deep-fried veggie oysters (tofu, with a convincing oyster-like texture) and deep-fried abalone mushrooms are a hit, but the mushroom seaweed bean curd roll is the most memorable; a dish recommended by our server. Lesson: when curious, ask. I would have never ordered it on my own.
Finally, after we miss the lunch seating at Silkway Halal Cuisine—an eatery exploring Xinjiang Muslim cuisine—we pivoted quickly to Korean food at Samsoonie Noodle and Rice. Crispy pan-friend gyoza-style dumplings and crispier deep-fried wonton-style dumplings in a pub-like atmosphere are complemented by the fieriest kimchi I've ever eaten.
Metro Vancouver, by the numbers, is the world's most Asian urban centre outside of Asia. As the epicentre of much of this culture, Richmond can therefore be considered unique not only in British Columbia, but on six continents. That some 140,000 of its 196,000 citizens identify as ethnically Asian has woven a powerful cultural tapestry that wows not only visitors, but creates a rich tourist-in-your-own-town experience for homegrown Vancouverites too. So much of this culture revolves around a dynamic food scene. Today is hardly my first foray into Richmond's restaurants; it's not even my first guided tour. But the variety of restaurants in the city make every visit seem like virgin territory. I thought l knew Vietnamese cuisine, yet I'd never had a Vietnamese coffee or sipped the swampy-but-sweet chè sâm bổ lượng (lunar new year drink); ditto for Korean deep-fried wontons in chili sauce or Chinese jian dui—the sweet rice-flour bun with red bean filling. And that bean-curd entree from 4 Stones still swirls in my sense memory.
"I enjoy coming to Richmond to eat, because it is like a mini-getaway. You get to experience so much authentic food and culture, all in one place," says Mei. "From quick bites to full feasts, I always seem to leave stuffed."
For me, in Richmond, the dumpling reigns supreme. It's stuff stuffed inside other stuff, stuffed inside me. Just Like every other adventurous diner who visits this city, I'll never leave hungry.
If You Go
Learn
Learn more about Richmond as a tourism or business-travel destination at visitrichmondbc.com.
Discover the Dumpling Trail, with information on the types of dumplings available and the restaurants in which you can find them at dumplingtrail.com.
Learn more about the regional food scene by following Maggi Mei on Instagram at @magmei and find her blog at vieamaggi.com.
Stay
Book a room at the River Rock Casino Resort—just a few stations from Vancouver International Airport and within walking distance (or easy transit) to many Dumpling Trail restaurants. riverrock.com
Eat
The Jade Seafood Restaurant is known for its extensive dim sum menu, as well as gourmet dinner offerings. jaderestaurant.ca
Su Hang Restaurant is the place to go for pork xiao long bao—notable for its kitchen-viewing window. 604-278-7787
Vietnamese Bánh Mì Très Bon is located within the Central at Garden City outdoor mall; it's one of the prettiest restaurants on the trail. banhmitresbon.ca
For vegetarian Taiwanese dumplings, plus a lot more, head to 4 Stones Vegetarian Cuisine. 4stonesvegetarian.com
Delve into the lesser-known Xinjiang Muslim cuisine at Silkway Halal Cuisine. 250-278-6788
Korean dumplings and tongue-tingling kimchi is on offer at Samsoonie Noodle and Rice. 778-297-7798
Be awed at The Bubble Tea Shop's selection of rainbow-bright culinary artworks. 604-285-8833
With handmade XLB and more, R&H Chinese Food elevates mall food court fare light-years beyond greasy fast-food. 778-297-5668
Stop into the Richmond Public Market for a bowl of hand-pulled noodles at Xi'an Cuisine. 604-279-9727
There's good reason HK BBQ Master is Seth Rogen's favourite spot to get Chinese barbecue in the city. Arrive early. 604-272-6568
Play
Burn off those calories by cycling the 80-plus-kilometres of designated cycling routes within Richmond, including the flat and scenic dykes. visitrichmondbc.com/things-to-do/outdooractivities/biking
Birders flock to Iona Beach Regional Park for its rich avian life, year round—then go for a stroll on the lovely four-kilometre-long Iona Jetty. richmond.ca
COVID-19 Protocols
Most businesses are open at time of press, but are operating under COVID-19 regulations, including reduced services and reduced capacities. Check before you visit.