It's March, and there aren't many signs of spring in Golden, British Columbia. An unseasonable deep-freeze has wafted through the Columbia Valley—where this 3,700-person town is located—and dumped fresh snow on both the Rocky Mountains to the east and the Purcell Mountains to the west of the meandering Columbia River.
I'm in Yoho National Park, a Rocky Mountain wonder located about 20 minutes' drive east of downtown Golden. Yoho is home to a particularly scenic section of the Kicking Horse River, which flows west through this region to join the Columbia near downtown Golden; I'm walking a well-packed snowy path to Wapta Falls, an impressive 30-metre-tall waterfall and the biggest on the river. In peak flow, it pours 96 cubic metres per second of glacial H2O over the drop and onto the expansive alluvial flats.
In winter and early spring, the river is mostly encased in ice. It's perhaps not as wildly dramatic as the full force of this thunderous cascade, but it's the only way to get close and the crystalline sculptures are certainly fascinating in their own right. ln just a few weeks or so, this ice will be broken and melted as the waterway frees itself to flow to its confluence with the Columbia, and onward for nearly 2,000 kilometres to the ocean in Oregon. (The Columbia River is the longest river in the Pacific Northwest, and, interestingly, it technically has no delta, unlike most large rivers, rather a system of bars that focuses the flow quickly into the Pacific.)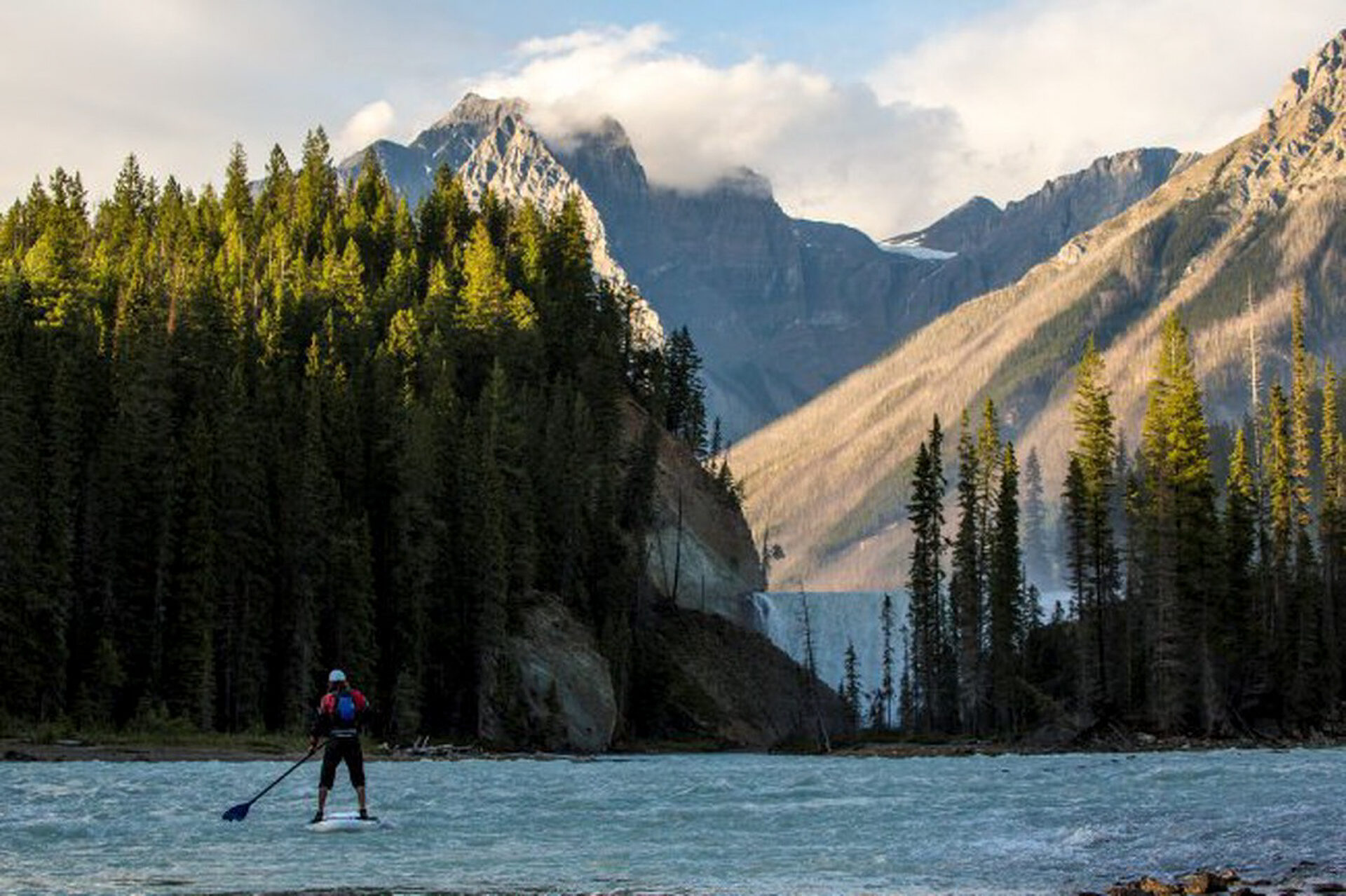 That's why spring in BC's Kootenay Rockies is so wonderful—time it right, and you can enjoy a period when winter and summer blend together as one, and activities can include alpine skiing and golf in a single day.
Of course, this isn't spring 2021. It wasn't spring 2020, either. The ongoing Covid-19 pandemic has pushed Golden into the dreamer's phase of travel. In a perfect world, Golden will again open for safe summer tourism, as it did last year, but this pandemic has taught us to keep our plans long-term and our hopes lean. I'm dreaming of Golden—and there's plenty of dreaming to do.
Golden is the mountain town archetype. It's small enough to harbour a tight community. At three hours from Calgary, Alberta, and eight from Vancouver, BC, it's isolated enough to at least partially hold back an onslaught of urban refugees and absentee homeowners. It has a world-class ski hill minutes from downtown, and hiking and biking trails in, near and around the core as well. It's at or near the confluence of three rivers—think fly fishing and whitewater rafting—the Kicking Horse, Columbia and Blaeberry. It has a local craft brewery and a whole bunch of awesome coffee shops. It has sled-head culture and an industrial economic base.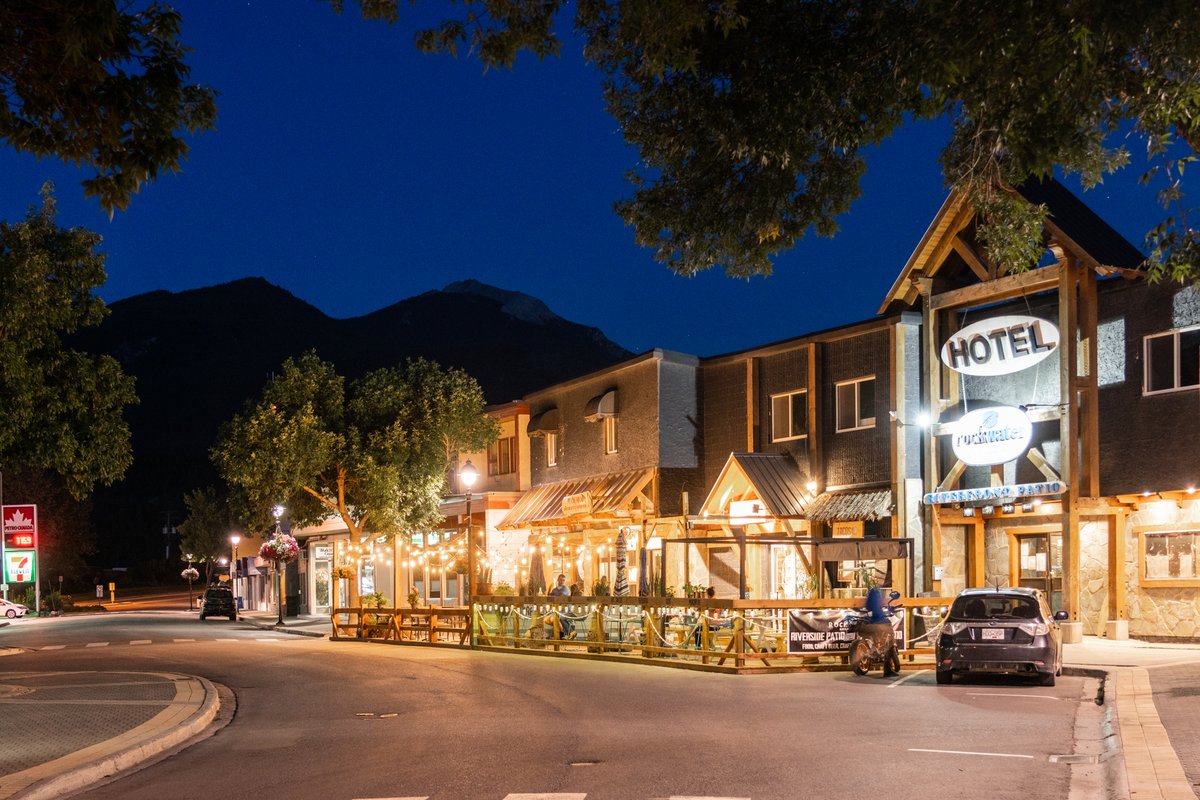 But it has something else—proximity. Canada's six Rocky Mountain national parks also serve as an archetype, for outdoor tourism in Canada, as worldwide, images of Banff and Jasper produce the vision of Canada's outdoors. And these parks are one hour and two scenic hours away, respectively. Plus, in another confluence of sorts, the remaining four mountain national parks surround Golden, from Yoho, just 20 minutes east on the Trans-Canada, to Kootenay, about 40 minutes northwest on the same, to Glacier and Mount Revelstoke, both about an hour's drive off. If national parks are your thing, there is no better base than Golden.
And 2021 promises at least one more reason to visit Golden—which has nothing to do with national parks.
For this day, Andy Brown—Golden local and marketing pro—is guiding me into the town's next-door paradise, Yoho National Park. In summer, Wapta Falls is just a couple kilometres from the main parking lot. In winter—between November and April—the park access road off Highway 1 is unmaintained. We, and one other car, demonstrating how unvisited this park is during the colder months, park along the highway to trek for nine kilometres, return.
The first two klicks are a mellow trod on wide-open road, but things get more interesting when we pass the parking lot onto the trail at the "Wapta Falls 2.4 km" signage. Yoho is a fragile and biodiverse area. Native trees such as the whitebark and limber pine are considered species at risk. There are 58 species of mammals and 224 species of birds within the park, and Kicking Horse River is designated as a Heritage River—due to its "outstanding natural, cultural and recreational heritage."
As we approach, I can hear the falls roaring, even in their partially frozen state. The natural heritage is as obvious as the Rocky Mountain peaks that surround the Kicking Horse valley. Culturally, the Nakoda First Nation used this waterway for traditional travel and sustenance for thousands of years. And recreationally, the Horse is considered a premier whitewater rafting destination, as well as a paddleboard spot (yes, really) and fly fishing mecca.
We arrive at Wapta; it's an ice castle. We scramble to the top of a river-formed ridge to peer into a tapestry of frozen water. Even with the recent double-digit-sub-zero temps, fresh H2O is bursting through, but it's mostly a wall of striated ice. The tailwater is a metre-wide ice-gap winding for a few dozen metres downstream before it too disappears under the snow-covered solids.
Soon, the nearby Amiskwi and Wapta glaciers will further melt and release their blue-green water into the river with gusto; pouring over the drop and into the grand alluvial fan beyond. Brown tells me that onlookers must stand back 100 metres on the bank, soaked in spray. I think I like this quieter, closer look from above a little better.
Two months later, in May, the snow is gone. In between is a magic season where locals ski at Kicking Horse Mountain Resort in the morning, and fly fish or mountain bike in the afternoon. After April, Kicking Horse ski resort turns into a hiking, zip-line and via ferrata climbing destination; the fat-bikes are changed out for crosscountry and downhill rides and the rivers are full of rafters. (And Golden's raucous snowmobile scene closes for the season as sledders prop up their machines and try to fix all the damage they took on after five months of big-mountain charging.)
This year, however, there's another reason to stop by Golden. Even in the face of an ongoing pandemic, Golden Skybridge is set to open in May. New for the area, this park is an accessible outdoor adventure experience. Think: suspension bridges, mellow trails, a 100-metre-arc canyon swing, valley lookouts and comfort amenities. Marketing rep Kristopher King explains.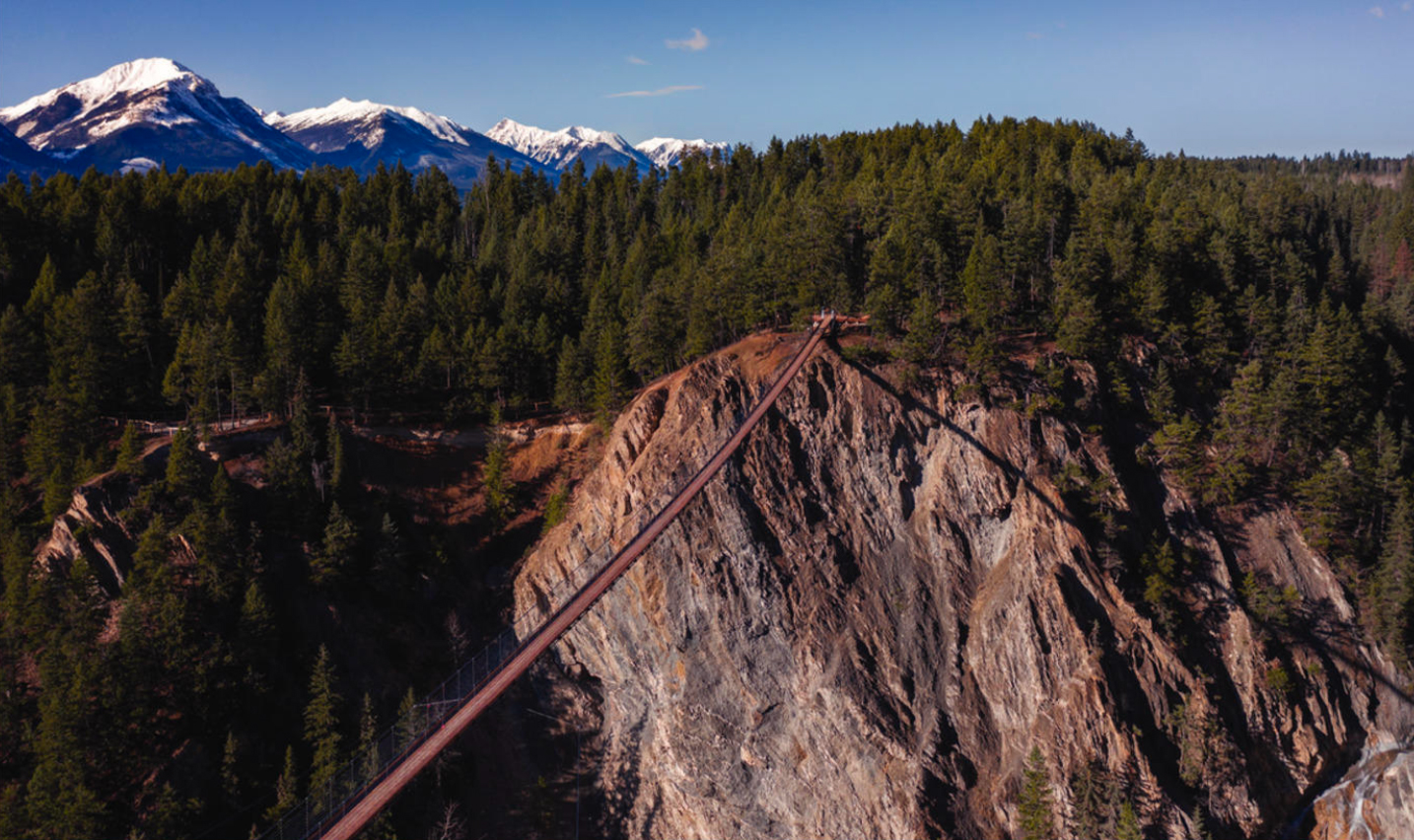 "[Golden Skybridge] is a 100-acre family-friendly adventure park on canyon. We have two suspension bridges—the fourth- and fifth- longest in Canada and the first- and second-highest in Canada," he says. "We have a beautiful tree fort and village playground, retail, gift shop and café and about two kilometres of canyon-edge walking trails. It's all family friendly and accessible to most people." The park plans to open its massive canyon swing over the summer—and, in the true spirit of small-town cooperation, "we complement Kicking Horse's summer activities for the whole family," he continues.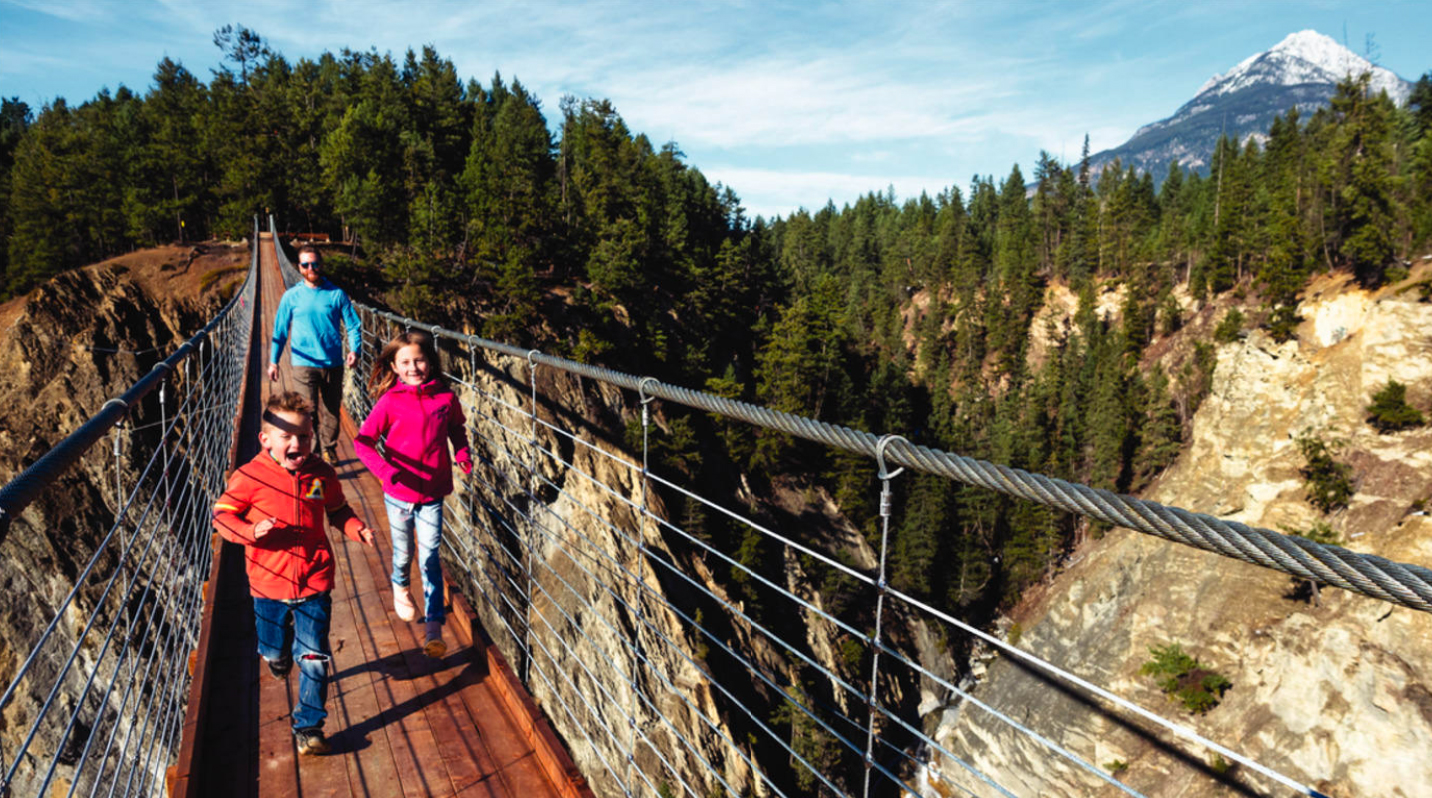 The concept was created by a group of Golden locals who felt that although Golden is a true adventure destination, a lot of the activities are high-level and backcountry. "We were lacking a true family friendly attraction," King says. Being only about 90 minutes from Banff townsite, the potential for day-trip tourism is high—especially as there really is nothing like Golden Skybridge in the region. And it's only six minutes' drive from downtown Golden.
"All of our natural resources are locally sourced, the stonework locally quarried and our decorative and path fencing is all recycled cedar from a local mill—used cedar telephone poles milled down," King says of the park's sustainability plan. Plus, they've upcycled the wire rounds used on their bridges for gifts and furniture, they've made an order to replant 2,000 trees and all bulldozed areas have been reseeded with native grasses.
All of this is an effort to join Golden's famous backcountry adventures—from paragliding off Mount 7 to charging black-diamond downhill mountain bike trails—with a pleasant day-trip option for multigenerational families. The connective tissue? Wild spaces and strong community.
Spring in Golden represents a confluence of seasons; Golden is set at a confluence of rivers. What better place to ponder this than at Confluence Park, where the Columbia and the Kicking Horse meet, a skip northwest of downtown.
The two riverways are both awash in history—from the Ktunaxa First Nations, whose creation story tells of the land and the people being formed from the spoils of a battle between a Chief Animal and a sea monster; to the maps drawn by cartographer David Thompson as he plied these waters in the early 1800s. However, this town, perhaps as much or more than any in the region, is looking to the future. A future beyond Covid-19 where Golden attracts an influx of international tourists from Banff—Golden Skybridge could see to that—and Kicking Horse Mountain Resort, a monster of a hill, will eventually host the number of skiers, bikers and hikers for which it's been built (with over 1,410 hectares of area and the largest vertical accessed by a single lift in the province, it sees remarkably few crowds).
It's easy to make puns about a town with a name Like Golden—about the future, about what you might find if you dig deep, about the nature of the locals and about the colour of the mountain peaks at dawn or the larches in autumn.
But to me, Golden is simply that place I'm drawn back to, over and over again. Every time I visit, it's new again. From the conspicuous, Like Golden Skybridge, to the subtle—like the biking trails I discovered at Cedar Lake—to old favourites, like my preferred ski resort in the entire province or the hoppy IPA at Whitetooth Brewing Co.
Now, Golden is meeting me at the confluence of dreaming and planning—and hopes for a tourism season to welcome me again, soon.
If You Go
Eat & Drink
Eleven22, in downtown Learn more about the Golden, offers sumptuous regional fare and a selection of BC wines. Take-out available. eleven22restaurant.com
Located on the way to Kicking Horse Mountain Resort, Bluebird Café is the ideal spot to grab coffee, snacks and to-go fare for your lodge-less lunch. bluebirdcafegolden.com
There's no better all-day breakfast in town than Big Bend Café—operating at reduced capacity and for takeout. bigbendcafe.ca
Whitetooth Brewing Co. has closed its interior tasting room, but outdoor space remains open; plus, growler fills and cans to-go. whitetoothbrewing.com
Long associated with outdoor recreation anyway, cannabis has been federally legal in Canada since 2018. Score yours at Quartz Creek Cannabis, in downtown Golden. quartzcreekcannabis.com
Play
Learn more about the all-new Golden Skybridge, including opening dates and admission rate, at banffjaspercollection.com/attractions/golden-skybridge
Higher Ground Sports is the place to rent outdoor gear for any season—alpine touring, fat bikes, paddleboards, and more. highergroundsports.ca
Kicking Horse Mountain Resort is open year-round—discover spring skiing (until April 4) and summer hikes, plus Covid-19 info, at kickinghorseresort.com
Alpine Rafting opens for the whitewater season on May 29—check their website for Covid-19 updates and info. alpinerafting.com
Also in the summer season, Kicking Horse River Adventures operates the Wapta Falls Wild & Scenic stand-up paddleboard tour on their namesake river. kickinghorseriver.com
Discover the hikes, campsites and tours available in all six Rocky Mountain national parks by searching Banff, Jasper, Glacier, Kootenay, Yoho and Mount Revelstoke at pc.gc.ca
Stay
Every single chalet has a hot tub at Cedar House Chalets, just a few minutes east of town. cedarhousechalets.com
Lush Mountain Accommodations has 20 on-hill chalets at Kicking Horse Mountain Resort, plus two more in the valley. Up to six bedrooms-plus. lushmountain.com
Easily accessed right off the Trans-Canada, Prestige Hotel Golden is family-friendly and comfortable. prestigehotelsandresorts.com
Getting There
Golden is an eight-hour drive northeast from Vancouver, BC, or a three-hour drive west from Calgary, Alberta. Access Vancouver via Vancouver International Airport (YVR) or Calgary via Calgary International Airport (YYC).
Golden is also a three-hour drive north of Cranbrook, BC, accessed via Canadian Rockies International Airport (YXC).
For more information, visit tourismgolden.com.
Please consult the local and provincial Covid-19 regulations and guidelines before visiting Golden, BC.