Daytrips are a delightful thing. These little adventures take us out of our familiar routines and offer up bite-sized bits of pleasure. Perfect for introducing locals to our wider geographic region (while easing pandemic stress by shaking up our routine), you can slip in a day to a place like Langley on just about any budget.
Especially now, as we come out of COVID-19 lockdown, a mini getaway to a nearby community is the ideal way to ease back into travel in a safe and controlled way. While we can't be as spontaneous as we used to be (it's often best to call ahead and make reservations for your stops) you can be certain that businesses will be as happy to see you as you are to see them.
For Vancouverites, Langley has always been a great go-to for a daytrip. Located an hour from downtown it offers a fun mix of tasty dining, interesting history, great shopping and deliciously boozy breaks (including one of my favourite BC wineries). While the city and township have great year-round options, this summer, as we get into the swing of Phase 3 tourism, Langley's wide-open spaces offer extra piece of mind.
Explore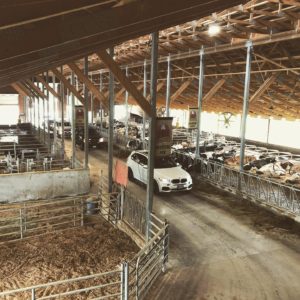 When most of us think of Fort Langley we think of the fur trade and gold rush era fort. Popular with families and tourists, Fort Langley has begun a gradual reopening—you can't currently enter the buildings, but interpreters will be sharing information and the historic grounds are open from 10 a.m. to 5 p.m. daily.
For some, COVID-19 has been a time of ingenuity. Brian and Erin Anderson love having visitors at Eagle Acres Dairy, so they developed the SaFarmi drive-thru where visitors see the farm from the safety of their own car. The farm was adapted to give visitors a chance to see the animals on a loop drive around the property and through the barn.
Krause Berry Farms & Estate Winery offers a drive-in waffle bar (with live entertainment!) and one-way traffic through the berry fields, store and winery—Krause has made safety adaptations while keeping the fun of a day on the farm.
Shop
Compact Fort Langley has a ride range of small businesses—making the little village an unexpected surprise for visitors. Check out the gorgeous clothing, pretty house wares and then stay for tea at the Little White House. At Cranberries Naturally, the hours are shorter than normal but all the great local products are the same. And just around the corner, don't miss the gorgeous flowers at Floralista.
Dine
Like most restaurants right now, you'll find the tables in Langley are further apart, the patios have expanded and reservations are usually required. But at Bacchus Bistro, set in the 55-acre vineyard of Chaberton Estate Winery, the menu still highlights locally sourced ingredients paired with their own wines. While at family-owned Saba Café and Bistro the delicious brunch and dinner options can be enjoyed on the deck or ordered ahead for the perfect takeout picnic.
For something more casual, try the bannock tacos at Leləm' Arts and Cultural Café. There's a licensed back patio for dining or you can order for takeout.
Imbibe
Township 7 has always felt like a little slice of the Okanagan close to home (the sparkling Seven Stars Equinox and rosé are dreamy wines) and now personalized tastings at private tables add to the allure. Walk-ins will be accommodated if possible, but you're better off with a reservation.
At Roots and Wings Distillery you can do a tasting flight of their small batch gluten-free spirits (which include potato-corn vodka, unaged corn whiskey and potato-corn gin) or savour a cocktail from the seasonal menu. Reservations are required and tasting hours are Thursday, Friday and Saturdays between 12 and 5 p.m., while store hours stay the same.
A wide range of traditional and not-so-traditional ciders are on offer at the Fraser Valley Cider Company. Full and half-flights are served up on a first come first served basis. Pair four or more options; including Scrumpy, Blackcurrant & Cardamon or Elderflower with a cheese and charcuterie plate, and then take home a growler of your favourite.
For more great Langley ideas, visit Tourism Langley.