Vernon's summer badminton extravaganza.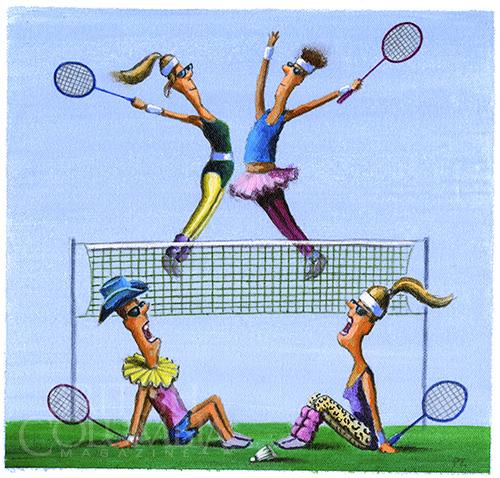 Some come for the cause. Some sign up to put their mad badminton skills on display. For others, it's just an excuse to party in short shorts and neon spandex.
Vernon's annual summer badminton extravaganza Bimbleton (the name a cheeky nod to the pomp of tennis) started as a backyard get-together among friends eight years ago and has grown into a zany charitable community event. About 80 teams of co-ed pairs (age 19 and over) participate, playing on courts spray painted onto the grass at the military camp at the south end of the city.
"A prerequisite for playing is that you have to dress pretty crazy," says organizer Deanna Fester. There are prizes donated by local businesses for best costumes and top teams, and the winners take home the coveted "Shuttlecock Cup." An on-site DJ keeps the music thumping—some players spend more time dancing than chasing a birdie.
"No one's really competitive, it's more just for fun," adds Fester. "Badminton is a sport that basically everyone can play; no one needs to train or practise."
When not on the court, participants—and those who come just to cheer—can sample refreshments at the beer gardens, plunge down a 30-metre-long homemade version of a Slip 'N Slide, or take part in a silent auction.
Past events have generated thousands of dollars for Greater Vernon Kidsport, an organization that helps remove financial barriers to local children participating in organized sport.
Info: The eighth annual Bimbleton will take place July 12, 2014. Register in advance: $50 per team (bimbleton.com).