Cedar + Salt: Vancouver Island Recipes from Forest, Farm, Field, and Sea
By DL Acken and Emily Lycopolus
Touchwood Editions, 2019
Hardcover $45; Kindle $9.99
In earlier days, pages and pages of recipes and instructions created fat cooking tomes. Favourite cookbooks like Irma Rombauer's The Joy of Cooking, which covered a wide-ranging American cuisine, or Julia Child's Mastering the Art of French Cooking, provided many words about recipes, but few illustrations. As the internet came along, cooking websites of every ethnic persuasion popped up featuring recipes that include the needed word descriptions, but also offer step-by-step photos of how to create the dish. I often peruse the web for new ideas, and wondered if printed cookbooks had become antiquated.
I was wrong. According to several sources, paper cookbooks are selling in the millions of copies due to a renewed interest in healthy home-cooking and an emphasis on local ingredients. Cedar + Salt fits right in with the trend toward locally sourced food.
Cedar + Salt is a gorgeous book, each recipe is put side-by-side by an outstanding full-colour, full-page photo. It's the kind of book you want to curl up with on the sofa and read for fun while becoming inspired. Although the recipes are based on ingredients found on Vancouver Island, a wonderland for all the foodies who like local, farm-to-table, foraged, fresh, organic and free-range fare, cooks across Canada can obtain the vast majority of ingredients in their neighbourhoods.
That's one of the book's great appeals. The recipes are sophisticated, but not esoteric. Many recipes printed in today's newspapers and magazines include condiments and ingredients I've never heard of and might only be found in specialized ethnic shops in the corners of very large cities.
Both Cedar + Salt contributors have deep roots in the culinary field. As the book's title indicates, it's divided into four parts. In the Field segment, we find a perfect recipe for winter—butter roasted delicata. This squash recipe, like many others in the book, has a brief introduction and a recommendation for pairing with other dishes. It combines delicata squash, butter, maple syrup, orange juice with rosemary—the photo shows golden roasted slices in a silvery dish.
When we flip to the Farm section, we learn how to make apple brandy-spiked chicken liver pâté. Again, the ingredients to make this lovely spread can be found anywhere. How to prepare homemade ricotta, and island beef brisket braised with craft beer and coffee, are also on the menu.
The Forest segment includes many recipes with foraged components, like wild berries and plums, various mushrooms and a celebration cake that includes lilac blossoms.
The final Sea section covers the bounty of our nearby ocean—gin-cured salmon, brandy-glazed shrimp, halibut, corn-and-cod fritters. The only seafood unlikely to be found in Alberta and beyond is grilled oolichan.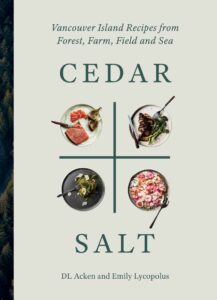 Complicated Simplicity—Island Life in the Pacific Northwest
By Joy Davis
Heritage House Publishing, 2019
$22.95 paperback, Kindle $9.99
When I was a kid in the Netherlands, I seldom had enough books to read. So, when a Dutch translation of Daniel Dafoe's Robinson Crusoe fell into my hands, I read it over and over. The book evoked life-long fantasies of how I would survive on an isolated island, as long as I had obtained tools from the shipwreck I'd survived and food could be found.
When I read Joy Davis' book on island living, I realized how naïve my fantasies were. Today, even when you can bring in building supplies, tools and food on a barge or boat, choosing to live off-the-grid and without ferry service on a small island is a daunting task.
Davis combines the experience of living on Bath Island near Gabriola Island's Silva Bay with a thorough review of both the enticements and hardships of island living. She relates her own history when, in 1962, her parents sold a house in West Vancouver to move to a tiny, uninhabited islet and built an A-Frame abode from scratch. She writes vividly about growing up there, collecting firewood, hauling in logs with a dinghy, and performing everyday chores. She and her sister grew up "free range," had responsibilities, and knew how to drive and dock a boat to Gabriola, alone, by age 12. Early island dwelling has shaped her life. It's in her bones.
Throughout the book, she weaves in tales from other islanders—their joy in living the off-grid, off-ferry lifestyle, but also their never-ending work. We learn that living on an isolated island requires the skills of a builder, carpenter, plumber, electrician, fisher, beachcomber, mechanic, feller and boat operator (and boat repairer). You must have the physical strength to accomplish these tasks. You must be ultra-careful to avoid accidents. You must be able to cope with the lack of social and cultural life. Even on larger islands shared with neighbours, you must learn to tolerate eccentrics and accept the local culture.
In some ways, living on one of BC's 40,000 islands, resembles living on a boat: water and power are a must. Today's solar panels and battery banks help, but in earlier times, a propane fridge and lights were the only alternatives. You must have a dock that can meet dock regulations and survive tidal ranges, preferably in a protected bay. Appropriate tools are essential.
Davis provides an excellent blueprint of what it takes to live on an island. She discusses purchasing an island, siting a home and outbuildings, barging building supplies, and the crucial choice of a boat. She explains that all of this is much costlier than living on the mainland.
But she also describes how satisfying island living can be. It provides a "personal sense of place" and gives meaning. As one island occupant puts it, "the ratio of good to evil is just so much better."