In Nature's Realm—Early Naturalists Explore Vancouver Island
By Michael Layland, TouchWood Editions, 2019, $40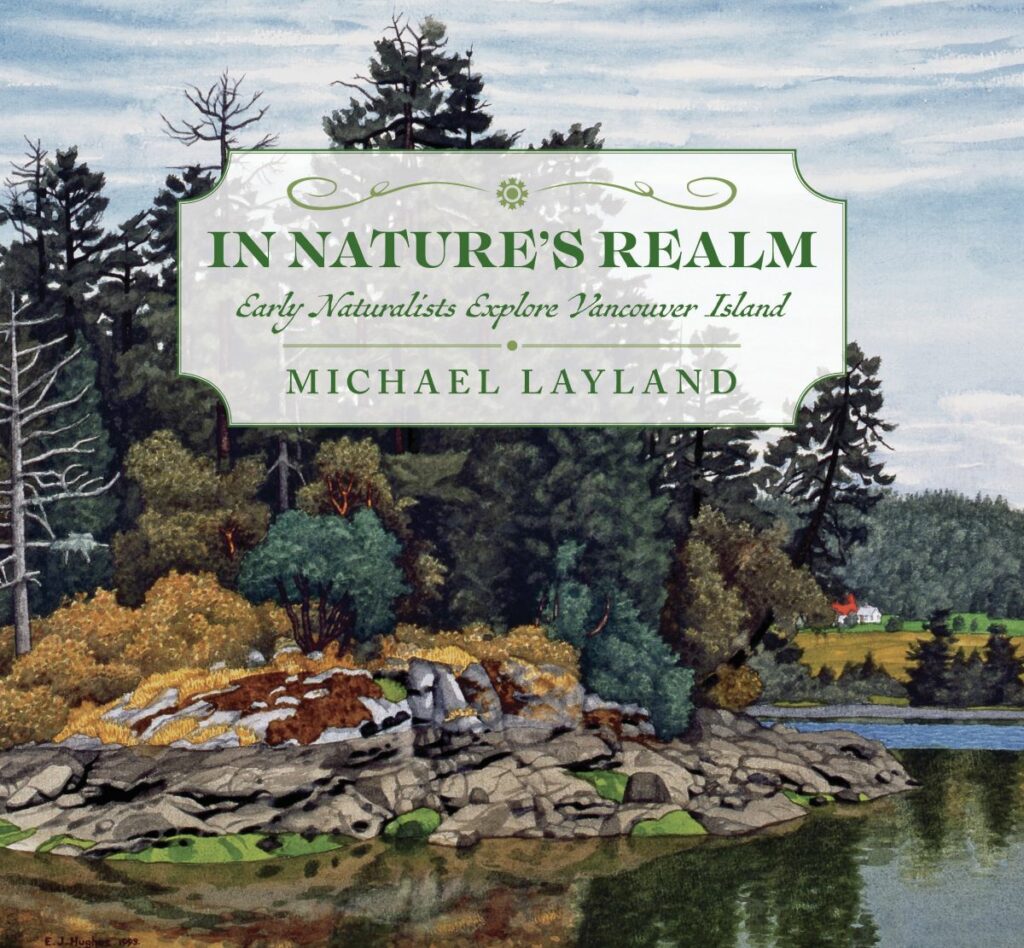 I was pleased to continue learning about E.J. Hughes' work on the cover of Michael Layland's In Nature's Realm, Early Naturalists Explore Vancouver Island. The cover depicts Hughes' 1993 oil painting of Bird's Eye Cove." This is the third volume by scholar/historian/mapmaker Layland, whose earlier works (The Land of Heart's Delight and A Perfect Eden) reveal the progression of European knowledge of Vancouver Island through his collection of early maps and charts, and the encounters of early explorers.
Layland takes us on an historical voyage visiting the naturalists who've inhabited and explored Vancouver Island. The book is divided into four phases: Indigenous knowledge of the natural word; the reports from early European explorers; the European settlers who added knowledge about local flora, fauna and geography; and finally, the scientific and other groups intent on collecting specimens and identifying natural resources. Numerous photographs, drawings and figures illuminate the text.
The book begins with a description of the remarkable ability of Indigenous peoples using what was at hand to fish, hunt, collect and preserve food, and fabricate everyday objects. Layland relates how they netted birds and built "sea gardens" to trap sea creatures, foraged for food, used the bounties of the western redcedar and knew the medicinal value of plants.
The journals penned by such explorers as James Cook, the Spanish expeditions, the Hudson's Bay's traders, and various military expeditions provide data on what these European observers collected and tried to classify. The first naturalist study on Vancouver Island was by Cook's crew who counted plants, fishes, animals and birds. Later, botanist Archibald Menzies accompanied Captain Vancouver and saved specimens in a "plant hutch." Trained scientists accompanied the Hudson's Bay's trading expeditions and further documented examples of the Pacific Coast's natural abundance.
Women were discouraged from participating in naturalist scientific pursuits. Layland, however, recognizes their contributions: women could show interest in gardens, paint flowers, and identify medicinal uses for plants. He mentions several women who botanized, culminating in the work of Emily Carr and her "powerful, dramatic depictions of forest trees." Carr was also granted a fellowship in the Royal Horticultural Society.
This is an elegantly written tome on the succession of naturalists on Vancouver Island. It is beautifully produced on heavy paper—its pages appropriately edged in forest green.