A primer on our favourite quick bread.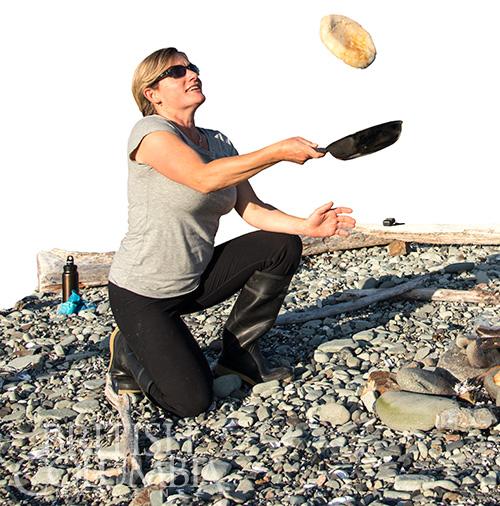 Whether bannock is baked in an oven, browned on a twig held over a campfire, or fried in a cast-iron pan, it's a food tied to collective memory. The flat quick bread is now served in acclaimed modern restaurants, but has been a staple of Aboriginal cuisine in British Columbia (and around the country) since it was first made using ingredients like ground roots and berries.
Gold-rush fortune seekers used milled flour and ate it under starry Cariboo skies. Settlers with European roots prepared a generations-old Scottish variety using oatmeal, rye, or barley. While different cultures and families follow their own recipes, the basic bannock ingredients are flour, liquid, fat, salt, and baking soda or powder. This version comes from Andrea Thomas of the Secwepemc (Shuswap Nation), who lives in the Sugarcane community southeast of Williams Lake.
Thomas, who grew up in Kamloops, first helped bake the bread at age three. She has turned out countless batches since, even winning a bannockmaking contest run by a local radio station. One of the keys to success is not overworking the dough, she advises, adding: "Everyone I know makes it."
Her recipe is part of Spicing up the Cariboo: Characters, Cultures, and Cuisines of the Cariboo Chilcotin published by Caitlin Press, 2013.
Bannock (Fry bread)
Makes 12 medium-sized fry breads
720 mL (3 cups) flour (any type)
10 mL (2 tsp) baking powder
Dash of salt
15 mL (3 tsp) sugar or syrup (optional)
475 mL (2 cups) water
Lard or oil (2 mm / 1/16 inch deep in
frying pan)
Mix dry ingredients together. Add water and mix into a ball. Flour hands and scoop a small ball large enough for one bannock. Pinch into a flat circle about 4
mm (1/8 inch) thick.
Heat lard or oil in frying pan on medium heat. Fry each bannock until brown on both sides. It will rise and be about 4 cm (11/2 inches) thick when done.
Enjoy with stews or as a sandwich. Store in a plastic bag or closed container. Will keep two to three days at room temperature or five days in the fridge.