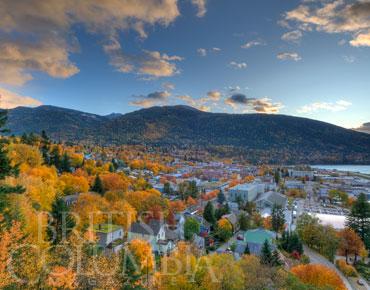 Thanksgiving weekend is a time for homecomings, and I can't help but feel as if I've come home, too, when I glimpse the city of Nelson through the trees that line Hwy 3A just outside its outer limits. Surrounded by the Selkirk Mountains on the West Arm of Kootenay Lake, this small city rises into view with all the elegance of a European resort town.
The history of the city, which is located in the Kootenay region of southeastern British Columbia, dates back to 1867, when prospectors found gold at The Fortynine Creek, just west of the city. Then came the discovery of silver and other minerals, followed by land development schemes. A permanent settlement overlooking the shores of the lake quickly took root.
Progressive from its earliest days, the city of Nelson was born in 1897 and quickly grew as a regional centre for government and business. Sternwheelers plied the lake, transporting goods and people to remote communities, and two railways serviced the city. Nelson even had an electric streetcar system and its own electrical company. In 1899, the city had 23 hotels, each with a bar, six saloons, and four liquor stores. A year later, Nelson was touted as being the largest city between Vancouver and Winnipeg.
Today, Nelson is a culturally diverse destination with a population approaching 10,000 people. The mountains once revered for their rich mineral deposits now attract skiers, snowboarders, and hikers, and the frontier nightlife has been replaced with a lively restaurant scene featuring cuisine from around the world. Early fall, I discover, is an ideal time to quietly explore the city.
Hwy 3A curves gently as it descends towards Baker Street, the heart of Nelson's downtown core, where heritage Victorian buildings hint at the city's prosperous past. Tree-lined side streets climb to a gracious residential area where I will spend my first night. From the rooftop deck above my room at the Cloudside Inn bed and breakfast, I spot one of the area's most recognizable landmarks, the apricot-coloured West Arm Bridge. I decide to set out on foot to explore the city. Oso Negro, a superb local coffee shop, is my first stop. Fortified by a latte, I walk downhill to Baker Street to enjoy its eclectic mix of shops, restaurants, and galleries.
The city's Architectural Heritage Walking Tour identifies 27 of the city's 350 historically designated buildings. One of the most impressive, the Burns Building, at 560 Baker Street, features lovely, imported terracotta panels. It was designed for cattle baron Patrick Burns and built by Rattenbury, Hodgins & Carrie in 1899. As the intricately carved cow head over the entrance suggests, it once housed a sophisticated butcher shop. The Roxanne Walking Tour offers a less serious jaunt, highlighting locations from the movie starring actor Steve Martin that was filmed here in 1986. When the flick premiered, film critic Pauline Kael of The New Yorker described Nelson as an "other-worldly, lost in a trance locale." Today, getting lost is exactly what I have in mind.
Nelson was named the "best small art town" in Canada by author John Villani in his book The 100 Best Small Art Towns in America, and the next day, when I set out again, the cultural scene here does not disappoint. The Kootenay School of the Arts draws art students and teachers to Nelson. Their work populates galleries and grass-roots cooperatives scattered throughout the downtown core. I drop into The Craft Connection, a well-established cooperative that carries a selection of high quality arts and crafts items for sale by local artists, including weaving, pottery, glass, jewellery, and clothing. Angelika Werth's "deconstructed/reconstructed" jackets and the handmade lampshades from Shades of Nature are two of the standout artisans whose work I admire.
Crossing the street, I find the studio/showroom of top Canadian milliner Liz Cohoe in an old warehouse in an alleyway near Vernon Street. Liz is one of my favourite designers, and I've made arrangements to meet with her. She shows me some of her newest Lillie & Cohoe hat styles. I try on several before choosing a maroon-coloured cloche.
After visiting the family-run Hazeldean Gallery on Baker Street, and the Ourglass Studio Gallery on Ward Street, it's time to check into my next home away from home —the stylish Dancing Bear Inn Hostel on Baker Street, where they are planning a special holiday potluck for guests on Monday, a gesture that seems to embody the inviting spirit of Nelson.
After a solid night's sleep in a double bunk bed, I set out on foot once again to continue exploring downtown. Snowflakes swirl furiously around me. Through a shop window, I notice a jeweller at work and decide to warm up inside where I meet goldsmith Christopher Kölmel. The Vancouver native fell in love with Nelson while visiting, and decided to call it home. "I like how cosmopolitan it is here," he says. "It feels like a global village."
Just down the street, I discover Touchstones Nelson Museum of Art and History. The museum part of this vibrant cultural centre, which occupies a restored 1902 heritage building, is located upstairs. Here, I find a fascinating account of the city, from early First Nations contact to today. Nelson's story is told through artifacts, interactive displays, and film.
Later, I head to the outdoor farmers' market at Cottonwood Falls, just a few minutes' drive from the downtown core. I warm my fingers around a cup of coffee as I stroll around booths selling massive pumpkins, regional produce, eggs, savoury and sweet snacks, and other homemade specialties. Michael Nisbet is selling local rocks and minerals for a few dollars apiece. It strikes me as an odd thing to bring to market, but after all, this is Nelson, and mining enthusiasts abound in the area. I purchase an interesting chunk of quartz crystal, zinc ore, lead ore, and calcite for my son.
After the market winds down, I drive down to the sandy shores at Lakeside Rotary Park. Two young girls drag a minnow trap in the deep blue water, oblivious to the less-than-balmy weather conditions. Joggers and walkers are enjoying the waterfront promenade at the park, and a wedding party shivers on the lawn as they pose for pictures. Here, visitors can also find one of Nelson's most beloved attractions, "Car 23." This restored streetcar takes passengers clattering along a 1.2-kilometre lakeside route from the park to the city wharf. The streetcar, which is operated by the volunteers of the Nelson Electric Tramway Society, was built in 1906 and was one of three that operated in Nelson.
Afterwards, I check into the historic Hume Hotel, a true Nelson classic. I almost expect to see a ghost in the wide hallway that leads to my large corner room. I peer at old framed photos of the city's founding fathers and memorabilia hung on the walls, and tour the Library, the Hume's atmospheric lounge. Over dinner and a glass of wine, I learn that when the Hume opened in 1898 it was the talk of the town, and featured newfangled amenities like electric lights and steam radiators. Today, it's still a favourite gathering spot for residents and visitors alike.
Locals have told me about Pulpit Rock, a hiking spot favoured for its proximity to the city as well as the challenging aerobic workout it provides. So on Sunday morning, I decide to cross the West Arm Bridge and check it out. Nelsonites—young and old—are a fit populace. Countless hikers—one carrying a toddler on his back—actually run past me up the steep switchbacks that characterize this 1.8-km trail. Some 400 metres later, when I reach the top of the trail, the panoramic view of the city and Kootenay Lake below makes the effort worthwhile.
When I check out of the Hume Hotel on Monday, I learn that the desk clerk, Andromeda Nelson, is originally from Saltspring Island, but has high praise for Nelson. "Look at it," she exclaims. "It's gorgeous. There are a lot of young people here, and there are so many great things to do in all four seasons. I love it here." As I pack up my car and head back to the airport in Castlegar, I can understand her enthusiasm. Nelson has been so welcoming that it feels like a second home to me, too.
To Do
Play
Tour galleries such as Craft Connection (250-352-3006; www.craftconnection.org); Hazeldean Gallery (250-352-0660); and Ourglass Studio & Gallery (250-505-5595; www.ourglass.ca).
Explore Nelson's past at Touchstones Nelson Museum of Art and History (250-352-9813; www.nelsonmuseum.ca).
Take a hike, opportunities (and rewarding vistas) abound (www.discovernelson.com). Access to popular Pulpit Rock is across the main bridge and 2.25 kms south on Johnstone Road.
Catch a show at Nelson's Capitol Theatre, offering community shows, recitals, theatre, and more (250-352-6363; www.capitoltheatre.bc.ca), 421 Victoria St.
Quaff a beer. Order up a Faceplant Winter Ale from the Nelson Brewing Company (www.nelsonbrewing.com) from a cozy club chair at Louie's Lounge on Vernon St.
Ride Car 23, Nelson's famous restored streetcar. Weekend operation only after Labour Day. Service ends Thanksgiving Day. Nelson Tramway Society (250-367-9564; www.nelson streetcar.org).
Eat
Oso Negro (250-352-7661; www.osonegrocoffee.com), 604 Ward Street. Fabulous local organic café and roastery.
All Season's Café (250-352-0101; www.allseasonscafe.com), 620 Herridge Lane. Cozy back alley bistro offering fine continental cuisine and great service.
Baba's Indian Cuisine (250-352-0077), 445 Baker Street. Authentic Indian cuisine; friendly service; cool your palate with a mango lassi.
Dominion Café (250-352-1904), 334 Baker St. Coffee, tea, light lunches, and great muffins.
Fusion 301 Tapas & Wine Bar (250-352-3011), 301 Baker St. Asian-inspired light meals and wines.
Sleep
Cloudside Inn (250-352-3226, 800-596-2337; www.cloudside.ca), 408 Victoria St. Comfortable, contemporary renovated1900 home; convenient downtown location.
Hume Hotel (250-352-5331; www.humehotel.com), 422 Vernon St. Grand old dame of Nelson; comfortable, Victorian-style décor. Ask for a spacious corner room. The hotel's Library Lounge offers live jazz some nights.
Dancing Bear Inn Hostel (877-352-7573; www.dancingbearinn.com), 171 Baker St. Affordable luxury and comfort, hostel-style.
Stanley House Bed & Breakfast (250-352-3777, 888-352-3775; www.stanleyhousebb.com), 420 Railway St. Lovely 1908 heritage home on a bluff overlooking the old train station and the West Arm.