Yoga is riding a new wave of popularity.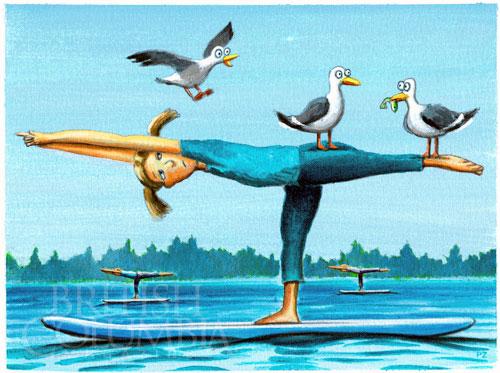 It's been ridden through monster waves, towed behind boats at high speeds, and paddled like a canoe along wild shores. Now, the mighty surfboard is also a yoga mat.
SUP yoga ("Stand Up Paddleboarding" for the uninitiated), the latest evolution in board sports, allows yogis to bust out of the traditional studio to perfect their sun salutations under the open sky, while balancing on a floating board.
The concept has been flourishing in places such as California and Florida over the past few years and is starting to take hold in British Columbia. Kristy Wright Schell of Stand Up Paddle Vancouver, one of SUP yoga's pioneers, says enrolment has doubled from last year. And communities such as Tofino, Abbotsford, and Kelowna are beginning to follow suit.
During one of her classes, Wright Schell leads a small group on a paddle until they find a calm bay for yoga practice. An anchor system she developed helps prevent boards from floating away. The poses tend to be simple to account for the extra challenge of instability. "When a group is really timid we do everything seated," she says.
Yoga on a board requires slowing down to achieve balance. Too rigid or too relaxed and "you'll end up in the drink" (giving new meaning to "fish" pose). The result is a low-impact full-body workout.
"SUP yoga is about connecting and being with the elements," says Wright Schell. "It's also a great way to access this beautiful coast we live on without having to spend a ton of money doing it."