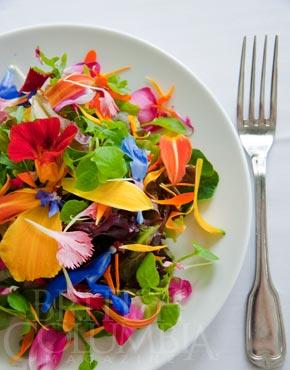 Sometimes, you think you know a friend then "Biff! Bam! Pow!" like a blow from a cartoon superhero—you discover something that knocks your perspective off-kilter (say, that he once studied acting in New York, or she qualified for the Olympic rowing team).
Extending the analogy to a place, I thought I knew Sooke pretty well. As a Victoria resident, I have visited the district of 15,000 or so people regularly over the years for day hikes in East Sooke Regional Park, or an occasional stay at a B&B. The chance to spend three days there would allow me to discover more about the area's character and talk with "Sookies" (or "Sookers," the jury is still out on that).
The area's very first residents were the T'Sou-ke. At the time of European contact, they were making the most of the rainforest, using red cedar for canoes and dwellings and strips of its bark for apparel and baskets. The spirit of celebrating the natural environment still thrives today, as I discover while I zip, trek, and taste my way through a weekend in Sooke.
One modern way to appreciate the tall trees is by ziplining. When a little girl one quarter my age and half my size is hanging upside down, grinning like a caffeinated opposum and continually asking if can she please go first, it is tough to maintain a healthy dose of fear—so I don't. In fact, Adrena LINE Zipline Adventure Tours provides a fun two hours above the forest that anyone over age five and 18 kilograms can experience without white knuckles. Turkey vultures do circle over us at one point, but I dismiss that as coincidence.
Back on level ground, the salt-tinged air is cooling and evening approaches. In Sooke, you can see the ingredients of your next meal being grown and gathered all around you. By the harbour near Horne Road, I meet a bleary-eyed Thor Heggelund and his crew who have just finished a crabbing shift (which started at 4:30 a.m.). Not far from Heggelund, sport fishermen clean a salmon. Meanwhile, guests at the nearby Sushi On the Sea restaurant watch the seafood roll in as they sit on board the Rolano, owned by Ralph Hull, captain, former radio broadcaster, and raconteur.
"Captain Ralph," as he is known, came to British Columbia from Los Angeles in 1971 during interesting political times. (Have dinner to hear the tale.) His business partner, chef Kari Osselton, makes artfully arranged sushi fresh on demand in the small galley kitchen. Osselton and Hull met years ago when her then four-year-old son, who was fighting cancer, took a shine to the larger-than-life sea captain. Her son recovered, and Osselton's friendship with Hull endured. "He's my third child," quips Osselton, as she chops. "A little older than the others."
The next morning, I enjoy a multi-course breakfast at Ocean Wilderness Inn that includes pear poached in locally made mead. I then scout out the source of the honey used in the mead, meeting Bob Liptrot at his beeyard in a field on Phillips Road, east of town. Honey may be a simple pleasure, but the bees that produce it are part of a complex, ancient society. "There can only be one queen," says Liptrot, one of the proprietors of Tugwell Creek Honey Farm and Meadery. "Queens are ruthless."
Liptrot wears a tan protective beesuit while honeybees dance around us like a blizzard of golden snowflakes. They appear just as harmless, too concerned with their daily affairs to notice me. "These are our friendliest bees," he says. "We want to breed aggression out." Liptrot started tending bees at age six, but they still seem to amaze him. "They even have their own language."
The public can visit the family farm for tastings or purchases. Varieties of mead range from Solstice Metheglin, based on an age-old recipe using wildflower honey and a blend of spices, to the modern full-bodied and fruity Kickass Currant, a secret recipe made with their own berries.
A Cooper's hawk soars above us as I say goodbye to Liptrot. Just a few minutes later, I happen along Sunriver Community Gardens (no doubt frequented by Liptrot's bees) and meet gardener Glen Thelin. It's clear that most Sookies care where their food comes from—and for each other. On this summer's day, the community plots are dripping with produce. Portions of the bounty go to area food banks.
"I grow food here 12 months a year," says Thelin, handing me a lemon cucumber and a bag of shell peas to take home. Thelin confesses that the day before, he set work aside to hike the Kludahk Trail—which he says is part of life in Sooke. "People just kind of drop everything to do these experiences."
Chef Robin Jackson is yet another follower of the Sooke lifestyle. When Jackson comes striding towards me in the midday sunlight, it doesn't occur to me that this is the Sooke Harbour House's head chef (even though he's wearing chef whites and hat). At 30, Jackson is used to hearing that he appears young for his job. But the Northern California native has worked hard to get where he is—and Sooke is where he wants to be. He says what keeps him here is the ability to forage for ingredients, such as seaweed. He often goes on treks to gather mushrooms. "If I'm not here, I'm out in the woods."
He's a hiker and a kayaker, which shows in his laidback calm, despite the fact that guests will soon be arriving for Sunday brunch. The ingredients for the restaurant's dishes grow all around the seaside property, including a peppery tasting blue flower he hands me to try.
Sunday brunch, new in recent years, provides an affordable alternative to the inn's famed dinners. The dining room is West Coast chic with wraparound views of the ocean. I order spaghetti squash, zucchini, and goatcheese quiche—a mood-altering combination of crunchy vegetables, creamy cheese, and flaky pastry. My house salad is a riot of colours and textures, like an Impressionist painting. The flowers are slippery and as delicate as lace.
The inn's vibe of casual elegance is courtesy of Frédérique Philip, who runs the inn alongside her husband, Sinclair. Frédérique says she wanted to dispel the idea that luxury had to mean stuffiness and to showcase the best of B.C. in food, art, and décor.
While the Harbour House is a legendary inn, the Sooke Potholes seem like the stuff of legend, epic and alluring. They are otherworldly—deep green rock pools and canyons formed about 15,000 years ago during the last ice age. The landscape, with its gothic, towering gorge, feels like another planet. By the time I arrive mid-afternoon the pocket beaches along the Sooke River are filled with families spread out on blankets. Teens are jumping from the cliffs (a practice not encouraged by park staff) and the parking lots are bursting.
Eliza Findlay of Saltspring Island, a visitor since childhood, is introducing her newborn daughter to the hotspot. "It's one of the most beautiful rivers in the world, I'm sure," she says.
Long a local favourite, part of the potholes were once slated for development.
Standing from a viewpoint, I gawk at the odd vestiges of the Deertrail Resort—the legacy of an entrepreneur who once had big plans for some of the land, including building a destination resort and a film production facility. The controversial project was partly built during the 1980s, but never completed.
In 2005, the land was saved from development and the 55-hectare Sooke Potholes Regional Park was created, joining a provincial park established in 1972. Now the remains of the resort's lodge are visible over the gorge, the space slowly being reclaimed by the Sooke wilderness.
Play
Eat
Sooke has a reputation as a haven for great dining. As well as the Sooke Harbour House, food enthusiasts beat a path to Markus' Wharfside Restaurant and the restaurant at Point-No-Point Resort in nearby Shirley.
Sooke Harbour House (250-642- 3421), 1528 Whiffin Spit Road. Splurge on a memorable dinner, or enjoy Sunday brunch from 11:30 p.m. to 3 p.m.
The Stone Pipe Grill (250-642- 0566), 2038 Otter Point Road. A favourite with locals, the grill serves up affordable, pub-style meals with a few surprises, such as vegetarian pad Thai.
The EdGe (778-425-3343), 6686 Sooke Road. Chef Edward Tuson left his post at the Sooke Harbour House about three years ago to open this bustling, affordable bistro in downtown Sooke. Apple spring rolls are a signature dessert, and there's even a kids' menu.
Sushi On the Sea (250-642- 6669), 6669 Horne Road. Delicious sushi by reservation on board the docked Rolano, which accommodates eight to 10 diners, with sittings on Friday and Saturday evenings.
Stay
Sooke has a range of B&Bs. Visitors can choose from pet-friendly home bases for hiking, or splash out on luxurious oceanview accommodations with gourmet breakfasts (sooke-portrenfrew.com/accommodations). Options include: