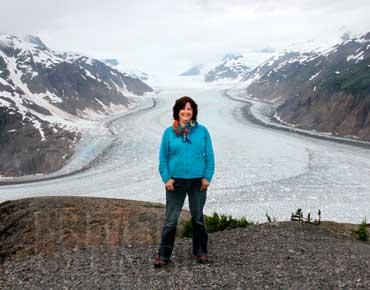 One of the best ways to learn about a destination is to experience its culture, which is why my travels around British Columbia always include visits to art galleries and museums. Inspired by this issue's photo essay, "Heart & soul," p. 18, I recently travelled about 150 kilometres from Terrace to a new museum in the Nass Valley. There, I gained a sense of the Nisga'a people that I will not soon forget.
Set back from the road in the village of Laxgalts'ap (Greenville), the building's modern design was inspired by traditional Nisga'a longhouses, feast dishes, and canoes. Its sky-high glass and cedar façade reflects snow-covered mountains and protects a 15-metre-high totem pole. Inside the facility, which opened in 2011, more than 330 artifacts repatriated from cultural institutions in Victoria and Ottawa are on display in a stylized longhouse. This "treasure box," as manager Fran Johnson calls it, is the museum's physical and spiritual heart.
The aromatic smell of cedar permeated the air as Johnson parted the heavy red wool button blanket covering the entrance to the longhouse and led me into its hushed, darkened interior. "When you walk through the entrance, you get a sense of how sacred this place really is," she said. "You can actually feel the spirits of our ancestors here." Straight ahead of us, a group of masked, costumed figures representing halayts (shamans) heightened that sensation. Dressed as characters from traditional Nisga'a stories, they delivered a powerful welcome.
With quiet reverence, Johnson showed me the other extraordinary artifacts in the Ancestors' Collection—delicate soul catchers carved from bone, chiefs' painted rattles, finely woven cedar mats, and headdresses inlaid with abalone. In one area in particular, I sensed the sacred connection Johnson mentioned when we first entered the longhouse. An archival photograph from the early 1900s depicting the Laxgibuu or Wolf family, shown in their regalia, is mounted behind this exhibit. With wonder, I noticed that most of the objects in the photograph are on display, including precious masks, a chief's blanket, and a traditional bentwood chief's box.
But the exhibit is special to Johnson for another reason. "I come from this family, and these are my ancestors," she said, turning to show me the wolf pack motif on the back of her long black vest. "When I first saw the picture, I was very proud. My great grandfather is in it." From the emotion in her voice, I understood how meaningful this facility must be to her and the Nisga'a people.
As we entered the final display area, which depicts daily life in a longhouse, Johnson explained how this traditional structure is much more than just a building to the Nisga'a. "We talk about a longhouse as a living being as well as a container of souls," she explained. From my visit, I learned that this special museum, too, is much more than its glass and cedar shell. It holds the heart and soul of the Nisga'a people.