Beat the heat this summer with a dip in some of BC's best waters. The following is nowhere near an exhaustive list, so be sure to share some of your favourite spots with us, and your fellow readers!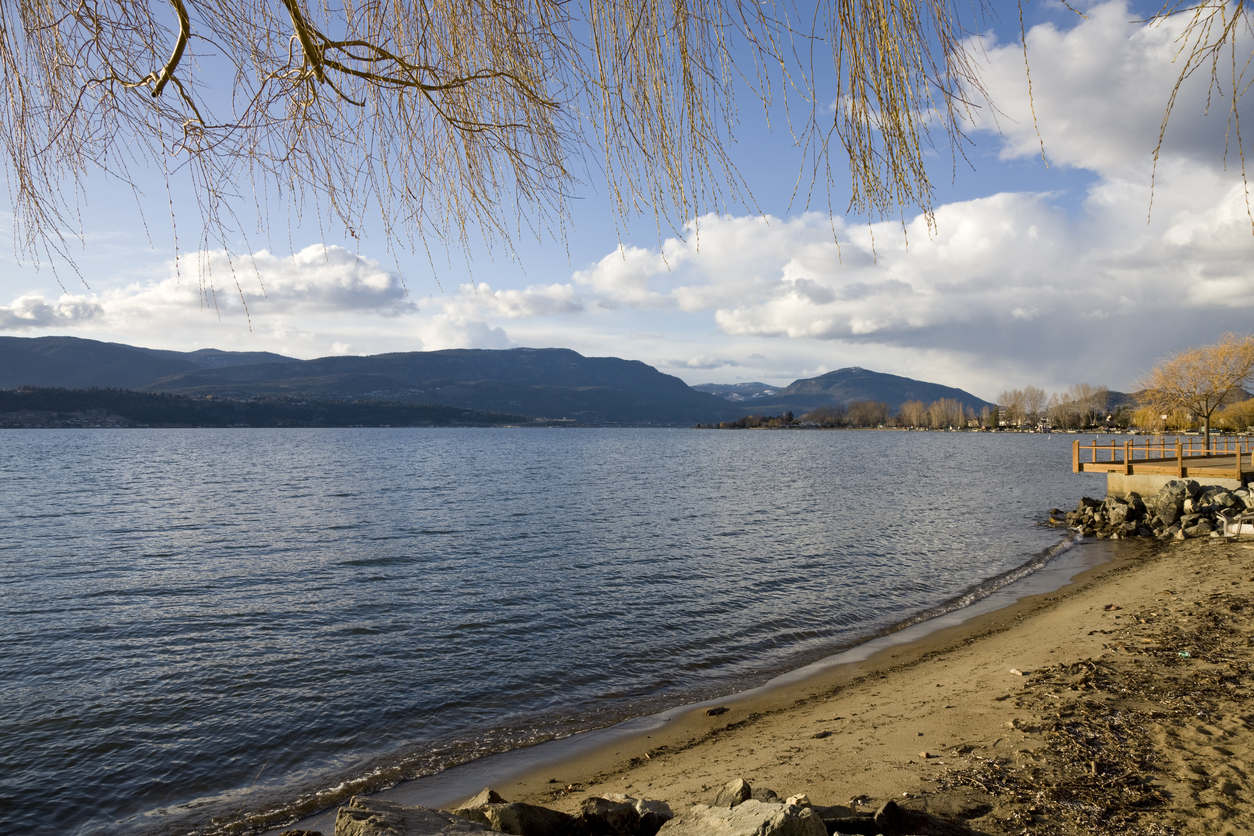 Okanagan Lake, Kelowna
Location: https://bit.ly/2mdeo9C
Fun Factor: Sun, beaches and boating – Okanagan Lake has it all! The lake itself has 30 beach areas, and the average water temperature in July ranges from 19 degrees Celsius to 23 degrees Celsius. A perfect place to cool off on a hot day!
Amenities: Many of the beach areas are equipped with playgrounds, concession stands and bathrooms.
Eva Lake, Revelstoke
Location: https://bit.ly/2KPvdpX
Fun Factor: You'll have to hike for a bit to get into Eva Lake, located inside Mount Revelstoke National Park, but once you're there it'll be a sight to behold! The hike is about 14 kilometres and moderately difficult, but you'll be hiking through sub-alpine terrain and the view alone is worth it, never mind the refreshing dip in the turquoise-coloured waters of Eva Lake.
Amenities: There is a shuttle available, but other than that there isn't much in the way of amenities available to you inside the park and along the trail. The town of Revelstoke is used to tourists and adventure-seekers, so there you'll find hotels, motels, restaurants and stores for your convenience.
Shuswap Lake, Salmon Arm
Location: https://bit.ly/2L57Esx
Fun Factor: Shuswap Lake is a popular location, offering camp sites, beaches and beautiful, clear water that's perfect for swimming.
Amenities: Shuswap Lake is only a few blocks from the town of Salmon Arm, the largest urban centre in the Shuswap region. Once you're done being a beach bum for the day, Salmon Arm has plenty to offer, such as shops, restaurants, galleries and theatres, as well as walking and hiking trails, a stunning wharf and so much more. While Shuswap Lake is a major attraction, you'll want to plan your stay in Salmon Arm to take advantage of everything this area has to offer.
Jones (Wahleach) Lake, Hope
Location: https://bit.ly/2mfdERB
Fun Factor: Located between Hope and Chilliwak, this beach offers excellent swimming and fishing opportunities, with beautiful mountain views everywhere you look. Plan your trip and stay a while, since there's various camping opportunities at the lake, as well as hiking, mountain biking and backcountry exploration to make this a trip to remember.
Amenities: There are two main campsites along Jones Lake, each with several camping pads, fire rings, toilets and picnic tables. You'll have to bring in your own drinking water. Located 42 kilometres east of Chilliwack, shops, restaurants and other activities are not far away.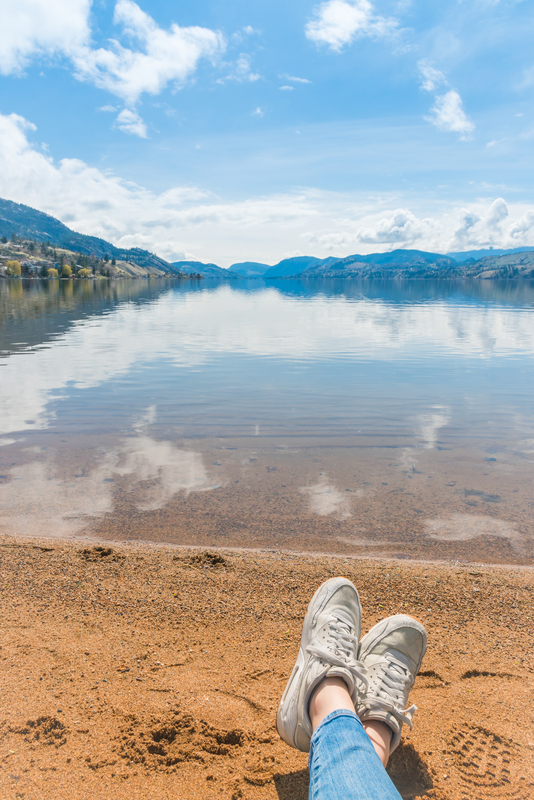 Skaha Lake, Kaleden
Location: https://bit.ly/2zGsaeK
Fun Factor: While this lake is small, and a bit out of the way, it'll be worth the drive. The beach is beautiful, and the water is warm.
Amenities: Kaleden is a small town with much to offer. Not only is the town home to vineyards and orchards, a must-see (and must-tour) for your trip, Skaha Lake and the surrounding beach areas offer basketball courts, tennis courts, beach volleyball nets and two concession stands. There are slides available for kids, and a treed, grassy area to get out of the sun. Plan your stay so you can explore as much of the beach and this historic town as possible.
Mara Lake, Sicamous
Location: https://bit.ly/2upOanW
Fun Factor: Mara Lake is popular with boaters, and there's no shortage of swimming spots along the shore. Located just south of Sicamous, Mara Lake's southeast side is in Mara Provincial Park. This is a day-use park only.
Amenities: Everything for your convenience is located in nearby Sicamous, such as hotels, restaurants and shops. Mara Lake Provincial Park is equipped with a boat launch, picnic areas and pit toilets.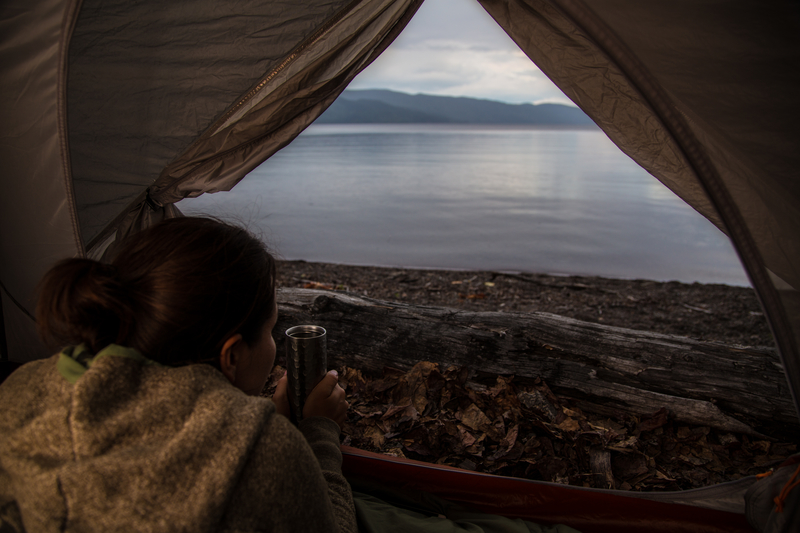 Babine Lake, Granisle
Location: https://bit.ly/2zALVnD
Fun Factor: Touted as the longest lake in BC, you'll have to travel far to the north to reach this beautiful location. Granisle is a small lakeside town with a lot of history – in 1971, copper mine workers discovered a partly articulated skeleton of a Columbian mammoth, estimated to be about 34, 000 years old. If you want to get away from it all, you want to come to Granisle and Babine Lake.
Amenities: Tourism is a main staple for Granisle these days, and as such they're equipped for visitors. You'll find spots to park your RV, resorts and lodges for those looking for accommodation, as well as the Granisle General Store and the local museum. There's lots to see and do in this area, away from the hustle and bustle of the larger centres.
Sooke Potholes, Vancouver Island
Location: https://bit.ly/2zyVCD5
Fun Factor: This natural pool is a local favourite in the summer months, and it's a unique spot such as you're unlikely to find anywhere else. With plenty to see and do in the area, the potholes provide a great place to cool off.
Amenities: Located near the town of Sooke, there's conveniences of all kinds for swimmers – hotels, restaurants, shops and much more. Plan a stay in the area, and the potholes will be a great addition to any trip.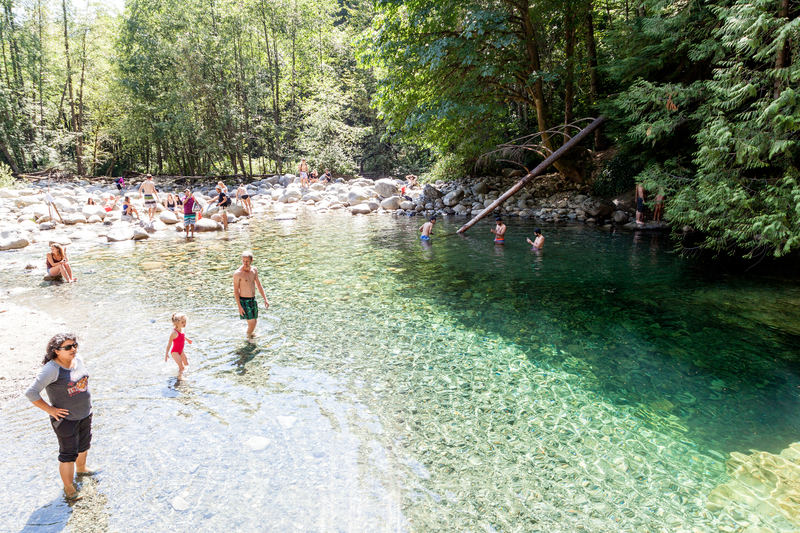 Lynn Canyon, North Vancouver
Location: https://bit.ly/2LeFdFr
Fun Factor: The swimming holes at Lynn Canyon Park can be chilly, but that makes them even better on those hot summer days. Lynn Canyon Park stretches 617 acres, and the locals know this as a great place for hiking and picnicking, as well as taking a refreshing dip. Be sure to cross the suspension bridge and visit the Lynn Canyon Ecology Centre.
Amenities: Lynn Canyon is located east of North Vancouver, and you can even get to it by bus. While there aren't many amenities within the park itself, you aren't far away from hotels, shops, restaurants and other amenities. If you've come for a stay in North Vancouver, make Lynn Canyon a must-see on your list.
Cultus Lake, Chilliwack
Location: https://bit.ly/2NcJvO3
Fun Factor: Cultus Lake has everything you want and need in the ultimate beach vacation. The sandy beaches are beautiful, and you can also enjoy the Cultus Lake Waterpark, golf courses, boat rentals, hiking trails and so much more. You won't be bored on this vacation!
Amenities: This is a popular vacation destination, and the area is not lacking in conveniences. You'll find a wide variety of accommodations, as well as restaurants, and you're not far from shops and boutiques.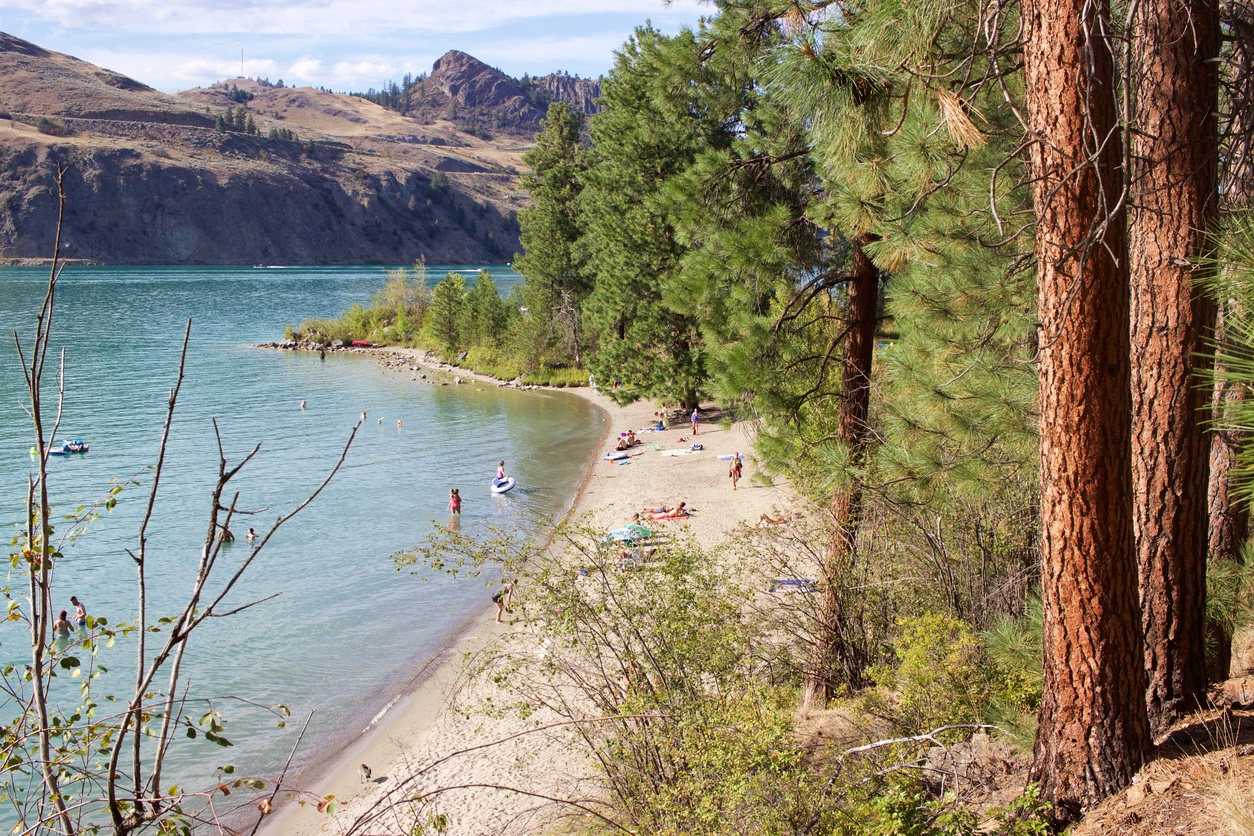 Juniper Bay, Vernon
Location: https://bit.ly/2mbHHcJ
Fun Factor: Located in Kalamalka Lake Provincial Park, this beach is absolutely beautiful and just steps away from Vernon. You'll find a wide variety of wildlife and flora here – no wonder it's one of the most popular swimming locations in the area!
Amenities: Kalamalka Lake Provincial Park is equipped with several picnic areas and pit toilets. There's also access to boating (including wakeboarding and waterskiing), cycling, hiking, fishing and wildlife viewing. Being so close to Vernon, campers or visitors to the area have easy access to hotels, restaurants, shops and more.
Looking for more of BC's Best Swimming Holes? Check out the Summer Issue of British Columbia Magazine, available on newsstands now. Or click HERE to purchase.