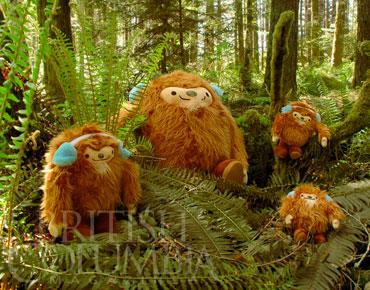 Scrimp or splurge: Capturing Quatchi
He's big, he's hairy, and, according to his press bio, he loves hockey and dreams of being a star goalie. Quatchi, the clumsy lug with the blue earmuffs, is far less elusive than your average sasquatch.
Merchandise bearing his likeness and that of his fellow official Olympic mascots—Miga, the sea bear, Sumi, the winged animal spirit, and Mukmuk, their marmot sidekick—is being scooped off store shelves well in advance of the 2010 Winter Games.
"The reaction to our mascots has been great," says Dennis Kim, licensing and merchandising director for the Vancouver Organizing Committee for the 2010 Olympic and Paralympic Winter Games. Kim says no single mascot has emerged as a clear favourite—yet.
Organizers expect that official Olympic souvenirs— from mascot memorabilia to salad servers, neckties, and coins—will generate close to $54-million in revenue for the Games, with sales kicking into high gear this Christmas.
If you're set on cuddling Quatchi, the plush toys range from about $10 for an 11.5-centimetre-tall keychain version (not pictured in our forest scene) to $350 for the nearly one-metre-high giant Quatchi.
Info: (www.vancouver2010.com/store).
—Jenny Manzer
World's biggest potlatch
Their young faces are set with determination. They are some of Canada's finest First Nations athletes, and they are gunning for medals in the Vancouver 2010 Olympic and Paralympic Winter Games.
A poster series featuring these athletes is aimed at First Nations youth. Accompanying the photograph of Wet'suwet'en snowboarder Chelsie Mitchell, who grew up in Moricetown, British Columbia, is the slogan: "Find your freedom in sport." Many young people are doing just that. The province's First Nations Snowboard Team has grown from 10 members to 180 in just five years.
The Four Host First Nations Society, which helped create the posters, is made up of the Lil'wat, Squamish, Musqueam, and Tsleil-Waututh nations, who will welcome the world to their traditional West Coast territories in 2010. The society coordinates all activities relating to First Nations and the 2010 Winter Games, including economic development; promoting culture and sport; and exploring potential for revenue. While indigenous peoples have played a role in past Olympic Games, the intrinsic involvement of the First Nations in 2010 is unprecedented.
In downtown Vancouver, visitors will be invited to share First Nations culture at the 2010 Aboriginal Pavilion, which combines the technical (a giant multimedia sphere projecting images inside and out), with the traditional (a 280-square-metre Coast Salish longhouse). As well, some $2-million has been invested in an exhibition of First Nations artwork in each of the 15 sport venues of the Winter Games. The program will showcase 140 pieces from emerging and established artists, including 35 from B.C.
Tewanee Joseph, executive director of the Four Host First Nations, says they plan to carry on the Four Host "brand" after the Games—and work on rebranding Canada's First Nations overall. Their far-reaching mission, he says, is to change the way First Nations across the country view the world, and vice versa.
But first, they plan to host the biggest potlatch ever in 2010, says Joseph, who is of Maori and Squamish Nation ancestry. "Potlatching means that everybody's welcome, and everyone should feel comfortable when they come to Vancouver and B.C."
Info: (www.fourhostfirstnations.com).
—Jenny Manzer
Counting on our champions
2,500: Number of athletes expected to compete in the Vancouver 2010 Olympic Winter Games; in the Paralympic Winter Games: 1,350.
80: Estimated number of countries represented by Olympic athletes; by Paralympic athletes: 40.
258: Number of athletes in the first Olympic Winter Games in Chamonix, France, in 1924—11 women, 247 men.
130: Kilometres per hour an alpine skier may travel downhill.
19.1: Weight, in kilograms, of an Olympic regulation curling stone.
45: Diameter, in millimetres—comparable to a golf ball—of the smallest target a rifle-toting biathlon competitor must shoot from 50 metres away.
5: Units of G-force a luge racer may experience on a downhill run.
2,450: Number of blood and urine samples to be collected in 2010 for anti-doping tests.
2.3 million: Estimated attendees at the 2010 Games, plus 10,000 media members and 14,000 volunteers.
615: Official medals the Royal Canadian Mint will produce for 2010 Olympic athletes; for Paralympic winners: 399.
70: Minimum diameter, in millimetres, of Olympic medals; 2010 medals will be 100 millimetres.
6: Amount, in grams, of pure gold that must be used to guild each first-place Olympic medal; silver core must be at least 925 grade.
—Shanna Baker
The Bizarro Winter Games
The 2010 Winter Games will feature 20 rigorous sports, from snowboarding to ice sledge hockey, skeleton to biathlon—all strictly regulated. In the spirit of fun, we propose the following alternative events, drawn from real winter pastimes in British Columbia.
Skijoring: The athlete dons skis and hitches up to one or more sled dogs (or mules, horses, or snowmobiles), which race across snow and ice pulling the participant behind. Featured in Elkford's annual sled-dog derby, January 15 to 17, 2010 (www.tourismelkford.ca).
Igloo building: It takes Olympic-calibre muscle and endurance to cut 75 10-kilogram blocks from a dense snowbank and assemble them into a structure large enough to sleep three. Look for the Inuit to excel in this event.
Hangboarding: A hang gliding-snowboarding hybrid. Each athlete, suspended in a body harness rigged above a snowboard platform, flies down the slopes in a prone position. Inventor Don Arney of Saltspring Island expects the hangboard (www.hangboard.ca) soon will be common at ski resorts.
Sno-limo: Who would get the medal: the patron comfortably reclined up front, or the chauffeur guiding the glorified toboggan downhill? The Sno limo (www.sno-limo.com) is now in service at Big White, Grouse Mountain, and Whistler Blackcomb resorts.
Snow baseball: Baseball and softball may have been cut from the Olympic Games roster, but surely there's room for snowball, a tradition of Prince George's annual winter festival (http://snowdaze.ca). Wigs, costumes, long underwear, and post-game libations are believed to improve performance.
—Shanna Baker
Tracking the impact of the Games
Just as elite athletes carefully track their performance, diet, and physiological changes, University of British Columbia researchers will chart the effects of the Vancouver 2010 Olympic and Paralympic Winter Games on British Columbia. The research team, led by Bob Sparks and Rob VanWynsberghe from UBC's human kinetics department, will use 126 indicators to assess the socio-cultural, economic, and environmental impact of the 2010 Winter Games on Vancouver and Whistler the Host City and Host Mountain Resort—as well as on the province, and the nation.
The Olympic Games Impact report they produce is the first to be mandated officially by the International Olympic Committee, and will be completed in four stages. The first stage, completed by the Fraser Basin Council, has set the baseline criteria for assessment, including details such as the current state of water quality and existing road congestion. The final instalment will be submitted in 2013. Sparks says the report is the IOC's way to assess the impact of the 2010 Games objectively, and avoid disasters like the Montreal's 1976 Summer Games, which left taxpayers with decades of debt.
"Nobody wants to go there," says Sparks. "This is about being really responsible socially, economically, and environmentally."
Researchers will gauge everything from how much solid waste the Winter Games produce, to the impact on the real-estate market, to reported complaints about racism or discrimination during the Games, and even whether certain sports increase in popularity afterward. Their first major challenge is collecting the raw data; the second will be determining which changes over time can be attributed to the Games.
Sparks is well aware that their report will be a watermark: "Our city, region, and country are part of Olympic history."
—Jenny Manzer