The original Watersprite Trail wasn't designed for the masses. Rough, rooty, muddy, steep, at the end of a rough logging road and cutting through a sensitive bog, it only attracted the hardy few. Mostly rock climbers and mountaineers bound for the granite spires standing guard around the perfect alpine tarn.
But Chris Ludwig saw Watersprite's potential, both as a destination and a solution. It had everything people look for in a mountain hike: close to an urban centre; a picturesque destination; short enough for day trips but peaks and ridges to explore for longer stays; plenty of mountain views on the approach; and room for a campground and hut. Plus, Watersprite, a 45-minute drive east of Squamish—itself just 45 minutes from Vancouver—could be just what the Sea to Sky region needed to relieve pressure on the other mountain hikes nearby.
"A lot of local areas in Garibaldi Park are feeling a lot of pressure from overuse," says Ludwig, the trail crew boss and president of the British Columbia Mountaineering Club. "The best solution for overcrowding is dispersal."
By some estimates interest in hiking and outdoor activities in the Lower Mainland is growing at twice the rate of population, at least six percent compared to about two percent population growth. At the same time Destination BC, the provincial tourism marketing organization, is selling BC with pictures of wilderness, mountains, ocean and wildlife. Six million international visitors came in 2018, an increase of 6.7 percent from 2017. Social media, particularly Instagram, is driving many of those people to the same super-scenic places.
It all adds up to crowded lakeshores, lineups to snap waterfall selfies, jammed parking lots, overflowing outhouses and garbage cans, campsites full all summer long, eroding trails and the environmental degradation from too many people tromping around too small an area. In a word, many of the popular hikes in the Sea to Sky region are suffering from overtourism.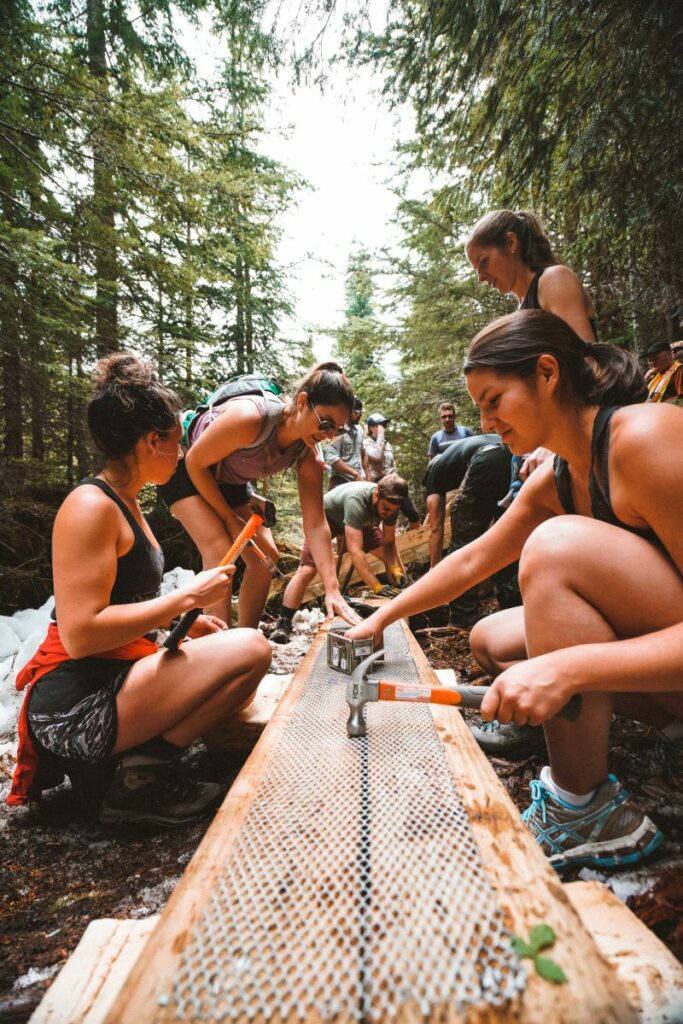 A term only coined in the last few years (and Oxford Dictionary word of the year in 2018) "overtourism" describes situations where locals or visitors feel that too many tourists are having a negative and unsustainable impact on life in the area, quality of the visitor experience or the environment. It's going on all over the world. Examples range from hours long lines at Venice attractions, tiny Greenland towns inundated by cruise ship tourists, Patagonian trails falling apart, Banff parking lots full by 6:00 a.m. and Machu Picchu over-run and degraded.
In BC, overtourism is mostly associated with wilderness areas feeling anything but. That's not necessarily a problem in itself, except that the number of places with the parking lots, outhouses, sturdy trails and the resilience to sustain growing numbers of users hasn't really changed since the 1990s. The number of people using the backcountry may be growing, but the budgets to maintain, improve and expand the infrastructure they're using to get there aren't. The burden to keep up is falling on the shoulders of a mostly anonymous army of volunteers and they are starting to feel the pressure.
"At this point we're all really frustrated," says Barry Janyck, the executive director of the Federation of Mountain Clubs, an umbrella group representing 5,000 members of hiking and climbing clubs across the province. "Volunteers are ready to throw their hands up and not do it anymore."
The dichotomy between attracting visitors and building and maintaining the infrastructure they use is Janyck's biggest complaint. Destination BC is the province's tourism marketing department and they do a stellar job of selling "Super Natural British Columbia." With $51.5 million of funding in 2018, they helped attract a record 6.1 million international visitors in 2018, a continuation of a five-year trend in increased tourists, according to Statistics Canada. International, domestic and regional travellers generated $18.4 billion in BC last year. That's good news for Destination BC's budget: performance determines part of its annual funding increase.
Meanwhile, BC Parks runs 1,033 provincial parks and protected areas with an annual budget of $40 million in 2018-2019. That's $1 million less than the budget in 2001, when it ran fewer parks, campsites and trails. In that same time, the province's population increased by 22 percent and park use increased from 20 to 25 million visitors per year between 2014 and 2019. (A quarter of park users are non-residents.)
Recreation Sites and Trails BC manages most of the trails and campsites outside of BC's parks, and its 2017 budget was $7 million.
Neither is enough money to maintain the trails, parking lots, outhouses and campsites that are already there, says Janyck. It's definitely not enough to expand the number of campgrounds and trails, like the province is doing. And it's certainly not enough to deal with increasing traffic.
"The government is using our natural capital as an ATM," says Janyck. "They keep milking it, but the golden cow is running dry. We're dealing with a depreciating asset. I think we're going to see a decline in visitors because the parks are falling apart."
The only thing keeping that from happening already are volunteer groups. Take Strathcona Provincial Park on Vancouver Island, the oldest park in BC. BC Parks only has enough budget to maintain a handful of the most popular trails and campsites and it struggles to even do that. The Comox District Mountaineering Club maintains more remote and challenging trails, like the one that leads to the iconic Comox Glacier.
"They fill in the gaps and get to the spots we can't because of budget constraints," says Andy Smith, Strathcona's area supervisor. "Their name is all over the park." Without the CDMC's annual work parties, many trails and backcountry campgrounds would disappear into the rainforest.
The same is true in almost every park and rec site. BC Parks or RSTBC often provide some funding and equipment and the clubs provide more money, materials and labour. It's money well spent.
"I can build a bridge for $50 and a couple of logs," says BCMC's Chris Ludwig. "For BC Parks to build it to code it would cost $50,000. Ours might be more rustic, but it will last forever."
The volunteer groups love working on the trails, but increasingly they're dealing with more than just callused hands. Clubs that manage trail networks are now part of meetings with First Nations, commercial businesses, property developers and other stakeholders.
"We're being given responsibilities way above our pay grade and way outside our expertise," one trail advocate told me. "These sorts of meetings should be the responsibility of provincial planners, but they can't keep up." Janyck says there are two planners responsible for 40 parks in the Sea to Sky region.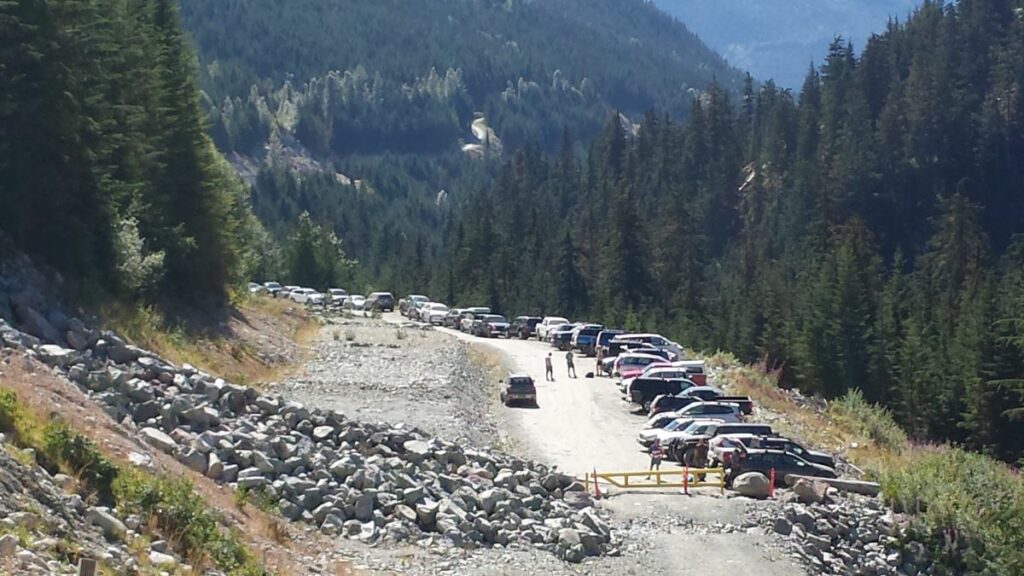 Social media accentuates the funding woes. A decade or two ago, finding a hiking trail required a friend or a guidebook. The best spots spread by word of mouth. Now websites and apps, like TrailForks and Instagram, do the job exponentially faster. They've spawned bucket list travel: getting to iconic destinations and then snapping a selfie. The trend drives crowds of people to a few key, super popular spots.
For example, the number of people visiting Joffre Lakes Provincial Park, north of Whistler, jumped from 58,000 in 2008 to 170,000 in 2017 after its turquoise lakes became an Instagram darling. People line up to get their picture taken on one particular floating log. Joffre is so popular the parking spills out onto the highway, the outhouse at the trailhead can't handle the masses and garbage and environmental damage is a problem. BC Parks has responded with dog bans and parking tickets, but neither has made a dent. It got so bad that Destination BC stopped promoting the area all together. It's a strategy they employ wherever areas turn into "hot spots," says Kristen Learned, a communications specialist with the organization.
"To help ensure the content we promote online doesn't drive traffic to areas with capacity challenges, we work closely with tourism industry partners to identify areas of the province and times of the year where there is both available tourism product and capacity for visitors," she wrote in an email. "These actions support our corporate goal of leading Canada in growth of overnight visitor expenditures (value rather than volume in popular areas), and our goal of ensuring the seasonal and geographic dispersion of travellers, so that all areas of BC can benefit from the economic power and social and cultural benefits of tourism."
The challenge comes in convincing people that somewhere else is going to be better than the spot they saw on Instagram and have set their heart on visiting. And dispersion can have its own problems, says Pate Neumann. The grad student at Thompson Rivers University in Kamloops interviewed 21 trail managers for his master's thesis on how technology is changing how we use the backcountry. He found that trail managers can use the same technology that contributes to overcrowding to communicate where the busy spots are and highlight good alternatives. But first, those good alternatives have to be ready for the crowds, with adequate parking, facilities, durability and a maintenance plan. "Or you just move the problem," he says.
With little investment in backcountry infrastructure in recent decades, lesser-known alternatives, especially ones close to urban centres, don't exist, says BCMC's Chris Ludwig. Between Horseshoe Bay and Whistler, the only hiking trails built since the 1990s require a lift pass. The new Watersprite Trail could relieve some of the pressure on other trails. After 25 years of trail building with the club, Ludwig knew a new trail would be instantly popular. He knew he'd have to build it to handle 200 hikers a day.
It took him years of lobbying and permitting, but finally in 2014 work began on the new trail. Dozens of volunteers spent countless hours shovelling dirt, moving rocks, carrying lumber, chainsawing and hammering boardwalk. The 8.6-kilometre trail opened in 2016. The BCMC built a hut and a campground near the lake, while volunteer crews continued to smooth out the rough spots, adding stairs up steep sections and boardwalks over bogs.
Last summer Rec Sites and Trails put a motion sensor counter on the trail. It recorded 1,400 hikers in two weeks. The number didn't surprise Ludwig. He's met people from around the world at Watersprite. "They came to hike a brand new trail. That's how rare it is," he says. "It shows that if you build it they will come."
It's more proof that governments at all levels need to increase funding for parks, rec sites and trails. The Canadian Parks Council says every dollar invested in parks generates $8.42 in spending. That's often not in the park itself, but at gas stations, restaurants and stores on the way to and from the trail. In other words, increasing funding to BC Parks and RSTBC would be good for the economy and help with the overcrowding problem.
But Ludwig thinks empowering and educating hikers, mountain bikers and other trail users is a bigger part of the solution. The importance of packing out garbage and leaving no trace, sure, but even more, an appreciation of what it takes to build and maintain a trail. Most hikers don't give it a thought as they march through a thick stand of trees, enjoy a well-timed view point, or stomp above the mud along a boardwalk. But when they pick up a sledgehammer, drill a bridge deck or dig out a ditch with a Pulaski, something changes.
"They don't have to do a lot of work before you see a shift in their thinking," Ludwig says. "There's a satisfaction and an appreciation. You know they'll never hike another trail the same way again."
And then he throws down the challenge: "If everyone put in one day of maintenance for every 10 they spent on the hiking or biking, we'd have a world class trail network again."
How to get Involved
You want to put in sweat equity on the local trails. But, where to start? The best way to get involved is with a local club, be it hiking, mountain biking, climbing or "friends" of your local park. Find groups online or by asking at a local shop. Not all will do trail maintenance, but those that do are always looking for help. They'll supply the tools, materials, projects and give you direction on how to swing a pulaski or dig a drainage ditch.
Check the group's website or Facebook page for upcoming trail maintenance events or contact the club directly. Then sign up, show up and contribute. Don't forget your gloves.
Travel Alternatives
BC is a big place with plenty of amazing destinations. So, you could reserve your spot months in advance or stand in line, or you can seek out the path less travelled.
Instead of Bowron Lakes, go to the Turner Lake Chain
The hype: The 11 lakes of the Bowron Lakes Canoe Circuit make a perfect rectangle through the Cariboo Mountains with reasonable portages, plenty of wildlife and snow-capped mountains around almost every corner. The only reason it isn't slammed is that the park limits the number of canoeists that can start every day.
The alternative: The scenery at Turner Lake is arguably better. The fishing certainly is. The portages are shorter. Hunlen Falls is worth the trip. Plus, while you'll never feel really alone on the Bowron, you might see more grizzly bears than people and have campsites to yourself on the Turner Lake Chain.
Instead of the West Coast Trail, do the North Coast Trail
The hype: The West Coast Trail deserves its reputation as one of the best backpacking trips on earth. It's got massive old growth rainforest, intricate coves, towering sea cliffs and beachside campgrounds. But you need to reserve your place in paradise and you will rarely feel alone.
The alternative: The North Coast Trail runs across Vancouver Island's northern coastline from Shushartie Bay in the east to where it joins with the Cape Scott Trail. It's got all the mud, surf and tide pools of the WCT, plus a water taxi start, way more wildlife and a rugged, on-the-edge feel.
Instead of Joffre Lakes, visit Floe Lake
The hype: This province is blessed with plenty of mountains and glaciers and lakes, but rarely is it as easy to hike from a paved road to a place where they all meet as Joffre Lakes. The picturesque backdrop of turquoise tarn with a snow and ice backdrop has made this place crazy busy.
The alternative: Yes, Floe Lake is on the other side of the province in Kootenay National Park. And yes, it is a longer, more strenuous hike, but it ends within view of towering rock walls with small glaciers calving ice chunks right into a beautiful alpine lake. It's worth the trip to the Rockies to take in the spectacle.
Instead of the Smoke Bluffs, head to Quadra Island
The hype: Squamish's immaculate granite comes in every variety a rock climber could desire: grippy slabs, protection swallowing cracks, intricate face climbs, multi-pitches, overnight aid climbs, one-pitch crags, fields of boulders and even alpine epics. Despite steady development, easy access means frequent line ups.
The alternative: Basking in the sun and spread through the forest overlooking the northern Strait of Georgia, the numerous crags on Chinese Mountain on Quadra Island are an idyllic place to get pumped. Local climbers developed the crags only in the last five years, but the climbing, on grippy basalt, includes everything from 5.5 sport climbs to multi-pitch tests and few others to share it with.