With the days growing longer, and temperatures gradually warming, spending more time outside is on many people's to-do list. For my family, we've taken advantage of Vancouver's relatively balmy temperatures (for Canada) to add in a neighbourhood walk after our workday. Earlier in the winter it was fun to explore the nearby streets and check out all our neighbour's holiday lights. But now­­ that the Santas have been packed away and most of the lights have gone dark, the biggest evening highlight happens when the sky takes on a rosy sunset glow.
Even though we night ski, it hadn't occurred to me to take our evening walk much further afield than a neighbourhood or two. Then I caught sight of Cypress Mountain's illuminated snowshoe trail while night skiing at Hollyburn Ridge. The magically lit trail made the wintery woods appear more inviting than ever, and at 2.5 kilometres (with shortcuts for smaller legs), the loop is just the right length for a leisurely stroll.
Cypress launched Lights to the Lodge last year, but the pandemic meant many of us haven't had the chance to discover it yet. Lit by thousands of twinkling lights—the gentle trails meander through snow-covered forests of hemlock, cedar and fir, over snow bridges, across frozen rivers and around First Lake before arriving at the lodge.
We're not skilled snowshoers, but the trail is easy enough that even our first timer got the hang of her shoes quickly. While the path seemed compressed enough in places that you could use snow boots, we learned that the benefit of snowshoes is not just for the walker—the wide base of the snowshoe can keep the snow from compacting and damaging the plant life underneath the trail. So no regular footwear is permitted.
After looping past the ancient cedars at First Lake we opted to make an evening of it by having dinner at the lodge. If you've never been, Hollyburn Lodge is a delightful place. Originally built on First Lake in 1926, Vancouverites have been creating memories here for almost 100 years. One of my first dates with my husband Evan was skiing at Hollyburn and after getting her first skis at age two, our daughter Maia joyfully told everyone she encountered that she could ski all by herself, all the way to the lodge.
The quirky old lodge underwent a thoughtful rebuild that paid homage to its history and reopened in 2017.  In normal times it's packed with hungry skiers and snowshoers who descend on the building for its hearty meals and boisterous music nights.
This year Covid-19 restrictions means it's less crowded, but the food is still yummy and the staff is still friendly. After burgers and beer we hit the trail for the walk back out. Fresh fallen snow and glowing lights soon brought out the playfulness in my family. We tossed a few snow balls, made snow angels and posed for photos before exiting the fairytale trail.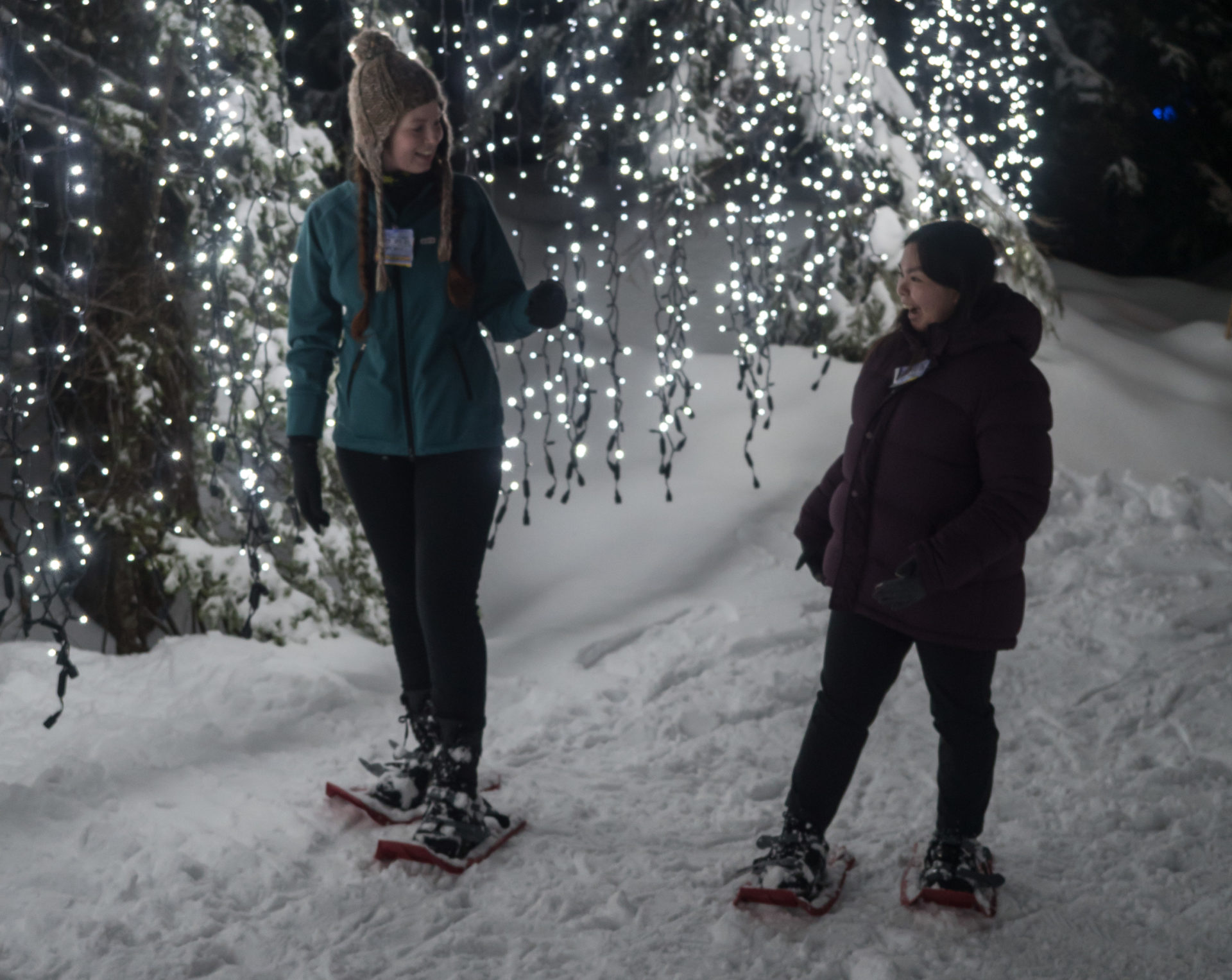 WHEN YOU GO
Where: Cypress Mountain Nordic Area
Time: Open from 5:00 p.m. to 9:30 p.m.; food and drink available until 9:00 p.m.
Tickets: Book online; $36 for adults (includes snowshoe rental)
Lights to the Lodge at Cypress Mountain is just one of several regional snowshoe trails or hike that are better after dark. You can also check out:
Grouse Mountain: Full Moon and New Moon Snow Shoe Tours are 2.5-hour-long guided walks for ages 16+ that take you along mountain trails by headlamp.
Sun Peaks: Moonlight Snowshoe and S'mores. This guided tour, suitable for those 8+, takes you 1 kilometre through the forest to a fire pit where you'll enjoy s'mores and hot apple cider before looping back down to the village.
Dog Mountain, Seymour: Self-guided sunset hike. This popular trail is perfect for experienced hikers who want to try a night hike. Head out at least an hour before sunset to ensure you catch the best views. * Hike with others and be sure to let someone know where you are going and when you'll be back.
Vallea Lumina: Whistler's illuminated winter walk. This enchanting 45 minute night walk takes place in a glimmering forest filled with magical sights. It's perfect for kids and the winter walk is shorter and less hilly than the summer version.
Mt Seymour: Twilight Snowshoe Tour. Walk through the snowy mountain trails by headlamp. Suitable for those 13+, the 1.5-hour tour concludes with a cup of hot chocolate.