It's become one of the most recognized photos of the Second World War, and immortalizes the men that marched away to protect our freedom and the families that cried as they left.
Wait For Me, Daddy is a photo that was taken by Claude P. Dettloff, of The Province newspaper, on Oct. 1, 1940. In the photo, the British Columbia Regiment (Duke of Connaught's Own Rifles) were marching down Eighth Street, at the Columbia Street intersection, in New Westminster, BC. While Dettloff was getting ready to take a photo of the troop, a small boy of just five years old, Warren Bernard, broke away from his mother's grasp and ran towards his father, Private Jack Bernard, who was marching in the line.
The photo was featured on the front page of The Province the next morning, and was eventually picked up by Life magazine, Liberty, Time, Newsweek and the Reader's Digest, as well as newspapers everywhere. Then it hung in every classroom in BC during the war and was used to promote the sale of War Bonds. The photo is now on display at the Canadian War Museum.
After the photo was taken, Private Bernard was shipped to a training camp in Nanaimo, and then the troop headed to Europe. Warren's father came home from Europe in October 1945, but his parents split up a few years later.
In an interview for The History of Metropolitan Vancouver, by Chuck Davis, Warren said he doesn't remember much from the day the photo was taken. But he does remember waking up the next day and seeing his face on the front page of the newspaper, and knowing he was suddenly famous.
"The picture went everywhere," Warren said.
Today, Warren is a retired businessman living in Tofino.
In 2014, sculptors Edwin and Veronica Dam de Nogales created a bronze statue to commemorate the iconic photo, and it was unveiled in New Westminster's Hyack Square. Canada Post and the Royal Canadian Mint also released a stamp and $2 coin, respectively, to honour the event.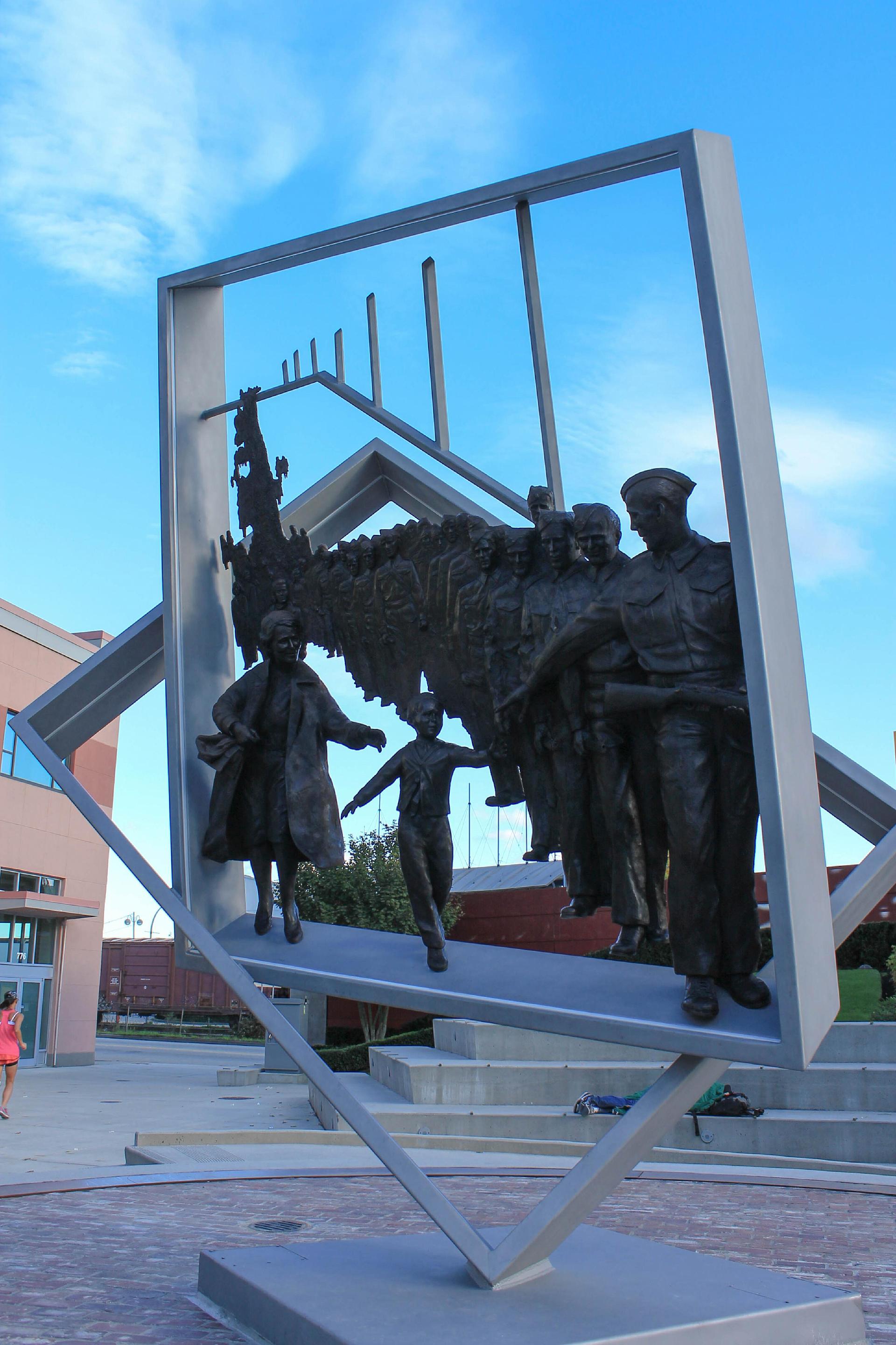 "I think for the Second World War, it is probably the most famous Canadian photo of the war," John Maker, a Second World War historian at the Canadian War Museum, told CTV News in 2014. He said the photo touched a public nerve at the time, and sums up the war experience. The photo showcases pride, sadness and an anxiety of what's coming next, and is symbolic of the link between soldiers and the home front.
This Remembrance Day, and every day, please remember those who fought for our freedom.