When opening their first farmers market in B.C.'s biggest city in July 1995, nervous organizers didn't know if they'd sell more than a bean or two.
But day one lured a handful of vendors and 500 curious shoppers—a seed that's since sprouted into seven weekly summer gatherings throughout the city, all under the Vancouver Farmers Markets (VFM) banner.
"Saturday's Trout Lake Market is our biggest, with around 55 vendors and 6,000 visitors on its busiest days. But Kitsilano isn't far behind," says VFM operations manager Roberta LaQuaglia.
It's not all about large markets with big crowds, though. "Smaller markets like Kerrisdale and Mount Pleasant are our hidden gems. They're great for exploring neighbourhoods and meeting the locals," she says, adding that VFM's summer markets run from May or June into October.
Like a punnet of multi-hued heirloom tomatoes, each market has a distinct flavour. Yaletown's Thursday version attracts downtown workers; the West End's Saturday chapter sells the most baked and prepared goods; and Sunday in Kits is a walk-through cornucopia of organic produce.
Organics are part of an ever-changing menu of luscious B.C. fruits and vegetables dominating each market. "Early season is all about fresh-picked greens. And there's always a scramble when the strawberries, blueberries, cherries and peaches arrive," says LaQuaglia, adding that some farmers love pushing the boundaries of what we think the province produces.
That means vendors selling anything from B.C.-grown kiwi, edamame and turmeric to locally-cultivated fava beans or wild-foraged nettles and morels. And this summer—following provincial liquor law changes—there's a fully-stocked bar of regional booze available.
"Granville Island's Artisan Sake Maker will be at several markets. We'll also have B.C. wine, Vancouver-made spirits and beer from Bomber Brewing and R&B Brewing. Our maximum is three alcohol vendors per market and the idea is to show how you can pair these with our food."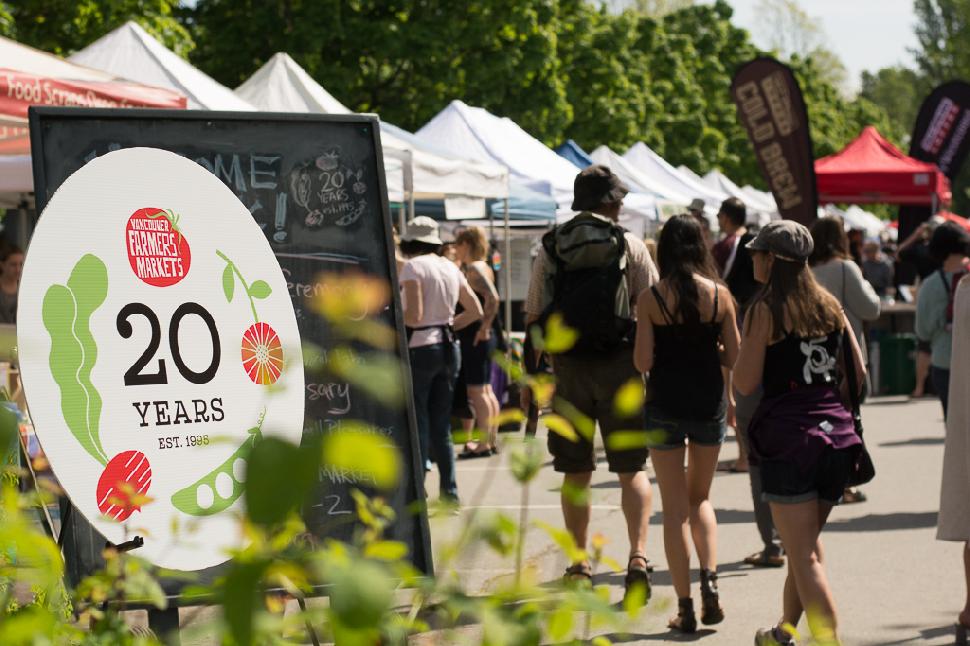 Cheese will no doubt be a pairing favourite, with popular producers Little Qualicum Cheeseworks, Salt Spring Island Cheese Company and Farm House Natural Cheeses from Agassiz bringing their curdtastic treasures to market. And for picnic planners, there will be plenty of bakery accompaniments to consider.
Purebread—with shops in Whistler and Vancouver—has been a runway success at the city's farmers markets in recent years, with giddy queues forming as soon as its aromatic walnut raisin and lavender rosemary loaves are unpacked. But while Purebread's secret is out, LaQuaglia points to what may be the markets' next big bakery star. "Beyond Bread has a great assortment of rustic artisan breads—they're definitely one to look out for this year."
They're not the only vendor worth pinpointing on VFM's website market maps. This summer sees first-timers selling everything from hand-pressed almond milk to vegan seed and nut cheeses. And if you're still hungry, Vancouver food trucks like Le Tigre, Kaboom Box and Creperie La Boheme—plus a busy busker line-up—add to the markets' festival feel.
With 450,000 annual shoppers, yearly vendor sales of $8.17 million and two additional winter markets that help producers sustain themselves year-round, VFM—celebrating its 20th anniversary this summer—has thrived since its tentative early days. But there's always room for more green shoots.
"We still take neighbourhood requests for new markets and we're always interested in setting up where there's a good location and a groundswell of support," says LaQuaglia. "But our mission hasn't changed over the years: we're still committed to being a force for healthy local farms and people."
If You Go:
Where: Seven summer locations: Kerrisdale, Kitsilano, Main Street Station, Mount Pleasant, Trout Lake, West End, Yaletown.
When: Most markets are Saturday or Sunday, with Main Street Station on Wednesday and Yaletown on Thursday. VFM's website has times and locations.
For More Info: eatlocal.org
Need to Know: Weekly winter markets are also held at Riley Park (Saturdays) and Hastings Park (Sundays).