Most people explore this iconic park at low elevations, but those who venture into thin air say the rewards are worth the risk.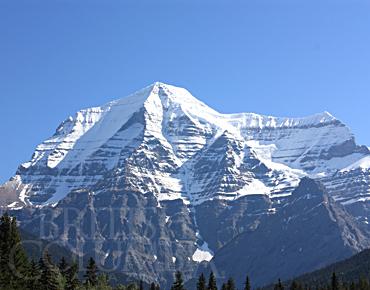 To many of us, Mount Robson is a natural roadside attraction. The Yellowhead Highway cuts under its nose and provides the perfect vantage point for marvelling at the 3,954-metre alpha peak of the Canadian Rockies. Thousands of people also camp, hike, and explore along its base each year. But Robson's icy crown is off limits to all but the most skilled mountaineers.
"[There] are mountains and mountains, and Mt. Robson is about nearly as impossible as they make them," stated George B. Kinney in a 1910 edition of the Canadian Alpine Journal. Kinney was a member of the first team to attempt Robson (in 1907). The group travelled for more than a month from Alberta to reach the mountain before bad weather turned them away. Fixated on ascending the peak, Kinney made numerous attempts and, in 1909, finally led novice climber Donald "Curlie" Phillips to the top, or close to it. Some suspect they didn't reach the true summit and credit famed mountaineer Conrad Kain with leading the first successful expedition. Kain and his party conquered Robson in 1913, the same year the surrounding park was established.
Any would-be mountain hero has to outsmart heavy snowpack, ice, crevasses, avalanches, and treacherous weather. "Mount Robson seems to be able to make its own weather," explains park supervisor Wayne Van Velzen, adding that the mountain is often shrouded by dense cloud and heavy precipitation.
Today, between 100 and 175 people a year attempt to summit. "The mountain is a magnet for those wishing to add a major North American peak to their résumé," says Van Velzen. In rare years when the conditions are good, most parties can reach the top. But, when the weather's foul, the success rate plummets to almost zero; with the overall success rate ranging from seven to 15 percent. One persistent climber attempted the summit 18 times before finally making it.
Veteran mountaineer and guide Barry Blanchard of Canmore, Alberta, has managed to crest Robson's highest point a dozen times, and in 2002, he even forged a new route. To Blanchard, this unique mountainscape is as aesthetically appealing as it is challenging."There's a traverse over to the summit feature, called the Roof, and that's where you start to deal with bizarre rime formations that kind of barricade and adorn the summit," he says, referring to a line of snow formations along the Emperor Ridge that stand up to 20 metres tall. "Immediately what you think of is a marching line of gargoyles. It's a really beautiful formation."
Like most legendary mountaineering destinations, Mount Robson has claimed victims. McBride local Glen Stanley recalls standing on the mountain in 1984 and seeing two distant figures above him, waving.
What he interpreted as a friendly salute could have been a call for help, as those climbers were never seen again. On recent expeditions organized by one of the deceased's brothers, Stanley has uncovered crampons, a sleeping bag, goggles, a shovel, a bivvy bag, a stove, and other gear, but no bodies. As the Robson glacier recedes, no doubt it will reveal other secrets.
True-blood climbers believe the reward of standing on Mount Robson's highest point is worth the risks involved in getting there. "It's so much higher than anything else around it…you get the great circumnavigation view from the summit," says Blanchard. "The summit itself is one of those gargoyles…and it's like standing on top of a giant piece of cotton candy made of ice."
Getting there
Mount Robson Provincial Park (www.bcparks.ca) is located in east-central B.C. near the communities of Valemount and Tête Jaune Cache, about a four-hour drive north from Kamloops on Highway 5 or a three-and-a-half hour drive east of Prince George on Highway 16.
To read about the other "Ultimate parks" see the Summer 2011 issue of British Columbia Magazine.