What to do in Harrison Hot Springs?
Located just over an hour from Vancouver, Harrison Hot Springs is a small, world-renowned resort town made famous by its geothermal hot springs.  The 1,500 person local economy is supported largely by tourism, and as a result there are plenty of ways to relax. Don't worry, Harrison isn't just spas and lounging in the sun; there are many great activities to stimulate your adventurous side, sights that charm, and delicious restaurants to indulge your taste buds.
Below are some of my favourite things to do in Harrison Hot Springs
Hot Springs
At the mention of Harrison Hot Springs, naturally the pools are the first thing that come to mind. There are two places you can experience the warm waters within the limits of Harrison Hot Springs.
If you want to venture off the beaten path, Harrison Lake is also home to two other natural hot springs. They are located near Port Douglas and at Clear Creek.
Harrison Hot Springs Resort & Spa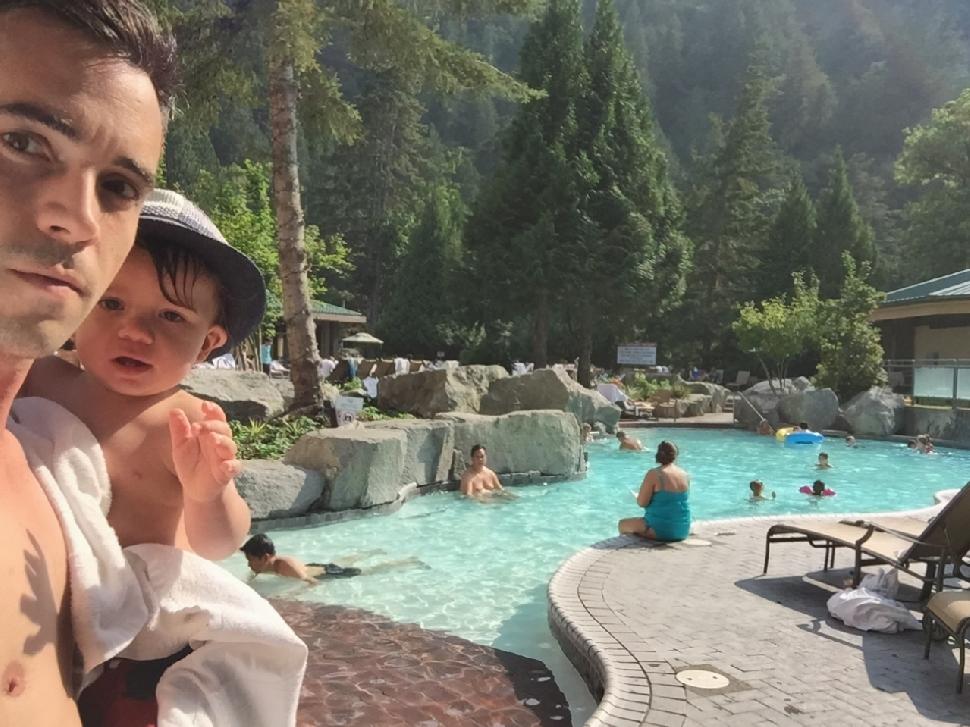 Address: 100 Esplanade Avenue, Harrison Hot Springs, V0M 1K0
Website: harrisonresort.com
About: The pools at Harrison Hot Springs Resort & Spa are fed directly by pumping hot spring water that has been cooled a comfortable temperature. (The water would otherwise scald swimmers!) There are five different pools to explore. Tots and parents will make best use of the wading pool, while families will love the full size outdoor pool. An adult only pool, indoor mineral hot tub and full size indoor pool round out the options. Harrison Hot Springs Resort & Spa is open year round, making it a popular and easy weekend trip.
Note: To use the hot spring pools at the resort you have to be a guest at the hotel.
Harrison Hot Springs Public Pool
If you aren't staying at the resort, the public pool is going to be the only way for you and your family to enjoy the hot springs in a safe environment.
Address: 101 Hot Springs Road, Harrison Hot Springs
Regular Hours:
Monday through Thursday 10:00 am – 8:00 pm
Friday 10:00 am – 9:00 pm
Saturday 9:00 am – 9:00 pm
Sunday 9:00 am – 8:00 pm
Admission (per visit):
Adult (age 15 – 64) $9.00
Child (age 5 – 14) $6.75
Toddler (age 4 and under) Free
Senior (age 65+) $6.75
Family (2 adults and 2 kids) $26.75
Harrison's Floating Water Park
Address: 100 Esplanade Ave, Harrison Hot Springs, V0M 1K0
Website: harrisonwatersports.com/water-park
About: Have you ever seen the popular television show Wipeout? It is a game show where contestants try to maneuver through a gigantic obstacle course in an attempt to get to the end.  If you've ever had aspirations to run a Wipeout obstacle course, this is your chance. This inflatable water park is open from early June until early September, and provides family friendly, all day entertainment for under $30 per person.
Scenic and Wildlife Tours by Jet Boat
Address: 100 Esplanade Ave, Harrison Hot Springs, BC V0M 1K0 (inside Harrison Resort Lobby)
Website: harrisonecotours.com
About: Harrison Eco Tours offers a few different jet boat excursions depending on the time of year you visit.  The three main tours are the Harrison River Tour, an Eagle Watching tour or a Sunset cruise.  Regardless which tour you pick, you will be exposed to Harrison's amazing wildlife and breathtaking views.
Relax on the Beach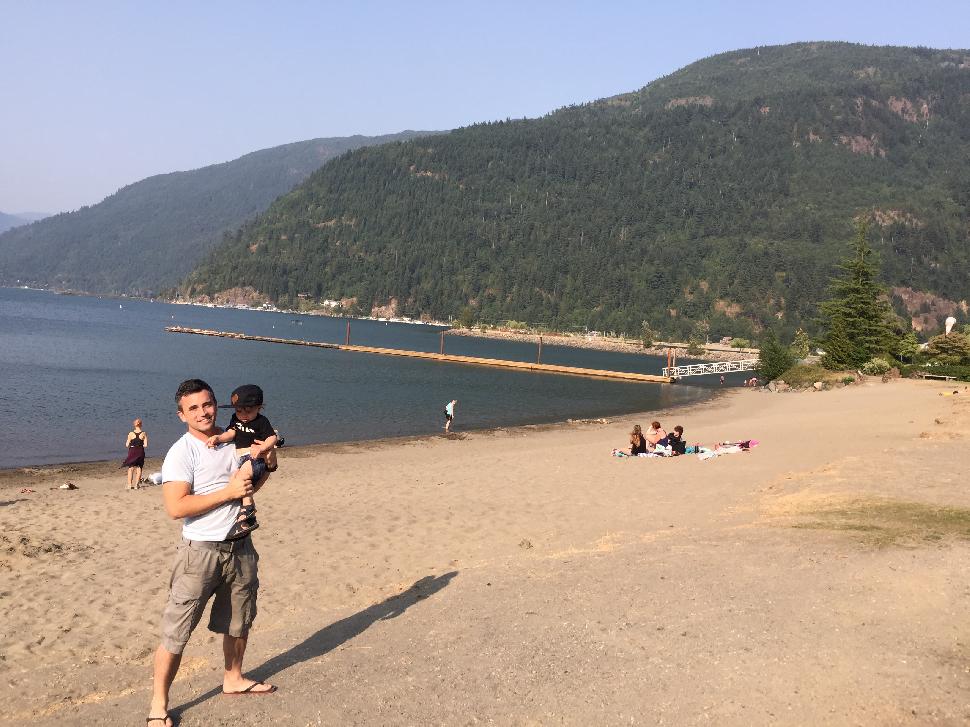 If you're keen to lay out and absorb some rays, Harrison will not disappoint. The lake's southern shoreline is a wide stretch of clean, sandy beach. A popular destination in the summer months, the beach buzzes with activity in warm weather. Set up an umbrella, splash in the shallows, build a sand castle, fly a kite or go for a paddle. A nearby playground will no doubt catch the eye of the young at heart. Music lovers will appreciate the weekend entertainment series running from mid-July through Labour Day. On weekends, live music and entertainment takes place in Pioneer Plaza, on the beach's eastern portion.
Scenic Boat Tour
Address: tours depart the dock immediately opposite Harrison Hot Springs Resort & Spa
Website: shorelinetours.net/Shoreline_Tours
About: Want to enjoy a boat ride at a more laid back pace? Shoreline Tours offers a two hour getaway to the west side of Harrison Lake, great for the whole family.  The tour cruises by the mouth of the Harrison River, Echo Island, Fossil Bay before reaching Cascade Bay. At this point visitors are free to embark by foot to Rainbow Falls. Make sure to pack some appropriate footwear if you plan to hike up to the waterfalls, as there are plenty of slippery rocks en route.
Rent a Quadracycle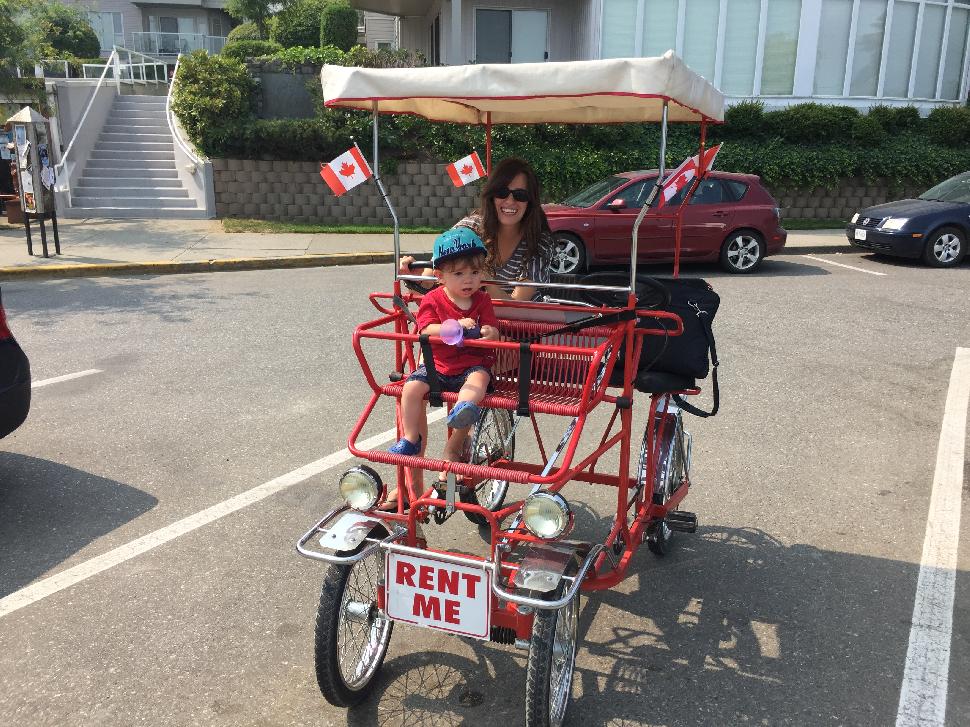 Location: 96 Lillooet Avenue, Harrison
Website: angelfire.com/bc/quadracycles
About: Quadracycles are a fun and novel way of exploring Harrison's local neighbourhoods. These four-wheeled bikes can seat up to 8 (including infants). Also available for rent are two person trikes, rangers, and if you must, regular bicycles. Rental prices range from $12 to $40 per hour depending on the model.
Relax at the Spa
Website: See Harrison Healing Spa's Full Menu
About: Spend some time getting pampered at Harrison Hot Springs Healing Spa and come out feeling brand new. Get a massage from a registered RMT (most extended medical plans cover) or spend five hours rejuvenating your body and mind with the Grand Indulgence Package. With a 4.5 out of 5 star average review on Yelp, you will not leave disappointed.
Rent a Jet Ski
Address: 100 Esplanade Ave, Harrison Hot Springs, V0M 1K0
Website: harrisonwatersports.com/seadoos
About: Jet skis are a recipe for fun no matter where you travel. Located on the dock directly across from Harrison Hot Springs Resort & Spa is Harrison Watersports. Take your pick from their 130HP Sea-Doo GTI personal watercraft and explore the lake at over 80 km per hour.
Sport Fishing
Address: 100 Esplanade Ave, Harrison Hot Springs, V0M 1K0 (inside Harrison Resort Lobby)
Website: bcsportfishinggroup.com
About: Have a fishing itch that needs to be scratched? BC Sport Fishing Group offers charter day trips, as well as multi-day packages to ensure you hook a trophy on the line.  Capture and release ancient white sturgeon, or try your luck with steelhead trout or salmon.
For those who also enjoy golf, BC Sport Fishing Group also offers a few Hook, Line and Sink It packages that combine both golf and fishing.
Paddle Harrison River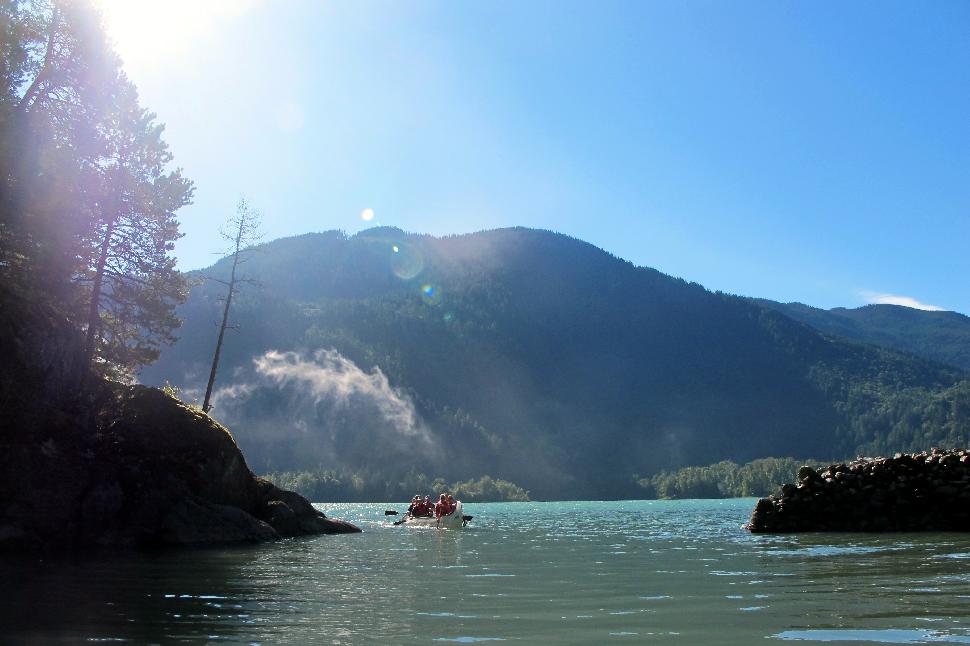 Address:100 Esplanade Ave, Harrison Hot Springs, V0M 1K0
Website: killerscoveboatrentals.ca
About: One of the most peaceful ways I find to reconnect with nature is hopping in a boat and going for a paddle. Rent a kayak or canoe from Killer's Cove Boat Rentals and prepare for an amazing day. If you want the full experience, I suggest taking on the 18 km route, paddling from Harrison Hot Springs down the Harrison River to Harrison Mills. This paddle will take about four hours. If you choose to take this route, make sure you drop off a vehicle at Harrison Mills so you have a ride back. Packing a camera is also recommended, especially in late fall when thousands of bald eagles can be spotted along the route.
Bumper Boats
Address: 100 Esplanade Ave, Harrison Hot Springs, V0M 1K0 (boat rentals fetched from the dock)
Website: harrisonwatersports.com/bboats
About: Great for a family adventure or even a team-building event, bumper boat rentals are a fun way to bond on the water.  Each boat can carry two people, is powered by an electric motor and is armed with electric water guns. It's a great for seeking revenge on your wife for eating the last ice cream bar. If you wrecking her hair is going to land you in the dog house, feel free to drive into her at full speed – they are bumper boats after all.
Take a Banana Tube Ride
Address: 100 Esplanade Ave, Harrison Hot Springs, V0M 1K0
Website: harrisonwatersports.com/tubes
About: Have you ever been towed behind a boat in a tube? Well consider this tubing on steroids. Grab up to nine of your closest friends and hop on this giant banana. Your group will be towed behind a high performance ski boat. Work together as the boat weaves back and forth across Harrison Lake for twenty minutes of pure adrenaline.
The Banana Tube ride is also available through Harrison Watersports located on the dock across from Harrison Hot Springs Resort & Spa.
Golf one of Harrison's Courses
If you are a golfer, you will agree that a vacation that doesn't include a round of golf, is no vacation at all! Luckily, Harrison has two courses conveniently located in Harrison Hot Springs and Harrison Mills.
Harrison Resort Golf Course
The Harrison Resort Golf course is one of the community's best kept secrets.  It is a 9 hole, PGA-Rated course spanning over 36 hectares. Depending on time of day and day of the week, pricing ranges from $20-34.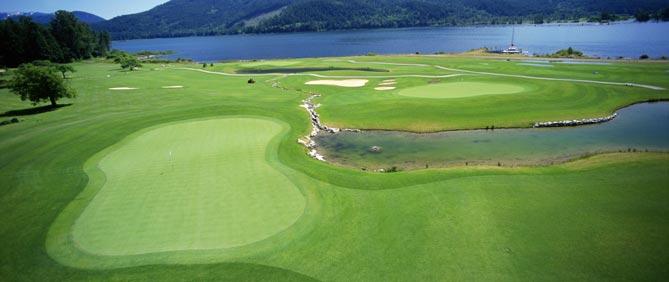 Address: 3891 Hot Springs Road, Agassiz, V0M 1A1
Website: harrisonresort.com/Golf
Sandpiper Golf Course
With a backdrop of the Harrison River, Sandpiper Golf Course is a breathtaking par 72 course, rich with perfectly manicured landscapes and beautiful wildlife. During fall, be prepared to see blue heron, bald eagles and other critters that are perfectly suitable excuses when you bogie a hole.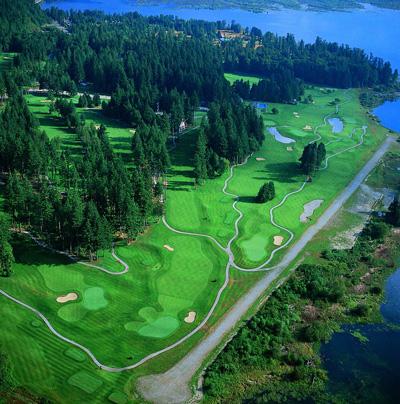 Address: 14282 Morris Valley Rd, Harrison Mills, BC V0M 1L0
Website: .prettyestateresort.com/sandpipergolfcourse
Hike for a View
One of my favourite ways to relax and collect my thoughts is to go out on a hike. With Harrison's network of trail you can hike a different trail every day for a week, and still not see the same thing twice.
Popular Harrison Hot Springs Trails:
Spirit Trail
Distance: 0.65km
Duration: 15 minutes
Click here for more info
Miami Bridges
Distance: 1.12km
Duration: 15 minutes
Click here for more info
Hicks Lake Loop
Distance: 6 km
Duration: 1 Hours
Click here for more info
Sandy Cove/ Whippoorwill Point
Distance: 2.5 km
Duration: 40 min
Click here for more info
Bear Mountain Hike
Distance: 9.5km
Duration: 4 hours
Click here for more info
Bear Mountain Flats
Distance: 3.2km
Duration: 1 Hour
Click here for more info