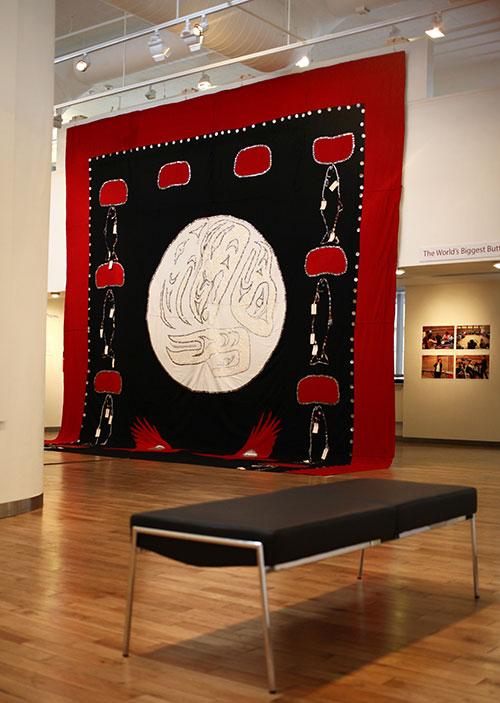 It took many hours, many hands, hundreds of metres of thread, and thousands of buttons to make the World's Biggest Button Blanket, now on display at the Legacy Art Gallery Downtown.
"It takes seven people and four pulleys to hoist the blanket up," says Caroline Riedel, the gallery's curator of collections. "It weighs 300 pounds."
The project was led by the University of Victoria's History in Art department faculty Carolyn Butler Palmer and Tahltan artist and instructor Peter Morin. Students worked with area elders to help make the blanket last fall at UVic's First Peoples House on the main campus.
The salmon and egg pattern at the edges of the blanket, designed by Morin, represents the sacred headwaters of the Klappan River in northern B.C. The design in the centre by Tsartlip artist Barry Sam acknowledges that the project took place on Coast Salish territory.
The final piece measures six metres by six metres. The blanket and the accompanying exhibition, Adasl?: The Movement of Hands, is now on display at the university's Legacy Gallery at 630 Yates Street in Victoria until April 25, 2014. The exhibition includes photographs and contemporary button blankets.
On Saturday, February 22 at 2 p.m., there will also be a special dance performance inspired by the blanket by Morin and performance artist Rebecca Belmore. "We look forward to Rebecca Belmore's collaboration with Peter Morin on a dance performance about ancestors and the land," says Riedel. "This performance continues the life of this blanket which is not just a work of art to hang on the wall."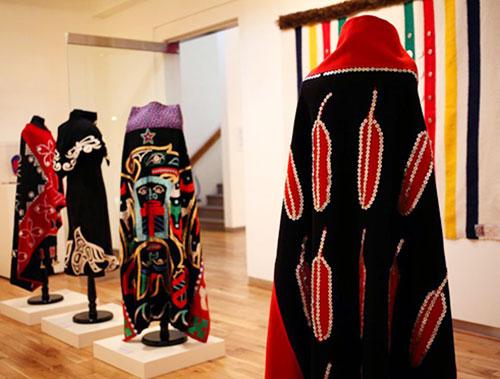 The Legacy Art Gallery Downtown is open Wednesday to Saturday, 10 a.m. to 4 p.m. Free admission.